NFL Draft 2011: 15 Players Who Will Have the Longest NFL Careers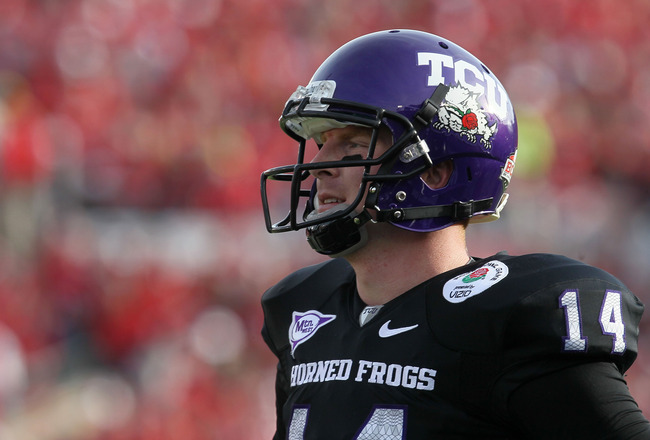 Stephen Dunn/Getty Images
In the NFL, it doesn't always matter where or when you are drafted. More often than not some of the best talent comes from the later rounds of the draft.
But regardless of when your name is called, the key to achieving a successful NFL career is longevity—producing at a high level for a long period of time.
These 15 players may not jump off of ESPN's big board, but they will go on to experience long and rewarding careers in the NFL.
Alex Henery (Nebraska)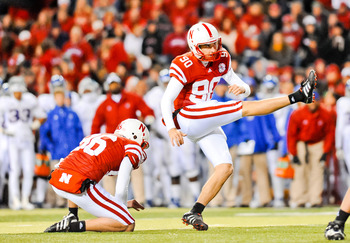 Eric Francis/Getty Images
Nebraska's Alex Henery was excellent in four seasons as the Cornhuskers' place kicker. Henery's accuracy was second-to-none and will certainly earn him a roster spot in 2011.
As an NFL kicker, a big leg and, more importantly, accuracy, will keep him around for years to come.
Patrick Peterson (LSU)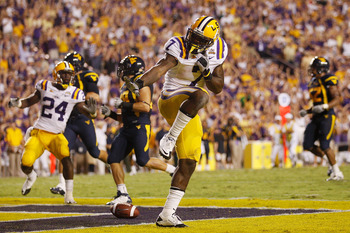 Chris Graythen/Getty Images
Perhaps the best player in this year's draft, Patrick Peterson has a Charles Woodson feel to him. Peterson is a threat on the defensive side and also an excellent playmaker once he has the ball—a la Woodson.
Another thing Peterson and Woodson could have in common are long and dominant NFL careers.
Jeff Maehl (Oregon)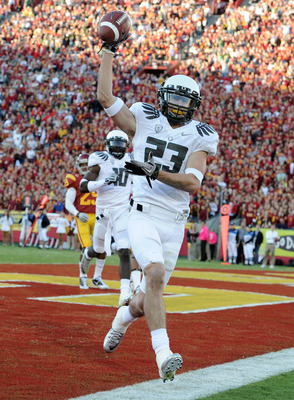 Harry How/Getty Images
Oregon's Jeff Maehl is a possession receiver who can lull defensive backs to sleep on the outside. Maehl's underrated hands and sideline balance should provide the backbone for a lengthy NFL career.
Maehl is the type of player every roster needs and could find himself playing a vital role on a contending team next season.
Aaron Williams (Texas)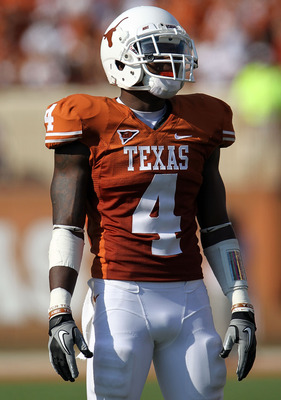 Ronald Martinez/Getty Images
Aaron Williams has the talent to go relatively early in this month's draft. The Texas defensive back played three seasons with the Longhorns; intercepting four passes and forcing six fumbles in the process.
Williams is a physical corner who will thrive in the NFL where strong wide receivers are ever-present.
Matt Bosher (Miami)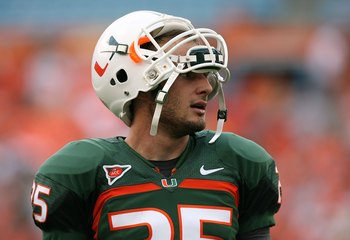 Doug Benc/Getty Images
One of the nation's best punters, Miami's Matt Bosher played four seasons with the Hurricanes, blasting two punts of 75-plus yards during that time.
Bosher has the sort of consistent leg NFL teams are looking for and punted for more than 2,100 yards in all of his four seasons at Miami.
John Clay (Wisconsin)
Jeff Gross/Getty Images
Wisconsin's John Clay is a wrecking ball in the back field. Clay, at 6'1" 250-pounds, certainly has the look of a Jerome Bettis. Clay rushed for 41 touchdowns in three seasons with the Badgers.
Clay will make a living off of short-yardage situations in the NFL.
Andy Dalton (TCU)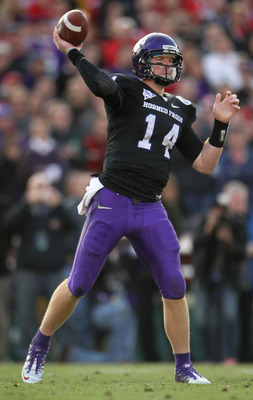 Jeff Gross/Getty Images
Andy Dalton has been overlooked heading into April's draft. The TCU superstar was "Mr. Consistent" in four seasons with the Horned Frogs, throwing for more than 2,200 yards every season.
Dalton's experience and winning background provide the intangibles many NFL teams are looking for, and, ultimately, are the things that will keep him around at the next level.
Mike Pouncey (Florida)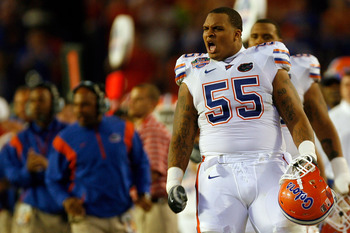 Eliot J. Schechter/Getty Images
Similar to his brother Maurkice, Mike Pouncey is poised for success in the NFL. Maurkice Pouncey was superb for the Pittsburgh Steelers at center in 2010, helping them reach Super Bowl XLV.
Mike Pouncey is a physical right guard who will play on some team's offensive line for a decade, maybe more.
Von Miller (Texas A&M)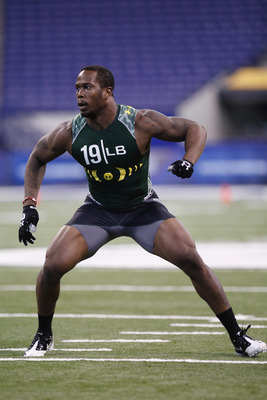 Joe Robbins/Getty Images
Texas A&M's Von Miller is hands-down the best linebacker prospect in the 2011 draft. Miller played all four seasons with the Aggies and was a monster coming off the edge.
Miller has virtually no holes in his game, and that makes for a promising future in the NFL, where linebackers are becoming more and more important every year.
Luke Stocker (Tennessee)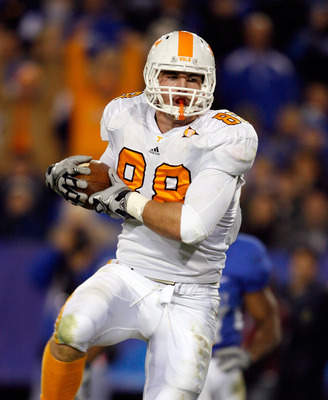 Andy Lyons/Getty Images
A 6'5" 255-pound tight end, Tennessee's Luke Stocker will make some team very happy on the draft's second day. Stocker lacks the talent to become an elite pass-catching tight end, however his blocking skills make him a starting tight end at the next level.
Stocker's size, strength and intangibles will keep him around, so get to know him.
Ryan Kerrigan (Purdue)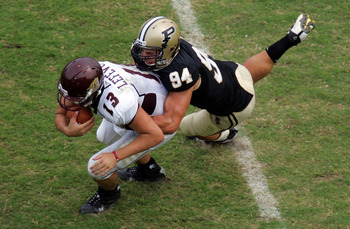 Ronald Martinez/Getty Images
Ryan Kerrigan doesn't exactly have ideal NFL size, however his motor is unmatched. Kerrigan played all four seasons at Purdue, racking up nearly 40 solo sacks over that time.
Kerrigan's athleticism and versatility could help in the long run, allowing him to perhaps play outside linebacker in a 3-4 scheme if he doesn't flourish as defensive end.
Jacquizz Rodgers (Oregon State)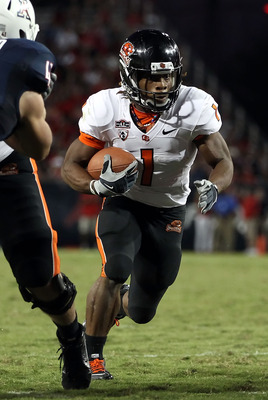 Christian Petersen/Getty Images
Oregon State's Jacquizz Rodgers has the small stature and quickness to stick around for a long time in the NFL. At 5'6" Rodgers draws comparisons to Baltimore's Ray Rice.
Rodgers is a weapon anywhere on the field, both as a rushing and receiving threat. A scoring machine in three seasons with the Beavers, Rodgers will make an immediate impact on Sundays.
Justin Houston (Georgia)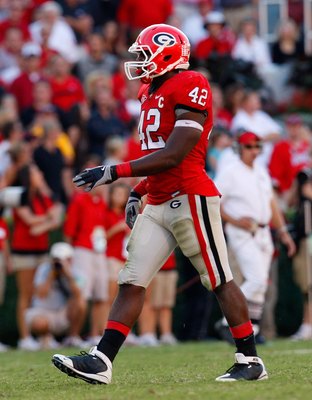 Kevin C. Cox/Getty Images
Justin Houston has some question marks like any player, but his on-field performance at Georgia suggests he will go rather early in this month's draft.
In the right system with the right team, Houston could become a superstar in the middle of a defense. Houston recorded eight solo sacks in 2010 with the Bulldogs.
Nate Solder (Colorado)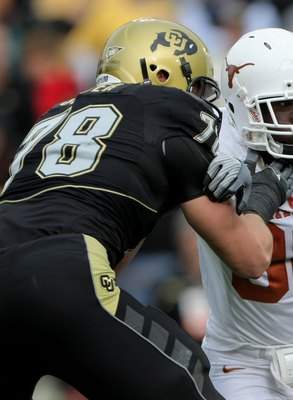 Doug Pensinger/Getty Images
Arguably the top offensive tackle prospect in the draft, Colorado's Nate Solder has the height and unique physical shape to last for years in the NFL.
Solder is 6'8" and 315 pounds, making him more of an athlete than a crushing blocker. Solder is a converted tight end making him an extremely quick-moving blocker.
Stephen Paea (Oregon State)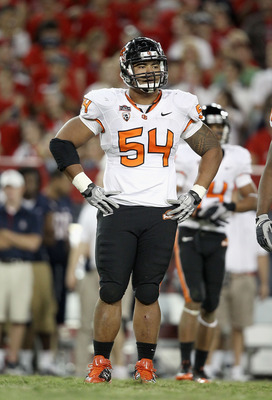 Christian Petersen/Getty Images
Oregon State's Stephen Paea has strength for days. The Beaver's defensive tackle set a new record at the combine with 49 repetitions of 225 pounds on the bench press.
Paea's somewhat undersized and very well could struggle with offensive lineman at the next level. But never doubt his clear-cut advantage, his strength, which will keep him around for a long time.
Patrick Clarke is a Featured Columnist for Bleacher Report and a student at Towson University.
Keep Reading