Michael Pineda and the Most Hyped Seattle Mariners Prospects of Past 20 Years
Ezra Shaw/Getty Images
Michael Pineda made his major league debut on Tuesday against the Texas Rangers, and a lot of people are really high on his potential.
Signed: International free agent, 2005
Debut: 2011
Career: TBD
Awards: TBD
Ranked by Baseball America as the No. 16 prospect in baseball for 2011.
While many think some further seasoning in Tacoma would have done him and the team well, they also believe he has real major-league talent and could learn on the fly while providing the Mariners with much needed immediate value.
He did nothing last night to prove he doesn't belong.
His offense didn't help much, and you could certainly question Eric Wedge's decision to let Pineda pitch to reigning AL MVP Josh Hamilton with first base open. However, when he did struggle, it was against the left-handed bats to the tune of three extra base hits, which resulted in the runs scoring that cost him the game.
There's no question that the young man has room to improve, but there's also no question that he has the legit makeup to be a quality big-league starting pitcher.
With that, here's a look at the other most hyped Mariners prospects since 1990 (with an exception for Griffey Jr., drafted in 1987).
Bust: Jeff Clement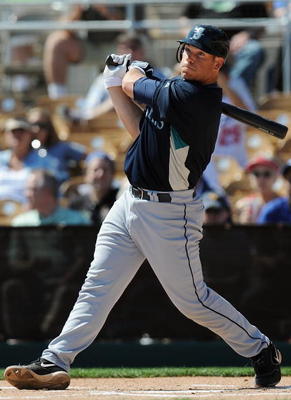 Lisa Blumenfeld/Getty Images
Signed: Drafted third overall in 2005
Debut: 2007
Career: Three seasons, .201/.237/.368, 14 HR, 38RBI
Awards: N/A
Ranked by Baseball America: 33rd (2006), 62nd (2007), 42nd (2008)
A left-handed hitting catcher with some power is a thing of dreams for the Mariners at Safeco Field.
Each year that came passed with another telling of "there's still time." Things never panned out for Clement in Seattle after so much hype and hope.
Though the trade that sent Clement to Pittsburgh for Jack Wilson and Ian Snell was viewed at the time as a push at best, Clement has struggled to even make the roster of one of the worst teams in baseball over the past two decades.
Now 27 years old, time is running out for Clement. The Pirates moved him to first base, and he still finds himself without a job.
Boom/Oops: Derek Lowe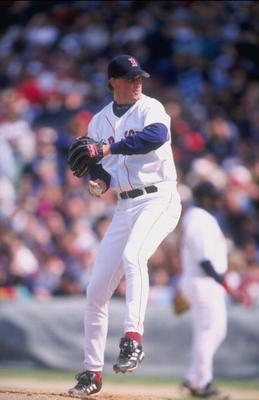 David Seelig/Getty Images
Signed: Drafted in eighth round of 1991
Debut: 1997
Career: 15 seasons, 158-130, 3.83 ERA, 1,535 K, 675 BB
Awards: 2000 AL saves leader, 2006 NL wins leader
Ranked by Baseball America: 70 (1993), 63 (1994),
At 37 years old, Derek Lowe is still going and pitching well enough to deserve a spot in the major leagues.
Rewind to 1997 and the highly regarded rookie, who had only pitched in nine games for Seattle, was packaged with Jason Varitek and shipped off for a reliever.
This is one that was a bust, but not because the player was bad.
Bust: Chris Snelling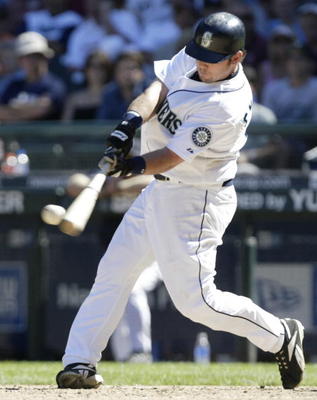 Otto Greule Jr/Getty Images
Signed: International free agent, 1999
Debut: 2002
Career: Five seasons, .244/.360/.400, 7 HR, 20 RBI
Ranked by Baseball America: 98 (2001), 46 (2002), 39 (2003)
Chris Snelling, referred to lovingly by his middle name of Doyle by many, was a guy that everyone wanted to pan out.
A friendly player who had lots of potential never realized, Snelling seemed to get hit by the injury bug far too often and it probably aided in costing him a successful career. It all started when he tore his ACL running the bases during his initial call-up to the big leagues.
After stints with three other clubs, the Aussie hasn't played since 2009.
Boom/Oops: Jason Varitek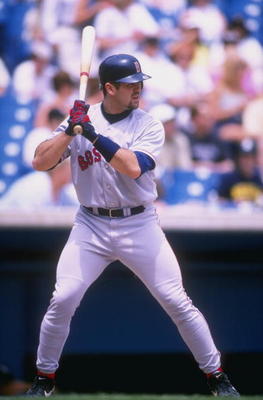 Matthew Stockman/Getty Images
Signed: Drafted 14th overall, 1994
Debut: 1997
Career: 15 seasons
Awards: Three-time All-Star, 2005 Gold Glove, 2005 Silver Slugger
Ranked by Baseball America: 51 (1996)
We talked about the trade in the Derek Lowe slide, so let's not pour more salt into the never-healing wound.
Varitek obviously went on to have a solid career as the captain of the Red Sox. The Mariners' offensive woes at the catcher position for the past 15 seasons could have been solved. Instead, they opted for, well, you know.
Bust: Marc Newfield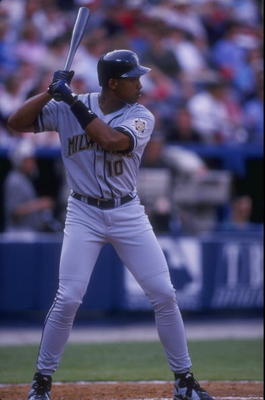 Andy Lyons/Getty Images
Signed: Sixth overall pick, 1990
Debut: 1993
Career: Six seasons, .249/.303/.375, 22 HR, 132 RBI
Ranked by Baseball America: 31 (1991), 17 (1992), 43 (1993), 35 (1994), 29 (1995)
Perhaps one of the most decorated prospects in Mariners history, having been ranked by Baseball America five times, Newfield was going to be anchor at first base for the Mariners.
In the minors, he hit for average, decent power and got on base with walks a fair amount.
He was traded in 1995 with Ron Villone for Andy Benes to help with their postseason run. He played only three more years in the big leagues after that year.
Boom: Felix Hernandez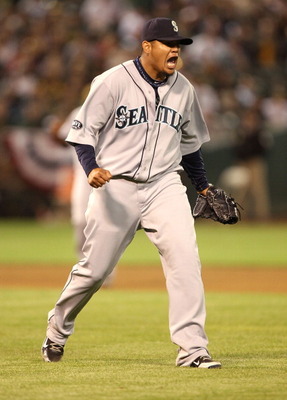 Jed Jacobsohn/Getty Images
Signed: International free agent, 2002
ML Debut: 2005
Career: Seven seasons
Awards: 2009 All-Star, 2010 Cy Young
Being the current face of the franchise and reigning Cy Young Award winner, there isn't a lot to say about Felix that people don't already know. The things that have been said don't need to be said again.
Well, except for one thing.
King Felix is ours, and you can't have him.
Bust: Roger Salkeld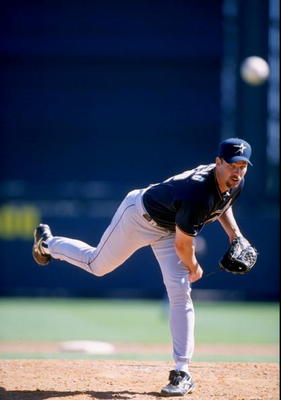 Andy Lyons/Getty Images
Signed: Drafted third overall, 1989
Debut: 1993
Career: 10-10, 5.61 ERA, 82 K, 54 BB
Ranked by Baseball America: 16 (1990), 5 (1991), 3 (1992), 100 (1994)
Roger Salkeld was pretty highly touted. For three consecutive seasons he ranked as one of the best prospects in baseball.
For the first of those three years, he was mowing batters down in the minors with a K/9 in the mid-nines.
Then came the injuries, a ballooning ERA, a trade to Cincinnati and a soon-to-follow departure from baseball.
Boom: Alex Rodriguez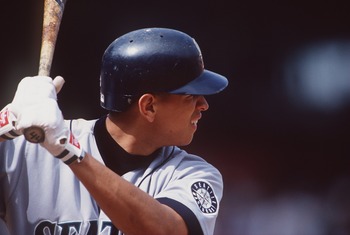 Stephen Dunn/Getty Images
Signed: Drafted first overall, 1993
Minors: Three seasons, .327/.388/.600, 36 HR, 129 RBI, 62 BB, 127 K
ML Debut: 1994
Career: 18 seasons, .303/.387/.572, 614 HR, 1,833 RBI, 1,122 BB, 1837 K
Rodriguez was ranked by Baseball America as the No. 6 prospect in 1994 and No. 1 prospect in 1995.
Without a doubt, this was a first overall pick and highly-touted prospect who was not a bust.
Of course, A-Rod only spent seven seasons in Seattle before bolting for Texas and then ending up in New York.
Bust: Ryan Anderson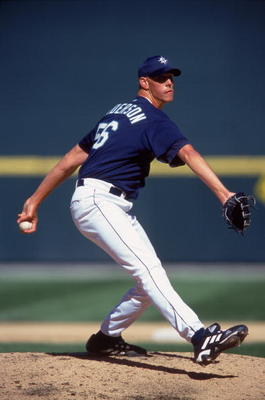 Otto Greule Jr/Getty Images
Signed: Drafted 19th overall, 1997
Debut: No, seriously, maybe next year?

Ranked by Baseball America: 23 (1998), 7 (1999), 9 (2000), 8 (2001), 14 (2002)
Ryan Anderson had nicknames: "The Little Unit," "The Space Needle." But most will remember him as the "Bust of Busts."
Injuries, injuries and more injuries stopped a guy with all the potential in the world from realizing his dreams on the biggest stage.
Some folks got frustrated, even to the point of holding it against Anderson. That's really not fair. In fact, you have to feel bad for the guy. Sure, what we wanted most was for the Mariners to win and Anderson sure would have helped that cause. I seriously doubt, though, that anyone was let down more than Anderson himself.
Boom: Ken Griffey, Jr.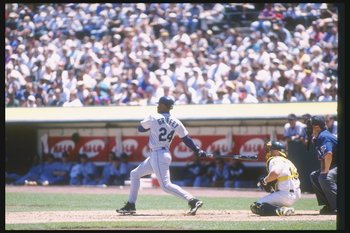 Otto Greule Jr/Getty Images
Signed: Drafted first overall, 1987
Minors: Three seasons, .318/.425/.572, 27 HR, 92 RBI, 83 BB, 94 K
ML Debut: 1989
Career: 22 seasons, .284/.370/.538, 630 HR, 1,836 RBI, 1,312 BB, 1779 K
The face of the franchise, "The Kid" obviously lived up to the hype.
There was the ugly split, the time in Cincinnati and the second ugly split. A long list of what-might-have-been stories have been done. While the conclusions had various endings on whether Junior would break the all-time home-run record, the consensus was that had he stayed healthy he would have been in the upper echelons of the game's best-ever players.
Regardless, he'll be a first-ballot Hall of Famer and the long-lasting face of the Mariners franchise.
Keep Reading

Seattle Mariners: Like this team?