2011 NFL Draft: 10 Players Most Likely To Be Draft Day Reaches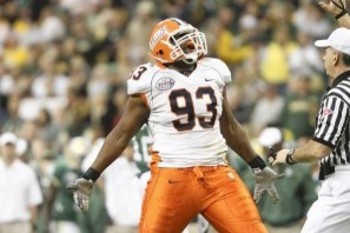 For a variety of reasons, each and every year, some players get drafted higher than their value indicates. This usually is thanks to teams reaching for team need over best available player, but it also could be because of a drop off in position value, raw potential, or a perfect system fit.
Whatever the case, these "reaches" on draft day are risky at best, and far too many have failed for it not to be on each team's mind come draft day. Still, odds are it happens in this year's first two rounds, and here are the top 10 guys who could be "reaches" on draft day.
10. DeMarcus Love, OT, Arkansas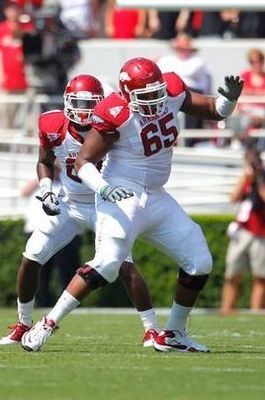 This draft class doesn't feature a clear cut left tackle option in the early first round like we've see in most seasons, but that isn't the real issue for this offensive tackle class. The bigger concern is after the first set of offensive tackles that have first round ability, there isn't one that is worthy of a 2nd or even 3rd round selection.
After Ben Ijalana of Villanova, often considered the 6th of the top six offensive tackles in this class (Tyron Smith, Gabe Carimi, Anthony Castonzo, Derek Sherrod, Nate Solder and Ijalana), there is a serious drop off and another potential starting tackle may not be in this draft class. James Carpenter of Alabama, James Pinkston of Pittsburgh, and Demarcus Love of Arkansas are the three likely candidates, and it's very possible that a team at the end of round two could reach for a right tackle like Love.
9. Aaron Williams, CB, Texas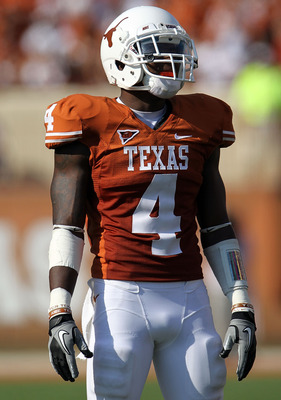 Ronald Martinez/Getty Images
Along with the offensive tackle class, this 2nd tier cornerback class is very hard to judge and while many of these guys have the talent to be starters, they also have loads of question marks that likely don't give them their best value in the early to middle 2nd round.
After the top four cornerbacks on most boards (Patrick Peterson, Prince Amukamara, Jimmy Smith, Brandon Harris) that all could go somewhere in round one, guys like Ras-I Dowling, Jalil Brown, Davon House, and especially Aaron Williams all could be prime candidates to go high in round two or even late round one based on team needs.
Williams has a chance to go as high as late round one to Pittsburgh because he's a good system fit and could go in the upper portion of round two if teams feel he's a safety switch, but either way, in most years, he'd be viewed as a solid late 2nd round selection.
8. Jimmy Smith, CB, Colorado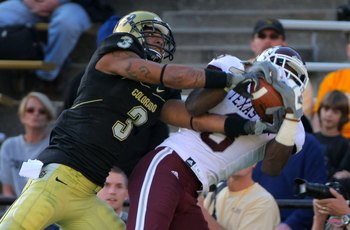 Doug Pensinger/Getty Images
As just said with Aaron Williams, this 2nd tier cornerback class is weak. Not only does that mean the sub-par second tier guys will be over-picked, but the guys in the "top" tier with question marks will be viewed as guys that are "worth the risk" because teams realize that they can't wait until later in the draft to get the position filled.
Jimmy Smith is viewed to many as one of the top man coverage cornerbacks in this draft class, something that isn't easy to find in the draft. However, multiple reports as well as our own sources have shown that Jimmy has some major character red flags that should push him lower in the draft. Still, because he has man coverage potential and no solid 2nd tier cornerbacks, a team in the late first could still take the gamble on him.
7. Aldon Smith, DE, Missouri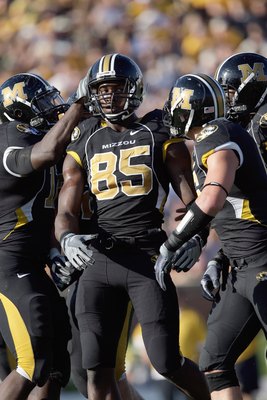 Jamie Squire/Getty Images
Aldon Smith has the length, frame, and raw athletic ability to be an impact rusher in the NFL. Smith has been viewed as a 3-4 outside linebacker by some because of his fluidity, but more likely his best fit is as a 4-3 edge rusher who can use his length and athleticism to get past blockers.
However, thanks to inconsistencies in his game on tape, his leg injury, his need for more development, and the depth of the defensive line class this year, Smith isn't worth the risk in the Top 15 or 20.
Still, a team like the Vikings, Rams, or Patriots could fall in love with his raw potential and take the risk on him in that Top 20 area come draft day.
6. Jonathan Baldwin, WR, Pittsburgh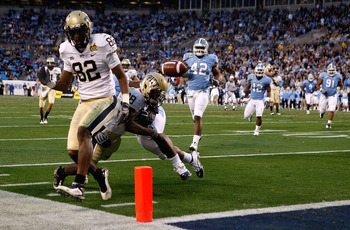 Streeter Lecka/Getty Images
AJ Green and Julio Jones are the two top talents at receiver in this draft, and among the best to come out of the college ranks in the past ten years. But after those two, it could be tough for a team to find a potential number one receiver in this draft.
There have been, on average, five receivers taken in the Top 40 picks each year since 2005. That means that the likelihood of receivers like Leonard Hankerson, Jonathan Baldwin, and Jerrel Jernigan, could go higher than expected, with Jonathan Baldwin being the biggest gamble of the three because of character on and off the field concerns.
It's very possible Baldwin, because of his potential, size, and athleticism, even goes in the 20-30 range on draft day, which would be a major reach and risk for the team that picks him.
5. Christian Ponder, QB, Florida State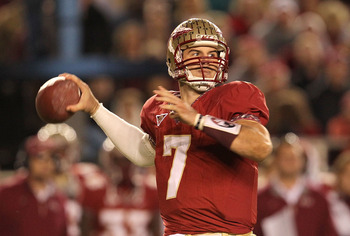 Mike Ehrmann/Getty Images
Since 2003, on average, there have been 3-4 quarterbacks taken in the drafts first round, you can expect that after Cam Newton and Blaine Gabbert hear their names called, likely within the Top 8 picks, you should hear at least one more quarterbacks name called.
An in this draft especially, where teams are so unsure of who their starter will be next year because of the lack of free agency and the lack of the ability to make trades, we could see as many as five drafted in the drafts first round.
While I think Newton, Gabbert, and Jake Locker and Colin Kaepernick all have NFL starting potential, one guy who I don't think will ever be more than a fringe starter is Christian Ponder, who could be a great back-up and a spot starter, but not a guy a team should feel comfortable with making their "quarterback of the future" thanks to his injury history, lack of great arm strength, and inconsistent reads downfield.
4. Muhammad Wilkerson, DT, Temple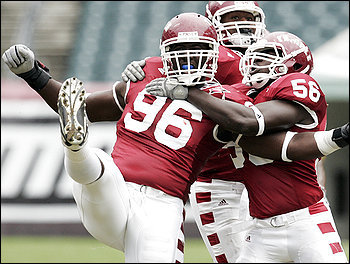 A guy who could be one of the biggest reaches in this draft, I'm not sure exactly where the hype for Temple's Muhammad Wilkerson is coming from. A raw, long defensive line talent, Wilkerson has a high ceiling. But too many times from what I saw, Wilkerson has shown to be hit or miss, non-dominant, and lacking great technique to warrant a solid first round pick.
Right now, reports are that teams like Baltimore, Kansas City, New England, and even Tennessee at #8 is considering Wilkerson, which would be a huge mistake in my opinion, but thanks to his athletic ability, team's will view his high ceiling as worth the risk, even though there are much safer, elite talents in this draft class.
3. Phil Taylor, DT, Baylor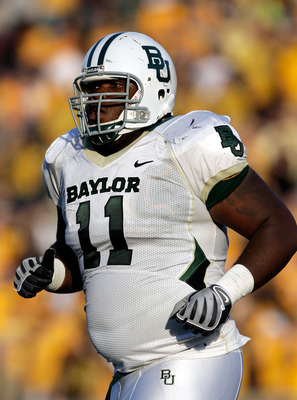 Jamie Squire/Getty Images
As the theory goes, guys that are athletic and 330+ pounds aren't easy to find, and like franchise quarterbacks, you need to reach for one if you think he can play in the NFL.
While I don't completely buy into that theory, I do understand that finding a nose tackle like Pat Williams, Casey Hampton, and Vince Wilfork is no easy task, and getting an elite one can make a huge difference in your team's success. But over-drafting a nose tackle like Phil Taylor, who I'm not sure is even a 2nd or 3rd round talent, doesn't seem like the smart way to build your franchise.
He wasn't dominant in college, lacks great rush moves to get to the passer, and needs work with his overall technique before he can develop into a first round pick-worthy player.
2. Tyron Smith, OT, USC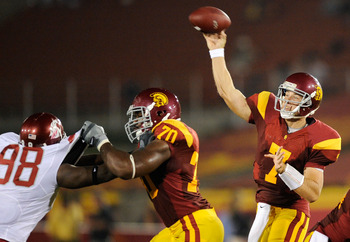 Kevork Djansezian/Getty Images
I think Tyron Smith of USC is an elite talent for a left tackle. He has outstanding athletic ability, moves laterally very well, bends naturally, and so much more that you look for in a potential left tackle. Except for one major weakness: he never played there in college.
Smith was a right tackle all through his career at USC, but now that he's shown he can slide like an NFL left tackle, teams are projecting him to play early there. And having an athletic left tackle is something of great value, and based on that alone he should be a Top 10 pick.
However, his lack of experience, need to still bulk up and play the run better, and his need for some improvement technically, I would not draft him to be a left tackle right off the bat, and in that case he's a tackle without a starting position (not ready for left tackle, not strong enough for right tackle) and not worth a Top 15 pick, though he'll likely end up there on draft day.
1. Corey Liuget, DT, Illinois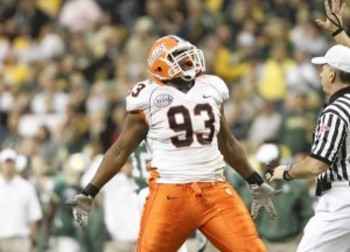 When he declared for the draft, it was more of a "why" than a "how high" reaction. Liuget showed promise this year and proved he has the athleticism to play in the NFL. But how did he go from a surprise declarer to a now rumored to be potential Top 15 pick?
Liuget moves very well for his size, and could be an ideal 3-technique in a 4-3 defense. He has the potential to be an elite one, sure. But he doesn't have the film to make him a first round lock, he's very raw in terms of being able to consistently get past blockers, and he doesn't use his hands overly well.
Sure, he has a high ceiling, and could be a great value in the 2nd round where a team doesn't have to put too much pressure on him. But now, don't be surprised if he, for whatever reason, ends up someplace in the Top 14 picks on draft day, with an outside shot at the Top 10.
Check out www.OptimumScouting.com or follow me on Twitter at www.twitter.com/OptimumScouting
Keep Reading