NFL Rankings 2011: Ranking the Best Players at Each Position in the NFL Today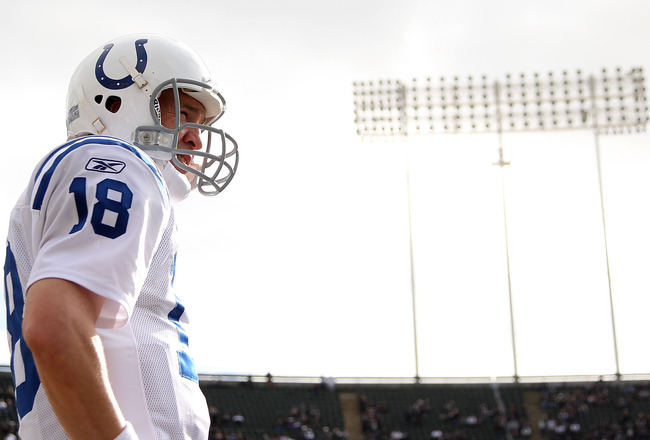 Jed Jacobsohn/Getty Images
The NFL consists of the best football players in the world today, and arguably some of the best overall athletes.
But if you look a bit deeper, you'll see that there are a select few players who are amongst the elite.
Whether it is their remarkable instincts or incredible athleticism, some traits separate themselves from the rest.
So who's the best player at each position? Well, read on to find out.
Note: Even though these players may not have had the best statistics last season, I formulated this list based on whom I would want on my team.
QB Tom Brady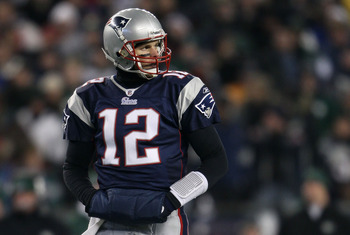 Elsa/Getty Images
In the NFL today, the quarterback is the most important position on the field as he's responsible for not only taking charge of the offense but for being the leader of the team.
With elite quarterbacks such as Peyton Manning, Drew Brees and Aaron Rodgers, it's tough to choose just one.
However, I think New England Patriots quarterback Tom Brady is the best primarily because he's proven that he can win in tough situations.
He's won three Super Bowls, which is what all the aforementioned have combined.
Moreover, he's fresh off arguably his best season despite not having Randy Moss at his side. It's truly amazing watching him orchestrate drives regardless of the players on the field.
You can't go wrong with Manning in this situation, but I feel that last year's MVP is simply a better choice.
RB Adrian Peterson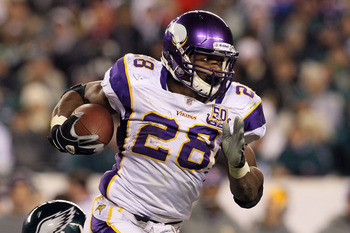 Jim McIsaac/Getty Images
While a quarterback is certainly crucial for a team's success, it's also important to have balance, which is where the running back plays in.
The debate is between Adrian Peterson and Chris Johnson, with Arian Foster and Jamaal Charles trailing closely behind.
Personally, I would go with Minnesota Vikings Adrian Peterson simply because I believe he's a more complete, durable back due to his freakish physical stature at 6'1", 217 lbs.
The only true knock on him was his fumbling issues, but it seems to have been fixed as he reduced his number from nine and seven in 2008 and 2009 respectively to a mere one last season.
WR Andre Johnson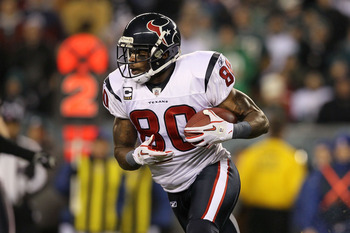 Jim McIsaac/Getty Images
A top-notch quarterback can only do so much. At some point, he'll need an elite receiver to pair up with in order to be his go-to-guy.
The best receivers are not only physically skilled, but they can run precise routes, have hands like glue and have a knack for making big-time plays.
Houston Texans receiver Andre Johnson does all that and more, which is why he's the best wideout in the game today. Matt Schaub is undoubtedly fortunate to have him at his arsenal.
Sure, Roddy White and Reggie Wayne had better stats, but keep in mind that Johnson missed three games.
TE Jason Witten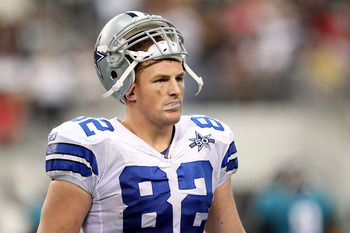 Ronald Martinez/Getty Images
Tight ends are rapidly becoming more and more important in today's game as they're responsible for not only blocking but making plays in the middle of the field. He can be a quarterback's best friend because a tight end's large frame makes for a big target in pressure situations.
The Dallas Cowboys' Jason Witten is the best at what he does, as he's solid in sealing the edge and makes catches as good as some of the best wide receivers.
In fact, he's caught more than 94 balls and 1,000 yards in 3 of his past 4 seasons.
OT Joe Thomas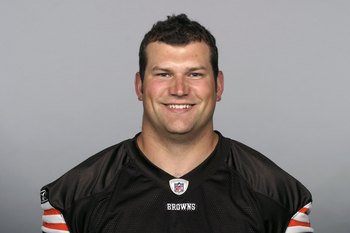 NFL Photos/Getty Images
In order to maximize a quarterback's potential, you've got to protect him because it's not much help if he's lying on his back.
That's why left tackles have become one of the most important positions on the field, which is why they're often taken early in the draft.
I believe Cleveland Browns left tackle Joe Thomas is the best in the NFL because he's quick on his feet and has the technique to hold the point of attack both in the run game and the passing attack.
OG Jahri Evans

The guards on the offensive line do a ton of the dirty work and are responsible for plowing holes for the running backs to blast through.
New Orleans Saints Jahri Evans is the best at doing so and is a key reason why their offense flourishes.
C Nick Mangold
Al Bello/Getty Images
The center may not get all the recognition but he's certainly an important part of the offense.
Not only does he have to get the snap count correct and make all the calls at the line of scrimmage, but he has to block up the middle, often taking on strong defensive interior lineman.
The New York Jets' Nick Mangold is the best center in the NFL, as he's proven that he can handle those tough duties and has shown greatness against some of the league's top nose tackles.
DE Jared Allen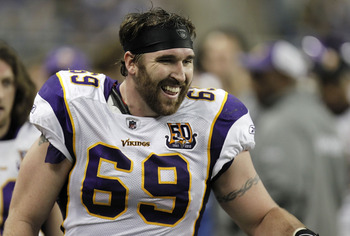 Gregory Shamus/Getty Images
Generating an effective pass rush is an integral key to success, which is why having a dominant edge rusher is so crucial.
With so many big-time talents such as Dwight Freeney and Julius Peppers, its tough to pick just one, but I'll have to go with Minnesota's Jared Allen.
Not only does he have 55.5 sacks in the past four seasons, but he's also stripped 12 fumbles during that span as well.
In addition, he does a great job in run support as he had 60 tackles last season.
DT Haloti Ngata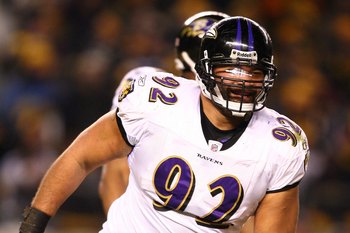 Al Bello/Getty Images
Having a dominant nose tackle at the point of attack is critical for a defense because it puts pressure up the middle, thus collapsing the pocket.
Baltimore Raven Haloti Ngata is the best at doing so as he utilizes his incredible athleticism to take on multiple blockers, thus freeing opportunities up for his fellow teammates.
OLB DeMarcus Ware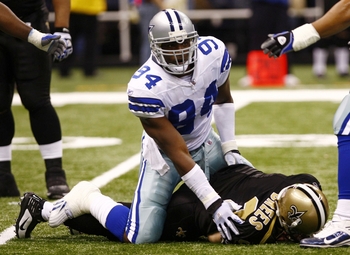 Scott Halleran/Getty Images
As I said to earlier, creating pressure on the quarterback can do wonders for a defense.
Arguably the best pass rusher in the league is Dallas Cowboys linebacker DeMarcus Ware.
His combination of power and finesse creates a plethora of problems for opposing blockers, which is why he's constantly registering sacks.
When he's not blitzing, he has the uncanny ability to drop back in coverage or assist in stopping the run as well.
MLB Patrick Willis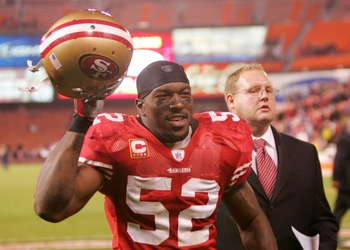 Ezra Shaw/Getty Images
The middle linebacker is often the leader of a defense, and San Francisco 49er Patrick Willis is the epitome at the position.
He's possibly the most versatile defensive player out there as his tremendous athletic ability allows him to not only be a force up the middle but to cover receivers and get after the quarterback.
Just a quick look at his stat line of 128 tackles, 6 sacks and 2 forced fumbles just goes to show how skilled he is.
In my opinion, he's even better than the great Ray Lewis.
CB Darrelle Revis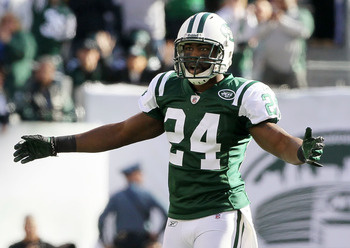 Jim McIsaac/Getty Images
Shutdown corners are one of the most coveted positions in football, and every team in the NFL is trying to get their hands on one.
The New York Jets are extremely fortunate that they have Darrelle Revis since they're able to stop the opposition's best wideout by placing him on "Revis Island".
Revis' ability to defend half of the field allows them to incorporate aggressive blitz packages into their game plan, which then has a trickle down effect on the rest of the unit.
FS Ed Reed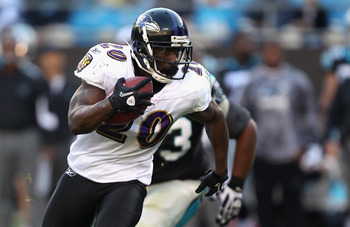 Streeter Lecka/Getty Images
The free safety roams the deep middle of the defense and requires a unique skill set to diagnose an offensive play and then react by making a big play.
In the NFL today, there's none better than the Baltimore Ravens' Ed Reed, who's been making game-changing plays ever since he entered the league.
Just watch game film on him and you'll easily see why he's one of the most exciting defensive players out there.
SS Troy Polamalu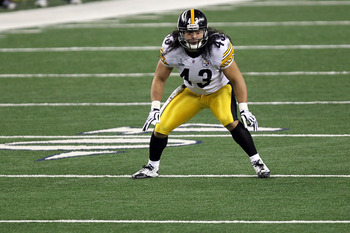 Mike Ehrmann/Getty Images
While the free safeties play in coverage and wait for the play to come to them, strong safeties are typically amidst the action and line up in the box.
Whether it is stopping the run or making a crucial interception, the Pittsburgh Steelers' Troy Polamalu, who's arguably the most feared defender in the game today, does a phenomenal job of being around the ball and making a play.
K David Akers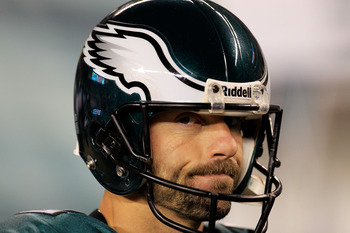 Chris Trotman/Getty Images
Believe it or not kickers play a huge role in the game of football, and if you've got a great one like Philadelphia Eagle David Akers, then it puts your squad in a great position to capitalize on a lot of opportunities in addition to closing out tightly contested games.
Akers is a classic example of consistency as he's nailed 81.9 percent of the field goals over his career. What's so amazing about him is that even at 36 he shows little signs of slowing down.
P Shane Lechler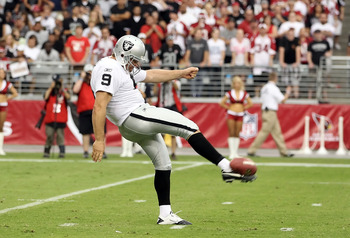 Christian Petersen/Getty Images
Every position in the NFL is important, and that includes the punters. They play a huge role in setting up field position for the other team and can help out their defense a ton.
Oakland Raider Shane Lechler does a great job at pinning his opposition deep inside their territory without allowing a big return (40.8 net average), which is why he's the best in the business.
KR/PR Devin Hester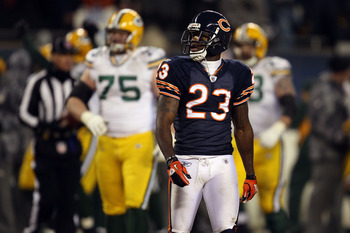 Jonathan Daniel/Getty Images
The return specialists are often the most fun players to watch, and there's none better than the man who scored a touchdown on the first play of Super Bowl XLI, Chigago Bear Devin Hester.
Hester is not only fast and quick, but he has great vision and knows how to set up for a big return. Every time he touches the ball, you just know that something spectacular can happen.
Keep Reading