Fantasy Baseball Start 'Em, Sit 'Em: The First Week of the Season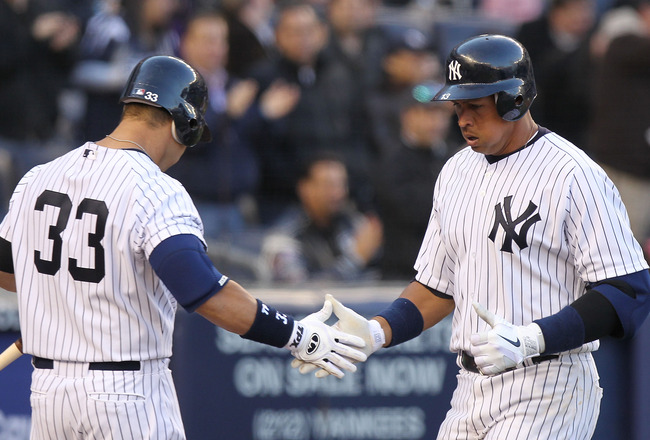 Nick Laham/Getty Images
Fantasy baseball is going into its first full week, and starting Monday owners and managers will need to have their houses in order. I'm just the man who can help you all clean up in your leagues.
Whether a beginner, a skilled competitor or a champion, the advice you get here each week will give you the upper hand and could help you defeat your foes.
Head-to-head fantasy sports formats are my specialty. I'm not big on the rotisserie, but here we go head-up into the highlights of the slide show...
Jake Westbrook: Sit 'Em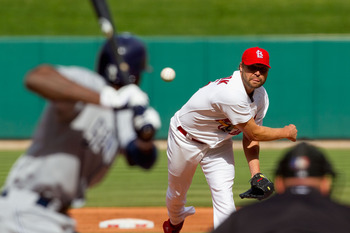 Dilip Vishwanat/Getty Images
Westbrook was hit hard by the Padres last weekend in St. Louis. He couldn't step up when the Cardinals needed a lift.
With him set to face the Giants pitching staff next weekend, his prospects for getting his first win of the season don't look good.
Make yourself look good. Keep him on the bench until he proves he can get batters out and the Cardinals can win games. As a matter of fact, I'd be looking to try to trade him if I was his owner.
Adrian Beltre: Start 'Em
Jonathan Ferrey/Getty Images
Beltre hit a big grand slam and was welcomed to the Texas Rangers on Saturday night by the home crowd in Arlington.
His big fly helped the Rangers start the season strong with back-to-back victories over the Red Sox.
Beltre set the tone for what I believe will be a monster season for him and the Rangers.
Chipper Jones: Sit 'Em
Rob Carr/Getty Images
Jones was on fire to start the season, but make sure to have him on your bench next weekend if at all possible.
The Phillies will be in Atlanta and looking to shut down the big bats of their division rivals. The pitchers from the City of Brotherly Love will have the opposite on their minds.
On the other hand, Jones' hot start should be taken advantage of but cautiousness is a virtue in fantasy baseball.
Adam LaRoche: Start 'Em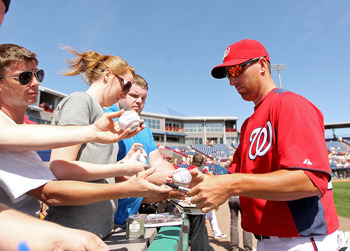 Mike Ehrmann/Getty Images
He's gotten off to a fine start along with his teammate Jayson Werth. With third baseman Ryan Zimmerman in the mix, the Nationals should produce some scoring early.
Take advantage of it while the getting is good.
Ryan Theriot: Sit 'Em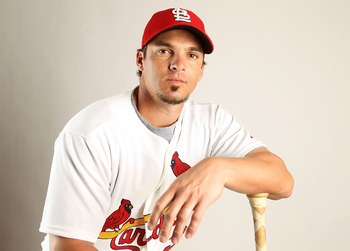 Mike Ehrmann/Getty Images
The Cardinals offense could be in shambles if Matt Holliday misses this week. They haven't been lighting it up lately as it is.
Theriot has gotten off to a slow start, and it could continue this week. He could provide some value against Pittsburgh, but the Pirates play the Redbirds tough.
At the end of the week, Theriot could face Lincecum, Cain and Sanchez in San Francisco against the Giants.
Kevin Gregg: Start 'Em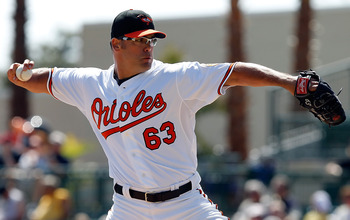 J. Meric/Getty Images
A sleeper at the closer position this year, Gregg shut down the Rays in Tampa over the weekend. He should have the opportunity to shut down a lot of games in Baltimore.
Monitor his production carefully, but he's a safe risk this week. Buck Showalter has the team off to a fast start and guys produce for him—or else.
Brett Gardner: Sit 'Em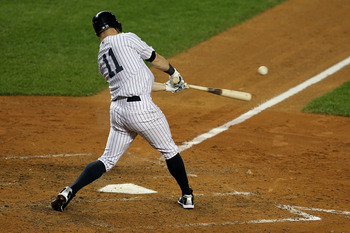 Nick Laham/Getty Images
Batting first for the Yankees, Gardner has managed a .167 average and one run scored. In light of the Yankees' bats breaking out all over Detroit's pitching over the first weekend, this isn't good.
Gardner went 0-for-5 Sunday and didn't score a run, struck out three times and left three men on base. The Yankees scored seven times in a loss without him contributing.
This could be a yearlong theme.
Jayson Werth: Start 'Em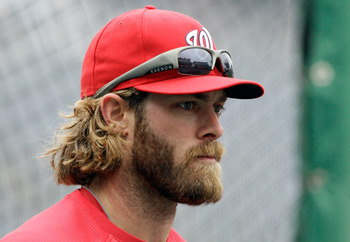 Rob Carr/Getty Images
He's gotten off to a hot start and looks confident at the plate. If the weather holds up, he'll do some damage this week against the Marlins in Florida.
David Wright: Sit 'Em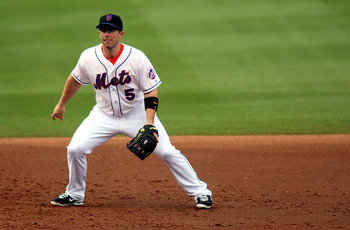 Marc Serota/Getty Images
He started strong, but now Wright's swing could go wrong in three games against the Phillies next week in Philadelphia.
In the division rivalry, he could face both of the top two starters.
Brian Roberts: Start 'Em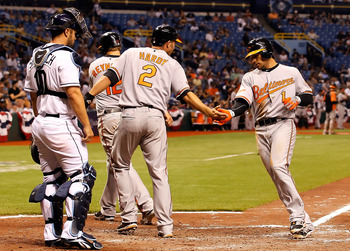 J. Meric/Getty Images
If he can stay healthy, then he'll be the catalyst for one of the most improved offenses in the league. He's started the season against Tampa Bay by displaying his home run power.
He'll score a lot of runs this season.
Keep Reading

Los Angeles Dodgers: Like this team?