NFL Draft 2011: Five Prospects Andy Reid Absolutely Must Avoid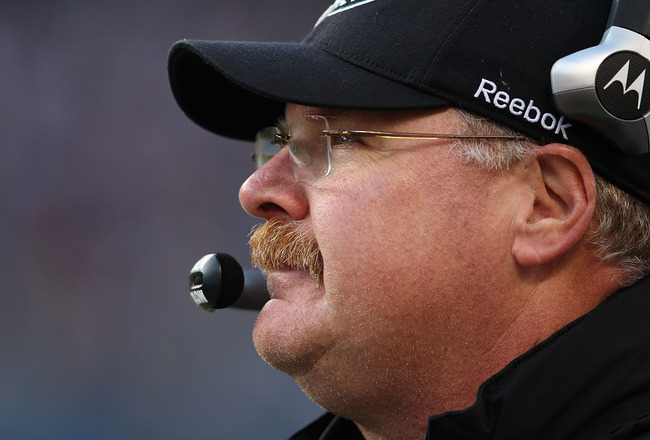 Jonathan Daniel/Getty Images
Every year there are a few prospects that, at first glance, may seem to be great additions to any franchise, but in reality are ticking time bombs, ready to bust as soon as their big-money contracts are signed.
It's often fairly difficult to pick out these prospects as their college resumes are generally extremely impressive. However, there are usually one or two little red flags that indicate that a certain prospect will be a bad investment.
To his credit, Andy Reid has managed to avoid spending top dollar on a major draft bust throughout the majority of his tenure with the team. However, there are a few tempting options in the draft pool this year that should absolutely be avoided by the Eagles.
Kyle Rudolph: TE, Notre Dame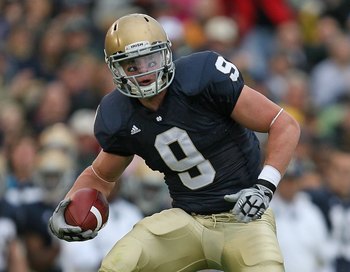 Jonathan Daniel/Getty Images
Although widely considered to be this year's top tight end prospect, Notre Dame's Kyle Rudolph would be a stretch for the Eagles to take with their 23rd overall pick.
Although Rudolph's athleticism and blocking skills might seem attractive to an Eagles squad with virtually no depth behind their starter Brent Celek, a backup tight end is fairly far down their list of offseason needs. The Eagles' second-string tight ends have a history of not being an integral part of the offense, as evidenced by the tandem of Garrett Mills and Clay Harbor combining for 11 receptions, 91 yards and one touchdown last year.
Add that to the fact that Rudolph has a significant injury history, and you have a prospect that Andy Reid should not touch with a 10-foot pole.
Ras-I Dowling: CB, Virginia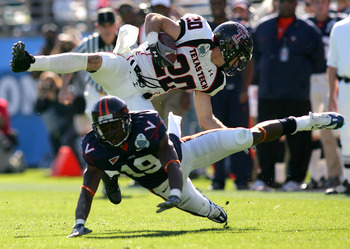 Sam Greenwood/Getty Images
Virginia's Ras-I Dowling has been mentioned in some circles as a possible second or third-round target for the Eagles. However, for a team that seems to struggle with injuries every season, Dowling would be far from a good fit.
Injured throughout much of his 2010 season with knee, hamstring and ankle issues, Dowling had an impressive 4.40 40-yard dash time at the NFL combine, until a pulled hamstring forced him to call it a day. He also missed Virginia's pro day while he recovered.
As if that wasn't enough, some experts are projecting Dowling to play safety at the professional level. While the safety position is certainly a need for the Eagles with the potential loss of Quintin Mikell, the team has had terrible luck over the past few seasons attempting to convert college cornerbacks to NFL-caliber safeties.
Just look at how long Quintin Demps and Macho Harris lasted with the team.
Ryan Mallett: QB, Arkansas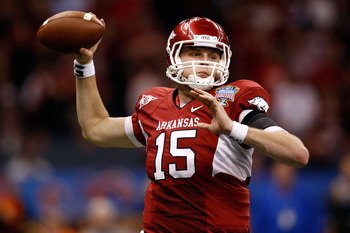 Chris Graythen/Getty Images
There is a chance Arkansas' Ryan Mallett could be available for the Eagles to select with their 54th overall pick, but character concerns are a big red flag.
Over the past decade, the Eagles have been, for the most part, an organization that focuses on acquiring good character guys. The mood of the locker room is an important one, and a player like Mallett, with his history of arrest, alleged drug use and yelling at his teammates, has the potential to sour it.
With Kevin Kolb almost guaranteed to find a new home next season, the Eagles will need a suitable backup for Michael Vick. They have already somewhat tipped their hand by scouting several mid-round quarterbacks such as Colin Kaepernick and Tyrod Taylor. However, although he is very athletically gifted, there are better options for the Eagles than Ryan Mallett.
Da'Quan Bowers: DE, Clemson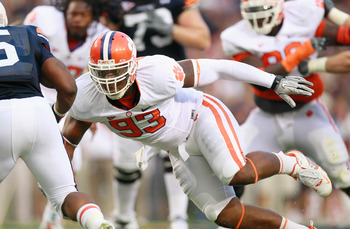 Kevin C. Cox/Getty Images
Despite originally being considered a top-five pick, Clemson's Da'Quan Bowers has seen his draft stock plummet after a miserable pro day.
Bowers has health question marks all over him after skipping the NFL combine while waiting to heal from his meniscus tear surgery. He then hobbled through his pro day, unable to put up impressive numbers because of his knee.
Then there is his college record where Bowers only had one breakout year. During his freshman and sophomore years, he had a combined total of four sacks. All of a sudden, he became a top defensive prospect after racking up 16 sacks in the 2010 season. This one-year wonder has bust written all over him.
Should personnel trades become available before the draft, the Eagles will now have the ammo available to trade up high enough to get Bowers, but that would be a mistake. One needs to look no further than Jerome McDougle, Jon Harris or Mike Mamula to get a sense of how the Eagles have fared lately when trading up to draft a defensive end.
Jimmy Smith: CB, Colorado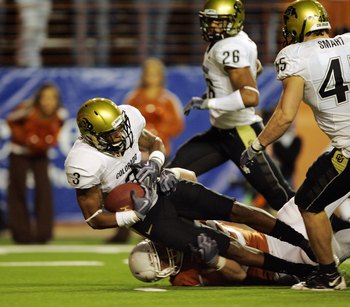 Brian Bahr/Getty Images
Many recent mock drafts have the Eagles selecting Colorado's Jimmy Smith with their 23rd overall pick, and the Eagles have only strengthened their alleged interest by inviting him to a private workout.
There is no denying Smith's talent. Plus, he fills a major need for the team. Still, if former Eagles first-round pick Freddie Mitchell is any indication, signing players with character flags is a very risky maneuver.
Smith's multiple underage drinking arrests, coupled with his history of drug use and his apparent lack of a work ethic, raise too many red flags to risk the investment of a first-round pick. The Eagles should follow the leads of the several NFL teams who have reportedly already removed Smith from their draft boards.
Keep Reading

Philadelphia Eagles: Like this team?