2011 NFL Draft: Where Top Quarterbacks Will Be Drafted and How They Will Play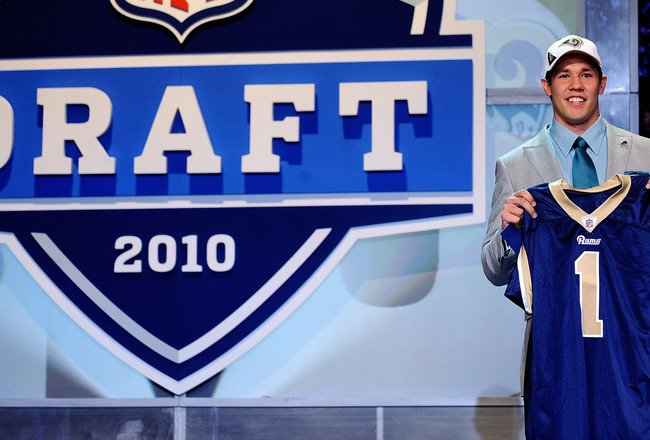 Jeff Zelevansky/Getty Images
There is an old saying in the NFL:
If you are in the position to draft a potential franchise quarterback, unless you have one, you HAVE to.
It is no secret that the QB position is the most important on the field. Over the last 10 years, there have been a total of 27 drafted in the first round.
2010
1) St. Louis Rams: Sam Bradford
25) Denver Broncos: Tim Tebow
2009
1) Detroit Lions: Matthew Stafford
5) New York Jets: Mark Sanchez
17) Tampa Bay Buccaneers: Josh Freeman
2008
1) Atlanta Falcons: Matt Ryan
18) Baltimore Ravens: Joe Flacco
2007
1) Oakland Raiders: JaMarcus Russell
18) Cleveland Browns: Brady Quinn
2006
3) Tennessee Titans: Vince Young
10) Arizona Cardinals: Matt Leinart
11) Denver Broncos: Jay Cutler
2005
1) San Francisco 49ers: Alex Smith
24) Green Bay Packers: Aaron Rodgers
25) Washington Redskins: Jason Campbell
2004
1) San Diego Chargers: Eli Manning
4) New York Giants: Philip Rivers
11) Pittsburgh Steelers: Ben Roethlisberger
21) Buffalo Bills: J.P. Losman
2003
1) Cincinnati Bengals: Carson Palmer
7) Jacksonville Jaguars: Byron Leftwich
19) Baltimore Ravens: Kyle Boller
22) Chicago Bears: Rex Grossman
2002
1) Houston Texans: David Carr
3) Detroit Lions: Joey Harrington
32) Washington Redskins: Patrick Ramsey
2001
1) Atlanta Falcons: Michael Vick
In addition to the 27 drafted in the first round, there were NINE that were selected first overall. The only year that no QB was selected first overall was in 2006, and NONE of the first-round picks will be on the team that drafted them in 2011.
The only teams to NOT take a QB in the first round are:
Indianapolis Colts: Peyton Manning
New England Patriots: Tom Brady
Miami Dolphins: They have spent three second-round picks, and traded two others, on the position.
Kansas City Chiefs: Traded for Matt Cassel
Philadelphia Eagles: Had Donovan McNabb and drafted Kevin Kolb in the second round to be eventual replacement.
Dallas Cowboys: Tony Romo
Arizona Cardinals: Had Kurt Warner until he retired.
Seattle Seahawks: Matt Hasselbeck
New Orleans Saints: Drew Brees
Minnesota Vikings: Brett Favre
Carolina Panthers: Tried Jake Delhomme, used second-round pick in 2010 on Jimmy Clausen.
Though all of these players have not panned out, it is obvious that NFL teams understand the the QB position is THE most important on the field.
This is the list of the 2011 QB class, where I believe they will be drafted and how I believe they will pan out in the future.
Cam Newton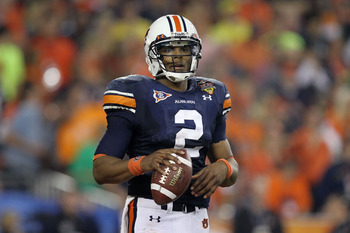 Ronald Martinez/Getty Images
With the first pick in the 2011 NFL draft, the Carolina Panthers select:
Cam Newton.
This has NOTHING to do with race (sorry, Warren Moon), but Cam Newton has BUST written all over him. It really isn't his fault either.
Because he is drafted to the Carolina Panthers, Newton is going to have to become the starter sometime during his rookie season.
The Panthers have no real veteran QB presence on their team and not a lot of offensive weapons to go along with him.
After losing the first five or six games of the season, the Panthers and new coach Ron Rivera are going to put Newton in to take his lumps.
Though I believe that Newton will have some early success with his ability to run and a rocket for an arm, once opposing defensive coordinators have enough game film to break down Newton's tendencies, he is going to be in trouble.
As a run-first team, the Panthers, who are NOT going to have much success this year (may pick first overall next year as well), are going to play a lot of games from behind. That will put the ball in Newton's hands, and as I stated before, with no real receiving weapons, he is going to be crushed.
Blaine Gabbert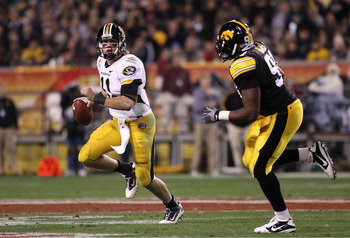 Christian Petersen/Getty Images
With the fourth pick in the 2011 NFL draft, the Cincinnati Bengals select:
Blaine Gabbert.
With Carson Palmer stating that he is not going to be in a Bengals uniform next season, even if it means he is going to retire, I believe he is telling the truth.
Like the Panthers, the Bengals have no real veteran leadership (without Palmer) for Gabbert to learn under. Because of that, Gabbert, unlike Palmer before him, will not be able to sit for his rookie season and will be forced to play.
Also like the Panthers, Gabbert does not have a solid offensive line or any great receiving weapons to throw the ball to.
The Bengals are going to have to survive by running the football, and Cedric Benson is an unrestricted free agent.
Once the wolves of the AFC North start to attack this rookie, it could do irreparable damage to his career.
I honestly believe that if Gabbert would be able to watch behind a great QB for a year, he could be the next Aaron Rodgers.
Playing for the Bengals will probably make him more like Alex Smith.
Christian Ponder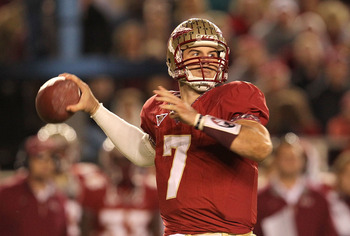 Mike Ehrmann/Getty Images
With the 15th pick in the 2011 NFL draft, the Miami Dolphins select:
Christian Ponder.
As I stated in the first slide, the Miami Dolphins have spent NUMEROUS second-round picks trying to find their next Dan Marino.
Though Ponder will never take the place of Marino, he is considerably better than anything they currently have on their roster.
The Dolphins are in a great spot because the teams ahead of them that need a QB are probably not going to reach that far going after Ponder, so he should fall to them at 15.
As I said, Ponder will never be a Dan Marino, but he will still find some success playing for the Fins.
Had Chad Pennington not torn his ACL playing basketball and been on the Fins in 2011, Ponder would have a much greater advantage. He still is in a better position than either of the QBs taken ahead of him though.
Colin Kaepernick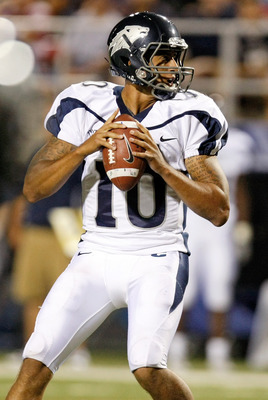 Ethan Miller/Getty Images
With the 16th pick in the 2011 NFL draft, the Jacksonville Jaguars select:
Colin Kaepernick.
It is no secret that Jack Del Rio does not believe that David Garrard is the QB of the future in Jacksonville. He said it.
The Jaguars are also enamoured with Kaepernick and believe that he has the potential to be better than Garrard.
Garrard will be a professional and probably have one of his best professional seasons this year in Jacksonville, but make no mistake, Kaepernick is the Jaguars' guy going forward.
Kaepernick will probably not get a lot of playing time in 2011, but that will only serve as an advantage to him in the long run.
Starting in 2012, Colin Kaepernick will become the Jaguars' starter and lead them to more success than they have had in years.
Am I saying he is going to be a Peyton Manning? Not a chance. I do believe that he is an upgrade at the position and will be a great selection by Del Rio and the Jaguars.
Now What?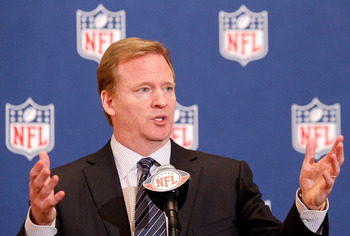 Sean Gardner/Getty Images
Roger Goodell looks confused, doesn't he?
At this point is where the wheeling and dealing will start to take place. From pick 17-24, there are no teams that needs to draft a QB. Seattle sits at 25 and is looking for an eventual replacement for Matt Hasselbeck.
I believe that the Seahawks would LOVE to select Jake Locker at 25. The real question is, are they willing to sit and wait for seven picks to go by and hope that no one trades up to get him?
They would have to wait through New England at 17 and San Diego at 18.
Both teams have shown that they love to trade during the draft, ESPECIALLY the Patriots. Not to mention the Cardinals and 49ers, who both pick at the top of the second round, may be looking to trade up to take Locker.
Jake Locker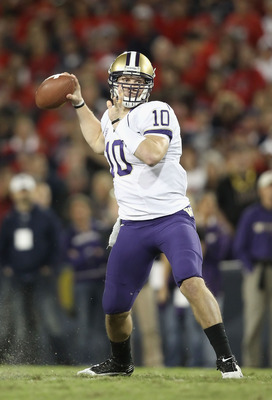 Christian Petersen/Getty Images
Once the Patriots are on the clock, Bill Belichick will make a phone call to the Seahawks and tell them that he has gotten calls from both the 49ers and Cardinals, wanting to trade with them for the 17th pick.
Belichick will say that he was offered their second-round pick and their first in 2012, but if Seattle will trade them their first and third in 2011, then they will trade with them.
Seattle will jump all over this and make the trade.
With the 17th selection in the 2011 NFL draft, the Seattle Seahawks select:
Jake Locker.
Locker has a lot of upside, even though he has not had a particularly great offseason.
Though he will never be a great QB or probably ever even be in the elite conversation, he will do well enough to win the Seahawks some games and probably take them into the playoffs a few times.
But like Matt Hasselbeck, he will probably never hoist the Lombardi Trophy.
Ryan Mallett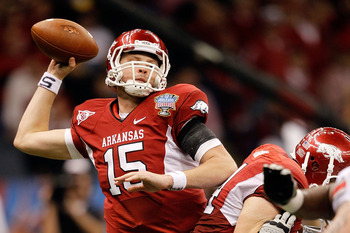 Matthew Stockman/Getty Images
With the fifth pick of the second round, the Arizona Cardinals select:
Ryan Mallett.
Mallett has the abilities to be a stud in the NFL. The only question is his attitude. His "alleged" drug issues are the only thing that kept him from being drafted higher than this.
Standing 6'7", with a cannon for an arm, Mallett is perfect for coach Ken Whisenhunt and his offense. Having a host of great receivers, such as Larry Fitzgerald, will only make Mallett look like the steal of the draft.
Provided that his attitude and other "issues" do not ruin his career.
San Francisco 49ers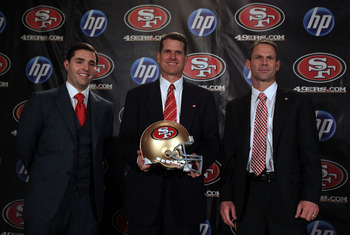 Ezra Shaw/Getty Images
There will be a lot of people that swear that Jim Harbaugh will be taking a QB with one of his first two picks in this year's draft.
I will bet dollars to donuts that Harbaugh will not.
The excuses we will hear is that Harbaugh believes in Alex Smith. That the 49ers don't want to draft someone early because of the lockout. That they are waiting to trade for Kevin Kolb.
All of this is nothing more than a smokescreen.
Harbaugh has every intention of using the current QBs on his roster for the 2011 season. He believes that the future of the 49ers is not in this year's draft, but next year's.
I believe that Harbaugh had already convinced the management of the 49ers PRIOR to him accepting this job that Andrew Luck is going to be the next Joe Montana. He KNEW that there would be NO CHANCE of trading up to get Luck and that he was willing to sacrifice 2011 so that he can get Luck(y) in 2012.
The way that things will probably turn out in 2011, the drafting order will be VERY similar to what it is this year. The Panthers and Bengals, BOTH of whom have the best odds of finishing worse than the 49ers this year, will be drafting QBs at the top of the first round this year.
That means even if Harbaugh finishes better than them, with the third pick in 2012, odds are he has the best chance of trading up to get HIS guy.
Kevin Kolb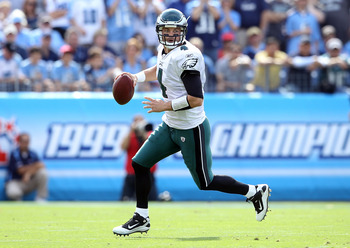 Andy Lyons/Getty Images
The Eagles have already stated that Kolb is on the trading block. He will be traded once the new CBA is agreed upon. The only question is, to whom?
Most teams are not going to want to wait until after the draft to make the trade, basically because they do not want to get into a bidding war for someone that has proven he cannot handle starting for the Eagles, while also due to earn $11 million in 2011.
Whoever does trade for Kolb is going to have to give him a contract extension right off the bat.
Although I believe that Kolb will end up being traded to the Tennessee Titans, there are lies that are going to be told between now, the draft and when the new CBA is signed.
I think the Titans are going to end up giving up a first (2012) and probably a second (2013) round pick, which is WAY more than Kolb is worth and probably a LOT more than any other team is even offering.
Conclusion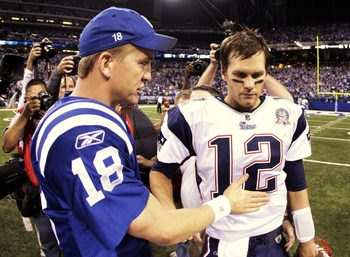 Jamie Squire/Getty Images
Just like most years, there are a lot of teams that are looking to find that guy that is going to make them a great team.
Hate to tell you all—there is not a Peyton Manning or Tom Brady in this bunch.
I think the 2011 QB draft class has some potential to win some games, but I don't believe that it will come CLOSE to the Class of 2004 (minus J.P. Losman).
If you are going to compare this class to any of the last decade, I would say that the most likely year would be 2003.
Though there were some players in the 2003 NFL draft, none of them really stand out as the elite of the NFL.
1) Cincinnati Bengals: Carson Palmer. In his seven years as a starter, he has two winning records with two playoff appearances. He lost both playoff games.
7) Jacksonville Jaguars: Byron Leftwich. Leftwich does have two Super Bowl rings, even though he won them as a backup to Ben Roethlisberger.
19) Baltimore Ravens: Kyle Boller. Boller impressed everyone prior to the draft by kneeling on the 50-yard line and throwing the ball through the goalposts. Too bad he can't hit a receiver.
22) Chicago Bears: Rex Grossman. The only player of that season's first round that started a Super Bowl. He lost and was run out of town.
Right now, it is nice to look at the potential of the Class of 2011. Please, just remember, there were MANY people that believed that Ryan Leaf was going to be a better QB than Peyton Manning.
We all know how that turned out.
Interesting side note: 90 minutes after publishing this article, I read THIS on profootballtalk.com.
Keep Reading