2011 San Francisco 49ers: Four Key Factor's on the Road to Success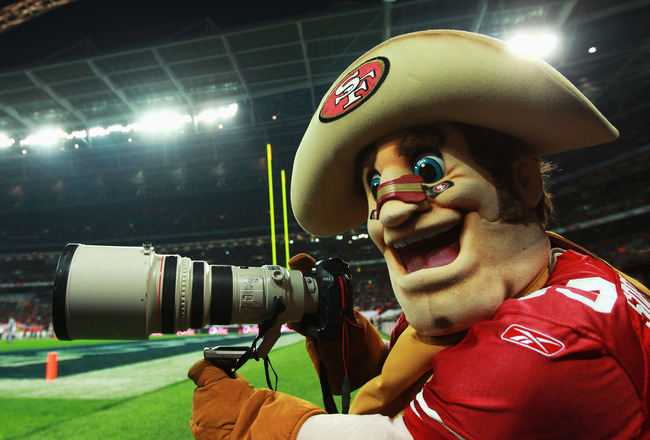 Warren Little/Getty Images
There are many factors that team's go through each year on the road to either victory or defeat. Each one of those things will dictate the outcome of when a team's road will end in the course of a season.
The outlying factor's can impact the players, and the play of the players can impact the outlying factors. In this piece, the focus is going to be on every facet that can possibly have an impact for the up and coming year.
Last year, many Forty-Niners fans watched yet again another disappointing season. Empty promises were thrown out to the fan base nearly every week. It started at the end of the 2009 season as Jed York (team president) promised Niners fans that, "this would be the last time the season ended in December." Although technically he did not lie, most fans were savvy enough to pick up on the gist of what he meant.
After all the dust had cleared, and the Singletary empire had been thrown out in to the cold, rumor's spread that the Niners would be looking at several coaching possibilities. One of the coaches that was on the radar wound up getting the job.
The Jim Harbaugh era began with a sweeping up of all the shattered pieces of a subpar coaching staff. The entire face of the coaching staff, with exception of a few worth keeping were replaced. Basically, it appears that the 49ers head-honchos, yet again, have hit the refresh button.
Now Niners fans are given a breath of fresh air in the possibility of the tables being turned after nearly a decade of disappointment.
With that, there are key ingredients that make teams successful; four key factors if you will. Follow the slideshow to reveal the level of importance and how these particular things impact each other.
4. Coaching Staff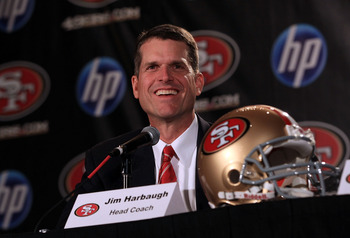 Ezra Shaw/Getty Images
Some folks may argue that coaching is closer to a No. 1 priority, but once the slideshow is complete, it could change the perception a bit.
Coaching may be the last factor on this list, but don't let that skew the vision here. All facet's have their own importance, but there is still a sequence.
Sometimes a new coaching staff can come in and make an immediate impact, never looking back. It's assumed by most Niners fans up to this point that the results that Harbaugh will bring versus what has been seen over the last ten years or so, will ultimately be an upgrade. Whether that's true or not remains to be seen.
However, it is very possible that the change of faces could lead to a change of scenery. Just ask the New England Patriot's players over the last decade or so just how much of a difference good coaching can make.
Some fans may argue that the players should come after coaching is in place. But without talented players, sometimes coaches, decent ones even, don't have a chance to turn things around in time. It's why many expansion teams or "ground zero" teams rarely keep their original coaches for long.
The impact of coaching can only go so far. Without the players to do so many coaches are often left chomping at the bit.
3. Players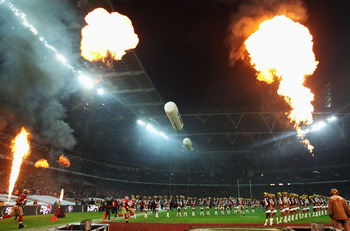 Ian Walton/Getty Images
Without the players, you're really stuck with a sinking ship. Fighting an uphill battle is rarely won.
It's really a simple concept. It really takes a good combination of players, coaching, and, of course, scheme to be headed in the right direction.
Often times you hear the terminology of a player "being coached up." But what that really means is a coach can take a guy with some talent, raw as it may be and help him reach his potential. If a player doesn't have much potential and has just about reached his peak in college, it's not going to end well.
Sometimes front offices will draft these sort of players over and over and over again. Beating their heads against the same steel iron door.
One thing the 49ers do have going for them, is that there is A LOT of talent already on the roster. There are several players that have been stuck in neutral with no direction to direct their God-given ability toward.
There are some players currently rostered that amaze the fan base already and other players that fans feel have that "all-star" quality just waiting to jump out like a jack-in-the-box and yell, "surprise! I was always here".
The coaches do have to be able to coach the players, yes. But the players have to have the right sort of talent for the coaches to work with in the first place.
2. Ownership, Front Office, and Management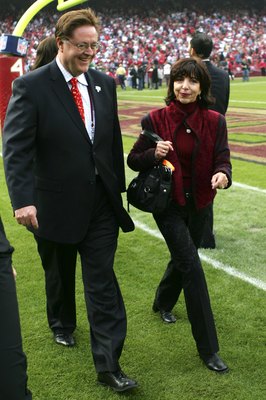 John and Denise York walk at the back of the end zone prior to a 49ers kickoff
Jed Jacobsohn/Getty Images
Without good ownership and management, teams will be left without good coaches and good players.
Some may ask what the definition of a good owner is. The most obvious answer would be owners that can A) make good profit year in and year out, and B) please their fan base and give them something to cheer about year in and year out.
The 49ers, since the change of hands in the year 2000, have not been regulars as they once were to the playoffs each year. It has been a slippery downhill ride for this franchise ever since.
Some folks think that the York's should have just kept ownership in the National Hockey League and stuck to that. Others feel that there is still hope under the York's. Then there are those who fall somewhere in between with a somewhat "meh" attitude toward the whole thing.
In 2008, John and Denise gave full control of the operations to their son, Jed York, who is now the team president. York grew up in the locker rooms during the 80's and 90's decades when the 49ers were a force to be reckoned with. Since taking over, he has appeared on the surface real fiery and nearly as passionate as his uncle (Eddie DeBartolo Jr.) once was.
Fire and passion will only take a team so far though. If the right moves are not being made regarding coaching, as well as the personnel that the coaches have to work with, then what is the use of buying a ticket to see your favorite team play?
1. Fans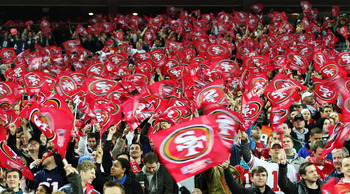 Ian Walton/Getty Images
Yes, fans are the No. 1 factor of any franchise.
Without a good loyal fan base, a team may never get over that hump. Look at the Jacksonville Jaguars for instance. They have had years where the coaching was there as well as the talent in personnel but just never have got over that hump. If you take a look at their stands half the time, they are rarely ever filled.
The fans themselves have got so used to losing that it has become common to act the way Randy Quaid did in the movie Major League II.
It seems as though in recent years, some 49ers fans have become just as negative and expect to lose as some of the less enthusiastic teams fan's have been molded to act over the years.
Once upon a time, the word "Faithful" was attached to the 49ers fan base describing which was obviously used to describe the loyalty that fans had way back when. The term still exists but the attitude has diminished some over the last few years.
The 49ers have won five Super Bowls and lost zero. There will be a time when they start winning again. And that time may be soon.
The bottom line is this: Without the fans, there is no coaches, there is no players, and there certainly is no ownership.
But ask yourself the single most important question; when the season gets going (whenever that may be) will you be one of the fans that can honestly say that you were "Faithful"? Or deep down inside will you always know that you were acting like Quaid did in Major League II... a fair weather fan?
Keep Reading

San Francisco 49ers: Like this team?