MLB Predictions: 10 Prospects Who Will Debut Later Than They Should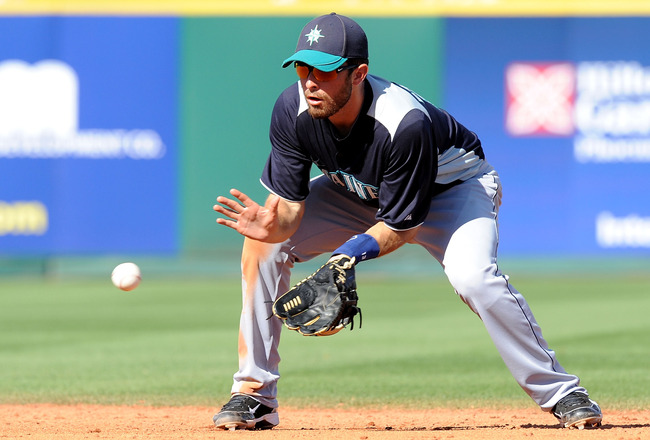 Norm Hall/Getty Images
Last year there were some big-name prospects who were not on a major league roster for Opening Day, but by the end of the year, they left their mark on the majors. Players like Stephen Strasbourg, Mike Stanton, Ike Davis,and NL Rookie of the Year Buster Posey.
This year has some top prospects that could make an impact right now on their respective teams but for one reason or another, will be starting the year in the minors. Most of the time the reason for not bringing up a player is because the club can keep them under club control longer before they are eligible for free agency.
These are 10 players who will debut in the majors later than they should.
Jordan Lyle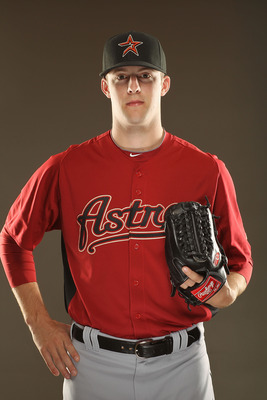 Al Bello/Getty Images
The 20-year-old starting pitcher is the Astros' top prospect and proved this spring he has the talent right now to be a major league starting pitcher. In five appearances this spring, he only allowed three earned runs for an ERA of 1.98, to go along with nine strikeouts.
However, the Astros decided to start the year with starting pitcher Nelson Figueroa over Lyles as a way to give Lyles more time in Triple-A, even though Lyles had the better spring. Lyles minor league trip down will most likely be only short-lived, as he is expected to be with the Astros by the All-Star break.
Jesus Montero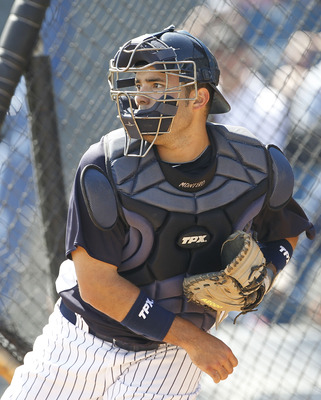 Leon Halip/Getty Images
This one I don't understand. Jesus Montero is one of the top prospects in all of Major League Baseball and will once again be starting the season in the minor leagues. Last year at Scranton, he hit 21 HRs and 75 RBI and it looked like with Francisco Cervelli's foot injury, it opened the door for Montero to get a spot with the Bronx Bombers.
However, the team decided to give the backup catcher spot to Gustavo Molina. He had one hit in 18 at-bats this spring, compared to Montero, who didn't hit much better than Molina at .250. The only reasoning I could think of, is that Montero can get regular at-bats at the Triple-A level, but he has already shown he can hit there and it is time for Montero to get some major league experience.
Manny Banuelos
This 20-year-old lefty turned some heads this spring by winning the James P. Dawson award, which is awarded to the top rookie in Yankees' camp. He went 1-1 in six starts this spring for a 2.13 ERA and 14 strikeouts.
The problem with Banuelos is the fact that he hasn't pitched at the Triple-A level and he is young at 20 years of age. I still expect Banuelos to pitch for the Yankees at some point in 2011, but he showed in the spring that he is ready now.
Mike Moustakas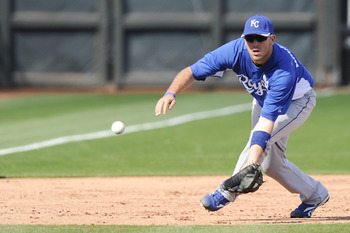 Rob Tringali/Getty Images
Considered one of the top prospects in the Royals' farm system, Mike Moustakas did not have the best spring, hitting .227 with one HR and six RBI in 12 games. Last year, though, it was hard to find a player with a better stat line than Moustakas in the minors. Between Double-A and Triple-A, he hit 36 HRs and 124 RBI with a .322 average.
The Royals have already tied a lot of their hopes in turning around the organization to this left-handed batter. Right now, it looks like the Royals have plugged-in converted second baseman Mike Aviles at third base, but it only looks like a temporary move and Aviles is just keeping the seat warm for Moustakas.
Brett Lawrie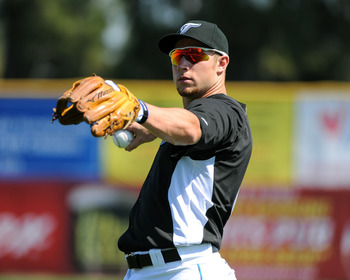 Al Messerschmidt/Getty Images
Brett Lawrie came over to the Blue Jays this winter in a trade that sent Shawn Marcum to Milwaukee, and he had a great spring, even though he is heading to Vegas to start the season. He hit .282 with two HR and six RBI in 17 games. Last year at the Double-A level, he hit .285 with eight HR and 63 RBI, to go with 30 stolen bases,
Lawrie had a good spring, but he is switching from second base to third base this season and will need to get some work in defensively, even though he has major league ability at the plate right now.
Matt Moore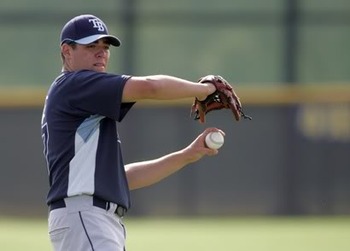 Matt Moore is the second-best pitching prospect right now in the Rays' farm system and is ranked 27th in MLB.com Top 50 Prospects. His stats to this point has been nothing less than impressive, totaling 208 strikeouts last season and having a K/9 of 12.9 over the past two seasons.
Moore has not pitched higher than Class High-A though, and will not probably not see the majors for at least another year. The other issue is that the Rays have an impressive young pitching staff and it may be tough for Moore to crack the rotation.
Mike Trout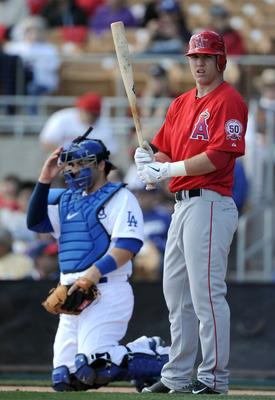 Harry How/Getty Images
Mike Trout is MLB's top prospect in their Top 50, and the scouting report is that he can do everything and do it well. He has top speed, a good bat and great defense. He is only 19 years of age, but got into 16 games this spring and hit .276 with eight stolen bases.
With the addition of Vernon Wells, the Angels have solid depth in the outfield right now, not to mention the large contracts that Wells and Hunter have, and the Angels won't start Trout over either. However, neither player is getting any younger and it will only be a matter of time before Trout is playing center field for the Angels.
Dustin Ackley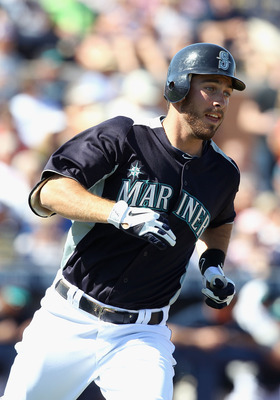 Christian Petersen/Getty Images
Dustin Ackley is the top prospect for the Mariners and will soon be playing second base for them, but has been sent down to Triple-A to start the season. Seattle will be going into the season with Jack Wilson as the starting second baseman, but that is only a temporary move until Ackley gets brought up.
Ackley split time between Double-A and Triple-A, hitting .267, but he actually hit better when he played at the higher level, hitting .274. Ackley had a pretty good spring, hitting .269, and showed he can hit major league pitching, so it is only a matter of time before Ackley is playing with the big boys.
Eric Hosmer
Rob Tringali/Getty Images
The other player that the Royals are relying on to revive the organization is first baseman Eric Hosmer. Hosmer played very well after getting called up to Double-A, hitting 13 HRs and 35 RBI in 50 games. He continued to improve in his first spring training camp, hitting .450 with two HR and eight RBI in 13 games.
Hosmer is not close to being ready for the majors like Moustakas, but he could possibly see some major league experience at the end of this season. The best projections is that Hosmer will be with the Royals in 2012, which is later than it should be.
Bryce Harper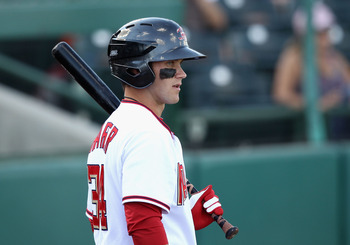 Christian Petersen/Getty Images
Bryce Harper got a lot of publicity for being the first overall pick in last year's draft and did not disappoint in his first spring.
He hit .389 in 13 games with five RBI and showed he can already hit major league pitching. The problem and the reason why Harper's major league debut may be delayed, is that he is making a move to the outfield and is trying to learn the position.
Harper will start the season at the Single-A level but I am sure he will be fast-tracked through the minor league system. He did show he can hit major league pitching, but will need to prove to the Nationals he can play the field effectively.
Keep Reading