2011 NFL Draft: 20 Prospects That Should Be Available for Bears at 29th Overall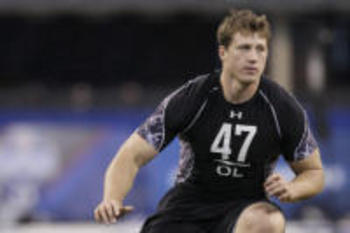 LT and possible Bear draft pick Nate Solder participating in drills at the 2011 scouting combine
I know this subject has been done to death, however, I wanted to put my two cents in on the Bears possible picks at No. 29 overall anyway. I made the list out of realistic choices that may fall to the Bears in the back end of the 2011 draft, spliced together with the Bears biggest needs. With the trusty information of draft experts from a few sites around the web, and the help of video posts on youtube, here we go.
My Favorite Pick Nate Solder

Nate Solder

Heres a kid I don't expect to get to the 29th pick as many experts seem to think. I find it extremely hard to believe that 28 teams would pass this kid up after not seeing what I see. What I see is a starting left tackle for the next ten plus years who should make his fair share of pro bowls, and at least a couple all pro nominations. But that being said I have posted this because of many thinking he'll be there, and the possibility of a trade up to get him.
Derek Sherrod

Derek Sherrod

Heres another kid I think IS a Left Tackle at the next level. There are questions about his nasty though which would make him another Frank Omiyale. Physically capable, but too non-nonchalant to be a top tier Left Tackle at the next level. Bears would have to make sure his competitive level is up to snuff at the pro level, or he will get eaten up. But physically he's all you want for a Left Tackle. He has long arms, good height and weight, and is athletic who has good feet, and is a natural knee bender which gives his 6'6" frame good leverage and ideal pad level. But as I said this guy is already on the roster in Frank Omiyale.
Gabe Carimi OT Wisconsin

Gabe Carimi

Heres a guy that many think will go to the Bears at 29. I'm not as high on him as a Left Tackle. Not in the NFL. I think he would be average there at best. At Right Tackle, or Offensive Guard I like him a lot. If Webb is tagged to go to Left Tackle like many think, than maybe this makes sense. I do however see a legitimate Left Tackle falling to the Bears at 29. If there isn't a sure no doubt about it NFL Left Tackle there, you go in another direction, and pick up a lineman later in the draft. The Bears can go later to find talent these days as they finally have legitimate NFL coaches to develop talent, unlike as in years past when Lovie would stock his staff with inexperienced yes men.
Benjamin Ijalana, G/OT, Villanova

Benjamin Ijalana

Ijalana, is another impressive athlete who has all the physical gifts to star in the NFL for a decade or more at Left Tackle, but has his nasty streak questioned. Another possible Frank Omiyale clone. The kid is also very intelligent which is a plus in the Martz offense. In this video you can certainly see he has a great brain, and media savvy. If he measures up in the mean streak department, this may be THE steal in the entire daft. He's projected to go in the 2nd, but if the Bears feel he is the future at Left Tackle, they will have to take him at 29, because he won't last till 61st. I can almost guarantee it. Unless the Bears do what I prefer they do, and trade down and pick up a high 2nd, along with a 3rd to 5th for the 29th pick.
Mike Pouncey, G, Florida

Mike Pouncey

I will say right off that I'm a guy who is dead set against picking any interior Offensive linemen number one! I'd probably include Right Tackle in there too, unless theres already a stud Left Tackle on the club and this kid has to go to Right Tackle because Left Tackle is taken, and he's just a stud who can easily play Left Tackle in the NFL. Than maybe. That said this pick is a possibility, so I'm putting him on there. I actually like the Bears current interior linemen prospects and I think Mike Tice can mold them into players. I know I'm in the minority on this, but I have no issue with that. If you look at the top interior linemen, and total NFL starters at both Guard and Center, most are mid to low picks, and some even un-drafted scrap heap guys.
Danny Watkins, G, Baylor

Danny Watkins

Heres another Guard prospect I'd stay away from at 29th. But he has been connected to the Bears as a day one pick, so I added him since there is a slight possibility. Unlike Mike Pouncey, who has NO chance at playing Offensive Tackle on either side, Watkins actually played Left Tackle at Baylor as you'll see here in this clip. So in a pinch you can move him to either Offensive Tackle spot. Maybe he can even start at Right Tackle, and be a legitimate starter on that side. Also he's 26 which makes him a win now guy, and the Bears are looking for guys who can play NOW, not later, high in the draft.
Orlando Franklin, G, Miami

Orlando Franklin

Heres a kid who projects as a guard, but much like Watkins played Left Tackle in college and has that added value of being a possible Offensive Tackle replacement in case of injury. If I'm not mistaken I think he even played the Right Tackle spot in this video. If thats the case he is even a better value pick than expected. I know first round is a long shot with this kid, but Pro Football weekly has him going to the Bears at 29th overall. That is a very credible publication with good sources including publisher Hub Arkush who did color commentary back in the day for the Bears. Plus he appears to have that mean streak in him mike Tice loves, so if the Bears go Offensive line here, and the left tackle prospects are off the board they may reach for him at 29th overall.
Muhammed Wilkerson, DE/DT, Temple

Muhammed Wilkerson

Wilkerson is an impressively imposing figure at the under tackle position. He's much longer than your typical three technique, but looks like a perfect fit in the Bears system. That extra length should come in handy knocking down the cover-2 killer routes up the gut that require low trajectory throws, like the WR slant, and the intermediate to deep middle in's, and dig routes to the TE's, and slot receivers. He is cat quick too which should get him a lot of interior penetration for a few QB hurries, hits, and sacks, not to mention TFL's on run plays. He can also run down RB's from behind. He's getting a lot of buzz. and is considered by many to be the third best Defensive Tackle in a very deep draft for Defensive lineman, and in particularly interior ones.
Corey Liuget, DT, Illinois

Corey Liuget

Heres a guy who a lot of mocks have going to the Bears. I personally don't like this pick at 29th overall. He's a nice enough player, but when I see him on tape I see a good player, not a great one. That said he's projected to go sooner than 29th overall anyway.
Stephen Paea, DT, Oregon State

Stephen Paea

Paea is known mostly for his bench pressing record at the combine. This tells us he's certainly strong enough, but he's also a high motor/high character guy who is pretty quick and can play the under tackle spot that is very important in the Bears defensive scheme. This would be a very satisfactory pick, although if the Bears could trade down into the early second, and get him, that would be the right value for this good looking prospect in my humble opinion.
Drake Nevis, DT, LSU

Drake Nevis

My next guy is THE one I like best as the Defensive Tackle pick for the Bears, but Nevis is a very close second. This kid is lightning quick. a good character guy, a hard worker, and has a nasty streak in him! Most boards have him as a 2nd/3rd rounder, but if the Bears reached in value for him I wouldn't be upset about it, because I think he would thrive in this system. Not only that, but he would without a doubt increase the production of Peppers, and the other linemen. It would be a scary D-line to game plan for. All you have to do is watch how he tore up the gators in this video with big play after big play to see what he could do for the Bears.
Marvin Austin, DT, North Carolina

Marvin Austin

I love this kid! He also has less wear and tear due to his missing the 2010 season, because of the massive amounts of suspensions from the whole scandal involving gifts from agents thing. Don't know a whole lot about that, but there are character concerns automatically because of it, and may be the reason he falls like a rock and could fall in the lap of the Bears at 61st overall. Taking him 29th overall may be a reach value wise, because of the character concerns, and he dropping for that very reason. Just like with Nevis, but for different reasons, I wouldn't be upset if they did reach here. The main reason is I believe he will be a star in this system for the Bears. He's strong, quick, fast, and as Jim Croce once penned in a song, is meaner than a junk yard dog. Just the way I like my football players.
Torrey Smith, WR/KR, Maryland

Torrey Smith

The Bears need a play making wide receiver. There is no denying that. Anyone who thinks otherwise are kidding themselves. Do they have receivers who can make plays? Yes of course, but I'm talking about on an elite level of consistency. There are concerns with Smiths route running, (which is very important in the timing offense of Martz'), and his small hands for a kid his size which brings questions about his dropping passes. But there is no denying the kid makes plays. He would definitely require a defensive coordinator take up a significant amount of time game planning for him, and open things up for the other guys. If the Bears fix the offensive Tackle position, and can hold their blocks consistently, just imagine trying to defend 3 receivers who run 4.3 40's when the Bears run their 3 wide receiver 9 route play. A play that gave teams fits with the greatest show on turf teams.
Jonathan Baldwin, WR, Pittsburgh

Jonathan Baldwin

Baldwin is an interesting prospect, because he has all the physical characteristics one could ever hope for in a Wide Receiver. He's big, fast, jumps out the gym and gets everything thrown to him. Couple that with the fact that it appears the Bears are purposely looking for big go up and get it receivers. Everyone assumes the Bears will go either Offensive or Defensive line, but don't fall asleep on the possibility they pluck this kid at the 29th overall pick if he's still on the board. The one thing that is a concern is he is considered stiff hipped and a poor route runner. A very important component in the Coryell offense. Unless Matz goes with a hybrid type offense to match his personnel and creates packages to suit the strengths of certain players, thats a negative that can guarantee the Bears will pass on him. They can also believe in their ability to teach him to run routes better, and he being capable of it.
Leonard Hankerson, WR, Miami

Leonard Hankerson

Hankerson's a receiver that possesses many of the qualifications the Bears would be looking for in a receiver. He's got nice size, runs good routes, can go up and get it, will fight for the ball, and runs well with big strong hands. He does have a rep of dropping a few easy ones though. Always a concern, but it seems like if there is a first round graded receiver that fits what the Bears want its this kid right here.
Jimmy Smith, CB, Colorado

Jimmy Smith, CB, Colorado

I know most of you are against a Cornerback being the Bears first round pick, but I sure am not. I like the Bears current prospects at corner, and have not given up on Bowman as most apparently have, but if you have a stud lock down corner staring you dead in the face, you'd better take a long hard look at him. Theres a reason its one of the highest paid positions in all the NFL. If you can shut down a quarter of the field in a throwing league you have a distinct advantage over most teams. Smith has a ton of character risks, and is a classic boom or bust player, but boy if he booms! He pretty much shut down A.J. Green when he played against him from what I've heard. This kid is the real deal talent wise. He may be the equal, talent wise, to Peterson. He also has the size the Bears love in their Corners. Don't be shocked if he is called when the Bears turn comes on day one.
Aaron Williams, CB/FS, Texas

Aaron Williams

A few guys have had him going to the Bears in early Mocks. The kids got good size and runs well enough, and appears to be a superb athlete who also played against some top competition. I wouldn't go in this direction myself, but if he is well spoken of. He does have a rep of having poor hands, falls for double moves, and is more of a shoulder tackler than a wrapper, but has been compared to Antrel Rolle which isn't too bad of a player to be compared to. He can play at free safety which is a position of need in my opinion for the Bears.
Brandon Harris, CB, Miami

Brandon Harris

Say what you want, but this kid is a player! He has great coverage skills, is highly competitive, and plays physical at the point of attack, and will support the run. He's a complete corner. He projects more as a second round pick, but could sneak in the first. He would be a nice pick for the Bears particular if they traded down and picked up a high to mid second where his value would be more of a fit. But this kid shows well on tape. Just watch this video.
Davon House, CB, New Mexico State

Davon House

House has gone from sleeper to a sure second round pick who may surprise and eek into the late first. Its doubtful, but with this kids skill set and size its not incomprehensible. His 4.35 pro day 40 has put his arrow on the up, and he'd look pretty good opposite Tillman. I do think he's more of a 2nd or 3rd year starter though as he looks like he needs to fill in his frame, and play against higher levels of competition to prove himself more. At 29 he is a reach though. but if the Bears trade down it could turn out he's the Bears fist pick.
Ras-I Dowling, CB, Virginia

Ras-I Dowling

Before he pulled up lame with a pulled hamstring this guy was considered a sure first rounder, and some even had him in the top 20 of the first. Still its a hamstring. Nothing too serious, and it would appear that he'd be good to go by the time camp starts. If there is a camp, but thats a story for another day. He did run a 4.4 flat even though he pulled his hammy 5 yards short, so you figure he's a legit 4.3 guy. He has good size to go with that speed. As you can see from this video he will lay the wood on you too. I really like this kid.
Keep Reading

Chicago Bears: Like this team?