2011 NFL Draft: 7 Players the Indianapolis Colts Need to Replace
Jonathan Daniel/Getty Images
No team is perfect; every team has its weak spots.
For the Colts, their weakness has to be the interior lineman, both on offense and defense.
The Colts can't run the ball or stop the run. Even with No. 18 behind center, the Colts can't win another Superbowl until this problem gets fixed.
The Colts have tried to solve this problem, but without success. Some new talent is needed on both sides of the ball.
With a priority on lineman, here are seven players the Colts need to upgrade, plus possible replacements for them in the upcoming draft.
1. LT Charlie Johnson
Stephen Dunn/Getty Images
The Colts' biggest area of need is help on the offensive line.
It might seem unnecessary to improve an offensive line that allowed the fewest sacks in the NFL last season (16), but much of the offensive line's success can be attributed to Peyton Manning.
His quick release and pocket awareness are the biggest reasons that number was so low.
Adding a tougher, more physical offensive lineman would give Manning more time in the pocket, allowing him more opportunities to look for the deep ball. It would also help a rush offense that once again failed to average 100+ rush yards a game.
Johnson is one player on the line who could be replaced. He is not the franchise LT needed to protect Manning's blind side.
A free agent, the Colts would be better suited to draft a replacement for Johnson.
Possible Replacement: Wisconsin OT Gabe Carimi
Carimi can be the franchise LT the Colts have been looking for.
At 6'7" 330 pounds, he has the size and strength to hold off large defensive lineman, but also has the quick feet needed to stop quicker pass rushers from running around him.
Carimi was also a four year starter for the Badgers. He played very well against Big Ten DE's Adrian Clayborn and Cameron Heyward, two projected first round picks.
With his high intelligence and great instincts, he should instantly be able to step into the Colts starting lineup.
2. DT Daniel Muir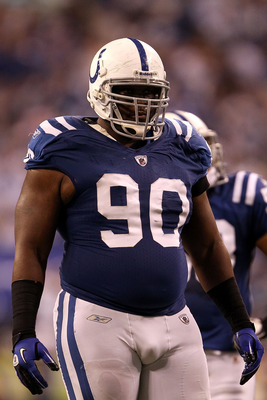 Jonathan Daniel/Getty Images
The Colts DT rotation of Daniel Muir, Antonio Johnson and Fili Moala is solid, but unspectacular.
All three are solid run stoppers at over 300 pounds, but can have trouble getting off blocks to make plays in the backfield.
It would help if Muir could generate some pressure on the QB, but he has a total of just a half sack since becoming a starter two seasons ago.
The Colts need to find a big, athletic DT to plug up the middle and give Freeney and Mathis free releases off the edges.
Possible Replacement: Oregon State DT Stephen Paea
Paea was one of the top DT's on many analysts big boards after a strong performance at the Senior Bowl, but knee surgery has left it questionable as to whether he will be fully healthy come draft day.
The Colts surrendered 127 yards per game on the ground last season (eighth worst in the NFL), and Paea has the size (6'1", 303 pounds) to help.
He also has immense strength, setting a combine record for reps on the bench press (see above video).
He faced double teams throughout college, so he's exactly the type of DT the Colts need: One who can occupy space and blockers in the middle and allow for the linebackers and safeties to come up and make plays.
3. S Bob Sanders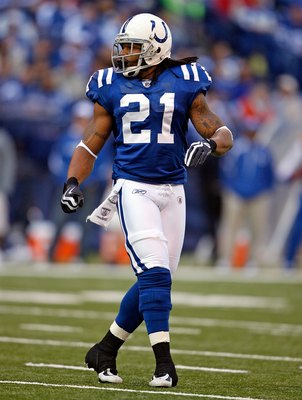 Andy Lyons/Getty Images
Sanders is already gone, so the process of finding his replacement is already under way.
Melvin Bullit played very well filling in for Sanders the past two seasons, but he also had a season ending injury last season.
Even if Bullit is re-signed, the Colts would be well served to add more depth to their thin secondary that managed only 10 interceptions last season, second worst in the league.
The Colts need to find a safety who is physical and can help in the run game, but is also an instinctive player who can create turnovers.
Possible Replacement: Florida S Ahmad Black
Black is not the type of player the Colts normally draft, but would fit in very well, adding some aggressiveness to the Colts D.
He is an incredibly athletic player, with great range and ball skills.
However, his tendency to take chances (trying to jump routes, going for the big hit instead of wrapping up) has some NFL scouts worried.
He is also a little undersized and might get pushed around at the next level.
But in terms of playmaking, he is unmatched by any safety in this class. He had 13 picks in his three seasons starting for the Gators.
He has flashes of Ed Reed in him, and if he plays anything near like Reed in the NFL, the Colts would be ecstatic.
4. OG Mike Pollack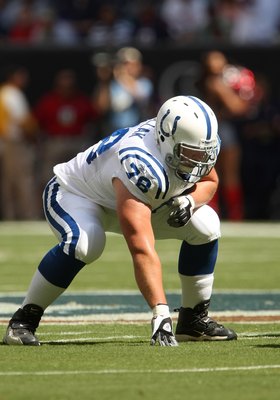 Stephen Dunn/Getty Images
Pollack was a second round draft choice, so the Colts had high hopes for him coming out of Arizona State.
But despite his talent, Pollack has struggled in Indy, failing to consistently crack the starting lineup.
The troubles may stem from a position change. Pollack played center in college, and may be struggling to adjust to playing guard.
Improving the interior of the offensive line would really help open holes in the run game, and Pollack is one player who needs to be replaced.
Possible Replacement: Alabama OG James Carpenter
Carpenter was an All-American at community college before transferring to Alabama, where he blocked for Heisman trophy winner Mark Ingram.
He excels at run-blocking, making him exactly the type of player the Colts need.
He has above average size (6'5", 300 pounds) for a guard and moves very well for a player his size. He has the speed and athleticism to get to the second level and open lanes in the run game.
A four year starter in college, Carpenter is already NFL ready.
5. WR Blair White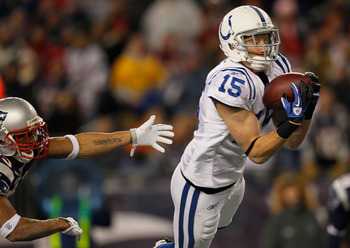 Jim Rogash/Getty Images
White filled in admirably after numerous injuries to Colts WR's last season, but he was far from perfect.
He is a player who gets by on effort rather than talent, and it showed at times last season.
Drops were an issue (remember the Colts final offensive play in their playoff loss to the Jets?) and he struggled to pick up all the intricacies of the offense.
After Dallas Clark, Austin Collie and Pierre Garcon all missed significant time last season, the Colts need to add depth at the WR position, and they can do better than White.
Possible Replacement: TCU WR Jeremy Kerley
Kerley is not an exceptional athlete, is undersized and is rather slow.
While not the most physically gifted player, he does all the intangible things very well.
He is a polished route runner with good hands. He is a very tough receiver, who always lays out for balls and is not afraid of going across the middle.
He is the type of glue player teams need to have success in the NFL.
While not talented enough to crack the Colts starting rotation, he is the type of player the Colts could plug in if needed and not miss a beat on offense.
6. OLB Philip Wheeler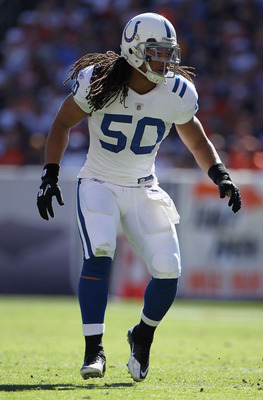 Doug Pensinger/Getty Images
Wheeler has been in and out of the Colts starting lineup the past two seasons. While he is a good tackler, he lacks the explosiveness and instincts needed in a starting linebacker.
To illustrate, he has only one sack, one forced fumble and zero picks in two seasons for the Colts.
The Colts need a player who can make plays in the run game and is also able to drop back in zone coverage, a necessity in the Colts Tampa 2 defensive scheme.
Possible Replacement: OSU OLB Brian Rolle
Rolle would be a welcome addition to a Colts defense that struggles at making plays in the run game.
He has a great understanding of angles and pursuit, having 11.5 tackles per loss last season, which lead all OSU linebackers.
He is also the smaller, quicker linebacker the Colts favor and always seem to draft.
While likely not a starter right away, Rolle could add some competition to a wide open position on the Colts roster.
7. RB Donald Brown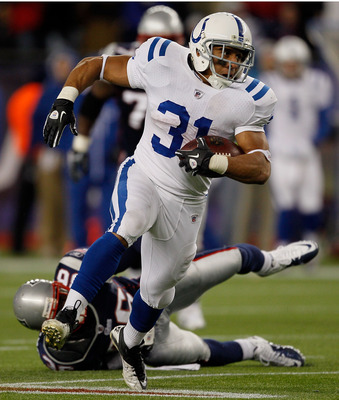 Jim Rogash/Getty Images
After only two years in the NFL, it's safe to say Donald Brown is a bust.
He has only one career 100 yard rushing game in two seasons, and has a career yard per carry average of under four yards (3.8).
He also does an awful job of cutting at the line of scrimmage; He always runs in the direction the play is supposed to go, even if there is no running lane to be found.
If he could utilize cutbacks, he could be a much more effective runner.
He was a tough, physical runner in college who did a great job eluding tacklers in the open field.
He even lead the nation in rushing his senior year—which makes it all the more puzzling why he has struggled so mightily in the NFL.
Whatever the reason, it's time for the Colts to add some new blood to try and improve their porous rush offense.
Possible Replacement: Kentucky RB Derrick Locke
Durability is a concern with Joe Addai, so the Colts would be wise to not overwork him on offense.
The Colts offense actually works best with a dual RB system. Their 2006 Superbowl team featured a duo of Addai and Dominic Rhodes.
While Locke is probably too tiny to be a feature back in the NFL, he would work great as a third down or change of pace back to complement Addai.
He is one of the fastest players in the draft, with sub 4.4 speed. He is also an excellent receiver out of the backfield.
However, he still needs work in pass blocking, which is crucial in the Colts system.
If the Colts believe he can shore up that aspect of his game, he would be the perfect fit to play alongside Manning.
Keep Reading

Indianapolis Colts: Like this team?