2011 MLB Predictions: The 20 Most Important Questions Looming in the AL Central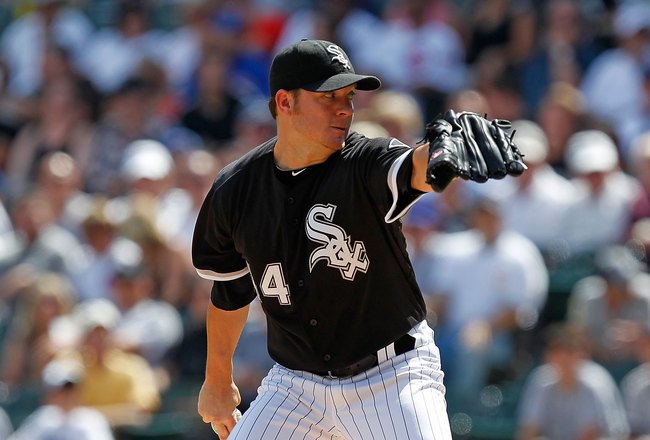 Jake Peavy and many other AL Central big guns are looking for a solid year after injury.
Jonathan Daniel/Getty Images
The first pitch of the MLB season is coming up on Thursday, but already there are numerous questions surrounding every club looking to make a run in October. Look for these 20 questions not only to be answered in the upcoming AL Central season, but also to be popping up in headlines throughout the summer.
20. Can Phil Coke Be a Solid Starter?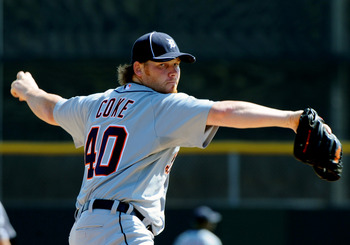 Phil Coke looks to put up some excaptional numbers in his first year as a primary starter.
Al Messerschmidt/Getty Images
After dealing away perfect game pitcher Armando Galarraga (I don't need Bud Selig to decide if it was perfect or not) and having Jeremy Bonderman possibly coming out of the bullpen for a majority of the year, Phil Coke will need to contribute with little starter experience. With just one career start and a 3.73 ERA, there is almost no telling whether Coke can give the Tigers a solid fifth or just another reason to keep searching for an empty rotation spot.
19. What Will Ned Yost Do in His First Complete Season with the Royals?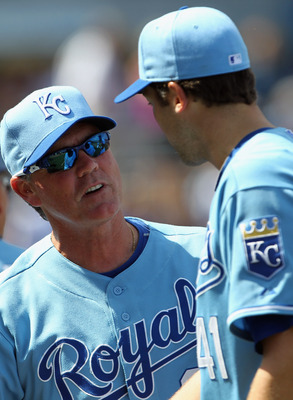 Ned Yost came into the head job in the beginning of May in 2010.
Jamie Squire/Getty Images
After a long stint with the Brewers, Ned Yost came to be the manager of the Kansas City Royals in the middle of the 2010 season. A 512-574 career record and no playoff appearances doesn't necessarily give Royals fans reason to save their money for any October arrangements, but could he give Kansas City their first winning record since 2003?
18. Will Mark Buehrle Do Something Incredible This Year?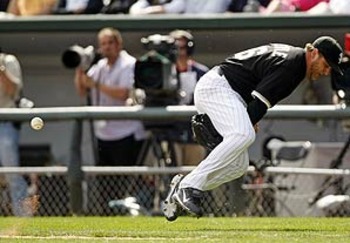 Mark Buerhle kicked the 2010 season off with the play of the year on Opening Day.
In 2009, it was the perfect game. In 2010, it was the crazy between-the-legs-glove-flip on Opening Day that set the standard for web gems. What else does Buerhle have up his sleeve? If he's really looking to outdo himself, expect a cycle hit by him in a National League crossover game.
17. When Will Justin Morneau Get Back into the Starting Lineup?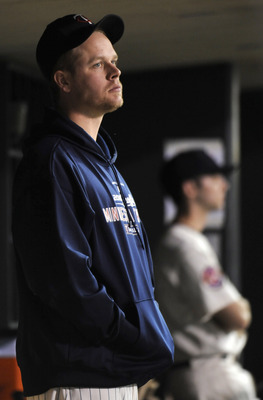 Justin Morneau ended up spending the remainder of last season in the dugout due to a head injury.
Hannah Foslien/Getty Images
Not only that, but when will he be a regular starter? The concussion suffered last July is taking a substantial amount of time to come back from, which also leads to another good question "Will he be able to get back to his MVP self?"
Too many questions leaves the baseball world unable to predict what kind of a season he'll have, but we do know it will affect how the Twins fare this season.
16. Can Manager Manny Acta Make It Through the Whole Season?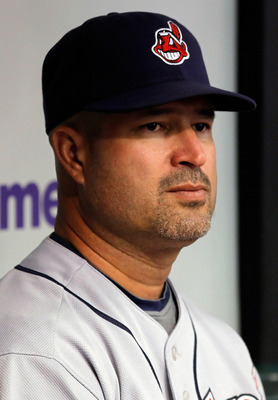 Coming back from a fourth place finish, will Manny Acta's second year with the Indians be his last?
J. Meric/Getty Images
After going 69-93 in his first season with the Cleveland Indians, Manny Acta will need to outdo himself this year in order to keep his job as the skipper. This is sure to be a challenge because not only is the competition in the AL Central top notch, but his career percentage at .397 isn't too promising either. While getting the hook in the second year of managing is unlikely, Acta will still need to perform under pressure early on.
15. How Much Does Jason Kendall Have Left in the Tank?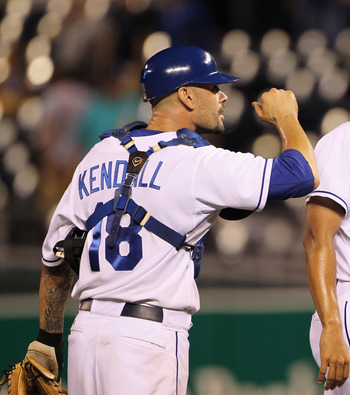 Finishing up the last couple years of his fine career, can Jason Kendall give the Royals a good season behind the dish?
Jamie Squire/Getty Images
Don't count on Kendall to jack some balls out of the park or bring in a lot of RBI's, but expect him to grab over 100 hits and field a decent on-base percentage. Its assumable that Kendall is coming to the home stretch of his career, but will this year show that he has overdone his stay, or bring him back next year for an encore season?
14. What Kind of a Season Will Fausto Carmona Have?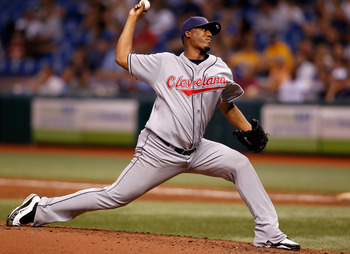 Fausto Carmona's ERA has improved from 2009 to give the Indians hope that he is back in his prime.
J. Meric/Getty Images
After his magical season in 2007 with a 19-8 record and a 3.08 ERA, Fausto Carmona took a hard skid by falling to 26-33 since then. Last year, Carmona revealed signs of improvement by lowering his ERA from 6.32 in 2009 to 3.77 in 2010, and that can be a vital step into putting together a solid year for the Indians in this upcoming season.
13. How Will Adam Dunn Do as a Designated Hitter?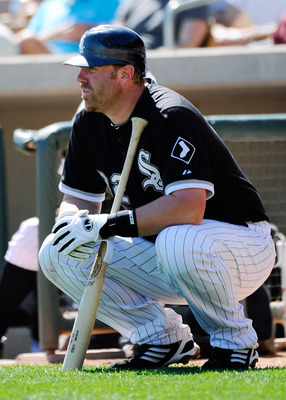 Adam Dunn's first year with the White Sox will also mean his first year in the American League.
Kevork Djansezian/Getty Images
Switching time at first base with Paul Konerko means Adam Dunn will be getting a lot of cuts in as a designated hitter, something he has never done in his National League filled career. As crazy as it sounds, some players believe playing in the field benefits them at the plate, so we'll see if that applies to the powerful lefty in his first American League season.
12. How Much Will the Royals Miss Zack Greinke?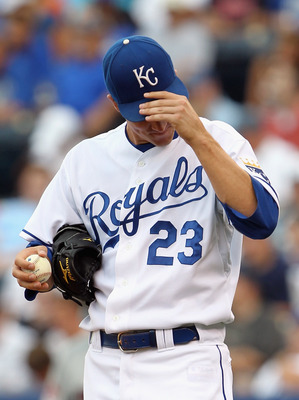 Zack Greinke moving the National League will give a royal pain to KC fans, but how much will it hurt?
Jamie Squire/Getty Images
It's no question that the Kansas City Royals will be missing their Cy Young winner, but will Jeff Francis be able to fill the ace spot? Francis' ERA has never sunk below 4.00, but he does have a winning record in his career (55-50). This will be his first year at the top of a rotation and the first time he'll be pitching in the American League. No question here that the Royals will feel the absence of Greinke, but again, how much will they miss him?
11. Can Tsuyoshi Nishioka Adjust to the MLB?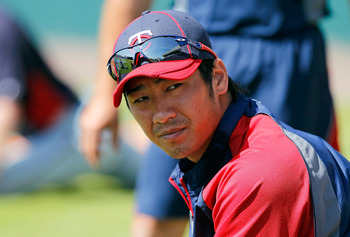 The 26 year old Tsuyoshi Nishioka brings the Twins another solid middle infielder.
J. Meric/Getty Images
Known for his blazing speed and dazzling glove work, the bigger question hanging over Tsuyoshi Nishioka is his hitting. Definitely don't expect a lot of power numbers out of him, but look for a lot of small ball, as he is notorious for bunting for hits in Japan. In spring training, he has hit 15-42 (.386) and ending in a 12-game hit streak, but spring numbers can be a little misleading. I expect Nishioka to be one of the most exciting players to watch early on, but will he make a splash in America just as he did in Japan?
10. Will Jose Valverde Continue His Downfall He Finished 2010 With?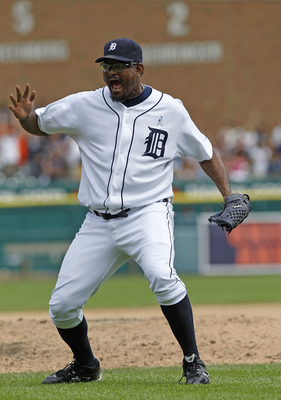 For Tigers fans, hopefully Valverde can display his famous celebrations with his performance.
Leon Halip/Getty Images
Before the All-Star break, no one could touch "Papa Grande", but right after midseason break, all hell seamed to break loose. In the second half of the season, his ERA was 6.38, blowing two saves and losing three games, a complete 180 from his All-Star worthy start with his .92 ERA. Will anxiety appear in righty's mindset, or has the spring shaped him into the player he is expected to be?
9. Will Francisco Liriano Show Signs of Another 2006 Season?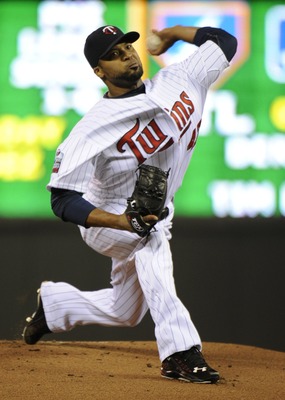 Francisco Liriano showed promise early in his career, but injuries have had him lagging just a little behind ever since.
Hannah Foslien/Getty Images
In his breakout year during 2006, Francisco Liriano threw up a 12-3 record with a remarkable 2.16 ERA but was bogged down by arm injuries shortly after. Carl Pavano will take the ace role, but Liriano will need to step up as the number two in order to give the Twins a shot at another AL Central title. Last year was key for Liriano, who improved his recent woes to a 14-10 record and an ERA below four, so Minnesota can start feeling a little confident in getting their young gun back.
8. Will Magglio Ordonez Be Able To Perform Despite Age and Injury?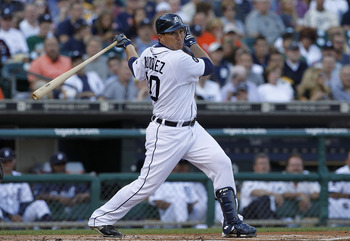 Known for his Silver Slugger hitting, Ordonez will have to battle back from a crucial injury in 2011.
Leon Halip/Getty Images
"Maggs" suffered a detrimental ankle injury last year that left him in the dugout from July to the end of the season, which ended up being crucial to the Tigers' final record. Every Tiger fan by now knows that Ordonez isn't going to win a Gold Glove any time soon, but a big question will be whether he can still swing a decent bat. Being 37 years old and coming off injury, Detroit will be thrilled to have another magical year from their rightfielder, but it would take a lot of work from Ordonez.
7. Will Grady Sizemore Pop Up in Trade Rumors?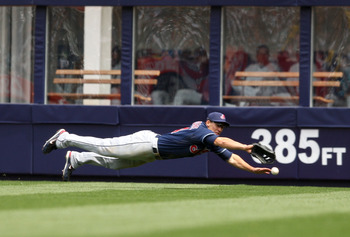 Grady Sizemore's glove and bat will be highly sought by playoff seeking teams.
Ezra Shaw/Getty Images
Don't be surprised to see the Indians superstar get his name tossed around in trade proposals, especially in the last week of the trade deadline. Grady Sizemore would be a very hot commodity to teams seeking an excellent outfielder, and the Indians may be looking to stock up on prospects if this season starts to sink early. It would be a win-win for both parties involved if a trade does get finalized, so don't get too comfortable looking at Sizemore in an Indians uniform.
6. How Much Havoc Will Billy Butler Cause?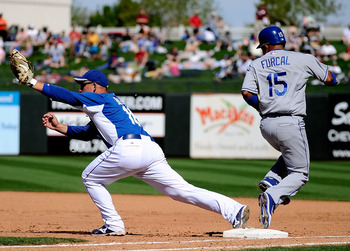 Will Billy Butler end up being the deciding factor for the AL Central champion?
Kevork Djansezian/Getty Images
The Kansas City Royals first baseman has kept opposing mangers from sleeping some nights, and don't expect it to be any different in 2011, either. Against AL Central teams, he batted .342 and drove in 38 RBIs last season, so one can make the assumption he will be an X-factor this year. If the title is decided by one or two games, make sure to dive back into the year and note any Billy Butler game-changers.
5. Can Jake Peavy Be Effective Coming off of His Injury?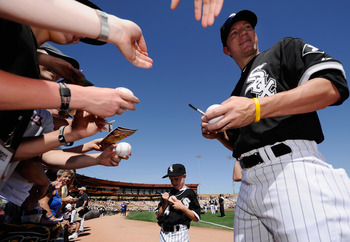 Jake Peavy has made his mark early on, but with recent injury leaves a question mark hanging over his head.
Kevork Djansezian/Getty Images
With a recent arm injury, Jake Peavy has admitted he has lost some of his arm strength over the year. Seeing how Peavy will fare is going to be exciting to watch, but that can turn into scary to watch if you're not a White Sox fan and he gets back to his normal self. There is not telling whether Peavy will dominate right now, but by the middle of the season, we will get to see if he's throwing batting practice or swing-and-miss practice.
4. Can Closer Matt Thornton Get the Job Done This Year?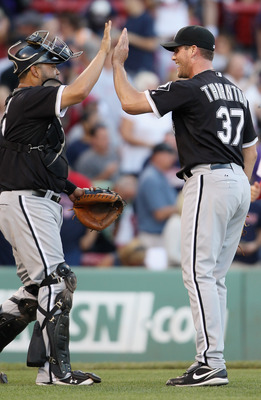 White Sox fans hope to see a lot of high fiving this year with Thornton on the mound.
Elsa/Getty Images
Looking at Matt Thornton, you will already see a great pitcher, but look on the paper, and White Sox fans will start to sweat. Named as the closer just recently, Thornton has had few opportunities to close out games, but for a good reason. In save chances, Thornton is a rocky 17-38 in his lifetime, and by no means will that give White Sox fans reason to smile when he walks out of the bullpen in the ninth inning.
3. How Much Will the Lack of Left-Handed Pitching Affect Cleveland?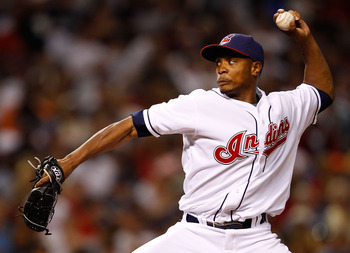 Tony Sipp is one of only two left handed pitchers on the Indians roster.
Jared Wickerham/Getty Images
Balance is always good for a pitching core, and the Cleveland Indians just don't have it right now. In their dugout, they only have two left-handed pitchers, and both are coming out of the bullpen. Don't just look for the lack of lefties, but also expect to see a move made in order to draw a lefty starter on the mound.
2. How Will Jim Leyland Do on the Hot Seat?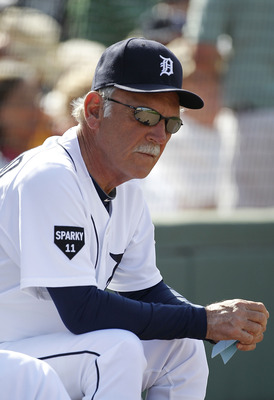 Are we going to see Leylands last season?
Leon Halip/Getty Images
For the past three years, the Tigers usually found themselves in the thick of the AL Central race, but lose the lead late in the season. 2009 may have been the worst season from the skipper's stand point when the Tigers lost their lead in the last week of the season, something they had from early May. Last season didn't do Leyland any favors either, and if the Tigers can't put their $115 million team in the playoffs, don't expect Leyland to be in the dugout next summer.
1. Can Joe Nathan Get Back in His Groove?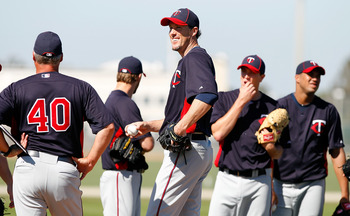 Back for the first time in a year, Joe Nathan looks to get back to his old self.
J. Meric/Getty Images
Last year, the Twins missed out on arguably the most dominant closer in the game but still managed to get to the playoffs somehow. With heightened competition in the AL Central this year, the Twins will need to heavily rely on Nathan, who tore his elbow ligament last year, and it will be interesting to see how he will perform. The Twins have the offense, the defense and now need the pitching to not only take home the AL Central title, but possibly a World Series, and without Nathan in the bullpen, it could get a little challenging to do both.
Keep Reading