MLB: New York Mets 10 Bold Predictions for the Month of April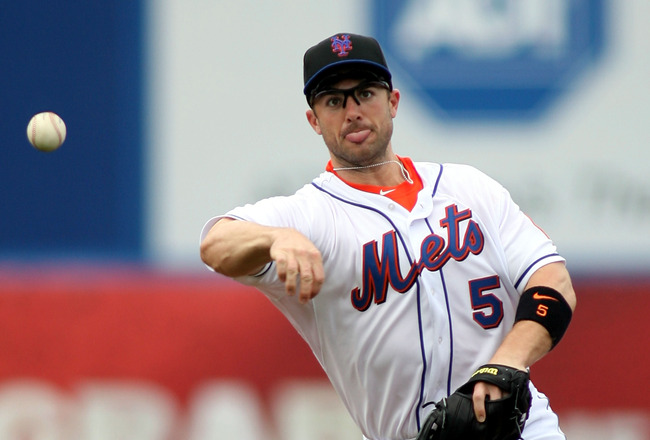 Marc Serota/Getty Images
After an offseason filled with financial grumblings, injury troubles and a lack of major offseason acquisitions, the Mets' expectations heading into 2011 are quite low.
However, if a few things fall into place and the team gets off to a hot start in April, the Mets may have what it takes to be the surprise story of the National League.
The Amazin's will need to set the tone during their first month to remind the rest of the N.L. East that competitive baseball will be played this year in Flushing.
Here are 10 bold predictions for the month of April that would send a message to league.
10. Mets Will Beat Josh Johnson on Opening Day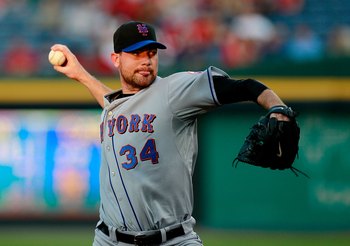 Kevin C. Cox/Getty Images
A great way to come out of the gates strong would be to win on Opening Day.
The Mets play the Florida Marlins in Miami in their first game. Marlins' ace Josh Johnson will be on the hill Friday night against Mike Pelfrey for the Mets.
New York defeated Johnson last year on Opening Day, and they will attempt to do it again.
They will need some timely hitting and a clutch first start by Pelfrey to get the job done.
It would only count as one win, but an Opening Day victory would breathe a sigh of relief into the Mets clubhouse, especially for new Mets manager Terry Collins.
9. Mets Take 2-of-3 in First Series Against Phillies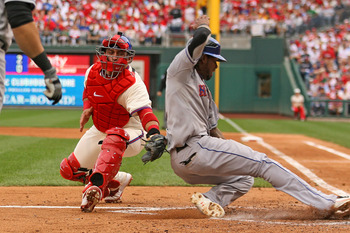 Hunter Martin/Getty Images
After three games against the Marlins in Miami, the Mets head north to Philadelphia to take on the Phillies.
This will be the Mets first test against the "four aces." Philadelphia will likely have Cole Hamels start the first game, followed by Roy Halladay and Cliff Lee.
The Mets can send a quick message to their division rivals by taking two out of three on the road against three superb pitchers.
New York will have to utilize its speed at the top of the order—Jose Reyes and Angel Pagan—to manufacture runs in what should be three tight ballgames.
8. Mets Play with a Renewed Sense of Energy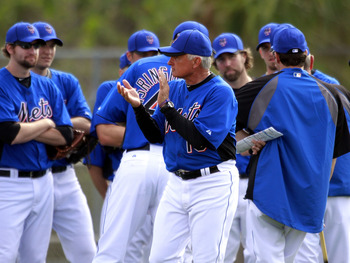 Marc Serota/Getty Images
One thing we can expect from the Mets this April is a renewed sense of energy.
New manager Terry Collins brings passion and intensity to the dugout and expects nothing less from his players.
Jose Reyes appears revitalized and ready to be a leader of the team.
The Mets have speed at the top of the order, which can create havoc for opposing pitchers. Reyes and Angel Pagan can bunt, hit-and-run and steal bases as well as anyone in the league.
Now that Luis Castillo and Oliver Perez are gone, the team can focus on its job—winning baseball games—rather than dealing with the headaches those two players created.
This new energy should lead to wins.
7. Young and Capuano Combine to Win 5 Games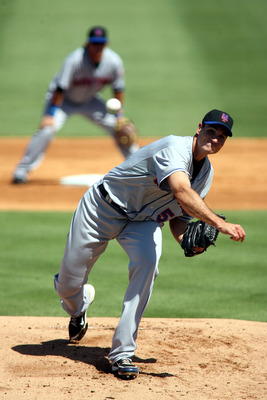 Marc Serota/Getty Images
The Mets signed injury-prone starting pitchers, Chris Young and Chris Capuano, to anchor the back end of the rotation.
These two have been pleasant surprises this spring and will look to continue their success into the regular season.
If Young and Capuano combine to win five games in April, the Mets will be heading in the right direction.
With ace Johan Santana scheduled to miss the entire first half of the season, New York will need steady contributions from Young and Capuano to keep the team in contention.
6. Brad Emaus Solidifies Second Base Job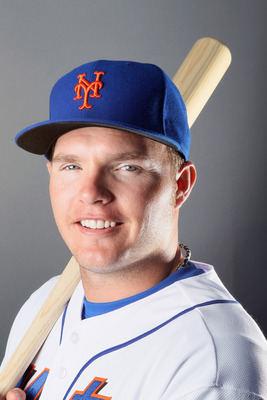 Elsa/Getty Images
Over the last week of spring training, Brad Emaus began to separate himself from the pack in the second base competition—enough so to win the starting job.
While the Mets wished he would have broke away from the pack much earlier, it's better late than never.
Daniel Murphy may see some time at second, but the job looks like it's Emaus' to lose.
If he continues his strong offensive and defensive play from the past week, Emaus will cement himself as the team's second baseman.
He can be a force at the bottom of the order, which would help create a balanced lineup.
5. Carlos Beltran Will Play in Almost All the April Games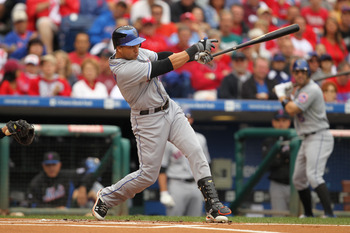 Hunter Martin/Getty Images
After two spring starts in right field, Carlos Beltran will get the Opening Day nod.
He had been dealing with knee tendinitis in his non-surgically repaired knee, which caused him to miss significant time this spring.
However, he seems to be healthy and ready to contribute.
Not only will Beltran play in most of the April games, he will be a productive force—maybe not like his 2006 performance but still a formidable presence in the Mets' lineup.
Beltran will be a free agent following this season, so he is out to prove that he can still play at a high level.
4. Jason Bay Gets Hot After Returning from DL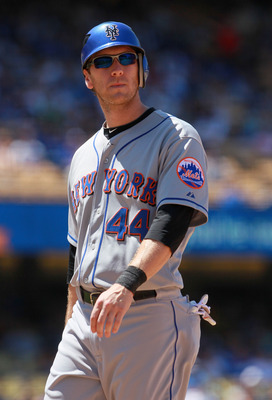 Jeff Gross/Getty Images
Though Jason Bay will start the season on the disabled list with bruised ribs, he is poised for a rebound once he returns.
He will hopefully be activated for the Mets first home series at Citi Field. He is scheduled to come off the disabled list April 9.
Bay is itching to get back on the field after a lost season in 2010. He signed a four-year deal with a fifth-year vesting option last winter, so Mets fans also want their left fielder to produce.
He was swinging the bat well before his recent injury this spring.
Bay can send a message to the league that last year was an anomaly, and he is now ready to regain his power stroke.
Bay coupled with David Wright, Ike Davis and a healthy Carlos Beltran can form a dangerous heart of the order for the Mets.
3. R.A. Dickey Finishes April Undefeated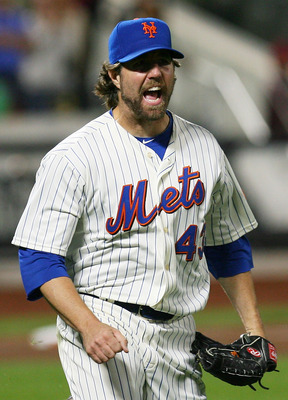 Andrew Burton/Getty Images
R.A. Dickey was arguably the Mets' MVP last season after finishing 11-9 with a 2.84 ERA.
He baffled hitters all season with his knuckleball and gave the Mets' rotation a much-needed shot in the arm.
Dickey had an inconsistent spring, but that was more because he was trying to refine his craft rather than worry about results. This was the first spring training of Dickey's career in which he had a guaranteed roster spot, allowing him to experiment with his pitches.
He will start the third game of the season, and with a little bit of luck, he will start the year undefeated in April.
Dickey is a competitor, which will allow the other pitchers on the staff to feed off his energy.
2. Mets Finish over .500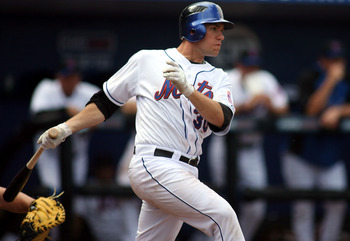 Marc Serota/Getty Images
The Mets will play each of their division rivals, as well as the Colorado Rockies, Houston Astros and Arizona Diamondbacks, in the first month of the season.
They play 27 games, so a 15-12 start seems realistic.
New York will have to steal a few games from the Phillies and Braves—on the road no less—to accomplish this record.
A strong homestand against the Astros and Diamondbacks will be a great chance to rack up some wins before squaring off against the Nationals and Phillies to close out the month.
1. Mets Tied for 2nd Place After April
Andrew Burton/Getty Images
A 15-12 April record should put the Mets close to or tied for second place in the division.
The teams in the N.L. East all play each other early on, so they are bound to remain close in the standings, unless one team pulls away.
If New York can hang with the Phillies and Braves, the Mets will prove that they should not be treated lightly by the other N.L. East teams.
This is the type of confidence that a team can ride out for the course of a season.
It should be an exciting month, so sit back and enjoy Mets fans.
Keep Reading

New York Mets: Like this team?