March 30, 2011
2010 Review
(brought to you by PYROMANIAC.COM)
Not only was Arian Foster the first non-QB to win the fantasy points scoring title since 2006 (LaDainian Tomlinson), he was probably one of the most unexpected players to win the title since fantasy football first began. 
Wherever he was taken in your fantasy draft this past year, whether it was the end of the second round or somewhere in the tenth, there's no doubt whatsoever that Arian Foster was the steal of the draft.  With eight 100-yard rushing efforts, seven multi-TD games, 66 receptions and just two games in which he put up less than double-digit fantasy points (Weeks 5 & 15), Arian took both the real and fantasy football world by surprise and should have easily ran away with your league's MVP award (Michael Vick included).
There were certainly a couple of other players who shocked the crap out fantasy owners this year—players such as Brandon Lloyd and Peyton Hillis—but for as good as they were, neither was able to sustain their tyranny over the league the way Foster did.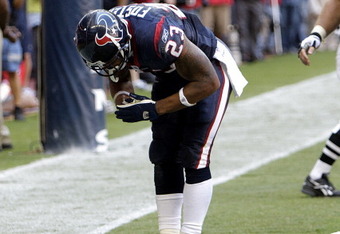 Bob Levey/Getty Images
From Week 1 to Week 17, Arian's assault on opposing defenses was unstoppable.  In fact, his three highest scoring weeks of the year were in his first game (41.8 fantasy points), his eighth game (31.7 fantasy points), and his sixteenth game (31.0 fantasy points).  It's nice to have a player or two on your team who can go ballistic and win you a week or two by themselves, but a lot more can be said for those who play consistently at a high level throughout the season and bring you home the crown.  Arian Foster was exactly that.
There's no doubt Foster's stock was on the rise as the 2010 season approached, especially with Steve Slaton on the mend from neck surgery and second-round rookie pick Ben Tate going down for the year in August, but who could have predicted that?!  Needless to say, the explosion "Bow Wow" Foster put forth in 2010 was for real folks.  He may not win the scoring title again next year, but he'll definitely be in the hunt, especially in that Texans offense.  He's a top-half first-rounder in 2011 for sure.
2011 Pros & Cons
(+) In 2010, Foster led the league in rushing yards, total yards and touchdowns
(+) Led the entire NFL (including quarterbacks) in fantasy points
(+) Had eight 100-yard games and seven multiple-TD games in 2010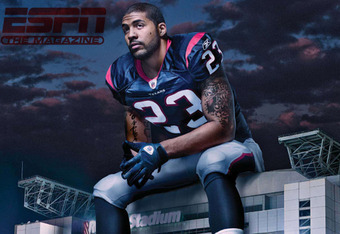 Source/Story: http://insider.espn.go.com/nfl/news/story?id=6168079
(+) Foster isn't just a big back (6'1", 227 lbs) built for first- and second-down duty, he also has the receiving skills to make him one of the few every-down RBs in the league
(+) Went from an undrafted cast-off to a bona-fide fantasy RB1 in just one year
(+) Kubiak didn't get canned by the Texans, so the offensive system will stay the same for at least one more year
(+) Steve Slaton hasn't left the doghouse in two years while Ben Tate is coming off season-ending ankle surgery
(+) Overcame the stigma of having "fumble-itis" and only turned the ball over twice last season in 392 touches
(–) After having one of the most unlikely seasons in recent past, Arian will have a bull's-eye on his back throughout 2011
(–) Despite his obvious high-end skills, Foster likely hit his ceiling in 2010, so don't expect the same type of production two years in a row
For the rest of Arian Foster's Player Profile, CLICK HERE
Like the new article format? Send us feedback!