NFL Predictions 2011: 25 Breakout Players Who Will Become Stars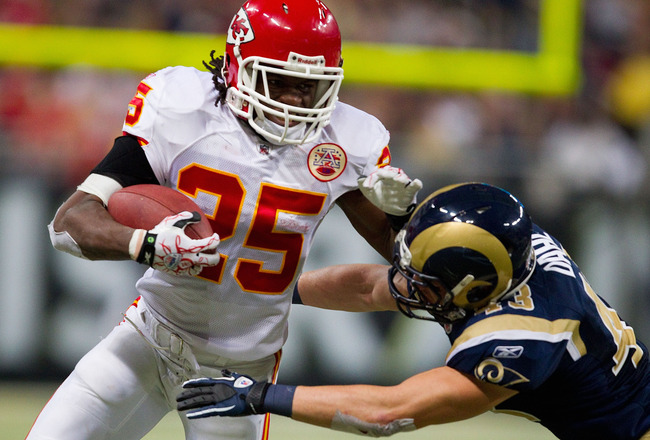 Dilip Vishwanat/Getty Images
Looking forward to the 2011 season (hopefully), many teams will have new players in place of old faces.
Teams who had terrible seasons in 2010 start with a clean slate and are even with the usual power house teams.
Some prospects from the draft will breakout and become stars right away, while some will take a few years to develop.
Players like Jamaal Charles will show off his skills and dominate like he did in his 2010 breakout campaign.
Here, we look at:
1. Who will have a breakout season in 2011?
...AND
2. What breakout players from 2011 aren't done yet?
25. Jermichael Finley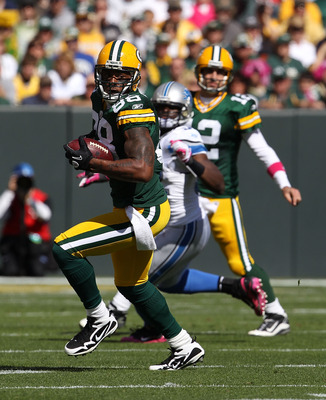 Jonathan Daniel/Getty Images
If it was not for his season ending injury Jermichael Finley would not be on this list this year.
He was going to be a star last year and showed signs of it late in 2009.
The knee injury he suffered last season should be healed in time for the start of games.
Finley had over 300 yards and 1 TD in just 3.5 games last year.
If Finley can return to form and be healthy, he will make that Green Bay offense even more dangerous.
24. Tim Tebow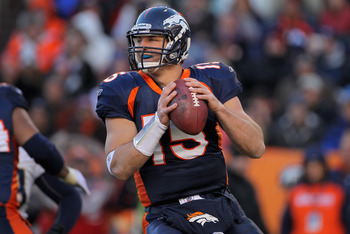 Doug Pensinger/Getty Images
If Tim Tebow gets the starting job next season, he could possibly be a breakout player in 2011.
He got the chance to start for the final three games of the regular season, after Denver had nothing to play for.
Tebow showed some signs of being able to complete NFL passes. What will help him the most is his heart and determination.
His drive and work ethic will show when he shows up to training camp this summer.
23. Eric Berry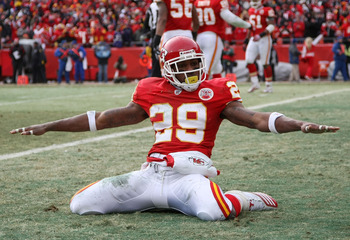 Doug Pensinger/Getty Images
Eric Berry was one of the top safeties in the NFL last season and he was only a rookie.
Berry showed how fast he can get off defenders and get to the ball carrier.
The 5th overall pick from 2010 has only scratched the surface of what is to come.
Move over Troy Polamalu, Eric Berry may take over the top safety in the NFL by season's end.
22. Michael Crabtree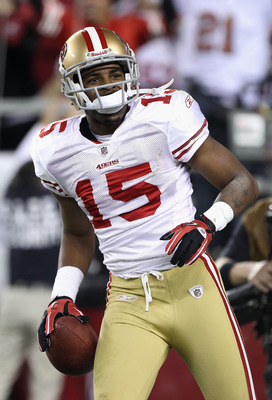 Christian Petersen/Getty Images
For two years now, experts have been saying that Michael Crabtree is going to breakout.
While he has had a decent first two seasons, he has not turned into the star he was supposed to be.
He is fully healthy now and should be ready for the 2011 campaign.
I think what has caused him not to succeed and improve has been the play of the 49ers quarterbacks.
Either Alex Smith is going to have to get more consistent or the 49ers will have to get a new veteran in order to get Crabtree to live up to his potential.
21. Jahvid Best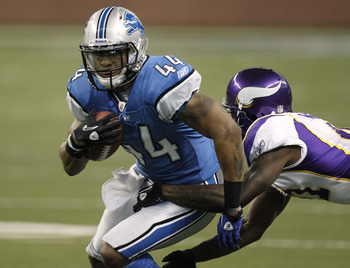 Gregory Shamus/Getty Images
An unfortunate turf toe injury throughout the season kept Jahvid Best more on the sidelines than on the playing field in his rookie year.
Best showed signs of his quickness and ability to shed tacklers early on in 2010.
He also is a threat out of the backfield as a pass catcher as he caught 58 passes for almost 500 yards last season.
Best only missed one game, but was limited in many towards the end of the season.
A full and healthy season should mean big numbers for Best and the Lions.
20. Ndamukong Suh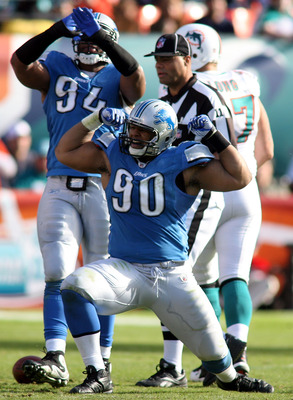 Marc Serota/Getty Images
Let's stay with Detroit for the next player as well.
After a very successful rookie campaign, Ndamukong Suh returns and looks to defend his Rookie of the Year title.
Suh showed how dominant and how forceful he can be in the trenches.
This year, Suh will take the next step and will contend for the NFL Defensive Player of the Year award.
19. LeSean McCoy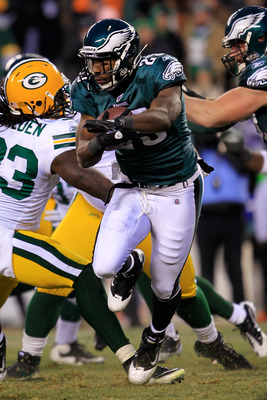 Chris Trotman/Getty Images
The Eagles have their running back of the future.
LeSean McCoy had a huge season for the Eagles in 2010 as he rushed for over 1,000 yards and played hurt half the season.
McCoy is another dual threat out of the backfield which makes him even more lethal.
He is just one ingredient that makes the Eagles offense so good.
18. Montario Hardesty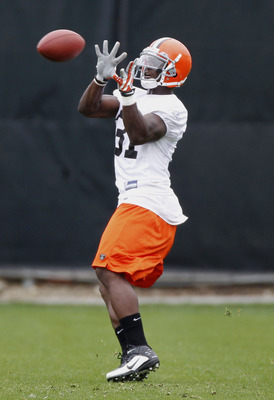 Gregory Shamus/Getty Images
Montario Hardesty was supposed to contribute right away for the Browns as a rookie.
However, the 2nd round pick had a season ending injury and did not even play a game in 2010.
Hardesty is a big, quick running back who will be a great compliment to Peyton Hillis.
If Colt McCoy improves, the Browns could have the makings of a great offense.
17. Mike Williams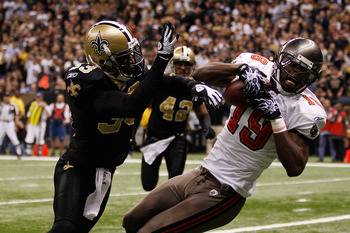 Chris Graythen/Getty Images
Mike Williams was a distant second in Offensive Rookie of the Year voting last year, but not because of his average play.
For a rookie wide receiver in the NFL to put up almost 1,000 yards and 11 TD is unreal.
Williams, who was a fourth round pick, exceeded everyone's expectations and is not done improving.
He and Josh Freeman are both very young and should establish a great connection for a long time.
16. Antonio Brown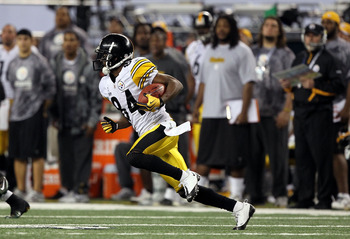 Al Bello/Getty Images
Another rookie on this list, Antonio Brown, did not have a great regular season.
He only had 16 catches, but he broke out in the playoffs when the team needed him most.
Brown had five catches in the three postseason games, including the infamous helmet catch.
With Hines Ward becoming very fragile, Brown and Mike Wallace will be taking over the reigns for Pittsburgh.
15. Devin McCourty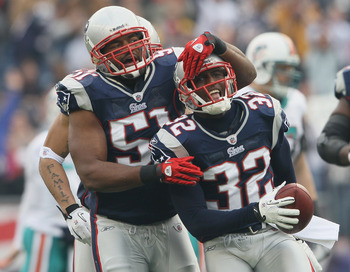 Elsa/Getty Images
Devin McCourty really turned up his game late in the season.
The rookie from Rutgers showed shut down cornerback capabilities and showed an ability to create turnovers by getting seven INT.
McCourty was second in Defensive Rookie of the Year voting and figures to compete for the NFL Defensive Player of the Year award in only his second year.
14. Dez Bryant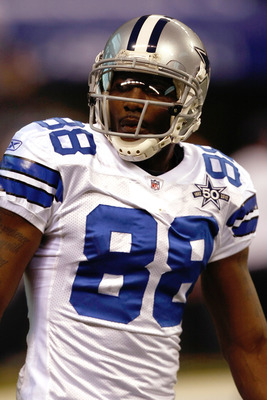 Scott Boehm/Getty Images
Dez Bryant had an up-and-down rookie campaign.
Bryant was expected to step in and be an immediate contributor for the Cowboys in 2010.
Injuries, however, held back Bryant and he was limited to only 12 games and limited practice time.
2011 should be the year that Dallas fans were expecting out of Bryant last year.
With Tony Romo coming back and Miles Austin lined up on the opposite side, Bryant should have a big year.
13. Jared Cook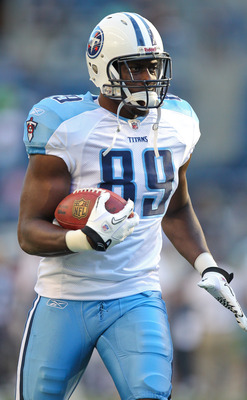 Otto Greule Jr/Getty Images
Jared Cook has the ability to be compared with a guy like Jermichael Finley.
Cook is a great pass catcher and with a better and more consistent Titans QB, he could break out in 2011.
2010 was a rough year for the second year player. He rarely got the chance to play.
Late in the season, Cook was great when he got his opportunities.
12. Owen Daniels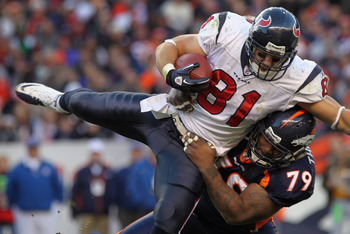 Doug Pensinger/Getty Images
So Owen Daniels had his original breakout years in 2007 and 2008.
Injuries cost Daniels to miss a good portion of the past two seasons.
In 2011, a fully healthy Daniels could re-break out and become one of the best tight ends in the league again.
The Texans offense is very dangerous with Matt Schaub, Andre Johnson and Arian Foster.
11. LeGarrette Blount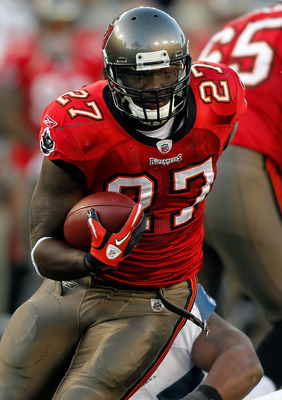 J. Meric/Getty Images
LeGarrette Blount broke out towards the end of 2010 when he finally got the chance to start after Cadillac Williams was injured.
Blount, who was known for his incidents at Oregon, is trying to change the guard.
Starting just seven games last year, the rookie ran for over 1,000 yards.
10. Tramon Williams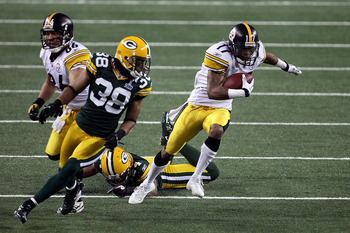 Streeter Lecka/Getty Images
Tramon Williams had a great regular season for the Packers, but he had an better postseason for the Super Bowl Champs.
He had two INT in the first two games and returned one for a TD.
Tramon Williams is a little smaller than a lot of WR, but he makes up for it with his quick instincts.
His ability to create turnovers helps the top-tiered Green Bay defense.
9. C.J. Spiller
Marc Serota/Getty Images
C.J. Spiller was another rookie limited by injuries in his first season.
The Bills need some type of threat besides Fred Jackson on their offense and Spiller should give them that extra advantage.
The former ninth pick will shine in 2011 if he is healthy. He may be one of the biggest bright spots that Buffalo fans are looking forward to.
8. Josh Freeman
Chris Graythen/Getty Images
I see Josh Freeman as only getting better in 2011.
The second year pro showed why Tampa Bay reached to get him in the first round in 2009.
Freeman led the Bucs to an improbable playoff run when the team was not even expected to compete or be that good.
With Freeman, Mike Williams and LeGarrette Blount, Tampa Bay is going to have a dynamic offense for the next couple of years.
7. Joe Haden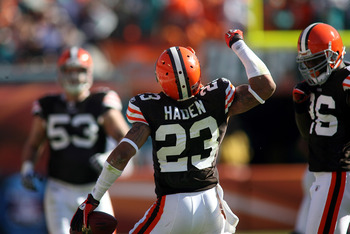 Marc Serota/Getty Images
Joe Haden impressed fans and the Browns very quickly in his rookie season.
The first round pick had 65 tackles and 6 INT.
Five of the six picks came in the final eight games of the season.
The sky is the limit for Haden.
6. Ryan Mathews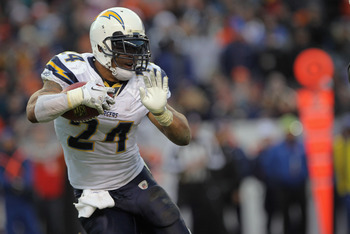 Doug Pensinger/Getty Images
Ryan Mathews was another rookie running back to struggle during his first season.
An ankle injury limited Mathews to only 158 carries when he was expected to get the bulk of the carries because of Ladainian Tomlinson's departure.
A healthy Ryan Mathews would mean a lot for the San Diego Chargers. They could have their next LT.
Just look at him...He looks exactly like another LT for San Diego.
5. Joe Webb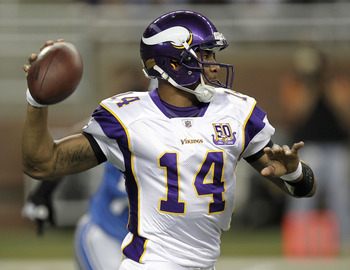 Gregory Shamus/Getty Images
The Vikings need to figure out some way to get Joe Webb in their lineup.
Whether it be at quarterback or wide receiver, the Vikings has to find a way to get Webb on the field.
He is an explosive athlete who speed and quickness will at least draw defenders' attention.
Who knows...maybe he develops into a better passer this offseason.
4. Danny Woodhead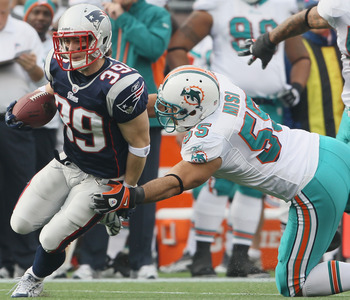 Elsa/Getty Images
Danny Woodhead played the X-Factor for the Patriots last year.
Now he is going to have to take the lead running back role and perform the same way he did last year.
Woodhead is so small that he can hide behind blockers and escape defenders.
Catching the ball out of the backfield is his specialty.
3. Sam Bradford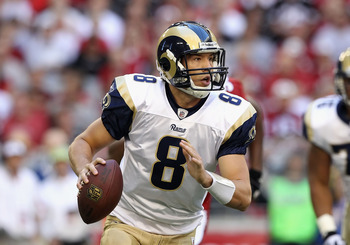 Christian Petersen/Getty Images
After his first season, Sam Bradford is only going to get better.
He had a great year and earned Rookie of the Year honors, but he will not stop there.
If Bradford is able to hook up with Julio Jones or a free agent, his numbers will skyrocket.
With Steven Jackson behind him, teams are always looking to stop the run first.
2. James Starks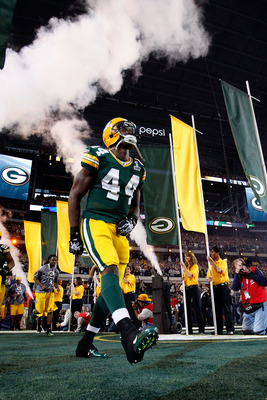 Kevin C. Cox/Getty Images
Will Ryan Grant ever be healthy for an entire year?
If not, the Packers may have found their solution.
Starks took over late in the season for the Packers and carried them through to the Super Bowl.
Starks' case is the opposite of Bradford's.
With all eyes on Aaron Rodgers, Starks will have plenty of holes to run through the defense.
1. Matthew Stafford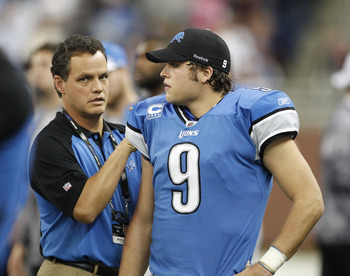 Leon Halip/Getty Images
I see the Detroit Lions as contenders in 2011. They had a decent and improved 2010 campaign and were without Matt Stafford for basically the entire season.
The key will be whether or not Stafford can stay healthy.
With the type of play makers around him, Stafford and the Lions offense has a chance to be very dangerous.
If Stafford plays like the No. 1 pick, the Lions could make it into the playoffs finally.
Keep Reading