2011 NFL Predictions: 25 Breakout Players Who Will Become Stars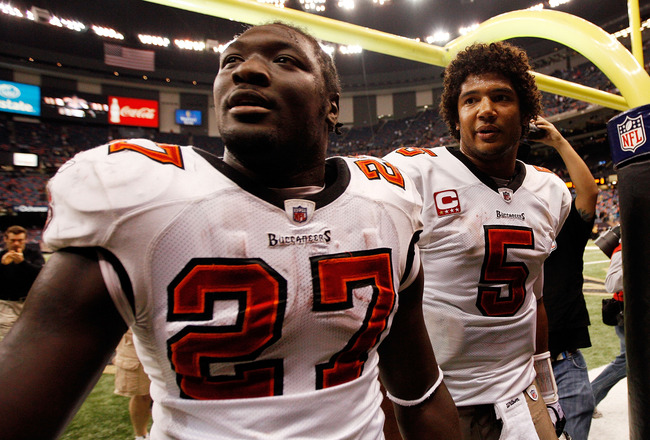 Chris Graythen/Getty Images
The 2011 NFL season is still in doubt thanks to the labor negotiations, but that doesn't mean teams aren't preparing for the season and everything that comes with it.
And I think we can all agree that no season would be the worst-case scenario. Because, to be honest, part of the fun of the NFL season is watching players who were originally either role players or afterthoughts develop into stars before our very eyes, or seeing the highly touted rookie that actually plays up to the lofty expectations.
Every season has its breakout players, and it's always interesting to see how those players do the next season. There were a ton of these guys in 2010, from Ryan Fitzpatrick—providing a much-needed shot of life to the Buffalo offense—to LeGarrette Blount, leaping over defenders.
So with that in mind, let's take a look at some of the players who could make the leap to star status in 2011.
LeGarrette Blount, RB, Tampa Bay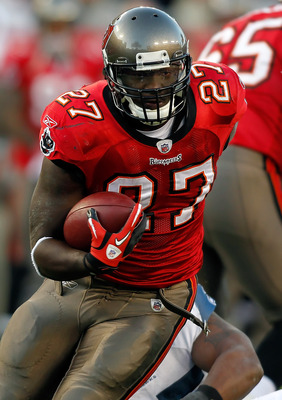 J. Meric/Getty Images
Blount burst onto the scene last year, going from being an undrafted free agent to rushing for more than 1,000 yards last season on only 201 carries.
Of course, the question coming into this season will be: How will Blount perform now that defenses will be keying in on him entering the season?
Considering that he averaged five yards a carry with that frame and the moves he can throw out there in the open field, it's going to be hard for defenses to bring him down.
Blount's just another weapon in what's becoming a loaded Buccaneers offense.
Jerome Simpson, WR, Cincinnati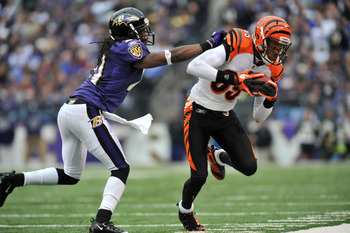 Larry French/Getty Images
Now, 20 receptions for 277 yards and three touchdowns for an entire season is not exactly a promising stat-line for a receiver, especially one who's already 25 years old.
But then you look deeper into Simpson's stats, and you see that he accomplished that in the last three weeks of the season...and all of a sudden it looks a lot better, especially considering he had 100-yard receiving games each of the last two weeks.
The Bengals are expected to take a receiver with the No. 4 overall pick, but it's nice to have at least one promising young receiver in Simpson who can stretch the field.
Jordy Nelson, WR, Green Bay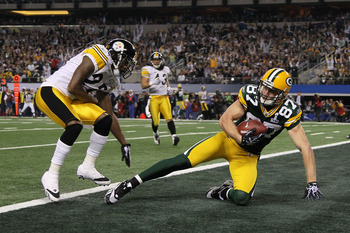 Doug Pensinger/Getty Images
Nelson was a solid cog in the Packers' system as the No. 4 receiver during the regular season, catching 45 passes for close to 600 yards. When you can get that type of production from a No. 4 receiver, that's always encouraging.
But his worth really showed in the postseason, when he made some big catches and put up some huge numbers for the Packers, including nine catches for 140 yards and a touchdown in the Super Bowl.
With Donald Driver getting towards the end of his career and James Jones' future in Green Bay unknown, Nelson could step into that No. 3 receiver role.
Desmond Bishop, ILB, Green Bay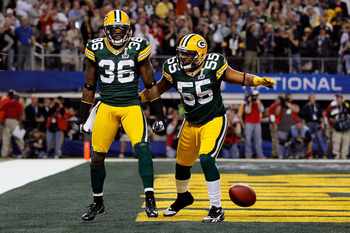 Kevin C. Cox/Getty Images
Including last season, Desmond Bishop has a grand total of 177 career tackles.
But that wasn't the reason he received a contract extension. Rather, it was the 103 tackles he made last season that landed him the new deal.
Bishop was one of the many players who stepped in for the Packers and performed exceptionally when he got his chance to start.
He played well enough that many writers were talking about the decision Green Bay would have to make, choosing between A.J. Hawk and Nick Barnett to slide in next to Bishop in 2011.
Brandon Spikes, ILB, New England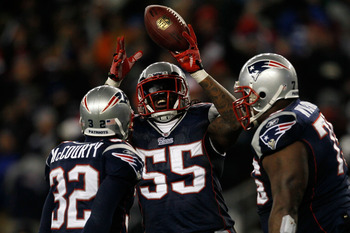 Jim Rogash/Getty Images
The Patriots defense was one of the youngest they've had in a while under Bill Belichick, but it improved every week as the season went on.
A part of that was the play of Spikes, a rookie out of Florida who showed flashes of ability in the middle of that linebacking corps. He was suspended for the last four games of the regular season, but it looks like Belichick has found another defensive stud in Spikes.
In fact, between him, Jerod Mayo and Gary Guyton, the Patriots are all of a sudden very deep at inside linebacker.
Steve Johnson, WR, Buffalo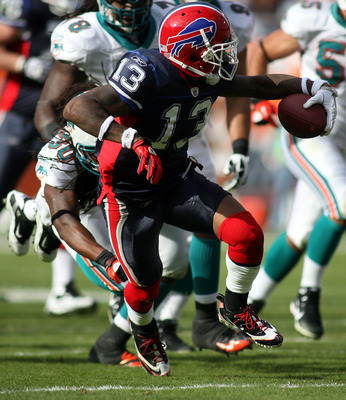 Marc Serota/Getty Images
The odd questioning of a higher power on Twitter aside, Johnson went from having two catches for 10 yards in 2009 to 82 catches and more than 1,000 yards in 2010 while becoming Ryan Fitzpatrick's No. 1 target.
The Bills have had Lee Evans around for a while, but Johnson exploded onto the scene and, along with Fitzpatrick, gave Buffalo's passing attack a much-needed jolt. His speed and his ability to be a deep threat should only make him more and more dangerous down the road.
With Johnson and Evans, the Bills have a legitimate receiving combo for the first time since Eric Moulds and Peerless Price were in Buffalo (the one-year T.O. experiment not included).
Javier Arenas, CB, Kansas City
Doug Pensinger/Getty Images
Arenas didn't have gaudy numbers during his rookie year, but he played very well as a nickel corner. His worth as a returner and a cornerback is a product of his speed, which opens up a lot of doors.
He could be a useful blitzer from the corner (he had three sacks last season), and put him on returns with Dexter McCluster—that's a dangerous pair with the ball in their hands and open field to make moves and find seams.
Brent Grimes, CB, Atlanta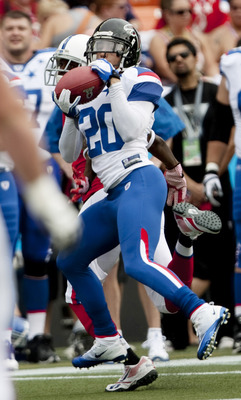 Kent Nishimura/Getty Images
It's hard to call Brent Grimes underrated, considering the guy went to the Pro Bowl last season, but he's also the definition of a breakout star.
Grimes came out of nowhere to be a shutdown corner and an absolute stud for Atlanta, starting every game and becoming a star in the process. Every time the Falcons needed a big play on defense, Grimes seemed to rise to the occasion in the secondary.
His performance in the Falcons' comeback win against the Bucs all but sealed the division, and it's safe to say his star isn't going anywhere but up.
Emmanuel Sanders, WR, Pittsburgh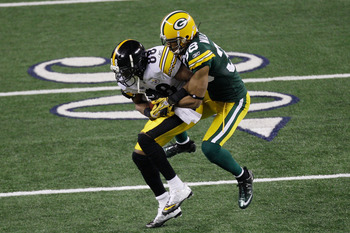 Rob Carr/Getty Images
The Steelers stumbled on Sanders late in the 2010 draft, and in one quick year, he's becoming the player that Limas Sweed was supposed to be.
Late in the season, Sanders became a reliable target for Ben Roethlisberger and, eventually, the de facto slot receiver. Considering his skill set, it might not be much longer before he continues to move up the ladder and into a starting spot.
Remember, the Steelers have a history of turning mid-to-late-round draft picks into stud receivers.
Jacoby Ford, WR, Oakland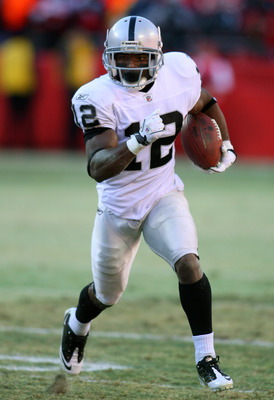 Tim Umphrey/Getty Images
I know, it's another wide receiver.
But Ford is also one of those players—you just want the ball in his hands as much as possible. Because of his size, he's going to be a tough sell as a receiver, but he can be a weapon and a star because of his speed and his ability in space.
Later in the year, especially after his breakout performance against the Chiefs, the Raiders started to use him more in the offense. While he only caught 25 passes on the season, he was also dangerous as a runner—he had two touchdowns on the ground—and as a kick returner.
If he can use his speed to his advantage, there's nothing to suggest he can't be another DeSean Jackson.
Mike Williams, WR, Tampa Bay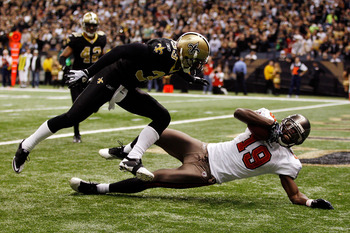 Chris Graythen/Getty Images
The Buccaneers entered 2010 with a bunch of questions surrounding their offense.
They'll enter 2011 with a bunch of young weapons, with Blount running the ball and Josh Freeman having receivers like Williams to throw to.
Williams had a fantastic rookie season, catching 65 passes for 964 yards and 11 touchdowns; he is getting to the top of many breakout-star lists for the upcoming season.
He's the prototypical big receiver who can leap up and get the ball over corners and use his frame to get himself open and box out defenders. Considering the options the Buccaneers now have, this has the potential to be a very good offense, perhaps one of the better ones they've ever had.
Earl Thomas, FS, Seattle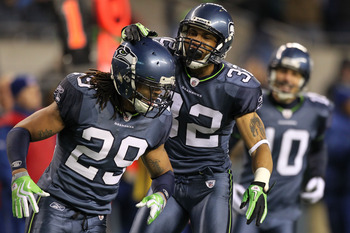 Otto Greule Jr/Getty Images
The Seahawks secondary had a lot of holes in 2010, but one of the lone bright spots for the group was Thomas, who stepped in right away.
Thomas is still raw in pass coverage, but he definitely has the tools to be one of those ball-hawking safeties as proved by his five interceptions last season. His star was somewhat dimmed by the holes in the rest of the secondary, especially at the corner position.
But expect Thomas to just get better this season and down the line.
Eric Berry, S, Kansas City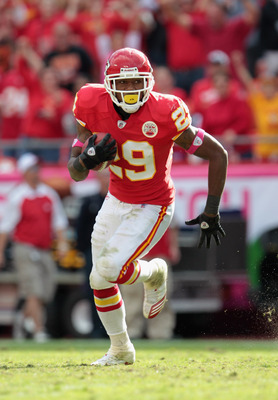 Jamie Squire/Getty Images
Eric Berry was a pretty high draft pick last year, but I don't think anyone could've expected him to have the impact he did for the Chiefs.
Berry stepped in right away and became the leader of the secondary, piling up 92 tackles and grabbing four picks to boot while becoming a key part of a very good and very deep young secondary in Kansas City.
If the Chiefs can find another young safety to play alongside Berry, all of a sudden that secondary would look extremely formidable.
Cliff Avril, DE, Detroit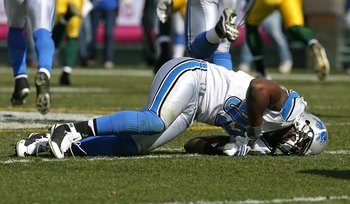 Jonathan Daniel/Getty Images
Very quietly, Avril has become a solid contributor for the Lions on the defensive front. While Ndamukong Suh got all the attention in his rookie year (and rightfully so), Avril has quietly increased his sack total each of the last three seasons.
Avril had his best season as a pro in 2010, putting up 8.5 sacks in only 13 games. And considering all the attention Suh gets, Avril should be able to ratchet those numbers up even more in 2011 for a rapidly improving Detroit team.
Malcom Floyd, WR, San Diego
Justin Edmonds/Getty Images
When it comes to bang for the buck, Malcom Floyd is right up there.
He's hidden in the San Diego offense by Antonio Gates and Vincent Jackson, but Floyd had an extremely productive 2010, piling up more than 700 yards with only 37 catches and becoming one of the go-to receivers and a downfield threat for Philip Rivers.
Floyd's contract status is up in the air, although the Chargers have put a first- and third-round tender on him, so they've made it pretty clear they want him to stick around. Rivers also wouldn't mind having Floyd to throw to as he continues to blossom into a star.
Josh Freeman, QB, Tampa Bay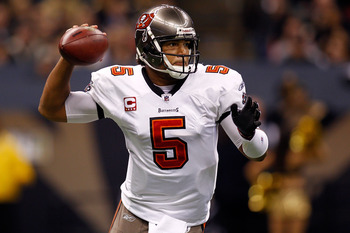 Chris Graythen/Getty Images
Josh Freeman took some big steps during his sophomore season in Tampa Bay.
With a corps of young receivers, Freeman went from throwing 10 touchdowns and 18 interceptions his rookie year to throwing 25 touchdowns and only six picks in 2010, doing so while leading Tampa Bay to a 10-win season.
Unfortunately for the Buccaneers, their season will be defined by two close losses to the eventual division champs in Atlanta. But Freeman still made fantastic strides last season and he's showing he has what it takes to be a franchise quarterback.
Ryan Fitzpatrick, QB, Buffalo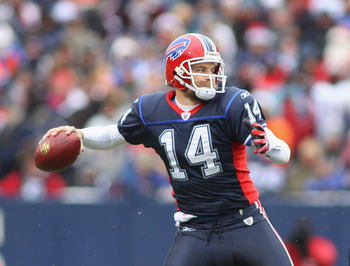 Rick Stewart/Getty Images
Who saw this coming?
Seriously, who saw this coming? I don't think the Bills did, or else they would've gone with Fitzpatrick instead of Trent Edwards a while ago.
The 2010 season ended in disappointment for the Bills yet again, but Fitzpatrick was one of the team's bright spots, as he threw for 3,000 yards and 23 touchdowns. Perhaps even better for Bills fans—he gave the passing game life for the first time perhaps since Drew Bledsoe was in Buffalo.
The Bills could very well draft a quarterback next month, but at least for right now, they have a quarterback in Fitzpatrick.
Arian Foster, RB, Houston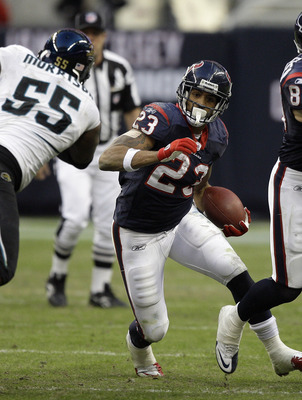 Bob Levey/Getty Images
In terms of NFL players making an entrance, you can't do much better that Arian Foster rushing for more than 200 yards on Opening Day against Indianapolis.
Foster used that performance as a jumping-off point to a 1,600-yard campaign and the best single-season rushing performance in Texans history. As it is, his was only the fourth 1,000-yard season in Texans history and only the second by a player other than Domanick Williams (then Domanick Davis).
Like Blount, Foster will now have to prove himself in 2011, when defenses will be more focused on stopping him. But it looks like for the first time in their history, the Texans have found themselves a star running back.
Donald Brown, RB, Indianapolis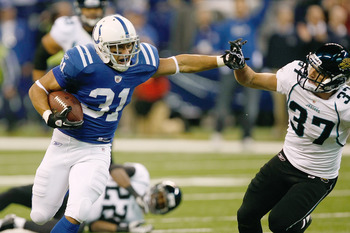 Scott Boehm/Getty Images
Eventually, Peyton Manning has to slow down.
Of course, that doesn't seem to be happening any time soon. Still, the Colts will have to run the ball efficiently if they want to have a chance at another Super Bowl run, and that starts with Brown.
Now, it's not all on the backs—the offensive line isn't what it used to be.
But knowing the injury history of Joseph Addai, one would have to think Brown will get a good deal of carries this season. If he can be the power rusher he was in college, he will start to forge a place for himself in the Colts offense.
Tyson Alualu, DT, Jacksonville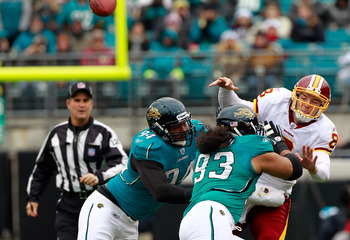 Sam Greenwood/Getty Images
Alualu was a surprise pick for the Jaguars at No. 10 in last year's draft, but he showed his worth right away, recording 3.5 sacks on the season.
The numbers weren't outstanding, but they were good enough for Alualu to make the Pro Football Weekly and Sporting News All-Rookie Teams. If he continues to develop, he could be a stud defensive tackle on a quickly improving front line for the Jaguars.
Sean Smith, CB, Miami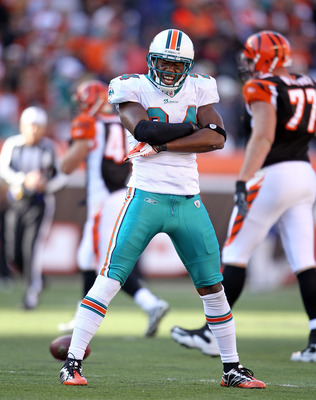 Andy Lyons/Getty Images
When your head coach says to The Palm Beach Post, "The guy's probably going to be in the Pro Bowl" if he can hold onto the ball, that's a pretty ringing endorsement.
The Post reported Smith lost his starting spot at cornerback at the beginning of the season, but he had played well enough at the end of the season to redeem himself. Dolphins head coach Tony Sparano told the paper Smith won't be handed a starting spot next season, but if he continues to play the way he did at the end of last season, it won't have to be handed to him.
With Smith lined up next to Vontae Davis, the Dolphins can throw out a couple of talented young corners.
Tim Tebow, QB, Denver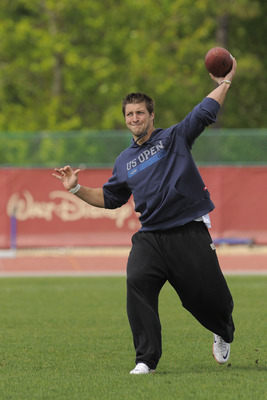 Handout/Getty Images
John Fox has already said Tebow will be the backup and Kyle Orton will be the starter, but one has to think Tebow showed enough at the end of last season to at least open the position up to a competition.
Personally, I've always felt the things he did in Florida wouldn't work in the NFL, but he looked like he had taken strides with his passing game at the end of last season. If he can continue to develop as a passer, then it opens up a lot of possibilities with his athleticism and all the different things he can do in the backfield.
Marcedes Lewis, TE, Jacksonville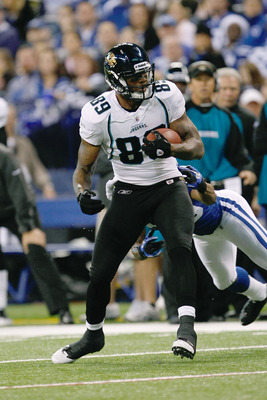 Scott Boehm/Getty Images
Lewis has the talent to be a star tight end in the NFL, but it didn't shine through until last season, when he had 700 receiving yards and 10 touchdown catches (which tied a team record).
It was good enough to earn him a Pro Bowl berth and the franchise tag from the Jaguars, and now the question will be: Can Lewis keep it going? If he can, he has the ability to be an elite tight end.
He's definitely athletic enough, he has great hands and he can leap right into the stratosphere. Don't be surprised to see him reach star status very quickly.
Chris Ivory, RB, New Orleans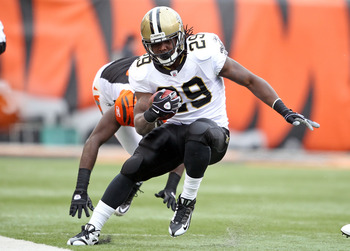 Andy Lyons/Getty Images
Ivory stepped into a starting role with the Saints when Pierre Thomas and Reggie Bush were sidelined with injuries. He wasn't outstanding, but he was solid for the Saints and he was also healthy, which was a big problem for Saints running backs last season.
The running game isn't a big part of the New Orleans offense, but when it's used effectively, it makes a huge difference, as 2009 proved. The Saints could very well give him a chance to be "the guy" next season, especially if they don't decide to bring back Reggie Bush.
If Ivory can once again show the flashes he did in 2010, he could prove to be another find for the Saints.
Ryan Mathews, RB, San Diego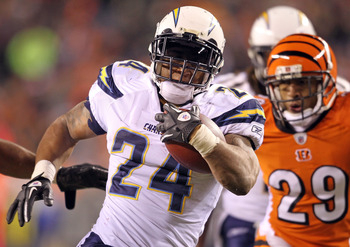 Andy Lyons/Getty Images
Ryan Mathews was expected to be a stud during his rookie season, but the plan never came to fruition for most of the season.
Mathews missed four games, and it wasn't until late in the season that he started to show flashes of the runner he was in college. He finished the season with his first 100-yard running game and he accrued more than 600 rushing yards total, teaming with Mike Tolbert.
If Mathews can continue to build off of the end of the season, then the Chargers could have a stud running back on their hands. If he can stay healthy, that will be a big help, too.
Keep Reading