Brett Favre and the 25 Biggest Jerks in NFL History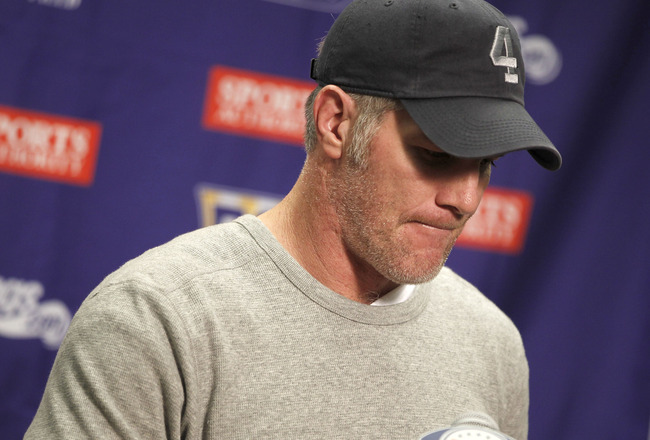 Gregory Shamus/Getty Images
The NFL has produced some of the most polarizing, controversial figures in sports. On the field and off, these men have got our attention through the good times and bad.
The league also has some of the biggest jerks in sports history. What do we mean by jerks? Well, someone who has disrespect for the game, their teammates or negatively impacts the league by breaking the law.
There are those who make mistakes, and those who are simply disrespectful. Here is a list of the top 25 jerks in NFL history.
25. The Entire 1986 Miami Hurricanes Football Team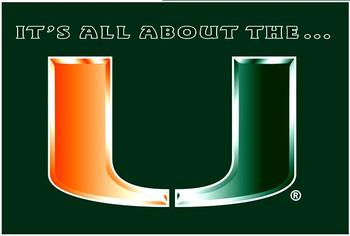 The team wore army fatigues to the national championship game. They had an outlaw image and could trash talk all day long. They would go out of their way to make the other team's game hellish, but at the end of the day, they could not back up their talk with a national title.
I know they are not an NFL team, but many of their players went on to play in the NFL, and a list about jerks without a Miami Hurricanes team is not a list at all.
24. Shaun Ellis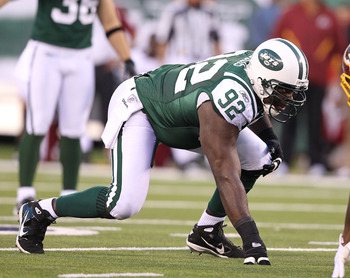 Al Bello/Getty Images
I had always thought of Shaun Ellis as a good enough guy. He has anchored the defensive line for the New York Jets for almost a decade now, and when he is on the field, he has been a consummate professional.
But, on December 22, 2008 after a game against the Seattle Seahawks, Ellis decided it would be a good idea to throw a huge snow boulder into the stands at a fan. He said it was all in good fun. The fan's lawsuit and the league's fine leads me to believe they thought otherwise.
23. Ricky Williams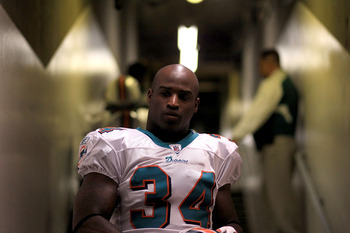 Ezra Shaw/Getty Images
I am not sitting here and judging Ricky Williams' life decisions and the way that he goes about his business, but retiring right before the start of an NFL season is not the most stand-up act we have ever seen.
He became a villain to fans, who did not understand why he would do such a thing. His timing, and not his actions, are what make him a jerk.
22. Freddie Mitchell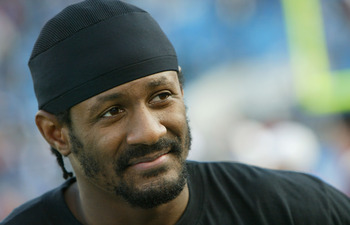 Jed Jacobsohn/Getty Images
Can someone be a jerk if they are delusional? Mitchell ran his mouth in the week leading up to Super Bowl XXXIX, and continued to talk thereafter. "Owens and Donovan must not have wanted to win the game," said Mitchell, referring to the Super Bowl.
He said that the team would have won more if he had gotten the ball.
OK, Freddie. You were terrible.
21. Tom Cable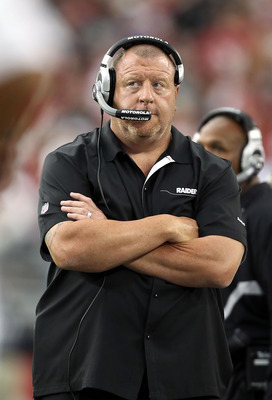 Christian Petersen/Getty Images
Cable punched one of his own coaches in the face and broke his jaw. Enough said.
20. Chad Ochocinco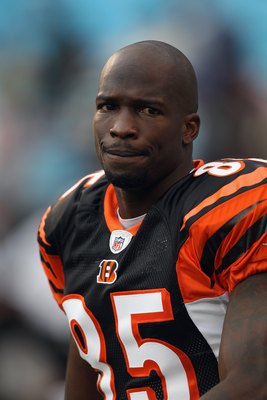 Streeter Lecka/Getty Images
Most of the things that Ochocinco does are harmless.
But, many of the things that he does have negatively affected his team. Every time that he amassed an unsportsmanlike conduct penalty for his touchdown celebrations, or drew attention to the team, it in some way affected the other players.
He is a good guy, who has stayed out of trouble, but he is polarizing and at times can be a nuisance.
19. Pacman Jones
Ronald Martinez/Getty Images
The details remain unclear, but let's just say that mixing guns, strip clubs and drugs are a bad idea. He had all the potential in the world and completely messed up several teams who gave him a chance.
He never truly seemed to care about the game and never gave it the attention that it deserved.
18. Ray Lewis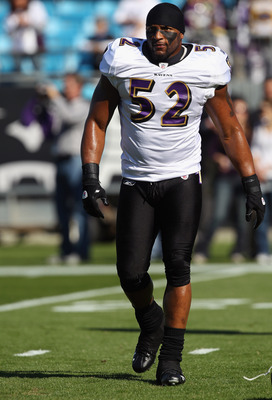 Streeter Lecka/Getty Images
Ray Lewis is one of the best linebackers of all time, and even at the age of 35, can still play with the best of them. Before he began to assert his dominance year after year, Lewis was convicted of obstruction of justice after initially being tried for murder in the infamous stabbing incident in Atlanta 11 years ago.
He misled the police, was fined heavily for it and badly scarred his reputation. He reached settlements with the victim's families, and lost a lot of respect around the league.
17. Antonio Cromartie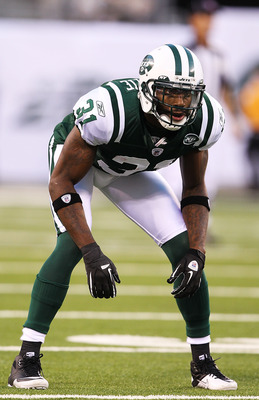 Al Bello/Getty Images
Antonio Cromartie's outstanding child support payments aside, he has been known as a guy who takes off plays, and does not try hard when it is convenient for him.
The San Diego Chargers traded Cromartie to the New York Jets, as he was becoming a liability on the field and a nuisance off. He has been part of several paternity suits in addition to court appearances for traffic violations.
To top it all off, he has gotten into Twitter battles and has had cursing-laden tirades against the Patriots. That part just makes him a jerk because that sort of stuff makes Tom Brady play better.
16. Braylon Edwards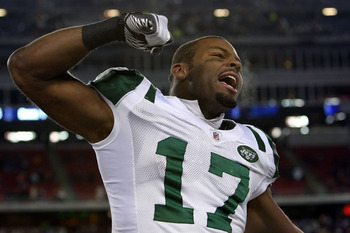 Michael Heiman/Getty Images
Edwards is a talented receiver, but he needs to learn how to drive. The Jets wide receiver has been cited for speeding several times, and driving while intoxicated as well.
On top of that, he was given a 180-day suspended jail sentence after punching Edwards Givens, a friend of LeBron James, in the face. This back-and-forth tussle was documented in the news, and depicted Edwards as the instigator in the fight. He would never publicly apologize.
A real class act.
15. Brandon Marshall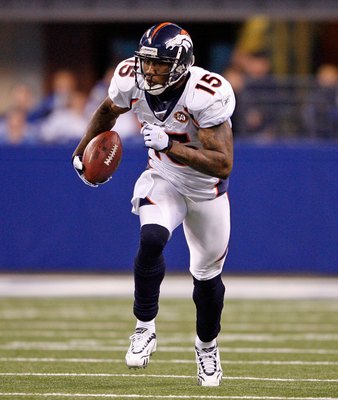 Andy Lyons/Getty Images
Marshall's police record is almost as long as his career stats sheet. Marshall has been cited for disorderly conduct, domestic violence and misdemeanor battery, just to name a few. He was suspended while he was on the Broncos, and made it very difficult on the team when he decided it was time to be traded.
His skills are undeniable, but his ego and insistence on getting in trouble make him one of the biggest jerks in the league.
14. Art Modell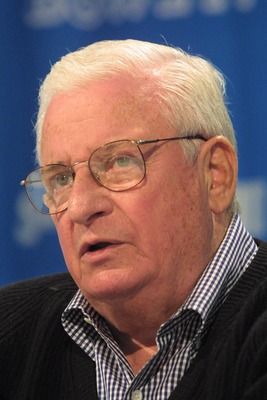 Andy Lyons/Getty Images
Modell moved the entire Cleveland Browns franchise overnight, without anyone knowing. He pulled the rug out from an entire city, and is one of the biggest villains in Cleveland history. Modell was sued, but to no avail.
He had promised the team would never move...oops.
13. Michael Irvin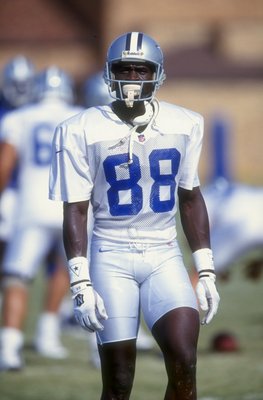 Stephen Dunn/Getty Images
Irvin was controversial throughout his entire career. From his trash talking on the field, to his cocaine arrest, there are not many other players who brought such a circus around their team during his playing days.
He was also involved in several post-career scandals that include an alleged sexual assault suit and controversial comments about Tony Romo. He certainly learned a lot from his days at the University of Miami...just not too many about staying out of trouble.
12. Ben Roethlisberger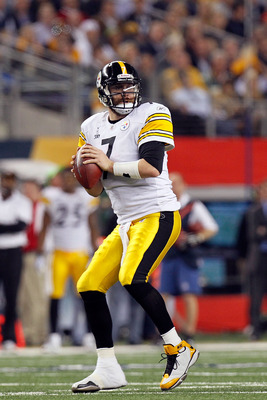 Kevin C. Cox/Getty Images
Roethlisberger is a Super Bowl winner and one of the NFL's best quarterbacks.
But, even this much cannot get someone out of trouble when sexual assault is involved. Two separate allegations were made against the Steelers star, resulting in a six-game suspension (later cut down to four) that could have been detrimental to the team.
All is well that ends well, but Roethlisberger is lucky the Steelers fans are so forgiving.
11. Keyshawn Johnson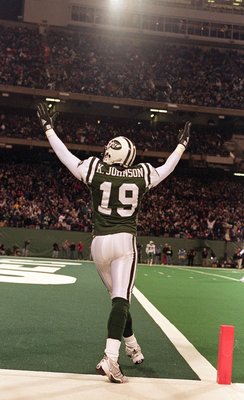 Al Bello/Getty Images
The best way to describe Keyshawn Johnson's career can be described in his autobiography entitled, Just Give Me the Damn Ball!
He was combating with most coaches he came into contact with, including Jon Gruden at the end of his tenure in Tampa Bay. He was deactivated for the final seven games, and then traded.
It is a good thing that he became an analyst so he could channel all of his talking into something constructive.
10. Larry Johnson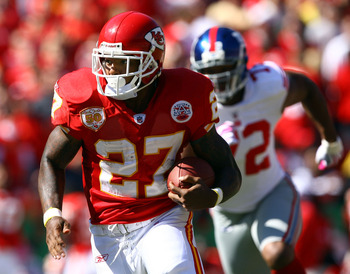 Jamie Squire/Getty Images
It got so bad in Kansas City that fans were calling for Johnson's benching so that he would not break Priest Holmes' team rushing record.
Larry Johnson was arrested several times for battery along with several other charges; this would not be the worst thing that he did.
After being benched, he took to Twitter, where he offended coach Todd Haley and used gay slurs. He would receive even greater backlash and publicly apologized.
He would never play for the Chiefs again.
9. Bill Parcells
Marc Serota/Getty Images
Bill Parcells is the Brett Favre of coaching. He coached four different teams, each time becoming more controversial.
What makes him a jerk is the way in which he went about his business. He needed to get out of his Patriots' contract, so he finagled his way around until he was with the Jets. He retired from the Jets, and then found his way to the Cowboys.
Now, he is working in the Dolphins organization, and everyone is always looking over their shoulder, just in case he feels like putting the good old headset on and planting himself on the sideline.
8. Bill Romanowski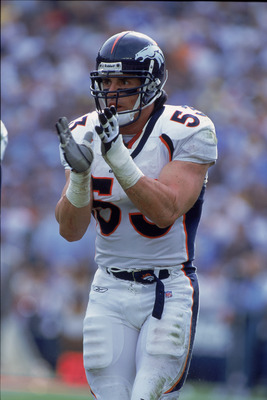 Christopher Ruppel/Getty Images
Lets go down the list of everything Bill Romanowski has done.
1) Kicked Arizona Cardinals fullback Larry Centers in the head.
2) Helmet-to-helmet hit on Kerry Collins.
3) Spit in 49ers receiver J.J. Stokes' face.
4) Attacked and injured one of his teammates, Marcus Williams, during a scrimmage.
5) Broke the eye socket of a teammate after he tried to break up the fight between Romanowski and his teammate; Romanowski said he had 'roid rage.
Is that enough evidence?
7. Michael Vick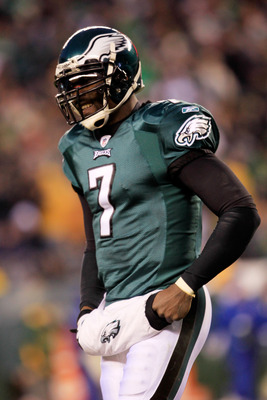 Chris Trotman/Getty Images
Before Michael Vick was sentenced to jail after his dog-fighting charges, he was no model citizen.
Between 2004 and 2007, Vick was involved with numerous incidents, including marijuana distribution, theft, making obscene gestures to fans, the famous water bottle incident and missing charity events.
This all culminated in his suspension and jail time served for staging dog fights.
He has appeared to have cleaned up his act now, though for some time, he was a true NFL jerk.
6. Randy Moss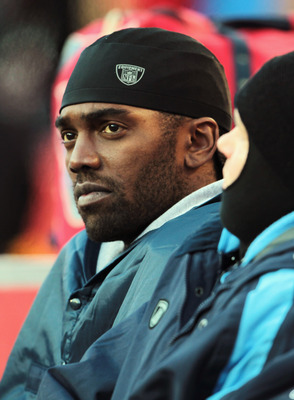 Jamie Squire/Getty Images
Where to begin...
1. Moss has left the field of play before the game was over saying he did not think the team would come back.
2. After scoring a touchdown in the playoffs against the Green Bay Packers, Moss simulated a mooning action to the fans.
3. Oh, and there is the whole not trying thing.
When Moss was good, he was unstoppable. When he was bad, he was unusable. The University of Marshall product would continually negatively affect his team by taking plays and games off. It was very apparent when he was not trying, and despite his best efforts to play for every team in the league in one season, he fell a little short.
Taking a waiver on Moss this offseason is a huge risk, as he is one of the NFL's biggest head cases.
5. Terrell Owens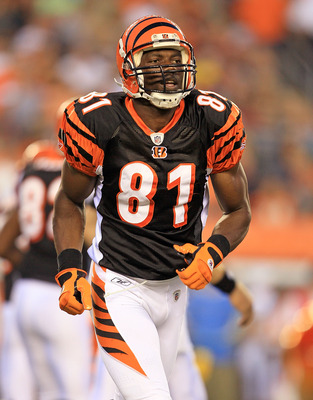 Andy Lyons/Getty Images
Say what you will about Terrell Owens, but he was a great star in the NFL for a decade. He left it all out there on the field, and did care a great deal about the game. OK, enough of the nice stuff.
Owens was a quarterback killer. Jeff Garcia, Donovan McNabb, Tony Romo and Carson Palmer are all going to need therapy when their playing days are over. He could always be found yelling at the quarterback or a coach on the sidelines, never once thinking about the implications of his actions.
His touchdown celebrations were egotistical and narcissistic. He antagonized the front offices in which he played, bated the media and had no regard for anyone but himself. He was the ultimate NFL jerk.
4. Albert Haynesworth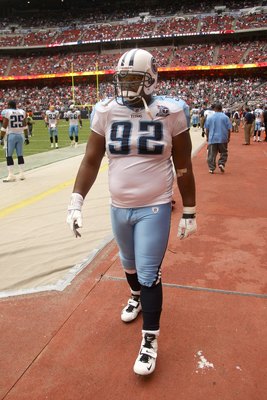 Stephen Dunn/Getty Images
Everyone can formulate their own opinion as to who is to blame for the Redskins situation. Haynesworth is certainly no angel, but there are many actors at fault.
What he cannot be forgiven for is stomping Cowboys center Andrew Gurode's head in 2006. This malicious attack was one of the worst acts a player has made on the field of play, and warranted a suspension and fine. Upon his return, he slammed Maurice Jones-Drew into the ground, raising more criticism as to whether his style of play was simply bad for the game.
3. Warren Sapp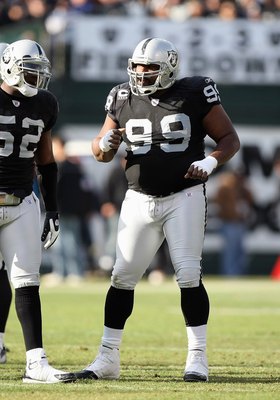 Jed Jacobsohn/Getty Images
Sapp's controversies include leveling a defenseless Chad Clifton, rendering him unable to walk for five weeks. Sapp then got into a screaming match with Packer's coach Mike Sherman over the incident.
Another Sapp controversy was when he skipped through the Pittsburgh Steelers warmups before the game. Steelers running back Jerome Bettis shoved Sapp, and this was followed by a heated exchange between the two teams.
He also needed to be separated from a referee by his coaching staff after arguing over an unsportsmanlike conduct penalty that got him tossed from the game.
2. Lawrence Taylor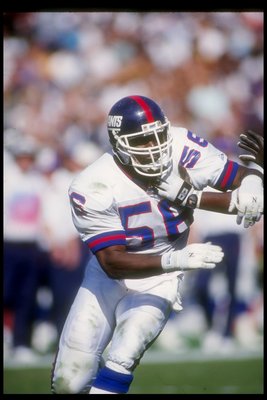 Ken Levine/Getty Images
LT was certainly one of, if not the best, linebacker in NFL history. He was intimidating, mean and high more times than not. He disrespected the team and the game time after time, and admitted to antics such as sending prostitutes to other player's rooms the night before games.
He also admitted to habitually using other teammate's urine to pass drug tests. He was putting his teammates at risk, and never really cared about anybody but himself.
1. Brett Favre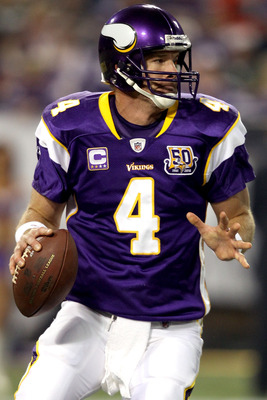 Matthew Stockman/Getty Images
I'm retired...I mean, I'm not retired. Wait, what was the question?
Brett Favre held the entire football world hostage. Not once. Not twice. But three times!
His antics over changing his mind about his abilities and playing days became nauseating after hearing analyst after analyst make countless predictions about whether he was coming back. It was as if could not get enough of himself, and needed to make sure he was in the news enough.
There is not one person who was not sick of hearing about Favre at some point or seeing Ed Werder outside some high school in Hattiesburg, Mississippi.
We can go on and on about how much of a jerk Brett Favre was to all of us, but that's what he wants, attention, and we need to stop giving it to him.
Follow me on twitter @ AustinSchindel
Keep Reading