NFL Draft 2011: 10 First-Round Prospects for the Green Bay Packers on Draft Day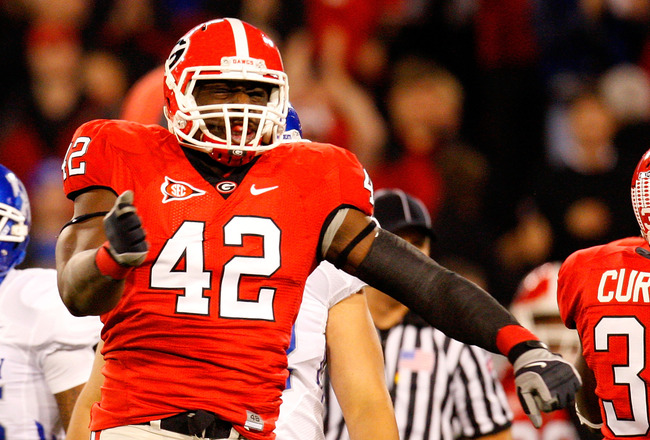 Kevin C. Cox/Getty Images
NFL Draft 2011: Justin Houston, Derrek Sherrod and 10 First-Round Prospects for the Green Bay Packers
Though the Green Bay Packers are now Super Bowl champions, there will be no cease-to-productivity within the walls of GM Ted Thompson's office.
The Packers have been fortunate enough to bear one of the best front offices in the NFL—and it has shown on draft day.
Aaron Rodgers, Greg Jennings, Jordy Nelson, Clay Matthews and Jermichael Finley are just a few examples of Green Bay's uncanny ability to recognize All-Pro caliber talent in the draft.
So with the dawn of a new season (hopefully) beginning to take shape, here are 10 prospects the Packers should target in the first round of action.
Derek Sherrod, OT, Mississippi State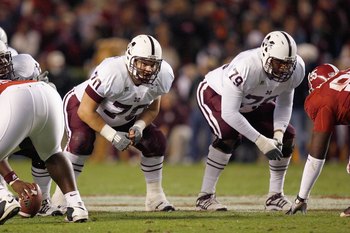 Kevin C. Cox/Getty Images
With their first-round selection last year, the Packers chose to upgrade their aging offensive line by selecting Iowa's all-purpose offensive tackle Brian Bulaga. His rookie season yielded notable concerns, however they were widely overshadowed by his effectiveness in Green Bay's playoff run towards the Super Bowl.
As the 2011 NFL draft closes in on Green Bay, head coach Mike McCarthy would love to see yet another young prospect be added to his offensive line. One such prospect would be Mississippi State's Derrek Sherrod who weighs in at 6'6'', 312 pounds of solid athleticism.
Sherrod has the complete package the Packers are looking for and would become the eventual replacement of current left tackle Chad Clifton who has his better years behind him.
With a year's worth of guidance and direction under Green Bay's offensive line coach James Campen, Sherrod would become a valuable asset in Aaron Rodgers' passing attack.
Corey Liuget, DT, Illinois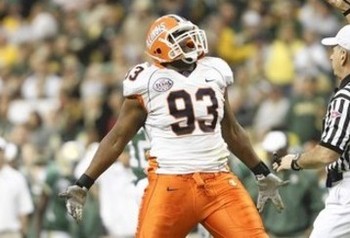 Under the direction of Dom Capers, the Packers have quickly become one of the league's foremost leaders on the defensive side of the football.
Clay Matthews, Tramon Williams, Nick Collins, Charlie Peprah, A.J. Hawk and B.J. Raji have all found their strengths working under Capers' 3-4 style defense that embraces a physical, no holds barred approach.
However, the underlying dilemma holding up Green Bay's defense remains their age up front. Cullen Jenkins, 30, and Ryan Pickett, 31, each faced lingering injuries a season ago and weren't able to contribute to the Packers' late-season successes.
To shore things up for the prospective future, Ted Thompson should take a look at Illinois's colossal defensive tackle Corey Liuget.
Weighing in at 6'3'', 300 pounds of physical torque, Liuget bulldozed his way to five sacks for the Fighting Illini a season ago—making him a prime prospect for Capers' physically-dominating defense.
Jimmy Smith, CB, Colorado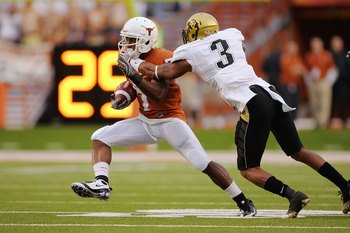 Brian Bahr/Getty Images
When All-Pro cornerback and future first-ballot Hall of Fame candidate Charles Woodson left Super Bowl XLV with a broken collar bone late in the first half, many Packer fans began holding their collective breathes for what the future might bring.
Yes, Woodson's injury was such that many within the Packers' organization began to wonder just how much longer he could play at his superstar-caliber level. And though the outlook for next season seems bright for Woodson, the Packers are only beginning to look towards the future.
The future for the Packers at cornerback may be uncertain at best, but when draft day rolls around, that could all very well change for the better.
Take a look at Colorado's productive 6'2'', 205-pound cornerback Jimmy Smith, for instance.
Smith, who furnished three interceptions and 160 tackles as a three-year starter with the Buffaloes, is ranked as the third-best cornerback available in this year's draft class.
Under the invaluable guidance of Charles Woodson, Smith could very well become a serious difference maker as soon as 2012.
Cameron Heyward, DE, Ohio State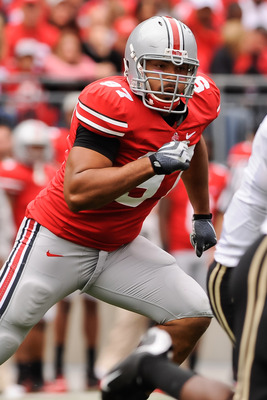 Jamie Sabau/Getty Images
While we've already identified other notable defensive ends the Packers may take on draft day, none have the most upside as Ohio State's brute defensive end Cameron Heyward.
A four-year starter with the Buckeyes, Heyward was as physically dominating as he was dangerous off the edge—accounting for 15 total sacks in his four seasons.
Additionally, Heyward's 4.92 40-yard dash at the NFL combine puts him in a class of his own—excellent initial quickness, explosive tackling and a knack for pressuring the quarterback no matter who he lines up against.
Though his elite play and astounding physical attributes are attracting other teams' attention, Heyward should be at the top of Green Bay's list of first-round prospects as they look to shore up an aging defensive line.
Gabe Carimi, OT, Wisconsin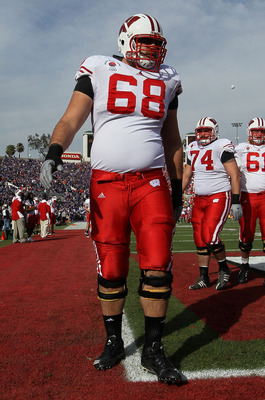 Stephen Dunn/Getty Images
The second offensive tackle on our list, Wisconsin's Gabe Carimi is among a few of the most awe-inspiring offensive linemen available in this year's draft class for a plethora of reasons:
Size & Weight: Weighing in at 6'7'', 305 pounds, Carimi is regarded as one of the nation's top tackles coming out of a power-packed Big Ten that boasted many powerful defensive linemen.
Pro-Day Workouts: Carimi garnered a lot of attention at Wisconsin's pro-day workouts, and teams are continuing to assess his capabilities at left tackle. Maintaining all the physical tools and work ethic any team could ask for, Carimi projects to be a first-round lock when draft day comes around.
Pass Blocking: The physical tools are all there, and the elite agility and agile footwork are almost certain to make him a 10+ year starter at the next level.
Whether or not the Packers are able to lock up Carimi in the first round is still left to be determined. However, don't expect Ted Thompson and Mike McCarthy to pass on Carimi should he fall to the Packers.
Justin Houston, OLB, Georgia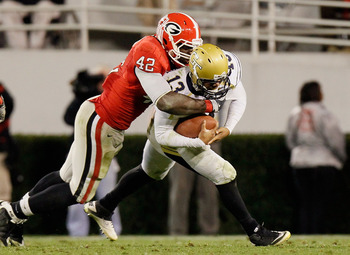 Kevin C. Cox/Getty Images
It should be no surprise to know the Packers boast some of the most complete, tenacious linebackers the league has to offer such as Clay Matthews, A.J. Hawk, Desmond Bishop and Nick Barnett.
However, in the midst of Green Bay's success as of late, Barnett (who missed nearly all of last season due to a wrist injury) may be on his way out of title town sooner than most might think.
Yes—you've heard right. Barnett's contract calls for him to make around $6 million in 2011, which severely limits Green Bay's efforts in signing their draft picks.
So with the imminent departure of Barnett nearing, now is the time for the Packers to draft an all-purpose outside linebacker that would complement the physicality of Matthews, Hawk and Bishop.
Georgia's Justin Houston could become another staple in Capers' 3-4 defense.
At 6'3'', 258 pounds, Houston is obviously a physical specimen with more than enough abilities to make a difference off the edge for the Packers defensively.
Christian Ballard, DE, Iowa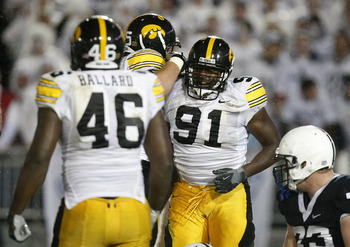 Gregory Shamus/Getty Images
The third defensive lineman featured on our list, Iowa's animal defensive end Christian Ballard is currently ranked 50th overall on NFL draft scout's list of top players entering this year's draft.
Weighing in at 6'4'', 288 pounds, Ballard may be a bit of a stretch for the Packers to pick up in the first round. However, the need for a power defensive end in title town is as prominent as ever; and Dom Capers recognizes that more than anyone else.
In a draft chalk full of unbelievable talent on the defensive line, Ballard has secured himself as the draft's 10th-best defensive end due to an impressive 4.75 40-yard dash at the NFL Combine.
Cullen Jenkins and Ryan Pickett aren't getting any younger, and Ballard would be a solid pickup for Green Bay in the first round.
Leonard Hankerson, WR, Miami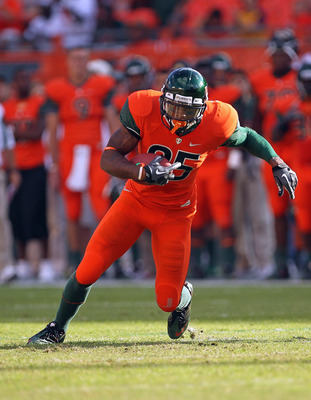 Mike Ehrmann/Getty Images
As with Charles Woodson, Packers wideout Donald Driver suffered an unfortunate injury that sidelined him for a bulk of Super Bowl XLV. In turn, questions surrounding Driver's durability are beginning to surface in Green Bay. Can he be his productive self for at least two seasons? It's not likely.
Unfortunately for Driver, his place in the Packers offense is beginning to fade rapidly. Would it be in the Packers' best interest to draft a prolific wideout in the first round such as Miami's Leonard Hankerson?
The Hurricanes' leading receiver, Hankerson has accumulated over 2,100 yards, 22 touchdowns and 134 receptions in two seasons as a starter and transfers well to the next level with his prototypical 6'1'', 209-pound frame.
Akeem Ayers, OLB, UCLA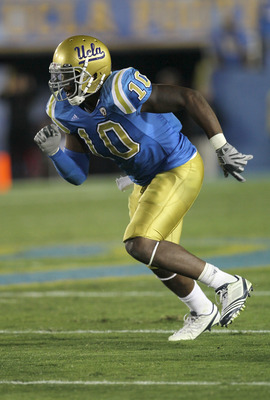 Stephen Dunn/Getty Images
The last defensive player remaining on our list, Akeem Ayers has watched his draft stock fall significantly since the NFL combine.
Patrolling the line of scrimmage for UCLA last season, Ayers produced four sacks, two interceptions and 68 total tackles on his way to becoming one of the Pac-10's most complete defensive prospects.
However, the NFL combine wasn't exactly kind to the Bruins' 6'4'', 255-pound junior. Posting a lackluster 4.81 40-yard dash and completing just 18 bench-press reps, Ayers' stock took quite a beating.
Nevertheless, the need for a talented outside linebacker in Dom Capers' defensive is at an all-time high, and Ayers would fit perfectly into that role.
Ryan Williams, RB, Virginia Tech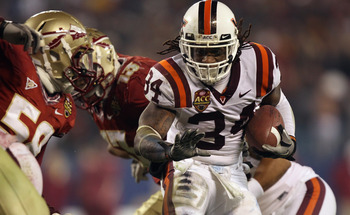 Streeter Lecka/Getty Images
The emergence of rookie running-back James Starks took the Packers to the next level, generating their Super Bowl run late last season.
Yes, Ryan Grant is (for now) still on the roster heading into next season. However, the need for a consistent ground attack in Green Bay is atop Mike McCarthy's to-do list this offseason.
So with the 32nd overall pick in the draft, general manager Ted Thompson would be wise to take a good look at Virginia Tech's speedy tailback Ryan Williams.
Weighing in at 5'10'', 205 pounds, Williams nearly replicates that of Brandon Jackson. However, the key difference between the two is the decisiveness in making his cuts. The Packers can afford to have a two-back tandem between Starks and Williams next season and would make for a great one-two punch for McCarthy's offense.
Keep Reading

Green Bay Packers: Like this team?