Philadelphia Phillies Cursed? Roy Oswalt, Chase Utley and Domonic Brown Say Yes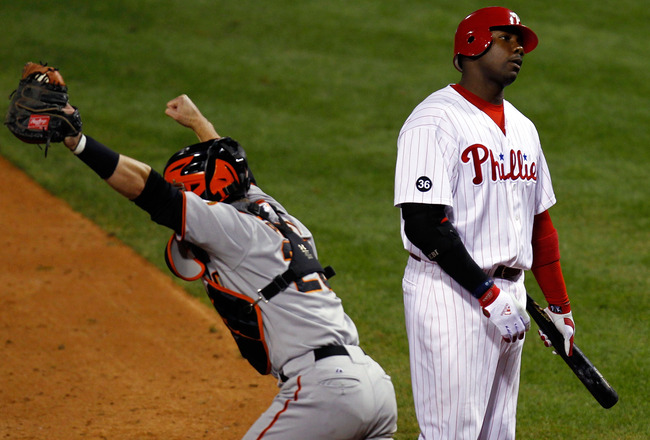 Jeff Zelevansky/Getty Images
The Philadelphia Phillies cursed? Say it isn't so.
But what if that figment of our imagination came true? What if the World Series favorite Philadelphia Phillies were indeed cursed from here on out?
Looking at the way this team is shaping up for the 2011 season, I'd put my money on the Phillies being cursed… here's why.
A Chance to Do Something Historic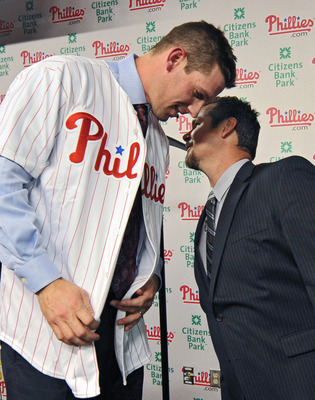 Drew Hallowell/Getty Images
Anointed the "best team in baseball" before the season begins, the Philadelphia Phillies had an event-filled offseason that thrust them into national endearment and respectability.
Joining an already bolstered rotation of Roy Halladay, Cole Hamels and Roy Oswalt, the Phillies landed prized free agent pitcher Cliff Lee after he vetoed lucrative offers from the Texas Rangers and New York Yankees.
There are many teams in the MLB that would kill for a single starter the caliber of Lee, and the Phillies have somehow managed to land four very good aces.
Adding the two-time All-Star and 2008 Cy Young Award winner to the mix, the Phillies have the chance to be "historic", as some sports writers put it. Couple that with their potent lineup, Philly is expecting nothing short of a World Series win in 2011.
With Jimmy Rollins, Chase Utley and Ryan Howard leading the way, the Phils will have regular productivity coming from every aspect of their lineup.
Shane Victorino and Dominic Brown continue to prove that Philadelphia's farm system is one of the most elite in the game and expect much of the preseason hype to become actuality as the season progresses.
That is, of course, barring any bad breaks in the foreseeable future…
Bad Breaks in 2011 – Chase Utley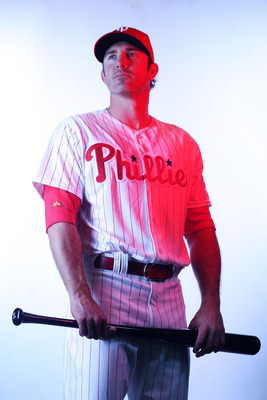 Nick Laham/Getty Images
Every Major League team is prone to it, some more than others, but the Philadelphia Phillies need to expect that the injury bug will come biting sometime this season.
Just look at 2010.
Just about every regular position player suffered some sort of physical setback that landed him a few weeks on the DL.
This season is no different.
All-Star second baseman Chase Utley went down early in spring with what is described as merely a 'knee injury.'
Granted, he's been able to take batting practice, but not being able to run or play the field will severely hinder his ability to start anytime in the near future.
Not expected to be ready for Opening day, if Utley were to miss any significant portion of this season, it would be a serious blow to the Phillies lineup and defensive dynamic.
Ryan Howard would have zero protection in an aging lineup, and supplementing ex-Mets Wilson Valdez and Luis Castillo as Utley's replacement would not match the production he brings to the Phillies on a daily basis.
Bad Breaks in 2011 – Domonic Brown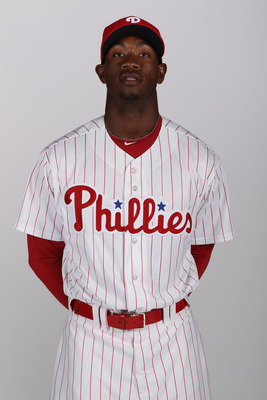 Nick Laham/Getty Images
Current farmhand "stud" Domonic Brown was poised to battle it out with Ben Francisco for the right field position after the Phillies couldn't manage to hold onto Jayson Werth, but now he's likely to spend 2011 on the DL and in the minors.
Brown broke his right hand in a spring training game earlier this month while hitting a single up the middle—his first hit all spring after going 0-16.
Forced to undergo surgery, Brown is just another example of a freak injury sent by the baseball Gods to dismantle to the World Series favorites.
Bad Breaks in 2011 – Roy Oswalt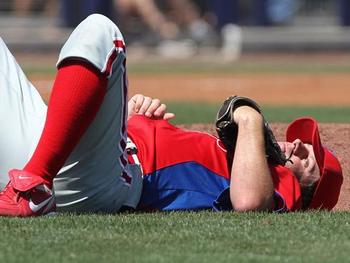 http://i.usatoday.net/communitymanager/_photos/daily-pitch/2011/03/23/oswalt2x-large.jpg
Despite x-rays coming back negative, I'm sure Phillie fans across the nation held their collective breath as they watched their precious pitcher get nailed in the head by line drive off the bat of Manny Ramirez.
Roy Oswalt was unable to get out of the way after Ramirez smoked a liner up the middle, hitting Oswalt square in the neck.
While we still don't know if this will affect Oswalt's status heading into the season, it definitely proves that the Phillies bad luck is piling up.
Bad Breaks in 2011 – Brad Lidge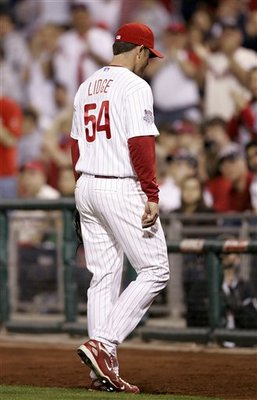 http://www.delawareonline.com/blogs/labels/Brad%20Lidge.html
Well, it looks like the Phillies continue to lose vital pieces to World Series caliber team.
Closer Brad Lidge announced that he will open the 2011 season on the disabled list because of pain in the back of his shoulder.
This should be nothing new for Phillie fans, as Lidge was also shut down earlier this spring because of bicep tendinitis.
Placed on the disabled list for the third time in four seasons, it seems like the Phillies just can't catch a break, huh?
It May Not Be Billy Penn's Fault, but Philly Could Be Cursed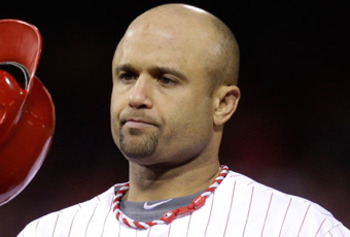 http://www.google.com/imgres?imgurl=http://mlb.mlb.com/images/10212010/15773502/340x230_Necklace.jpg&imgrefurl=http://mlb.mlb.com/mlb/ps/y2010/pulse/archive.jsp%3Fymd%3D20101021&usg=__UYVGBVzwocN5wxPxeTI8AMfnh18=&h=230&w=340&sz=28&hl=en&start=97&zoom=1&tbnid=1LHRJTDChJuwzM:&tbnh=113&tbnw=164&ei=kvaMTaygG-Ox0QGQueygCw&prev=/images%3Fq%3Dplacido%2Bpolanco%2Bhead%26um%3D1%26hl%3Den%26client%3Dsafari%26rls%3Den%26biw%3D1280%26bih%3D562%26tbs%3Disch:10%2C1616&um=1&itbs=1&iact=hc&vpx=320&vpy=257&dur=671&hovh=132&hovw=196&tx=108&ty=37&oei=iPaMTbiRNei20QGWj9nDCw&page=5&ndsp=22&ved=1t:429,r:1,s:97&biw=1280&bih=562
So lets look at the facts.
Sure, the Phillies have one of the most dominant starting rotations in the league.
But, one of their big four already has questions surrounding his health and those questions will only become more prominent as they continue to play with the aging stars behind them.
Their franchise second baseman hasn't been healthy for a while now and won't open the season with the team. Just another stab to the heart of Phillies fans.
Their lineup is full of old men from Raul Ibanez to Carlos Ruiz to Placido Polanco, and their closer is now shelved for at least a portion of the beginning of the season with shoulder troubles.
Young phenom Domonic Brown was assumed to break camp in 2011 with the big league squad, but will now be sideline for at least a few months as he rehabs from hand surgery.
Cole Hamels is frustrated after allowing nine hits, six runs and two homers in 6 2/3 innings during his last spring start, amassing a lousy 6.75 ERA this spring.
If I didn't know any better, could the baseball Gods have it in for the Philadelphia Phillies?
Is this Phillies team cured?
I don't know, you tell me.
Controversy at Its Finest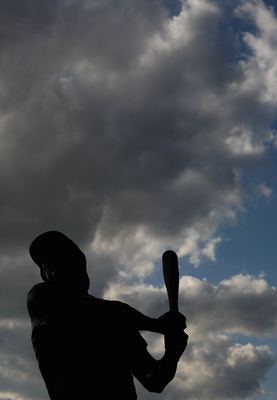 Nick Laham/Getty Images
This topic is obviously going to be controversial.
Is it my fault the Phillies have a good portion of their team facing DL time?
Of course not.
Is it my fault the Phillies are aging and it's either World Series of bust for this squad?
Well, I hope it's not.
What I do know is that while on paper this team can look very good, it's only as strong as it's weakest link.
If players are rotting on the DL, then the Phillies have some serious in-house talking to do.
If your best plan to replace your All-Star second baseman is to bring over a scrub that your division rival just let go because their fans just couldn't take it anymore, then I really don't know what to tell you.
Be ready for a long season Phillies fans, the curse has only just begun.
Keep Reading

Philadelphia Phillies: Like this team?