NFL: Matthew Stafford and the 10 Players Most Likely to Step up in 2011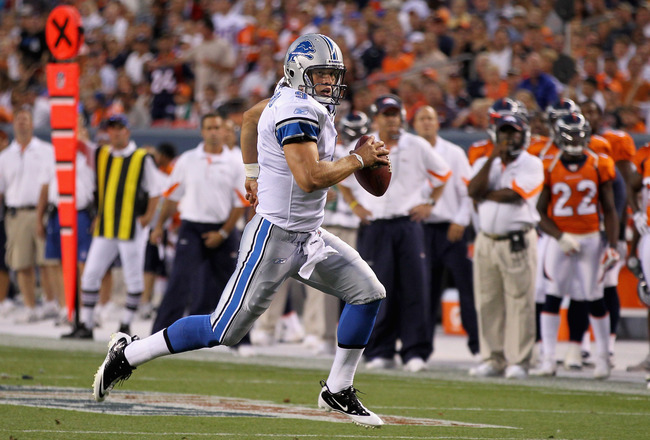 Doug Pensinger/Getty Images
When the lockout gets tidied up, and the players and fans can once again stream into NFL stadiums around America, we can only hope that there will still be a 16-game season. However, even if it is a bit short, we will still be able to see amazing performances from the established stars. Guys like Peyton Manning, Adrian Peterson and Clay Matthews will continue to be great.
However, the best part of the new season will be witnessing the arrival of some new faces. Although we cannot predict with any certainty who this will be, I will do my best to rattle off a list of the ten most likely new faces to reach stardom.
Enjoy!
Matthew Stafford (QB): Detroit Lions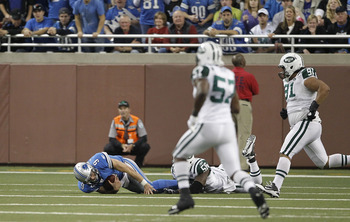 Leon Halip/Getty Images
As a Lions fan, "the catch" was one of the most gut-wrenching events of last season, along with Stafford's shoulder hitting the turf against the Chicago Bears. I always had a feeling that Stafford had been rushed back into the line up, and the re-injury just validated my fears.
This is the reason why an extended lockout could actually benefit the most talented young quarterback in the NFL. More time to heal is always good, especially with a reoccurring injury.
However, going past this, Stafford should be a star in 2011. For his brief forays on the field in 2009 he showed why he was the first selection in the 2009 NFL draft. He was clinical in his dismemberment of the Washington Redskins defense, and then had the better of the vaunted New York Jets defense before injury plucked him away from the game.
His strong arm, accuracy and touch on the deep passes makes him a dangerous gunslinger. I see him developing into a Brett Favre-like quarterback who can win games all by himself in 2011. While he is likely to give away more interceptions than Mark Sanchez and Josh Freeman because of the offensive philosophy, Stafford should be a Pro-Bowler next season as he leads Detroit to a long awaited playoff berth.
Chris "Beanie" Wells (RB): Arizona Cardinals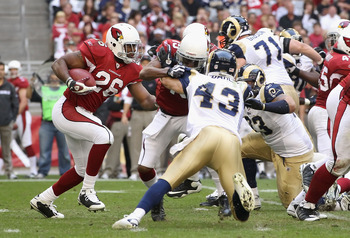 Christian Petersen/Getty Images
After a dynamite career with the Ohio State Buckeyes, Wells had a free fall in the middle of his 2009 Draft Day when the Cardinals drafted him 31st overall. Wells was supposed to be the next coming of Jim Brown, who would be a star in his first season and give Arizona the running game it needed to complement Kurt Warner at quarterback.
Sadly, this was not to be. Warner retired at the end of the 2009/2010 season and then Wells struck a sophomore slump in 2010. With the Cardinals organization falling down around him, I am sure that he will resurrect his form and show why he was the best running back in the 2009 draft class.
Wells should be a great NFL runner. He runs with power, speed and enough agility to force defenders into off balance tackles. He has a famed stiff arm and is adept running both between and outside the tackles. While the weakness of the Cardinals offensive line can be attributed to his lack of production, niggling injuries stymied his progress in 2010.
I predict a 1,000-yard season in 2011. Wells has now been in the NFL environment for two years and should be over his injuries come game time. I also think that the upcoming change in philosophy from a pass to run oriented team should improve the run blocking of the line and give "Beanie" more holes to run through.
Michael Crabtree (WR): San Francisco 49ers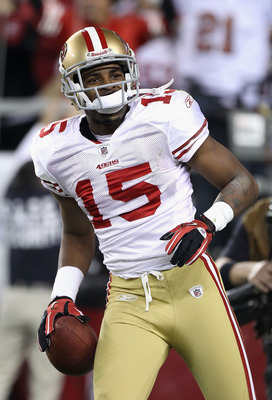 Christian Petersen/Getty Images
Crabtree was arguably the best college wide receiver ever. In both his freshman and sophomore seasons he won the Biletnikoff award for the best college wide receiver and caught 231 passes for 3,127 yards and 41 touchdowns. It was considered a slide for him to be drafted 10th overall in the 2009 draft. What more needs to be said.
Despite the college accolades, Crabtree has never been the same force in the NFL. This is partly due to his extended hold out, which effectively cancelled out his rookie season. Still, he led rookies with 57 yards per game and seemed poised to break out in 2010.
It never happened.
Though Crabtree did grab 55 passes for 741 yards and 6 touchdowns, this is not nearly the level of production expected from an elite wide receiver. However, Crabtree is blessed with amazing hands and body control, is a very precise route runner and can create yards after the catch. It comes as a surprise that he is yet to turn out big numbers, even as more of a possession wide receiver.
That is why 2011 will be his year. With a new head coach and probably a new quarterback, Crabtree will be able to reinvent himself as a tough over-the-middle wide receiver in the mould of Michael Irvin. While he is not expected to average 15 yards per catch and make 1,500 yards, I would expect close to 100 catches, 1,100 yards, at least 8 touchdowns and plenty of clutch catches.
Jahvid Best (RB): Detroit Lions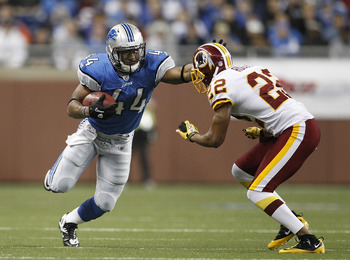 Leon Halip/Getty Images
After entering the NFL with a bang, Best's production really dropped off after two turf toe injuries, which he played through for the rest of the 2010 season.
The injuries, along with the sub par run blocking of the Lions offensive line, were the reasons for Best's low yards per carry average (3.2). I am sure that once he gets over his injury he will be able to average five yards per carry and provide at least one game breaking play a game, whether as a receiver, runner or kick returner.
Although I doubt that Best will ever be an every-down back, he looks to be a better version of Reggie Bush. He should be able to carry the ball 150-200 times a season while averaging five yards per carry. He should be able to get about 900 yards next season and run in about eight touchdowns.
However, his real impact could be as a slot receiver. He is a good route runner, has safe hands, has deep speed and the agility to make serious yards after the catch. He could become a dangerous fourth wide receiver in the early downs. I see him becoming a true double threat on offense, catching 70 passes for 700 yards and about 5 touchdowns.
Tyson Jackson (DE): Kansas City Chiefs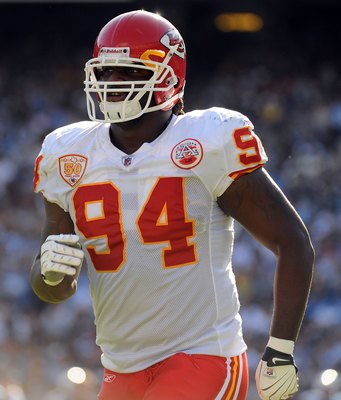 Harry How/Getty Images
After being drafted with such high expectations in 2009, Jackson has never really delivered. He has certainly not been awful in his two seasons as a pro, but certainly not a top-five 3-4 defensive end like he "should" have been by now.
Jackson has all the physical skills to be a top run-stuffer and also get to the quarterback. At 6'4" and 296 lbs., he has the size of a three-technique defensive tackle, but he also has great burst off the line and the power to move his way into the backfield.
While I do not think that Jackson will ever be a statistical star in the league, he will develop this season into a top 3-4 defensive end. It is reasonable to expect about 6 sacks and 40 tackles from him, while he controls blockers at the line of scrimmage and keeps the real sack machine of the Chiefs, Tamba Hali, as clean as possible to wreak havoc.
Aaron Curry (LB): Seattle Seahawks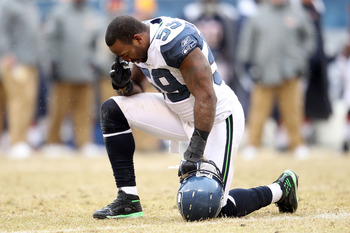 Andy Lyons/Getty Images
He was heralded as the best linebacker in a long time coming out of Wake Forest in 2009, but so far his career has not lived up to the hype of being "the safest pick in the draft" and a candidate for the first overall selection. While he has shown ability to be a solid starter at the strong-side linebacker, Curry has not provided the x-factor he should have.
Curry has all the athleticism to be a star linebacker. He plays at 255 lbs., yet has the speed, explosion and fluidity in coverage to play any position as a linebacker. He is a strong player, too. Before the 2009 NFL draft, Jim Schwartz was credited with saying "He played an on-the-ball 'Sam' linebacker [at Wake Forest], which not a lot of people play anymore. You have to be really strong. But they also put him out in space … almost like a nickel back. Those are two almost mutually exclusive skill sets."
His biggest issue is football IQ. He is slow in processing information and is slow at diagnosing run/pass reads. It makes him play a lot slower than his athleticism suggests.
He certainly has the athletic ability and power to be an impact defender and after two seasons as a pro, he should be beginning to play to his potential. If he breaks out, I would predict that Curry will make 100 tackles, 4 sacks, 2 interceptions and 3 forced fumbles in 2011.
Tim Tebow (QB): Denver Broncos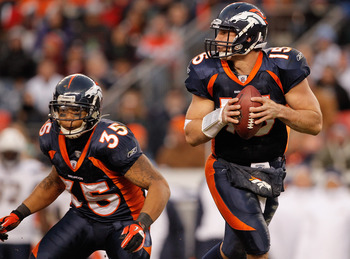 Justin Edmonds/Getty Images
Tim Tebow, the greatest college quarterback ever, surprised me last season. I expected him to be picked apart by NFL level defenses in his first season as a pro, yet despite the well publicised problems with his throwing mechanics and his adjustment to a pro-style offense, Tebow showed that intangibles and heart do count for a lot, even in the NFL. He posted a quarterback rating of 82 in his rookie season and scored 11 total touchdowns.
Tebow is a talented dual threat quarterback who can run with power between the tackles and also has the arm strength to make every throw in the playbook. While his accuracy is not great, he is able to make plays work in the passing game, especially when throwing deep balls. However, his real strength is his leadership and work ethic. He has already rallied the Broncos from behind once in his career and has the intangibles to do a lot more in his career.
While I do not see Tebow performing miracles next season, I do think he will build on his rookie performance and become a competent NFL starter. He will be a shifty quarterback who makes a lot of play action passes in the new run-heavy Broncos offence. I would predict about 2,700 passing yards with 22 touchdowns and 10 interceptions, and about 600 rushing yards and another 10 touchdowns.
LeGarrette Blount (RB): Tampa Bay Buccaneers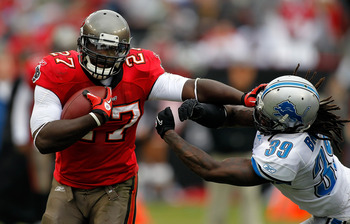 J. Meric/Getty Images
Although the argument could be made that Blount has already broken out, he will prove that the 2011/2012 season will be his real time to shine. Blount did rush for 1,007 yards in 11 games in 2011 and was a constant highlight reel with his athletic hurdles and acrobatics.
Blount is a real load of a running back. Although he weighs 250 lbs., he has the game speed, burst and agility to hurdle would-be tacklers. He has the power to be a star between the tackles and also the power and speed to break away in the open field and around the tackles. What's more, his greatest strength is making yards after contact. He routinely drags tacklers at least four or five yards before he is finally brought to the ground.
In 2011, I think that Blount will be a top-five running back. In his rookie season he averaged 91.5 yards per game last season, which would gave him 1,464 yards in a full season. After another season in the NFL, and better play from the young Buccaneers offensive line, I see Blount rushing for 1,650 yards and 11 touchdowns.
Jermichael Finley (TE): Green Bay Packers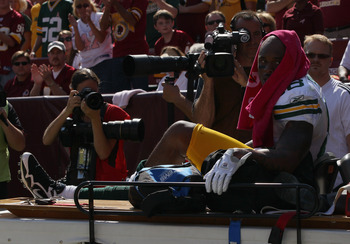 Win McNamee/Getty Images
Tragically, this is the lasting image of Jermichael Finley for the 2010 season. After being a sure breakout player pick for last season, he got injured and missed the Packers Super Bowl run. It is hard to imagine what the Packers would have done with Finley, Aaron Rodgers favourite target, lining up for a full 20 games.
Finley was a third round pick in 2008 and exploded onto the scene in the 2009 season playoffs. He is a rangy, athletic tight end who is a natural receiver and who runs good routes and catches the ball with ease. He is not a dominating blocker at the tight end position, but is a solid down field blocker, nevertheless.
Finley is my prediction for the best receiving tight end in 2011. I would expect nothing less than 900 yards and 70 receptions. While I do not think he is an elite red zone threat, he should still catch about 8 touchdowns.
Ben Tate (RB): Houston Texans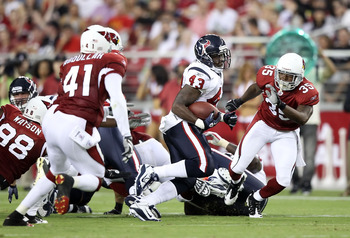 Christian Petersen/Getty Images
Tate must have walked under a ladder last year.
There is no way that he could suffer that much bad luck without it. First he suffered a season ending injury in his first preseason game, then Arian Foster turned up out of nowhere to become the league's leading rusher. While Tate was once the definite starter for the Texans at running back, he will now be a change of pace back.
Despite this set back, I have no doubt that Tate will be able to carve a niche in the Texans' roster, if they do not trade him away for draft picks to rebuild their defense in the 2011 draft. He is a powerful runner who has a low centre of gravity, breakaway speed and acceleration. In truth, he is a very similar back to Foster. He may not read blocks as well as him, but is more athletic and powerful as a runner.
If Foster stays in Houston, I would expect him to have about 100 carries in the season and rush for about 480 yards and 5 touchdowns. However, if he is shipped somewhere else where he can be the starter, there is no reason why he cannot make 1,000 yards and 10 touchdowns at more than four yards per carry.
Keep Reading

Detroit Lions: Like this team?