2011 NFL Mock Draft: A Pick-by-Pick Critique of Todd McShay's Top 5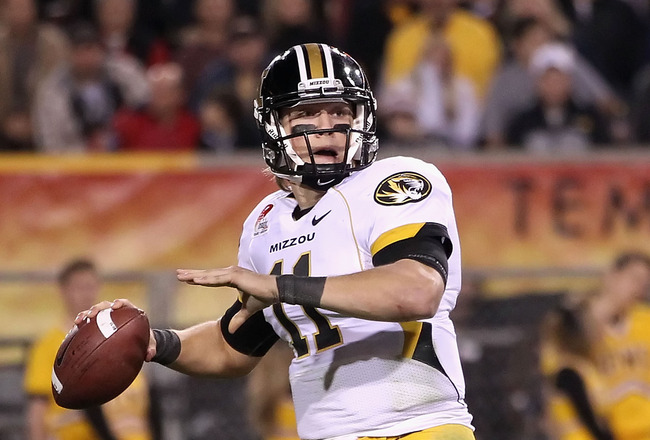 Christian Petersen/Getty Images
ESPN's mock draft analysts are trying their best to predict how the 2011 NFL draft will play out on the final weekend of April. Mel Kiper and Todd McShay are two of the best at breaking down a team's needs, predicting the player that each NFL team will look to pick up.
Here are Todd McShay's predictions of the first 5 picks in the 2011 NFL draft and a personal critique of every selection he has made.
My personal predictions for each pick will also be included as the slideshow moves along.
Let's get started...
No. 5: Arizona Cardinals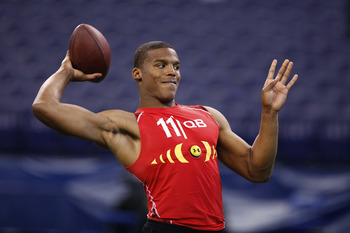 Joe Robbins/Getty Images
McShay's Pick: Cam Newton
Cam Newton is, without a doubt, one of the most-talked about prospects entering the 2011 draft, but many are not sold on his leadership ability and field awareness. Newton was impressive throughout the workout process and has made his way as high as No. 1 in some mock drafts.
Newton may not fit well into the Cardinals' offensive style of play, as the team would seem better suited with a pure pocket passer, rather than a quarterback that makes more plays with his legs. Arizona still has a solid core of receivers that could benefit from a quarterback with a stronger arm.
My Pick for the Arizona Cardinals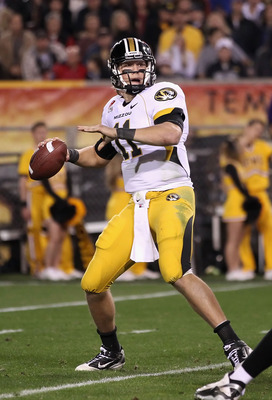 Christian Petersen/Getty Images
My Pick: Blaine Gabbert
Blaine Gabbert has everything scouts look for in a quarterback. He has good arm strength and has shown that he can lead a team through rough patches and bounce back after tough losses.
Unfortunately for Gabbert, he will not be the first quarterback taken because of Cam Newton's rise to fame, but the Cardinals will get a quarterback they can build the franchise off of for years to come.
No. 4: Cincinnati Bengals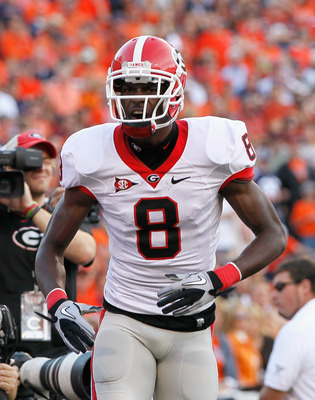 Kevin C. Cox/Getty Images
McShay's Pick: A.J. Green
A.J. Green may be the best receiving talent to come out of the NCAA in the last five years. His superior size and strength are unmatched by everyone else in the draft class, and he has the big-play ability that the Bengals have been coveting for years.
Green played very well in the SEC throughout his college career and has shown that he has the ability to maintain good numbers.
My Pick for the Cincinnati Bengals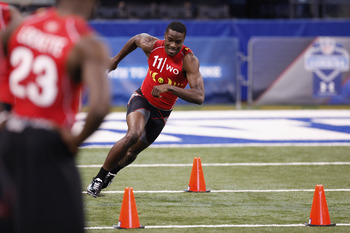 Joe Robbins/Getty Images
My Pick: A.J. Green
It is hard to argue with the fact that the Bengals would love to have another wide receiver at their disposal as the futures of Carson Palmer, Chad Ochocinco and Terrell Owens are all uncertain.
Green gives the team another significant playmaker and a little bit of an insurance policy in case the team cannot keep their franchise quarterback. Good receivers can make quarterbacks better and Cincinnati will definitely be hoping that becomes the case next season.
No. 3: Buffalo Bills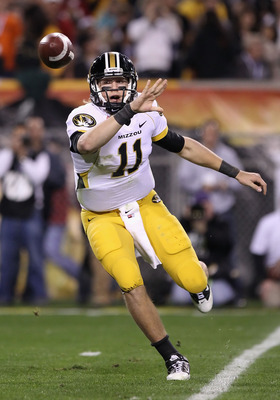 Christian Petersen/Getty Images
McShay's Pick: Blaine Gabbert
As stated earlier, Gabbert will be a quality prospect wherever he is selected and Todd McShay thinks it will be the Buffalo Bills.
Gabbert has met with the Bills coaching staff and many representatives from the Bills will be at his pro day workouts, but many reports have stated that the team is exploring many options, including Patrick Peterson and Cam Newton.
My Pick for the Buffalo Bills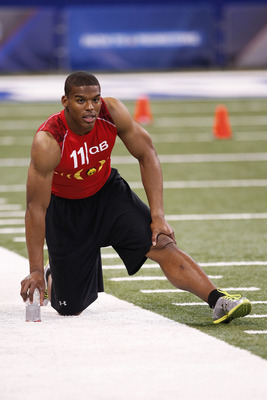 Joe Robbins/Getty Images
My Pick: Cam Newton
The Bills seem to love Cam Newton's playing ability and his reputation of being a game-changer. Buffalo needs a player to revitalize their franchise and many believe that Newton will work his magic at the pro level, much as he did while at Auburn.
The Bills ranked 24th in passing last season and seemed disappointed with Ryan Fitzpatrick's development, as he struggled with interceptions for the second season.
No. 2: Denver Broncos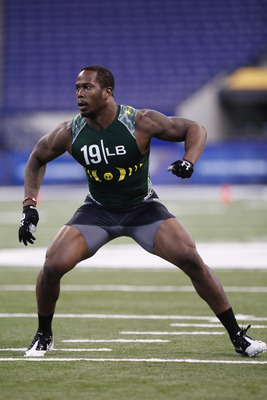 Joe Robbins/Getty Images
McShay's Pick: Von Miller
Von Miller may be the best defensive prospect in this entire draft class, as the linebacker from Texas A&M has simply left scouts speechless after his combine workouts. Miller has impressive size and speed, while putting up numbers that are worthy of being the first overall selection.
The Broncos will be looking to add defensive pieces to fit John Fox's new style and what is a better way to get the franchise jump-started than to get the best linebacker prospect in the country?
My Pick for the Denver Broncos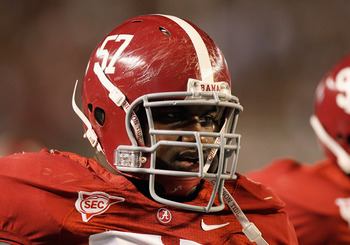 Kevin C. Cox/Getty Images
My Pick: Marcell Dareus
Marcell Dareus has one of the best motors out of all the defensive linemen in this draft, and he could serve as the anchor on John Fox's 4-3 defensive line. Dareus has surpassed prospects such as Nick Fairley and Robert Quinn due to his reputation and results on the field, rather than his numbers during drills.
The Broncos will plug Dareus into the lineup immediately next season and he will have much of the same impact as Ndamukong Suh had with the Detroit Lions.

No. 1: Carolina Panthers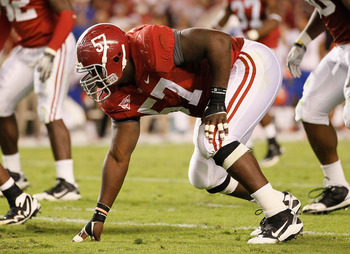 Kevin C. Cox/Getty Images
McShay's Pick: Marcell Dareus
The Carolina Panthers have many team needs to address in this year's draft and Marcell Dareus would have a very specific role in Ron Rivera's defense. Dareus would be used mainly as a pass-rushing lineman and even though he is a great talent, the team could benefit more from going a different direction.
The Panthers have been mocked to be taking five different players with the first overall pick and it is reasonable to believe that Dareus will not come off the board first.
My Pick for the Carolina Panthers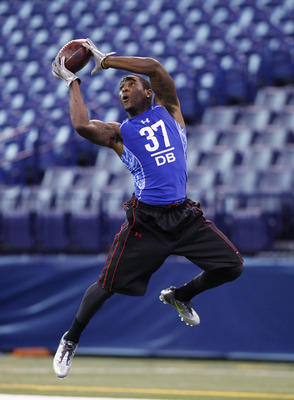 Joe Robbins/Getty Images
My Pick: Patrick Peterson
Patrick Peterson is, without a doubt, a shutdown corner that a defense can build off of for many seasons. Peterson has been compared to players like Joe Haden and Darrelle Revis for sharing many of the same qualities in his great ball-seeking ability and awareness.
The Panthers make this move because it is less risky than taking Dareus with the first selection. Carolina is working to build a winning franchise and is not in the position to take risks on players. Peterson is safe and will easily be a starter whenever the NFL returns to football next season.
Keep Reading