Philadelphia Eagles: 10 Things Philly Must Do During the Lockout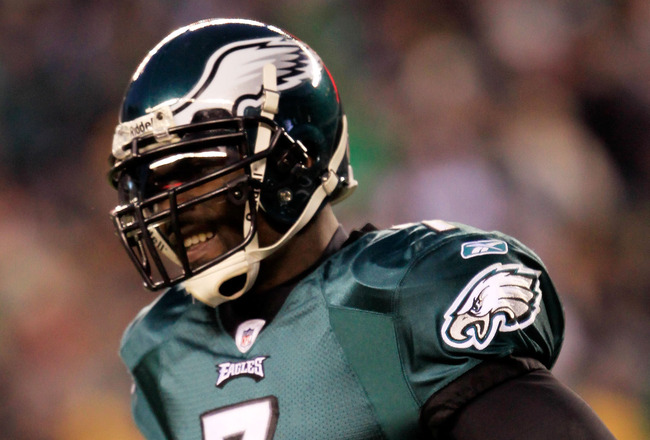 Chris Trotman/Getty Images
If there's one thing the Philadelphia Eagles do well, it's knowing when to take chances. Take Michael Vick for example. You're telling me that wasn't a high risk, high reward kind of investment? Philly has always been a highly scrutinized sports city, but for good reason.
With the lockout in full effect, the Eagles can use this time to assess the positives and negatives within their organization.
Let's take a look at some of the "musts" that Philly should hone in on during the lockout.
10. Schedule Volunteer Workouts
Al Bello/Getty Images
Everyone understands the difference between a volunteer workout and a mandatory workout. If it's mandatory, you have to be there. If it's voluntary, you want to be there.
I know there's all kinds of rules and regulations during the lockout that prevent coaches and players from talking, but that doesn't mean football needs to stop being played.
Scheduling volunteer workouts is ideal for a team like the Philadelphia Eagles. There's an abundance of talent on that team, but at the same time, they are still feeling each other out.
If the Eagles want to be taken seriously, they will have to practice what they preach. That includes voluntary commitment for something greater than themselves: A Lombardi Trophy.
9. Teach Self-Discipline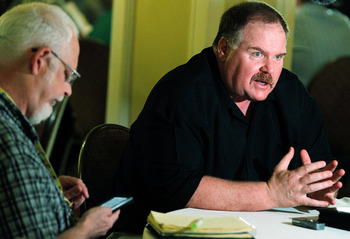 Sean Gardner/Getty Images
Everyone seems to be in a little bit of a frantic state with the question still in the air of whether football is going to be played or not next season,
The one thing the Eagles need to work on is making sure that players understand the nature of self-discipline.
Understanding that the issue in the NFL is not in the players' control, and all the athlete's' job is at the moment is to make sure they are ready to play when their number is called upon.
8. Keep These Young Guys in Check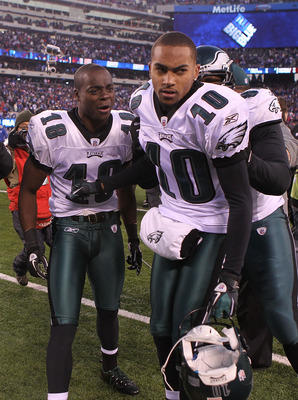 Nick Laham/Getty Images
Not many teams in the NFL have multiple weapons below the age of 25 like the Eagles do. McCoy, Maclin and Jackson are in a league of their own. With the lockout, they're going to have to make sure they keep a good head on their shoulders.
Being young and successful in this world can be dangerous. These guys all have had illustrious careers to this point, and certainly have bright futures ahead of them.
Philly needs to make sure these guys stay out of the headlines for all the wrong reasons.
7. Need Another Brian Dawkins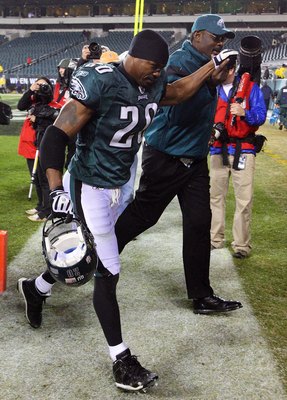 Jim McIsaac/Getty Images
The one thing that the Eagles have been missing lately is a "wolverine"-like approach deep in the secondary.
They need a safety like Brian Dawkins was, someone who can strike fear in opponents. The Eagles are known for blitzing, but they have had issues with executing as of late.
Also, the opportunistic defense we once saw as a constant in Philly, has been lacking of late.
6. Leisure Time Is the Devil's Playground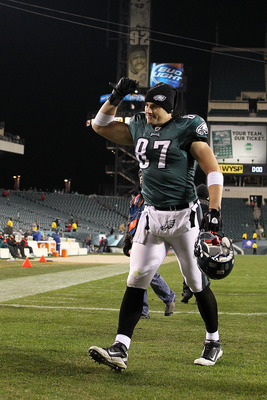 Chris Chambers/Getty Images
Downtime is necessary for all, but too much downtime can be a bad thing. Philly needs to make sure that every player under contract is keeping busy.
If there is no NFL season next year, the Eagles need to make sure that every player is accounted for in one way or another.
If there are players that have other passions different than football, the Eagles should encourage them to indulge.
5. Offensive Linemen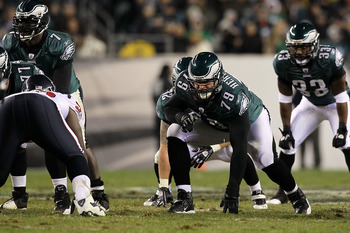 Jim McIsaac/Getty Images
It's not that the Eagles didn't have a descent offensive line, it's that no one had really prepared for Michael Vick.
Vick's style of play at the quarterback position is unlike any other in the NFL. For an offensive lineman, Vick can certainly make your job more difficult.
It would be wise for the Eagles to stack up on some quicker, younger offensive linemen just in case Vick doesn't mesh well next season with the current O-line.
4. Asante Samuel Needs a Friend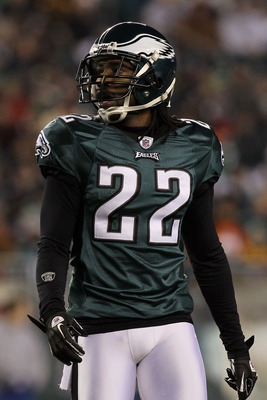 Jim McIsaac/Getty Images
Yes, the Eagles have one of the best defensive mindsets in all of football. However, they still struggled quite a bit last season defensively. It was in large part because of the amount of points they gave up.
The Eagles surrendered an average of 23.6 points a game, ranking 21st in all of the NFL.
We all remember when Philly purchased one of the best lock-down corners in the game in Asante Samuel. I think it's time for Philly to find Samuels a sidekick.
There's some excellent talent at the corner position on the market. The Eagles need to indulge.
3. Need a Bully Up Back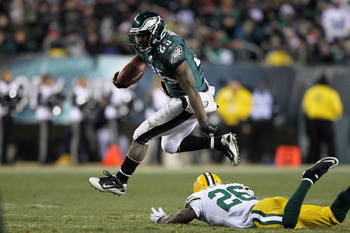 Al Bello/Getty Images
There's no doubt that McCoy is the Eagles' featured back. He can run, he can catch and he can block, all at an elite level.
But just because LeSean is young, doesn't mean he shouldn't be relieved every once in a while from his duties. In this day and age, everyone needs a break once in a while.
If the Eagles could bring in a bigger, more "run-you-over"-type back like a DeAngelo Williams, it could open up a ton of doors for the game plan offensively.
A word to the wise: Everyone should have a Mike Tolbert on their roster.
2. Get Rid of Kevin Kolb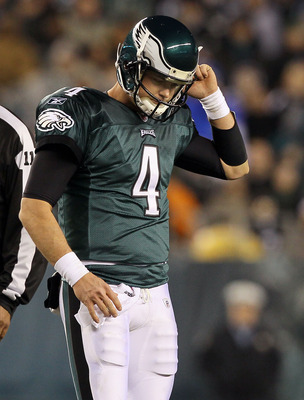 Jim McIsaac/Getty Images
Unfortunately, I have to be the bearer of bad news here. The Eagles, as soon as the CBA is signed, need to make a move with Kolb.
There are at least a dozen teams in the NFL that would love Kevin Kolb running the show for them. Obviously, Philly needs to be smart and make sure they lock-down a solidified backup if they do away with Kolb.
Bottom line, Kolb is ready to start but the Eagles aren't ready to start him. Timing is everything in this world. It's not Kolb's fault he lost to a guy who showed up fashionably late to the ball.
Who knew playing hard to get would work out so well?
1. They Need to Market Michael Vick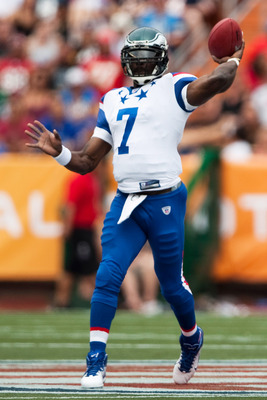 Kent Nishimura/Getty Images
As an athlete, Vick needs no coach. As a rejuvenated free spirit, Vick needs to be doing more for his image.
What I'm saying is this: The Philadelphia Eagles were the one team to give him a second chance. Now that he's back and bigger than ever, why not revitalize Vick's image to the max?
Vick could be going on Oprah, Letterman, Conan, Leno, and the list goes on. He could be the comeback kid. He already is in the world of football. Why not in the real world?
If there's no football, there's no reason why Mike can't attest to this.
Keep Reading

Philadelphia Eagles: Like this team?