MLB Power Rankings: Mike Hampton and Each Team's Worst Contracts of All Time
Brian Bahr/Getty Images
Money does grow on trees in professional sports. All you have to do is look at contracts that teams dole out every season that make fans scratch their heads and swear at their computers until steam shoots out of their ears.
While researching the teams and their contracts, one thing has become evident. If you sign more than a couple players to bad contracts, the odds are the list will continue to grow. Teams like the Mariners, Dodgers, Rangers, Tigers and Yankees have been notoriously bad in spending their money. The Yankees can afford it. The Mariners and Rangers can't.
On the other hand, teams like the Marlins, Padres, Pirates, Twins and Astros have been on the opposite end of the spectrum. I suppose it's easy to spend your money wisely if you pretty much ignore trying to sign virtually any free agents. That's one approach.
There is not only a lot of debate about the worst contract for each team, but even more for the worst contract of all-time in MLB. I focused on each team leaving the "all-time" question up for future debate.
Minnesota Twins, Joe Mays SP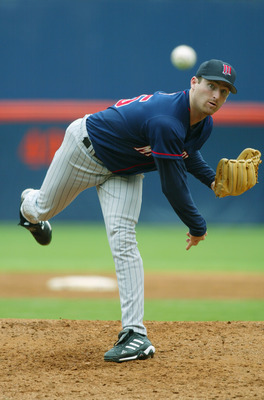 Donald Miralle/Getty Images
I'm sure a lot of you are sitting there right now thinking asking yourself, "Who the hell is Joe Mays?"
I remember him because I drafted him on my fantasy baseball team in 2002 following his breakout 2001 campaign. That season in 233.2 IP in 34 starts, Mays went 17-13, 3.16 ERA, 1.151 WHIP.
The Twins promptly rewarded him with a four-year $19.5 million deal. Remember, this was 2002 and that was a lot of money, especially for the Twins. They didn't get close to their money's worth. In fact, he missed the entire 2004 season due to injury.
All told, Mays won 18 games during the entire length of that contract. I suppose it could have been worse.
Cleveland Indians, Travis Hafner 1B/DH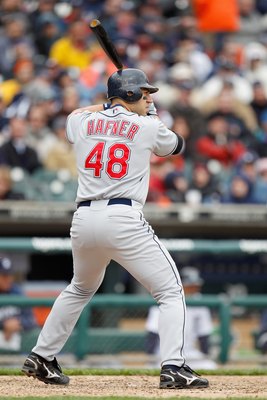 Gregory Shamus/Getty Images
The Indians aren't ones to throw around a ton of money at free agents, either. As a result, my options weren't at all bountiful, but I do think Travis Hafner is the cream of the crop as far a bad contracts go.
After being traded from the Rangers to the Indians, Hafner had a very nice start to his playing career. He drove in over 100 runs in four consecutive seasons with an OBP above .400. The problem was that he was NEVER healthy.
After he signed his new four-year $57 million contract extension during the All-Star break in 2007, he has played in 57, 94 and 118 games respectively over the past three seasons.
If Hafner had stayed healthy, the deal would have been a good one. Instead, it became a real turd.
Detroit Tigers, Dontrelle Willis SP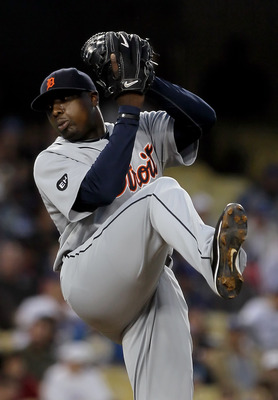 Jeff Gross/Getty Images
Being a good guy only gets you so far in life. I'm living proof of that. The same has also become the case for Dontrelle Willis. The Florida Marlins' phenom has morphed into a poor excuse for a major league pitcher.
After Willis was traded to the Tigers along with Miguel Cabrera, the Tigers found it prudent to almost immediately sign Willis to a three-year $29 million contract extension. What they forgot to do was look at his stats from the previous season. A 10-15 record and a 5.17 ERA shouldn't be worth a nice payday. Did I mention his WHIP of 1.597? It must have slipped my mind.
Stop me if you heard any of these names before: Dean Palmer, Bobby Higginson, Nate Robertson, Carlos Guillen, Damion Easley, Gary Sheffield and Jeremy Bonderman. I can go on if you like. Between those seven players they cost the Tigers $233MM over 26 contract years. Ludicrous.
Chicago White Sox, Jaime Navarro SP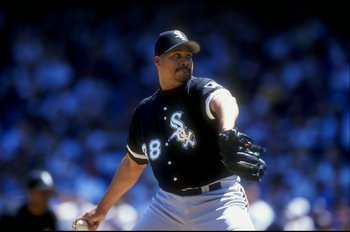 David Seelig/Getty Images
Now, I won't say Navarro didn't have his moments during his career, because he did with both the Brewers and Cubs. After a second solid season with the Cubs in 1996, the White Sox made their move.
They signed Navarro to a four-year $20 million free agent contract. The odd thing about the contract was that he was to be paid the same $5 million in each of the four seasons. I suppose that's neither here nor there, but I just found it strange. I haven't found that it happens all that often.
Now it may seem that the three-year $18.35 million contract A.J. Pierzynski signed in 2007 was worse, but at least he earned some of the money he was paid. Navarro's ERA never dropped below 5.79, and his best WHIP during those four seasons was 1.622. He won a grand total of 25 games.
Kansas City Royals, Mark Davis RP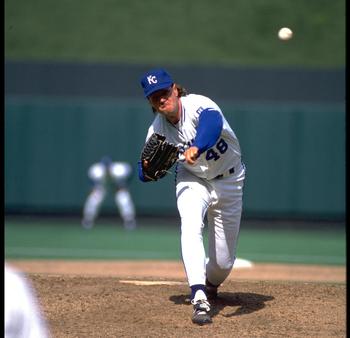 Rick Stewart/Getty Images
Three years for $14 million.
What's the big deal, right? That's less than $5 million per season. The big deal is that this signing happened in 1990. The Kansas City Royals made Mark Davis the highest paid player in MLB.
NEXT!
Oakland A's, Esteban Loazia SP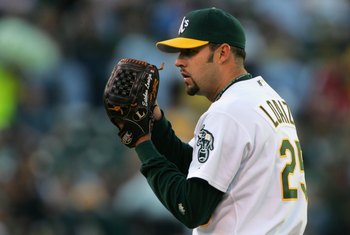 Stephen Dunn/Getty Images
I strongly considered Eric Chavez, but he actually had done something to warrant getting paid. Loaiza had already pitched for six teams by the time Billy Beane decided to lock him up in 2006 for three years and $21.4 million.
After all, Loazia had just won 12 games the previous season in Washington. That's pretty solid right? Loazia was so good for the A's that they jettisoned him after only two starts into the second year of that contract.
That modus operandi wasn't found in Moneyball was it? I must have missed that chapter.
Texas Rangers, Chan Ho Park P
Jed Jacobsohn/Getty Images
Stay right there! They can't get a hit off you if you're sitting down.
Oh, the Rangers, what have they done? They have chosen poorly, very poorly. They chose to hand $65 million to Chan Ho Park over five years.
I seriously considered A-Rod here, but he's done some positive things on the field. The same cannot be said for Chan Ho Park.
It's baffling really. He pitched very well in Los Angeles, but as soon as he stepped foot into the great state of Texas, he was putrid. You can't blame his struggles on the "hitter's park" he migrated to, because his HR/9 was up only slightly from his time in L.A. He was just awful, pure and simple.
Park was so bad, I shouldn't even mention Kevin Millwood. Oops! I just did.
Los Angeles Angels of Anaheim, Gary Matthews Jr. OF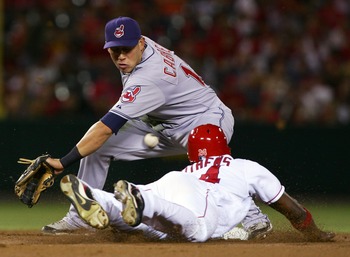 Harry How/Getty Images
If Mo Vaughn had stuck around in Anaheim for the entire length of his contract, he may have been my choice here. Fortunately for the Angels, Mets' G.M. Steve Phillips decided to trade for Vaughn after he missed an entire season due to injury. I can't imagine why they ever fired Phillips.
Luckily for the Angels, they came right back and did something nearly as stupid as Phillips did. They went out and signed Gary Matthews Jr. to a five-year $50 million deal following the one good season of his career which just happened to be his eighth. One good year out of eight nets you $50 million? His agent(s) must be REAL good.
Just to illustrate the absurdity of this signing, here are a few numbers. Prior to 2006, Matthews had never had over 121 hits, 72 R, 55 RBI, .275 BA or an OPS over .811. One season of 194 H, 44 2B, 19 HR, 79 RBI, .313 BA, .371 OBP, SLG .495 and OPS of .866 secured him a five-year deal.
You go, Gary!
Seattle Mariners, Carlos Silva SP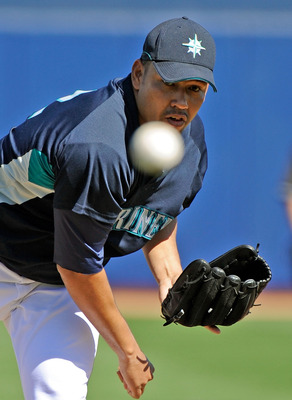 Kevork Djansezian/Getty Images
My man Carlos Silva. I would totally pay to see him and Aramis Ramirez go at it in a cage match in the middle of Wrigley. Carlos Zambrano could be the celebrity referee. Ah, the beauty of the dysfunctional Cubbies.
Oh, I'm supposed to be talking about Silva's deal with the Mariners. It's not as fun, but it merits mentioning. I chose Silva's contract based on what it did for the Mariners on a couple of fronts.
Silva didn't actually suck until he came to Seattle. He had some success previously with both the Phillies and the Twins. And then came his four-year $48 million free agent deal with the Mariners in 2008. In the first two years of the deal, Silva promptly went 5-18, 6.81 ERA and a WHIP of 1.617.
To try to cut their losses, the Mariners traded Silva and cash to the Chicago Cubs in 2010 for Milton Bradley. Then Silva promptly went 10-6 for the Cubs and was quite effective in 21 starts. And well, Milton Bradley was...Milton Bradley.
I could have actually done an entire slide show on just the Mariners awful contracts. Some honorable mentions include Richie Sexson 4/$50 million, Adrian Beltre 5/$64 million, Miguel Batista 3/$25 million and Jarrod Washburn 4/$37.5 million.
There are still others, but I shouldn't dwell on the past.
New York Yankees, Kei Igawa P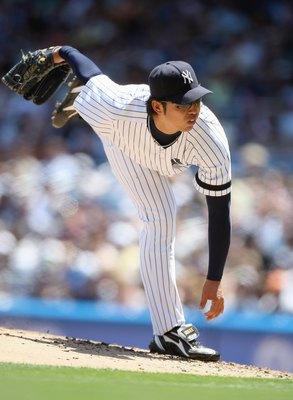 Al Bello/Getty Images
Picking the worst Yankees' contract is like picking Charlie Sheen's best mood stabilizer. There's no such thing. The Yankees can absorb every dollar of every contract without missing a beat. I picked Igawa's 2007 deal because I decided to include that asinine posting fee. While the fee didn't go to Igawa, it may as well have.
Including the posting fee, the deal came out to five years and $46 million. Igawa has only pitched in the majors for a total of 16 games and a 6.66 ERA. The past three seasons Igawa has pitched in Triple-A, and his contract expires after the 2011 season.
If Igawa doesn't pitch for the big club this season, he will have cost the Yankees nearly $3 million per game he pitched in the majors. I'm sure some of you are ecstatic at the moment.
I also strongly considered the contracts of Carl Pavano, Jason Giambi and this last deal that Derek Jeter just signed. I just enjoyed the overall ridiculousness of Igawa's deal the most.
Toronto Blue Jays, Vernon Wells OF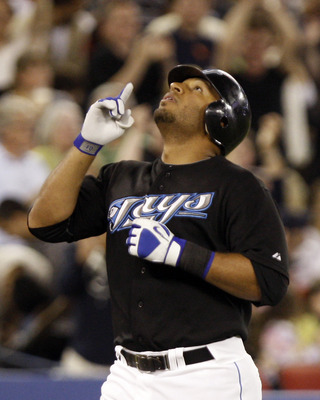 Abelimages/Getty Images
When I first heard the numbers in the contract Wells signed with the Blue Jays in 2008, I had to run to the computer to see what I was missing. As it turns out, I wasn't missing anything. You can see Wells in the picture pointing towards the heavens. Someone must have answered his prayers.
Don't get me wrong. Wells is a good player, but he is by no means a great player. Only great players should be able to sign a seven-year $126 million contract. Maybe there was confusion with the exchange rate or something.
The strange thing is that the Blue Jays actually found a taker in a deal for Wells. The Angels not only took Wells, but they took on nearly all of the remaining $86 million on his contract as well. The Blue Jays were generous enough to pick up $5 million of his $23 million salary this year, though. It was the least they could do.
Wells can opt out of the contract after each of the next 4 seasons, but that would mean giving up as much as $63 million. I don't think that's very likely.
Tampa Bay Rays, Juan Guzman SP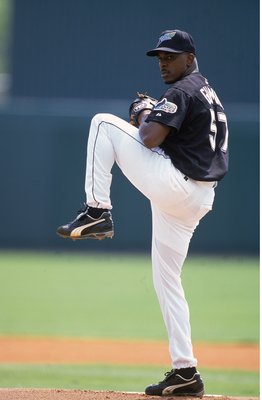 Scott Halleran/Getty Images
In 2000, the Tampa Bay Devil Rays (yes they still said Devil back then), inked pitcher Juan Guzman to a two-year $12.5 million free-agent deal.
He had pitched 200 innings the previous season between the Orioles and Reds. He also won 11 games with a sub 4.00 ERA.
He pitched a total of one game for the Rays. He never pitched again because of an injured shoulder.
The Devil Rays paid Guzman $2.5 million per out.
Boston Red Sox, J.D. Drew OF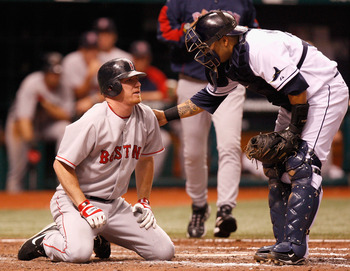 Doug Benc/Getty Images
The Red Sox have been littered with bad contracts. You'd think someone smart like Theo Epstein would know better. At least he hasn't made a monumental contract blunder....yet.
I had a list of five players, and I've gone back and forth more than once. I considered John Lackey, Edgar Renteria and Julio Lugo, but none of them grabbed me by the ear.
And then there were two, Daisuke Matsuzaka and J.D. Drew. I picked Drew. In 2007, the year of the bad contract, he inked a five-year $70 million deal with the Sox.
In the first four years of the contract, he has never played in more than 140 games, never hit more than 24 home runs, never driven in more than 68 runs and never hit above .280. All of that for an average of $14 million per season.
Scott Boras is a genius, an evil genius.
Baltimore Orioles, Albert Belle OF/DH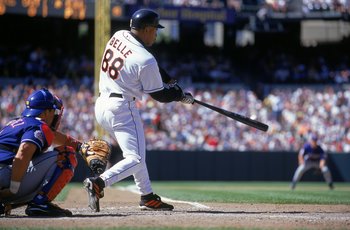 Doug Pensinger/Getty Images
The Belle of the ball(park), signed a five-year $65 million with the Baltimore Orioles in 1999. He became the highest paid player in baseball. At the time, he certainly seemed to deserve it. He was one of the most feared sluggers in all the land. Little did everyone know that he had the worst hip this side of Bo Jackson.
He was only able to play two seasons in Baltimore before a degenerative hip condition forced him to retire. Belle was said to be "totally disabled" due to the condition. It was a sad end to an otherwise colorful and ultra productive career.
Belle was guaranteed the remaining $39 million from the deal. Luckily for the Orioles, their insurance picked up part of the tab.
Milwaukee Brewers, Jeff Suppan SP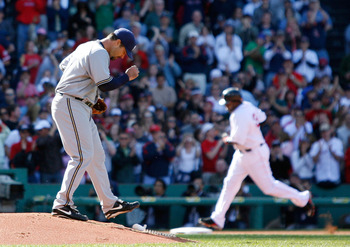 Jim Rogash/Getty Images
Just the mention of the word "soup" nearly makes me vomit these days. It would do the same to you if you had to agonize through four seasons of what Jeff "Soup" Suppan tried to pass off as major league pitching.
When he signed his four-year $40 million contract with the Brewers in 2007, there was some optimism. Part of that came from the Brewers' front office shoving his durability and his 2006 NLCS MVP Award at us. Then they touted his wonderful work in the community and what an amazing human being he truly was.
It turns out most of that was true. The part they forgot to mention was that he basically sucked as a pitcher. During his three-and-a-half seasons in Milwaukee, here's what he contributed: 29-36, 5.08 ERA, 577 IP, 700 H, 221 BB and a WHIP of 1.596.
Nice guys may finish last, but they still get paid stupid money.
St. Louis Cardinals, Kyle Lohse SP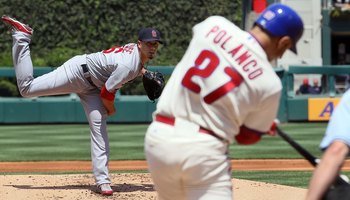 Jim McIsaac/Getty Images
Kyle Lohse pitched OK during his time with the Twins—until 2006 came along. He stunk and they shipped him off to Cincinnati. He didn't completely embarrass himself there and was then shipped to the Phillies. Again, he did alright and then hit free agency in 2008.
He had a hard time finding a gig until the Cardinals came along and signed him to a one-year deal. He responded with the best season of his eight-year career. Naturally, the Cardinals locked him up with a four-year $41 million deal.
Lohse has won 10 games in 40 starts with an ERA well over 5.00. He's got two years left. Stay tuned.
Houston Astros, Carlos Lee OF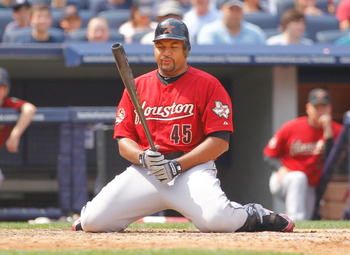 Mike Stobe/Getty Images
Anyone that knows baseball is well aware of Carlos Lee's major league accomplishments. They are also aware that his defense in left field is horrendous.
It is also obvious that Carlos is a guy whose body type will not age well. As a result, he is looking at moving from the outfield where he has to run regularly to first base. Signing a guy like that to a six-year $100 million contract isn't silly, it's stupid.
Lee hasn't been a total stiff putting up good numbers during the first few seasons of the deal, but it was patently obvious that he was feeling his age in 2010. He still has two years remaining on the deal to the tune of $37 million. That's a tough pill for anyone swallow.
Pittsburgh Pirates, Jack Wilson SS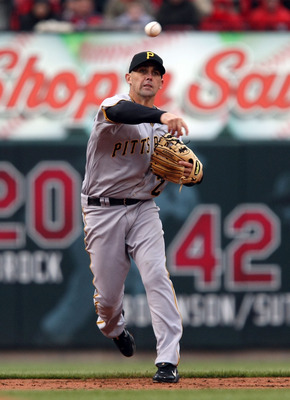 Elsa/Getty Images
This is the Pirates, so you'd expect them to do something stupid.
I was pleasantly surprised that they haven't made more bonehead deals over the years. I almost went with Derek Bell's "Operation Shutdown" contract, but Jack was the man in my eyes.
Nothing against Jack Wilson. He is what he is, and that is an average to slightly below average major league baseball player. He's always been good for a Web Gem per week, but that's really about it. So when the Pirates inked Wilson to a three-year $20 million deal in 2007, the Heimlich had to be performed throughout MLB.
Wilson has never won a Gold Glove and he only hit above .273 one season. He didn't drive in many runs, steal any bases, rarely got on base, slugged under .370 and had an OPS well under .700. Apparently,that screamed $20 million to someone.
Thank God it wasn't the Brewers.
Chicago Cubs, Alfonso Soriano OF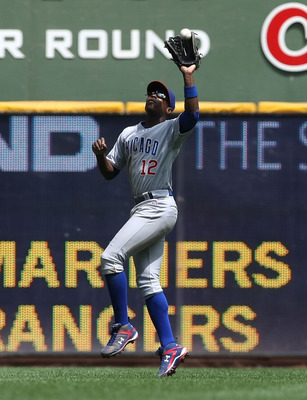 Jonathan Daniel/Getty Images
There was a time when this guy was considered a top player in the game. That sure isn't the case any longer. Now, he's become an afterthought to most except for the Cubs because they have to pay him.
When the Cubs signed Soriano to an eight-year $136 million contract in 2007, they thought they were getting a steal. Soriano had hit 46 home runs the previous season in Washington and obviously the Cubs were expecting much of the same. That never happened.
Each year in Chicago, Soriano's numbers have declined, especially in home runs, stolen bases, batting average and slugging. In 2010, he produced like an average major league left fielder. Average outfielders shouldn't be making $19 million per season.
To top it all off, Soriano has become the worst left fielder in MLB. That's assuming Manny only DH's, of course. Soriano often looks disinterested and compounds that by making stupid decisions in the field.
I almost feel bad for the Ricketts family. Almost.
Cincinnati Reds, Eric Milton SP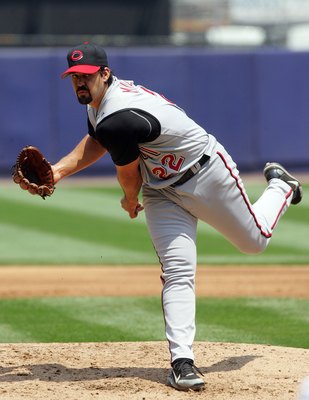 Jim McIsaac/Getty Images
When the Reds signed Eric Milton to a three-year $25 million deal in 2005, I literally laughed out loud. The previous season in Philly, Milton had won 14 games, compiled an ERA of 4.75 and gave up a league- leading 43 home runs.
Milton didn't disappoint by going 16-27 for the Reds with an ERA of 5.83 spanning three seasons. Plainly put, Milton was awful. The contract the Reds gave him was even worse.
For Milton, it was like winning the lottery without actually having to buy a ticket.
Philadelphia Phillies, Adam Eaton SP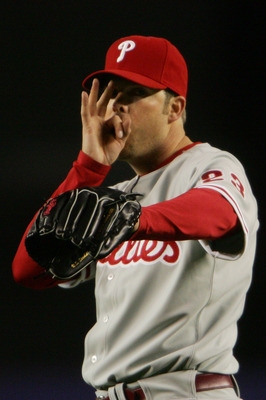 Chris McGrath/Getty Images
I'm not sure what sign Adam Eaton is giving in the photo, but maybe he's tooting his own horn. I have a feeling the Phillies would like to put that horn in a special place Eaton would not enjoy.
They don't have anyone to blame but themselves. This was another in the long line of ridiculous deals given out to players in 2007. Eaton signed for three years and $24 million. Eaton was coming off an injury which limited him to only 13 starts in Texas the previous season.
As a Phillie, Eaton promptly went out to the mound and compiled some amazing statistics. His 14 total wins and 6.10 ERA clearly endeared him to the Phillies' faithful.
Eaton was jettisoned in February of 2009 with the Phillies eating the final year of the deal. That did not leave a good taste in their mouths I am sure.
Washington Nationals, Jayson Werth OF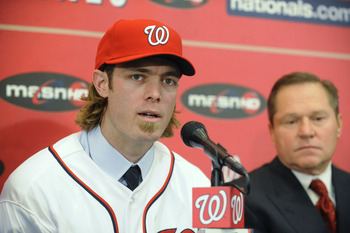 Mitchell Layton/Getty Images
Jayson Werth hasn't even played a game yet in Washington. Give the guy a break right? Wrong. Werth was pretty much let into the vault at Fort Knox and was allowed to leave with all the cash he could carry. The total amounted to $126 million over seven years.
No one else was willing to give Werth that much money or that many contract years. You'd like to think there was a reason for that. The Nationals obviously believed otherwise.
There is absolutely nothing in Werth's previous accomplishments that hints at him being worth that kind of deal. Anyone who believes otherwise is either on drugs or just generally stupid. Or maybe Charlie Sheen.
Werth is a nice player and has been productive the past three seasons. He has very similar numbers to that of the Milwaukee Brewers' Corey Hart. Hart's contract is for three years at $26.5 million. Oh yeah, Hart is million years younger than Werth.
How's that for absurd?
Atlanta Braves, Derek Lowe SP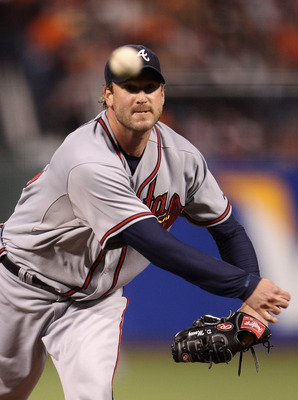 Ezra Shaw/Getty Images
Derek Lowe has done a lot of good things throughout his career. Most of those happened in his younger years while he was with the Red Sox.
After several successful seasons with the Dodgers, the Braves thought it prudent to sign a 35-year-old pitcher to a four-year $60 million contract. Lowe has been durable, but he is going on 38 and has $30 million left on the deal between 2011-2012.
The Braves are a team with a lot of good young pitching, but someone is being blocked by having Lowe and his contract sitting right there in front of them. I would hate to see Mike Minor or Brandon Beachy have to wait for Lowe to go away in order for them to get their shot.
The Braves overpaid for an old pitcher in both salary and contract years. It may just come back to bite them.
New York Mets, Bobby Bonilla 3B/OF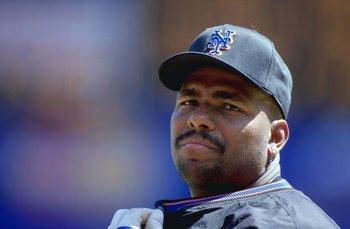 Al Bello/Getty Images
This might be my favorite contract of all-time. The funny thing is that I wouldn't be talking about Bobby Bonilla if the Mets hadn't decided to make a very unusual, but not unheard of deal with him.
Bonilla's time with the Mets, on two separate occasions, was by no means smooth. He clashed with the media and his manager, not to mention the fact that he had been extremely unproductive. Bonilla decided he wanted out of New York and the Mets were happy to oblige.
Bonilla had $5.9 million remaining on his contract for the 2000 season, but instead of just buying him out, the Mets decided to offer a deferred payment plan to Bonilla. Starting this year on July 1st, the Mets will begin paying Bonilla just over $1.19 million per year through 2035.
That includes 8 percent interest, of course. If you add it all up, the Mets will be paying Bonilla over $29.8 million instead of just paying him the $5.9 million buyout in 2000.
Leave it to those Wilpons (Jeff Wilpon, C.O.O. at the time). They weren't even good with money back then.
Bobby Bonilla 1-0 Mets
Florida Marlins, Charles Johnson C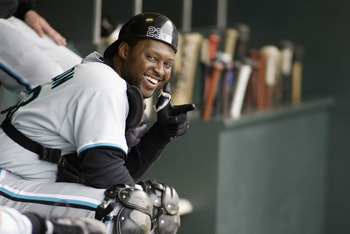 Jed Jacobsohn/Getty Images
Charles Johnson was always a good defensive catcher best illustrated by his four Gold Gloves. His offense was a bit above average, but nothing special. Then came the 2000 season which he split between the Orioles and White Sox.
He had the definition of a career year. Never before or after did Johnson come close to matching any of his offensive numbers. Despite a mediocre track record, the Marlins, in 2001, decided to make Johnson a very rich man by signing him to a five-year $35 million deal bringing him back to the place where he began his career.
Johnson lasted only two season in Florida before the Marlins shipped him and three players to the Rockies for Mike Hampton and Juan Pierre.
The Marlins were lucky that they were able to lose Johnson's contract and then turn around and ship Hampton and his hideous contract to the Braves.
Catastrophe averted.
Colorado Rockies, Mike Hampton SP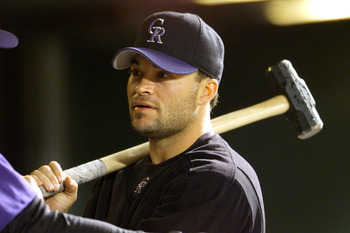 Brian Bahr/Getty Images
So much has been said about Mike Hampton and his deal with the Rockies. He had two very good seasons in 1998 with the Astros and then again in 1999 with the Mets. In 2000 the Rockies took the plunge and signed Hampton to a ridiculous eight-year $121 million deal.
Unfortunately for Colorado, there was no water in the pool. In his two seasons in Colorado, Hampton went 21-28 with a 5.75 ERA. You might think much of that was due to pitching in Colorado. If so, you'd be dead wrong. In 2000, Hampton's road ERA was just over 5.00 and he actually gave up more home runs away from Coors.
The Rockies breathed a massive sigh of relief when they were able to unload Hampton's contract along with Juan Pierre on the Florida Marlins for four players including Charles Johnson and Preston Wilson. The savvy Marlins traded Hampton two days later to the Atlanta Braves for Tim Spooneybarger and a minor leaguer.
All told, Hampton won 56 games over the course of the eight-year contract.
Bad things man, bad things.
San Diego Padres, Brian Giles OF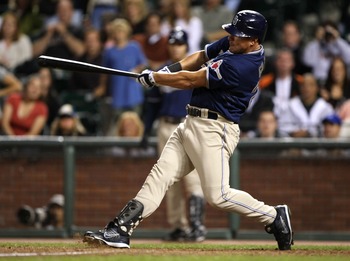 Jed Jacobsohn/Getty Images
The Padres are another team that doesn't go around throwing huge sums of money at players. All you have to do is take a look at the team they will be putting on the field this season.
Back in 2005, they went in the opposite direction and inked a nearly 35-year-old outfielder Brian Giles to a three-year $30 million deal with a fourth year club option of $9 million, which they eventually picked up.
After the first year of the deal, Giles numbers began to decline. Much of that was due to an arthritic knee which eventually ended his career. Giles 2009 season ended after 61 games and a .191 BA.
He did attempt a comeback with the Dodgers in 2010. It didn't last very long, and Giles officially retired in March of 2010.
San Francisco Giants, Barry Zito SP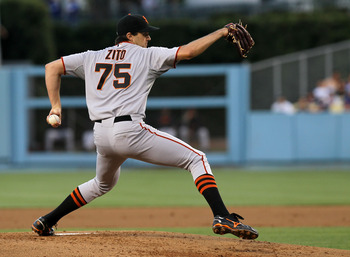 Stephen Dunn/Getty Images
After seven impressive years as an Oakland Athletic, Barry Zito hit the open market at the age of 28. He was extremely durable, in his prime and a Cy Young Award winner to boot. I can't forget that interesting personality, as well.
The Giants were ready and willing to lock Zito up long-term which, of course, they did to the tune of seven years and $126 million. Since that time, Zito has compiled a record of 40-57 for the Giants with a 4.45 ERA and 1.408 WHIP.
Those numbers are obviously not commensurate with that contract. He has now been paid over $1.5 million per win. At this point, the Giants are hoping to be able to unload Zito somewhere away from the Bay area. The only chance of that happening would require the Giants to pick-up a large portion of Zito's salary. I won't hold my breath.
I doubt that anyone has realized that three players on this list signed seven-year $126 million deals. That seems to be an odd coincidence. Zito, Vernon Wells and Jayson Werth all have $126 million deals. I just thought I'd point out that stupid fact.
Arizona Diamondbacks, Russ Ortiz SP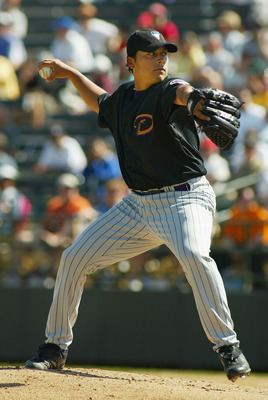 Christian Petersen/Getty Images
Russ Ortiz. What in the world was Arizona thinking?
Now, Ortiz didn't suck his whole career. He actually started sucking the day the Diamondbacks signed him to a four-year $33 million contract in 2005.
Ortiz wasn't a control pitcher or a power pitcher. He walked over 90 hitters in five separate seasons and led the league twice. He struck out more than 150 batters on three occasions which happened to be his first three full seasons in the big leagues. For good measure, his career WHIP is nearly 1.50.
I cringed when I saw the exact numbers he put up for the Diamondbacks. In 28 starts over less than one-and-a-half seasons, Ortiz was 5-16, 7.00 ERA and a whopping 1.896 WHIP. On June 13, 2006 Arizona released Ortiz.
It doesn't get much uglier than that.
Los Angeles Dodgers, Jason Schmidt P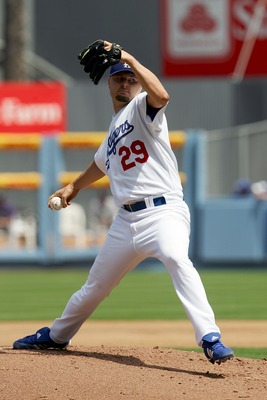 Jeff Gross/Getty Images
I had a list of five contracts that I could choose from for the Dodgers. Some people probably feel that Kevin Brown deserves to be "the chosen one". I could not disagree more. For the Dodgers, Brown went 58-32 with a 2.83 ERA and a WHIP of 1.10.
I also considered Juan Pierre, Andruw Jones and Darren Dreifort, but in the end, there can be only one.
My choice is Jason Schmidt.
Schmidt had some very good seasons with the Giants, including back-to-back seasons when he finished in the Top Four of Cy Young Award voting. The Dodgers did what they do. The threw a boatload of money at him. Schmidt signed a three-year $47 million contract with Los Angeles.
In his first season with the Dodgers, Schmidt lasted all of six games. He had season ending surgery in June of 2007 to repair a torn labrum, among other things. Schmidt then missed the entire 2008 season and came back in 2009 to pitch in four games.
His final record in L.A. was 3-6. That's nearly $15.7 million per win, if you're keeping score.
Keep Reading