NFL Predictions: 15 Players Ready to Become Stars in 2011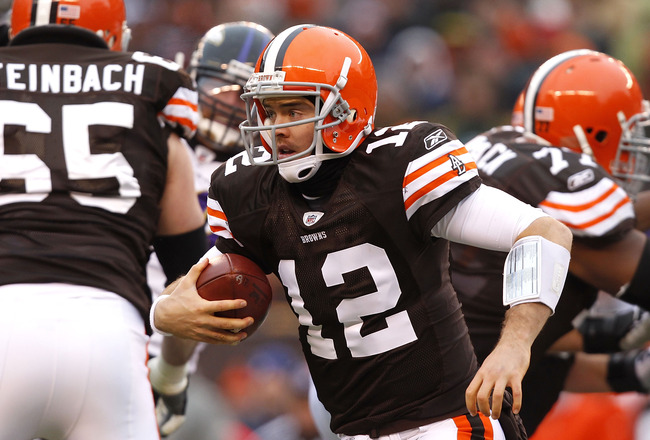 Matt Sullivan/Getty Images
Every year, there is an Arian Foster. Every year, there are young players who do not get noticed who break out and become stars.
Every year, there are draft prospects who live to their hype and fulfill every fan's dream of being "the guy" they were hoping to get.
Sometimes rookies need to get that one year under their belt before breaking out their sophomore season.
Who will those players be this year?
Assuming there is a 2011 season, the possibilities are endless. But we will sift through the rosters and the draft prospects and see which ones will rise to the top.
1. Colt McCoy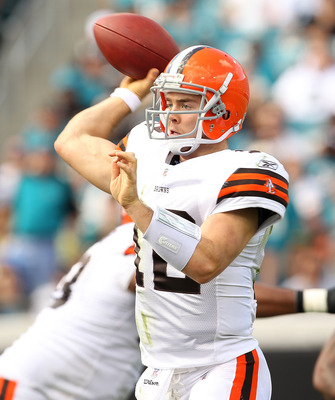 Mike Ehrmann/Getty Images
Colt McCoy was not supposed to see the field after preseason in 2010, but injuries put him on the field and he made everyone take notice.
McCoy had more than his share of rookie moments the last few games of the season, but he looked a lot better in a handful of games than Jimmy Clausen did, and Clausen was drafted a round earlier.
McCoy is being singled out as the Browns' starting quarterback in 2011, according to team President Mike Holmgren.
With a new offense and a new offensive-minded coach, McCoy is going to have the kind of breakout year Browns fans will be dancing in the streets over.
2. Jahvid Best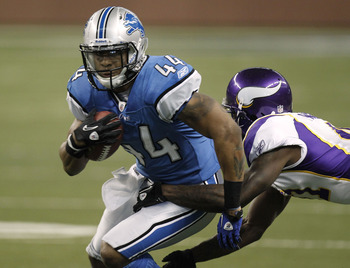 Gregory Shamus/Getty Images
Jahvid Best ran for 555 yards on 171 carries in 2010. Expect that number to at least double in 2011.
Best now has a year under his belt, and he is a year stronger and a year smarter.
The Lions may finally be back after the horror of the Matt Millen era.
3. Dez Bryant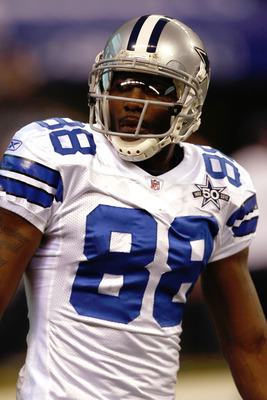 Scott Boehm/Getty Images
Dez Bryant had an inconsistent rookie year, but that is not unusual, especially for a wide receiver. An injury ended his rookie year in early December, but we did see some flashes of brilliance in that time.
Bryant now has his former offensive coordinator Jason Garrett as a head coach and a new direction.
Expect Bryant to be a huge star by the end of the 2011 season.
4. Marcell Dareus
Kevin C. Cox/Getty Images
Marcell Dareus was high on the draft radar before the combine. After the combine, he could be the No. 1 overall pick.
The combine showed Dareus is as fast as he looks on tape and that he has the size and skills to be an elite lineman in the NFL.
Expect to see Dareus make the Pro Bowl his rookie year.
5. Patrick Peterson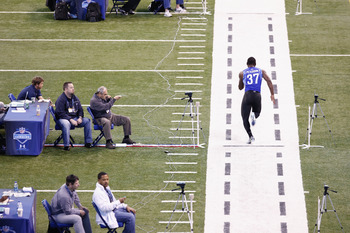 Joe Robbins/Getty Images
Patrick Peterson is the real deal. His stats have been consistent and the combine showed everyone things they already knew.
Peterson is fast, agile and will be a shutdown corner for whichever team drafts him.
6. Von Miller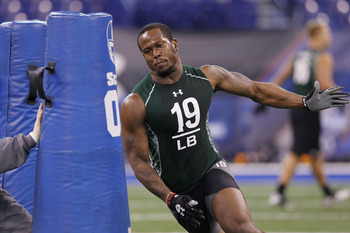 Joe Robbins/Getty Images
Von Miller, like Marcell Dareus, appears to be the real thing.
Miller has been getting compared to Clay Matthews, and that is about as good of a comparison as you can get.
If Miller can follow in Matthews' footsteps, the team that gets him will be laughing all the way to the Super Bowl.
Miller will be a regular feature on the highlight reels his rookie year.
7. Tim Tebow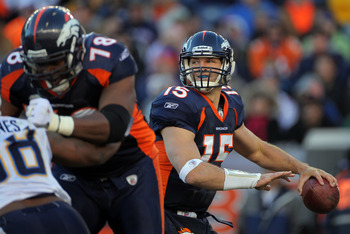 Doug Pensinger/Getty Images
Yes. I said it.
Tim Tebow has one of those dramatic story arcs where his breakout performance almost is inevitable. It is the third act you saw coming five minutes into the movie.
Tebow is going to get his chance in 2011, and he is going to be great. He is going to do it just to annoy all his critics.
8. C.J. Spiller
Marc Serota/Getty Images
C.J. Spiller did not have a good rookie season, and we will not beat that fact into the ground here.
But 2011 will be a good year for Spiller.
He did not have the kind of rookie season he hoped for, but Spiller still has talent and time to develop.
Spiller will get it together and prove he will not be a draft bust in 2011.
9. Blaine Gabbert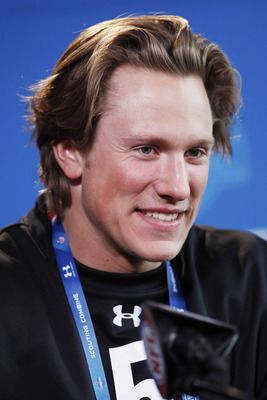 Joe Robbins/Getty Images
Blaine Gabbert just has "star" written all over him, and unlike Cam Newton, most likely will be a starter his rookie season.
Newton needs more time to develop and should spend a good chunk of the season on the sideline.
Gabbert, on the other hand, is considered to be NFL-ready and will be the Sam Bradford of the 2011 draft class.
10. Da'Quan Bowers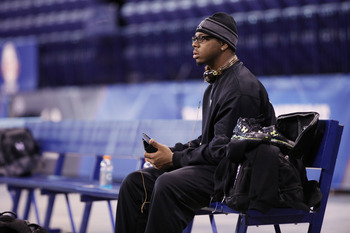 Joe Robbins/Getty Images
Da'Quan Bowers is recovering from knee surgery, but he will be a top pick in the draft next month.
Bowers has everything you want in a defensive end, and he should be in the Pro Bowl after his rookie season.
11. J.J. Watt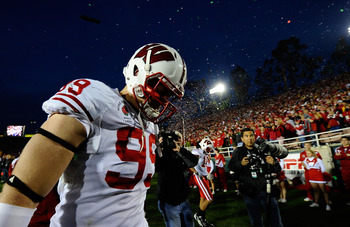 Kevork Djansezian/Getty Images
J.J. Watt has been mocked all over the place, so his final draft position is unclear.
What is clear, though, is Watt will be a first-year starter and have an immediate impact on the league.
Watt started his road to the NFL as a pizza delivery guy and earned his scholarship after transferring.
He knows how to work hard and knows what it takes to be the best at what you do. If he was willing to make the sacrifices he made to be successful in college, the pros should be a piece of cake.
12. Aldon Smith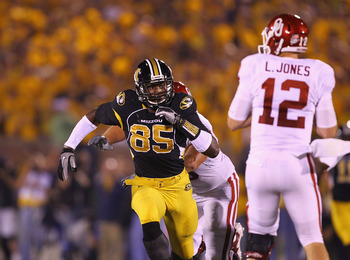 Dilip Vishwanat/Getty Images
Aldon Smith is the kind of prospect that screams, "Can't Miss!"
Smith was hampered by injuries in 2010 but is projected as an elite pass rusher. His pro day workout impressed a lot of scouts as he looked faster than anyone else there.
NFL.com said his pro day confirmed what everyone saw on tape, and he could go in the top 10 depending on how the rest of the draft falls.
13. Mike Pouncey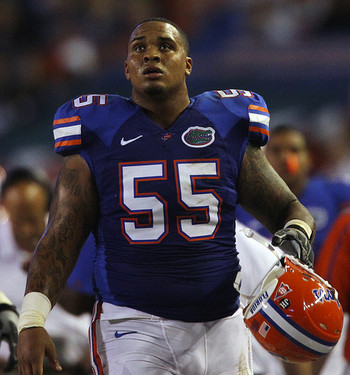 Mike Pouncey is not just the brother of Rookie Pro Bowl center Maurkice Pouncey, he is his twin brother.
He decided to stay one more year in college, and now, there will be stiff competition for his services.
Maurkice made the Pro Bowl his rookie season; look for Mike to do the same.
14. Christian Ponder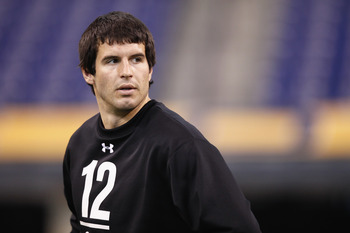 Joe Robbins/Getty Images
Christian Ponder will get drafted in the second round, and the team that takes him will later call it a steal.
Ponder has all the intangibles you want to go with his impressive skills, and he will be a star quarterback in the league almost immediately.
15. Cameron Heyward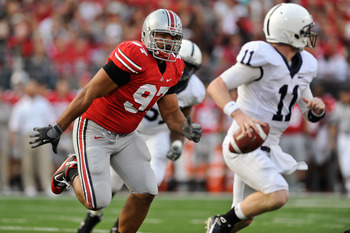 Jamie Sabau/Getty Images
Son of Ironhead Heyward, Cameron Heyward has grown up with the game like few other prospects do.
Heyward has been living this game since he was a child, and now he will get a chance to play it as a pro. The drive to succeed and be better than his father will serve him well throughout his carerr.
The bloodline is strong in Heyward, and he'll make his father proud in 2011.
Keep Reading