Buffalo Bills: 2011 7 Round Mock Draft for the Buffalo Bills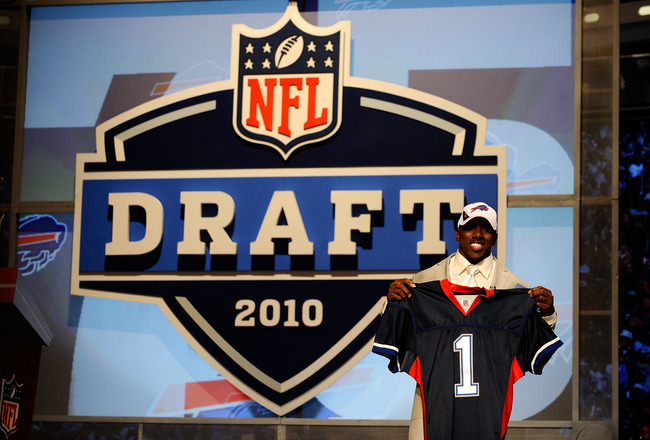 Jeff Zelevansky/Getty Images
This is one of my favorite times of the year: the buildup to the NFL draft.
It's an exciting time, waiting to see what players your favorite team will add. It's also a great equalizer. The fans know almost as much about what's going to happen as the experts do.
The experts don't get all that many picks correct. So, I decided I would attempt to project what the Buffalo Bills will do in each round of the draft. Enjoy.
First Round (#3 Overall)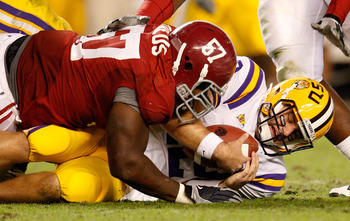 Kevin C. Cox/Getty Images
What the Bills do here really depends on what the Panthers and the Broncos do ahead of them as they have similar needs on the defensive side of the ball and at quarterback. I have Carolina taking a quarterback (not sure if it's Gabbert or Newton) and Denver taking Patrick Peterson.
As for the Bills, I doubt that they go the quarterback route. Fitzpatrick did enough this year that drafting a quarterback here is not a necessity and I don't think Gabbert and Newton are good enough prospects to draft this high. Newton is far too risky and I'm not sold on Gabbert this high. He's only mentioned here because Andrew Luck went back to school.
With quarterback out of the picture, Buffalo is left to consider the defensive front seven. Da'Quan Bowers is an option, but he only had one great year of production and he slipped lately due to concerns about his knees. Similarly, Nick Fairley only had one good year and character questions remain. He reminds me a bit of Albert Haynesworth, a great football player but one who could cause problems in the locker room.
Von Miller is a solid option. He was a monster rushing the passer in college. In the Senior Bowl, he proved that he was more than a one-trick horse by making tackles all over the field and dropping back in coverage.
If he's available, I think the Bills have to take Marcell Dareus. He is a safe pick, having had several years of production and overcoming adversity in high school. Plus, he showed a surprising amount of athleticism at the Combine for a man his size. I only hope that he's not taken ahead of the Bills
My Pick: Marcell Dareus, DT Alabama
Second Round (#34 Overall)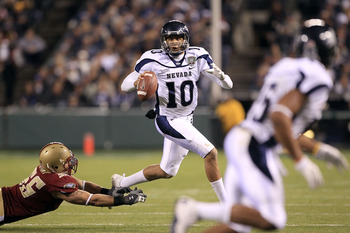 Ezra Shaw/Getty Images
I think that this is the round where Buffalo goes after a quarterback. With so many teams needing a QB this year, the ones that could become quality starters are going to go quickly.
At this point, I project that Gabbert, Newton, Locker, and Mallett will all be off the board. There are still a bunch of quality options here though in Andy Dalton, Christian Ponder, Colin Kaepernick. It will entirely depend on which one the Bills like the best.
Andy Dalton has great accuracy and is a proven leader. He won throughout college, leading some great TCU teams into the national spotlight. He has solid mobility and can make plays with his feet. He did run the spread offense and will have to make the adjustment in the NFL. For me at least, nothing really stands out about Dalton. I think he will be a good, but not great NFL QB.
Christian Ponder is another option. His accuracy is impressive and his arm strength should at least be adequate. He played on Chan Gailey's South team in the Senior Bowl, where he had the best performance of any of the quarterbacks. He also has displayed leadership skills in college and played through injury. I certainly would not be upset if Ponder was the pick.
My personal favorite though, is Kaepernick. He has a similar skill set to Newton's and none of the concerns. He has a rocket for an arm and is a threat to run on every single play. He has performed consistently well during his career and almost single-handedly made Nevada nationally relevant.
The major problems with him is that he ran the Pistol offense in college and that he is awfully light for his height. The majority of the QB prospects in this draft will have to learn the pro offense so that doesn't particularly concern me, and he can always add muscle mass when he gets into an NFL strength and conditioning program.
I think the risk is worth the potential reward in this case.
Other Options: Kyle Rudolph, TE and Martez Wilson, ILB
My Pick: Colin Kaepernick, QB Nevada
Third Round (#67 Overall)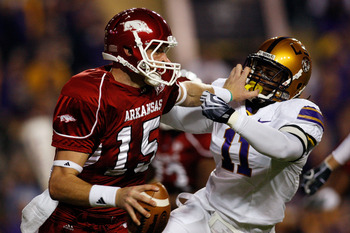 Chris Graythen/Getty Images
With the defensive line and quarterback needs addressed, the Bills have to start filling their other needs including offensive line, linebacker, and secondary.
There's some good value here at offensive tackle. Players like Joseph Barksdale from LSU, Marcus Gilbert from Florida, and Jason Pinkston from Pittsburgh all make sense. It makes even more sense when you consider Buddy Nix's ties to the SEC and new defensive coach Dave Wannstedt's connection and first-hand knowledge of Pittsburgh.
I think the pick here though is Kelvin Sheppard, ILB from LSU. The Bills brought him in for a workout and there is only a limited number of workouts that a team is allowed. I think this is a really telling fact when you consider that Sheppard is not considered a top pick, so this is not just due diligence.
Buffalo is legitimately interested in him and for good reason too. Sheppard was one of the leaders on a great LSU defense. He led the Tigers in tackles for two consecutive years, so he could be the run stuffer Buffalo desperately needs at the linebacker position.
My Pick: Kelvin Sheppard, ILB LSU
Fourth Round (#99 Overall)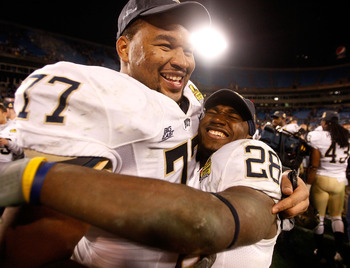 Streeter Lecka/Getty Images
After helping to solidify the run defense, Buffalo goes back to the offense with this pick.
Tight End is definitely possible. The Bills haven't had a solid tight end since Jay Riemersma, and Shawn Nelson clearly isn't the answer. Lance Kendricks is the pick if he's still available. Rob Housler and Virgil Green are other options. Green is an athletic freak, but is extremely raw. Housler is slightly less athletic, but he is a much better route runner.
The other possibility here is offensive tackle. With the depth of other positions in the draft and lack of depth here, I think it is highly likely that some good tackles drop. I think that's the case here with Jason Pinkston who has a major knee concern. The Bills get a steal here. Pinkston and Wannstedt reunite.
My Pick: Jason Pinkston, OT Pittsburgh
Fourth Round (#121 Overall)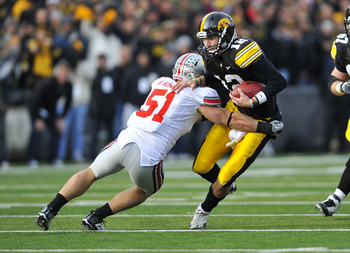 David Purdy/Getty Images
If the Bills are going to stick to the 3-4 defense, they need to continue to add linebackers.
Ross Homan isn't your prototypical 3-4 rush outside linebacker, but hopefully Shawne Merriman or Arthur Moats will be able to fill that role. However, Homan has decent enough speed to make tackles all across the field and he has the size to take on blocks.
The additions of him, Sheppard, and Dareus would vastly improve Buffalo's abysmal run defense in 2010. Buffalo's defense in 2010 proved that it doesn't matter how solid your secondary is if the other team can just keep running the ball.
My Pick: Ross Homan, OLB Ohio State
Fifth Round (#131 Overall)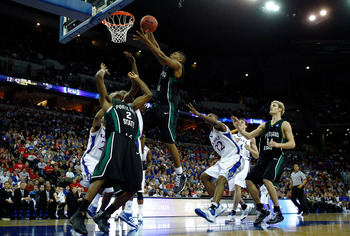 Jamie Squire/Getty Images
I am going for a sleeper pick here.
Julius Thomas, the tight end from Portland State, has been making some waves after impressive workouts at the Combine and at his pro day. He's only played one year of football after being a basketball standout.
As such, he is extremely raw, but the athleticism is there. At 6'5" and 240 pounds, he has plenty of size to develop as an effective blocker. He already has excellent hands. I like taking the risk to acquire a tight end capable of doing it all. That's why he is my pick here.
My Pick: Julius Thomas, TE Portland State
Sixth Round (#163 Overall)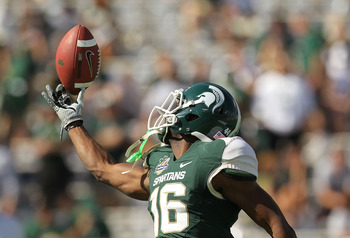 Mike Ehrmann/Getty Images
From this point on, it really is a tossup which way Buffalo goes.
I like them to continue to try to improve their defense though. Chris L. Rucker is my pick here. He played cornerback at Michigan State, but there is some speculation that he is better suited at safety. Fortunately, both of these are positions where the Bills could use depth.
I like his versatility and his experience covering the opposing team's best receivers. He faced some of the best receivers in college that will be moving on to the NFL in Notre Dame's Michael Floyd and Alabama's Julio Jones. He could turn out to be a steal.
My Pick: Chris L. Rucker, DB Michigan State
Seventh Round (#193 Overall)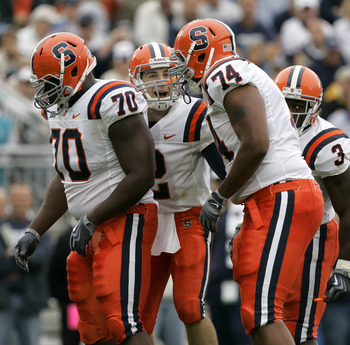 Chris Gardner/Getty Images
Late round picks are about adding depth. Despite doing a good job of identifying good free agent offensive lineman last year, the Bills could still use some more depth.
My pick here is Ryan Bartholomew, an interior lineman from Syracuse. He was one of the stars at the Combine, putting up some freakish numbers for an offensive lineman including a sub-5 40 and 34 bench press reps.
He is a character player as he made the Big East All-Academic team and was elected by his teammates to be a team captain his senior year. Bartholomew is a bit undersized, but his athleticism and attitude should carry him far.
My Pick: Ryan Bartholomew, C Syracuse
Keep Reading

Buffalo Bills: Like this team?