Baltimore Orioles Franchise: All African-American Team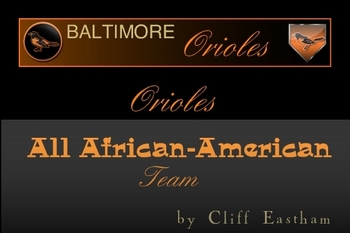 by Cliff Eastham
This is the third installment in this series. I am compiling All-Franchise Teams based on African Americans.

The idea came to me as the result of a comment made by Joe Morgan who brought to light the decline in African-American players in MLB.

I started with the New York Yankees and the second installment was the Cincinnati Reds. It is part of my master plan to complete the American and National Leagues if I live long enough. I plan on alternating between National League and American League.

Some teams, especially at certain positions are paper thin when it comes to African-Americans. I am not including Latinos or anyone else I know not to be an African-American. Some players may not have decent enough statistics to make a minor league team, but if they are the best a team has had, they will do.

Allow me some latitude if I err in my discernment for a particular player. I am not doing a background check or DNA analysis on anyone, mainly by their place of birth, though not exclusively.

I hope you enjoy this and look forward to your comments. No screaming please.
Catcher: Elrod Hendricks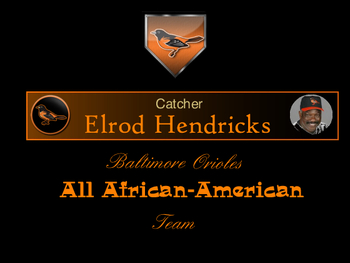 Elrod Hendricks served three tours of duty with the O's.
His best season was in 1971, when he batted .250 with 9 HR and 42 RBI.

He spent his first trimester with the O's, sharing time with Andy Etchebarren. In '73 and '74 they both shared the position with Earl Williams.
His line with the Orioles:
AB= 1781, H= 395, R=191, AVG=. 222, OBP= .306, HR= 56 RBI= 214 OPS+= 90
First Base: Eddie Murray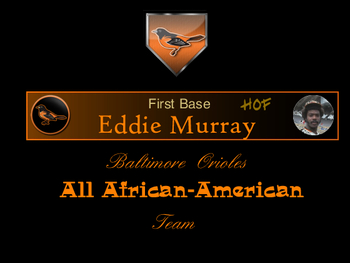 Eddie Murray played 13 years with the Orioles, from 1977-1988 and again in 1996.
He had an outstanding career which ultimately led him to Cooperstown, where he was enshrined into the Hall of Fame in 2003 on his first attempt.
"Steady Eddie" is one of only three players in MLB history to have over 500 HR, 1900 RBI, 3200 H and 1600 R. Interestingly enough, and certainly apropos, the other two are African-Americans—Hank Aaron and Willie Mays.
His line with the Orioles:
AB= 7075, H= 2080, R= 1084, AVG= .294, OBP= .370, HR= 343, RBI= 1224 OPS+= 139
Second Base: Jerry Hairston, Jr.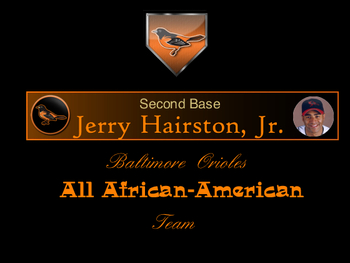 Journeyman/utilityman Jerry Hairston has played on six different clubs during his 13 years (so far).
He spent seven years with the Orioles, from 1998-2004. 1998 and 1999 were spent backing up Roberto Alomar. He was the starting second baseman from 2001-02.
In 2004 Hairston batted .303 with an OBP of .378.
His line with the Orioles:
AB= 1825, H= 477, R= 241, AVG= .261, OBP= .334, HR= 26, RBI= 160 OPS+= 88
Third Base: Craig Worthington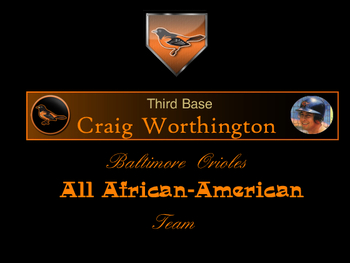 Craig Worthington played in Baltimore for four years, 1988-91.
His best year here was 1989 when he finished fourth in voting for the Rookie of the Year. He hit 15 HR with 70 RBI and batted .247 with 124 H.
Worthington's line with the Orioles:
AB= 1105, H= 257, R= 119, AVG= .233, OBP= .325, HR= 29, RBI= 130 OPS+= 93


Shortstop: Freddie Bynum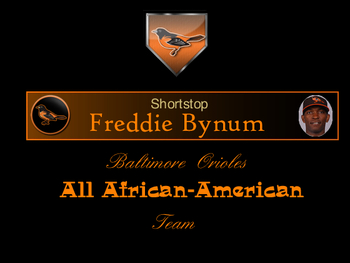 Freddie Bynum played with the Orioles in 2007 and 2008.
Most of his work was backing up Melvin Mora and Juan Castro.
His line with the Orioles:
AB= 208, H= 45, R= 34, AVG= .216, OBP= .252, HR= 2, RBI= 19 OPS+= 52
Left Field: Ken Singleton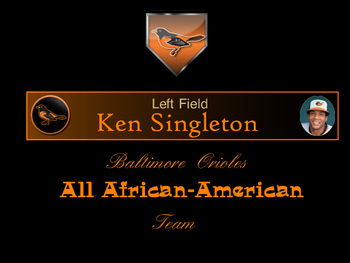 Ken Singleton played 10 years in Baltimore, from 1975 until he retired after the 1984 season.
He was a three time All-Star and finished runner-up in MVP voting in 1979 and finished 3rd in 1977.
His best year as an Oriole was '79 when he hit 35 HR, drove in 111, batted .295 with a .405 OBP. He currently ranks 8th on the Orioles all-time HR and RBI list.
Singleton's line with the Orioles:
AB= 5115, H= 1455, R= 684, AVG= .284, OBP= .388, HR= 182, RBI= 766 OPS+= 135


Center Field: Paul Blair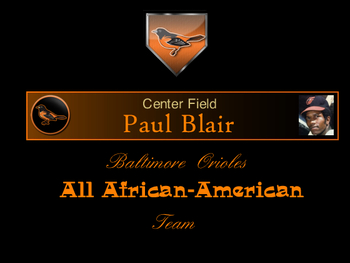 Paul Blair was a light hitter but was one of the smoothest center fielders during the 1960's.
He played in Baltimore for 13 years, from 1964 until 1976.
He was a two-time all-star and won eight Gold Gloves, seven of them in succession.
His best hear with the Orioles was 1969 when he hit 26 HR an drove in 75, while batting .285 with 178 hits and scored 102 runs.

Blair's line with Orioles:
AB= 5606, H= 1426, R= 737, AVG= .254, OBP= .306, HR= 126, RBI= 567 OPS+= 99
Right FIeld: Frank Robinson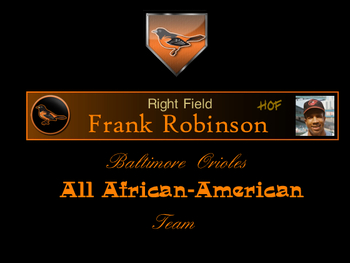 Frank Robinson won a Triple Crown in 1966, the first year with the Orioles.
He was elected into the Hall of Fame on his first appearance on the ballot in 1983.
He remains the only man to win an MVP in both leagues.
He played with the Orioles from 1966-71. He was an all-star five times while there.
Obviously his best year with Baltimore was 1966 when he batted .316/.410, with 49 HR, 122 RBI and 122 runs scored. He also led the league that year with an OPS+ of 198.
Robinson's line with the Orioles:
AB= 2941, H= 882, R= 555, AVG= .300, OBP= .401, HR= 179, RBI= 545 OPS+= 169


Pitcher: Arthur Rhodes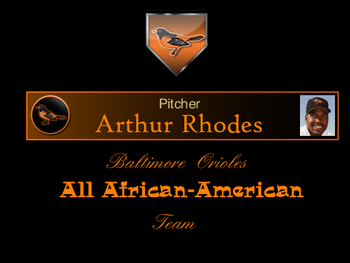 Arthur Rhodes shows up on the list by default.
In my research I could find no African-American pitchers higher on the list than he. That is a sad indictment but true.
He played with the O's for 9 years, from 1991-99.
His best year here was in 1997 when he was 10-3 with a 3.02. He finished 20th in MVP voting that year.
Rhodes' line with the Orioles:
IP= 622, W= 43, L= 36, ERA= 4.86, SO= 579, ERA+= 93, WHIP= 1.432
Designated Hitter: Harold Baines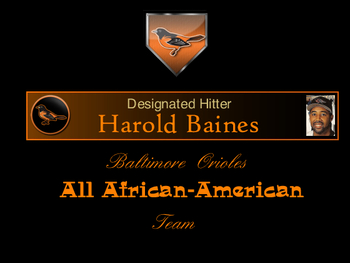 Harold Baines suffers the same type of trivial nonsense that Tommy John does. Baines has more hits than anyone who is not in the Hall of Fame (eligible players)., while John has more wins.
Baines played with Baltimore for seven years, from 1993-95 and again from 1997-2000.
He spent nearly the entire time as a DH so he was a "no brainer" for this squad.
His best year in Baltimore was 1993 when he hit 20 HR with 78 RBI and batted .313.
Baines seems to have the numbers for the Hall of Fame, but most writers feel that his work as a DH has apparently diminished his qualifications.
Baines' line with the Orioles:
AB= 2121, H= 638, R= 304, AVG= .301, OBP= .379, HR= 107, RBI= 378 OPS+= 127
Keep Reading

Baltimore Orioles: Like this team?