NFL Draft 2011: The Top 10 Prospects from the Big Ten Conference
David Purdy/Getty Images
The Big Ten produces quality talent on a yearly basis, and this year is no different.
The theme this time around seems to be trench warfare. Of the ten players on this list, eight play in the trenches—six defensive linemen and two offensive linemen.
Six schools are represented—Illinois, Iowa, Ohio State, Penn State, Purdue and Wisconsin.
Interested to see who the Big Ten's top prospects are? Read on to find out.
10. C Stefen Wisniewski, Penn State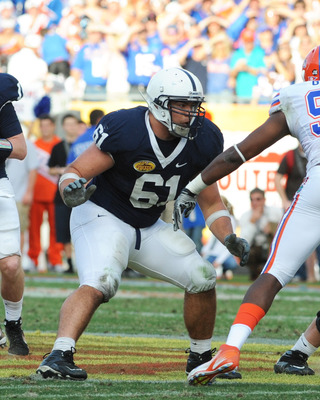 Al Messerschmidt/Getty Images
Wisniewski is one of the best centers available in the draft. He also has experience playing right guard, starting there every game in the 2010 season.
Wisniewski also has blood on his side: his father played three seasons for the Colts, and his uncle was an eight-time Pro Bowler.
9. DL Christian Ballard, Iowa
David Purdy/Getty Images
At 6'5", 297 lbs., Ballard is physically imposing and can play anywhere on the defensive line. He has the size to be a 3-4 DE in the NFL.
Ballard was an honorable mention all-Big Ten by league coaches and media.
8. RB Mikel LeShoure, Illinois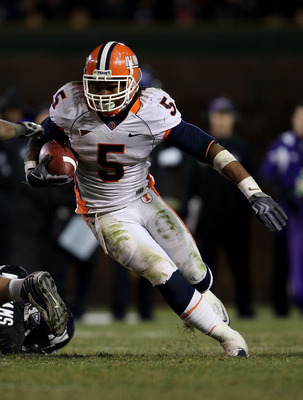 Jonathan Daniel/Getty Images
LeShoure had a great 2010 campaign, rushing for 1,697 yards and 17 touchdowns.
He has been called the premier power/speed combo back—something that could help him sneak into the first round.
The knock on LeShoure is that his resume consists of only one good season. However, that won't hurt him too much given his great potential.
7. DT Corey Liuget, Illinois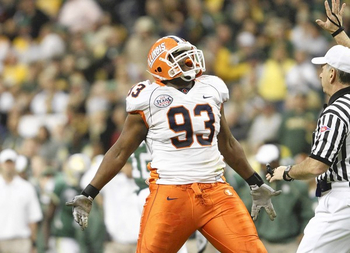 Liuget has a ton of potential; some scouts even think he is a top-10 talent. At 6'3", 300 lbs., he also has adequate size.
As with teammate Mikel LeShoure, Liuget is inexperienced and has only started one season. Still, a team could take an early flier on him.
6. ILB Martez Wilson, Illinois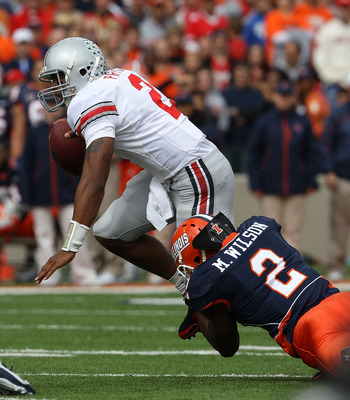 Jonathan Daniel/Getty Images
Wilson is considered the top ILB in the draft.
He did not play very well his first few seasons in Champaign, but became one of the best linebackers in the Big Ten last season. He ended the year with 112 tackles, four sacks, three forced fumbles and one interception.
Wilson is very athletic, but is not very instinctive. Ultimately, he projects as an early second round selection, but could sneak up to first round. The Packers released A.J. Hawk, so they might take a look at Wilson.
5. DE Cameron Heyward, Ohio State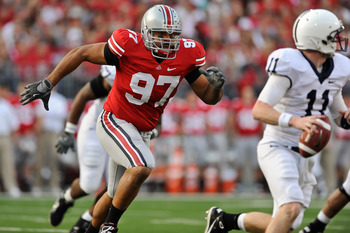 Jamie Sabau/Getty Images
He has NFL-ready size and appears to be a good fit as a 3-4 defensive end.
In the most important games, Heyward came up big. Against Penn State in 2009, he made 11 tackles—three for loss—and two sacks in a dominating performance. In this year's Sugar Bowl, Heyward had 1.5 sacks on Ryan Mallett and arguably deserved to be named MVP.
However, Heyward pulled a disappearing act at times this year, something that could make NFL teams wary. Though a strong run-stopper, his pass rush could use improvement.
Heyward would be very successful on a team like the Pittsburgh Steelers where the main responsibility of linemen is run-stopping instead of pass rushing.
4. OT Gabe Carimi, Wisconsin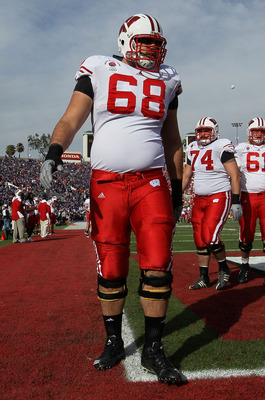 Stephen Dunn/Getty Images
Carimi is a talented offensive tackle. At 6'7", 327 lbs., he has more than adequate size.
He had an exemplary career at Wisconsin, starting all four years. He earned numerous awards including consensus All-American, Big Ten Offensive Lineman of the Year and Outland Trophy.
Carimi excels at run-blocking, but there are questions about his pass protection—especially against quick pass rushers off the edge.
He could go as early as mid-first round.
3. DE Ryan Kerrigan, Purdue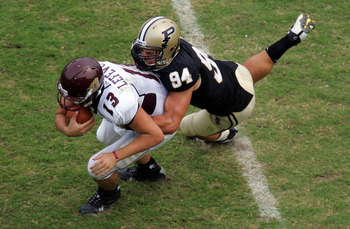 Ronald Martinez/Getty Images
Kerrigan is on the small side (6'4", 263 lbs.), but has excellent pass-rushing ability.
He is a tenacious player as exemplified by his 14 forced fumbles—a Big Ten record and tied for most in FBS history.
In 2010, he was named Big Ten Defensive Player of the Year.
Kerrigan projects as a mid-first round pick.
2. DE Adrian Clayborn, Iowa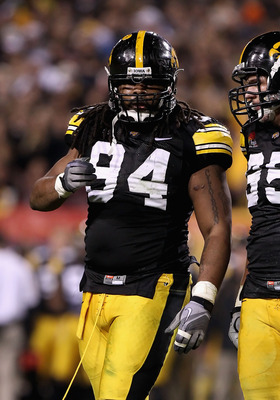 Christian Petersen/Getty Images
After an impressive junior season in which he had 11.5 sacks, Clayborn suffered a setback senior year with 3.5 sacks.
That hasn't unduly affected his draft status, though. Clayborn is still considered one of the best DEs in his class, and is expected to go in the first round.
Despite the disappointing season, NFL teams shouldn't shy away from Clayborn. In 2010 against Penn State, he had three tackles for loss despite being triple-teamed for parts of the game.
As a senior, he was named NCAA consensus All-American.
1. DE J.J. Watt, Wisconsin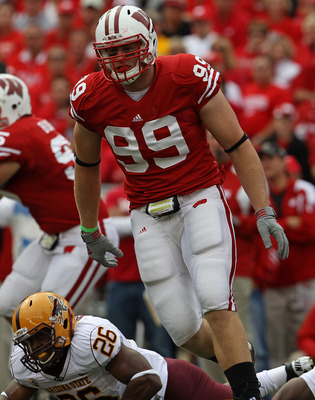 Jonathan Daniel/Getty Images
Watt is a tough player who can play anywhere on the line due his size (6'6", 292 lbs.).
He is also an adequate pass-rusher and run-stopper, but is sometimes too aggressive and gets out of position.
Watt has the ability to take over games; just ask Ohio State. He played a huge role in Wisconsin's upset win over No. 1 Ohio State with four tackles—including two sacks.
Keep Reading