Denver Broncos: Who Will and Won't Be Holding the (Defensive) Line in 2011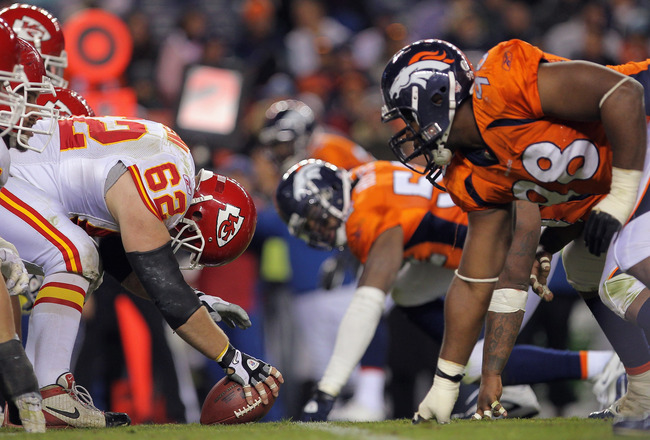 Doug Pensinger/Getty Images
I previously did a review of the offensive side of the football, and now want to focus on the defensive side. This is painfully where the most need is.
Coming off the worst defensive season in recent Bronco history, it is no wonder that the new sheriff in town—Head Coach John Fox—is a defensive guy.
And with that in mind, let's take a look at how the defensive side of the ball will look when the 2011 season starts. And I will start with the anchor of the defense, the defensive line.
The past two years, the Broncos tried the 3-4 with minimal success. It started off looking like a winner when Mike Nolan was the Defensive Coordinator, but a clash of egos with ex-head coach Josh McDaniels had him leaving for Miami. In stepped Don "Wink" Martindale and last year was a disaster.
Not all was his fault, with the best pass rusher in the NFL the year before, Elvis Dumervil out for the season with torn Pectoral muscles. Still, the rest of the D couldn't and wouldn't step up to the challenge. Much of that I put on the lack of talent, and much of that was in the D line.
So we will start with new Defensive Coordinator Dennis Allen and Defensive Line Coach Wayne Nunnally's current and projected talent and depth in the new 4-3 look.
Outside Linebacker Is the New Defensive End: LDE Elvis Dumervil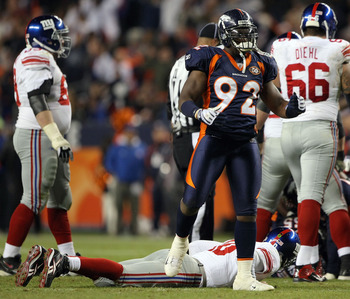 Doug Pensinger/Getty Images
With the switch on to the 4-3, that means some players will be making positional switches as well.
Outside LBs Elvis "Doom" Dumervil and Robert Ayers will be moving to DE. If they can get enough inside presence from the DT position, they both have a very good chance of racking up some sacks as well as tackles for loss on the RBs.
I see Doom playing left DE and getting back to his glory days, assuming he is 100 percent healthy. His only downside is his size—5'11", 250 pounds—which makes him vulnerable to being pushed back on outside running plays. But he has some of the longest arms for his height I have ever seen, and is great at protecting his body with those arms.
My prediction is he will shine and we won't have to worry about the left DE position next season. He may not get 17.5 sacks like he did in 2009, but he will be our top one or two pass rusher on the team.
Outside Linebacker Is the New Defensive End: RDE Robert Ayers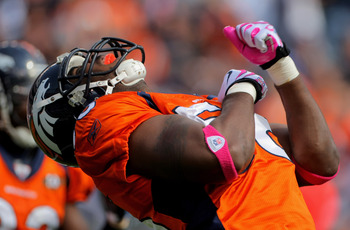 Doug Pensinger/Getty Images
Robert Ayers was a first round draft choice out of Tennessee that has, so far, not quite lived up to his potential. He has all the tools, speed, and size (6'3", 273 pounds) to be a force, but wasn't a factor as a OLB last season—finishing with only 1.5 sacks and 39 tackles.
Was he playing out of position, since he was a DE in college? We will see this coming year.
But I also see the option of Denver looking at drafting Da'Quan Bowers out of Clemson. He is almost a bookend to Ayers, at 6'3" 280 pounds, and has the explosive first step and strength to get after the QB. If this happens, it will add a huge presence at the DE position, and add depth as well as competition. If he is still on the board and is taken with the number two pick, it shows me that the current defensive brain trust isn't completely sold on Ayers.
But my hope and sense is that Ayers will be a BEAST, and we will see a few of these chest pounders after big plays from Mr. Ayers.
The Inside Scoop: Defenive Tackle Kevin Vickerson
Doug Pensinger/Getty Images
I see no reason that Kevin Vickerson won't be holding down one of the DT positions going into next season. He was just given a contract extension with a $1 million signing bonus. That kind of Mr. Bowlen's money isn't thrown around without a strong feeling that there will be huge value in return.
Last year, he led the defensive line with 42 tackles, two sacks and even had an INT! That's with the ideal size and athletic play coming from a 6'5", 321 pound behemoth. He played at DE in the 4-3, but will move to DT in the new 4-3 scheme.
Vickerson was signed as a free agent from the Tennessee Titans last season, and will likely be one of the inside mainstays for the Broncos for years to come.
The Inside Scoop: DT to Be Determined—1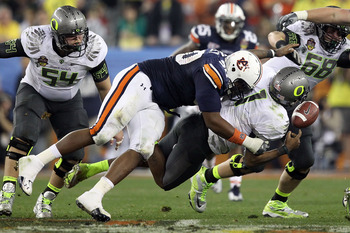 Christian Petersen/Getty Images
Here is where it gets tricky for the Broncos in the upcoming draft. Knowing that defense is the first, second and third need, there are players available at DE, DT, OLB and CB that can add immediate help.
But in looking at the current roster and the depth chart, after Vickerson, the potential talent level at DT falls off like a rock over a cliff. Both Jamal Williams and Justin Bannan, starters last year, were cut due to their age. This leaves a hole that just begs to be filled by the upcoming draft.
My call is that we will see the Broncos taking Auburn's DT Nick Fairley, with that second overall pick. Some say he is a one-year wonder and has a questionable motor. He also has to work to keep his weight at the 300 pound mark.
But he is very athletic and is a winner. If the interviews went well between Fox and Elway at his Pro Day, I can see him lining up beside Vickerson, adding speed and putting fear into the opposing O-line.
The Inside Scoop: DT to Be Determined—2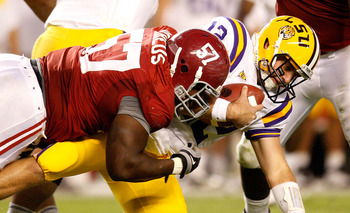 Kevin C. Cox/Getty Images
Unfortunately, my first choice for the second pick could not be available. If Carolina decides to go defensive line, I see them taking the Man-Beast Marcell Dareus with the first overall pick.
He has the size—6'4", 310 pounds—the strength, the athleticism and, maybe most importantly, the heart to be one of the best at his position over his career. He also showed that he was a career player for the Crimson Tide, not just a one-hit wonder. He registered 11 sacks, but had 40 solo tackles and 20 of them were for a loss. This shows his ability to fight off blocks and get penetration up the middle.
Dareus had a bit of a scuffle with the NCAA, and was suspended for the first two games of his junior year last season, so the "character" issue may be a factor for some teams.
He would be my ideal bookend to Mr. Vickerson. I do hope he is available, and that Fox and company liked what they saw on his Pro Day to consider him.
My Ideal Bronco Defensive Line Depth Chart Would Be ........
Courtesy of SI.com
We now return to the thrilling days of yesteryear and the vaunted Orange Crush—21st Century Model.
Here is how I ideally see the Denver Bronco's Defensive Line looking next year:
RDE: Robert Ayers, 6'3" 273 pounds
RDT: Marcell Dareus, 6'4" 310 pounds OR Nick Fairley, 6'4", 297 pounds
LDT: Kevin Vickerson, 6'5" 321 pounds
LDE: Elvis Dumervil, 5'11" 250 pounds
Backups:
DE Jason Hunter 6'4" 271 pounds
DE Mitch Unrein 6'4" 300 pounds (Local Boy Makes Good)
DE/DT Ryan McBean 6'5" 300 pounds
DT/DE Justin Houston 6'3" 270 pounds (Draft, Georgia)
DT Stephen Paea 6'3" 315 pounds (Draft, Oregon State)
DT Marcus Thomas 6'3" 315 pounds
With this group, I think we are on the way to rebuilding the Orange Crush. And as they say, it all starts up front.
Keep Reading

Denver Broncos: Like this team?