2011 NFL Draft: Carolina, Take a Risk and Select Cam Newton First Overall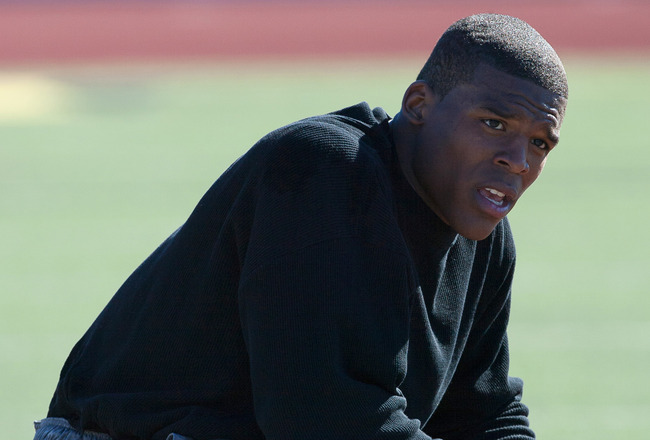 Kent Horner/Getty Images
There is no doubt that Auburn quarterback Cam Newton has been the most talked about prospect in the league.
He's a freakish athlete, standing at 6'6", 220 lbs. with the speed and athleticism of a Pro Bowl running back. He rushed for 1,473 yards and 20 touchdowns in 2010 after transferring from Florida to become the starting quarterback for Auburn.
Pretty impressive stats for a running back right—oh wait, Newton's a quarterback posting these numbers on the ground.
Well, if he put up those numbers, there is no way he could have had hardly anything in the passing column, right?
Wrong.
His numbers on the ground were the weaker part of his stats, as he posted 2,854 yards and 30 touchdowns throwing the ball.
I've heard all the excuses people have against him—he was in a spread offense, he was only a starter for one season, etc.
Look, if a guy can transfer to another school and start at quarterback for the first time in his college career with the result being a national championship and talk of being the first overall pick, this guy must be pretty good—good enough to be the face of any franchise.
Yes, he was in a spread offense at Auburn, but why do you think he is too stupid to learn how to play at the NFL level? He proved at his pro day that he can make all the throws he needs to make to be a starter in the NFL.
Will Cam Newton Be Selected First Overall by the Carolina Panthers?
On draft day, should Cam Newton be the guy Carolina chooses with the top overall pick?
Yes.
Newton is exactly what the Panthers need as the face of their franchise. They have never had a superstar quarterback like Newton; he would provide a huge spark for the league's worst offense in 2010.
Jimmy Clausen showed last season that he might not be able to be the future of Carolina's franchise, and new head coach Ron Rivera hasn't been shy about finding Carolina a new franchise quarterback.
A big problem Carolina has always had is mobility at the quarterback position. It seems like every time a defensive player is anywhere close to the quarterback, he turns the ball over via interception or fumble or takes a sack.
Newton would give the Panthers that mobile quarterback they are long overdue for and allow this team to not take as many sacks and give up as many turnovers.
Another big argument against Newton is that he isn't NFL-ready.
This is one I have no arguments against, which is why I believe that with drafting Cam Newton should come a veteran quarterback that can help develop him. San Diego's Billy Volek or Tennessee's Kerry Collins would be good fits, both providing a short-term option until Newton was ready.
Quarterback Cam Newton will be successful in the NFL; he is not anything close to how JaMarcus Russell was when he came out of LSU.
Newton is athletic, has that leader swag in him and won a national championship in college.
Will he be ready by day one? Maybe not.
However, the Panthers cannot pass up the kind of potential Newton holds. Don't let this opportunity slip, or this may come back to bite Carolina big time in the future.
This article is
What is the duplicate article?
Why is this article offensive?
Where is this article plagiarized from?
Why is this article poorly edited?

Carolina Panthers: Like this team?