Buffalo Bills Offseason Focus, Part 1: Is Cam Newton the Answer?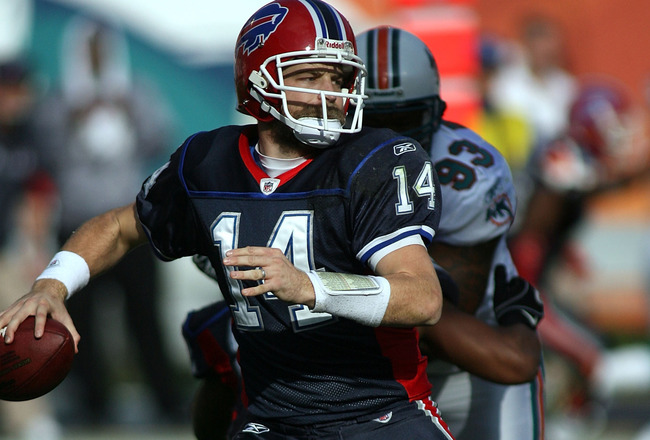 Marc Serota/Getty Images
For the 2011 Buffalo Bills, the quarterback position is one of great debate. After Trent Edwards was released, Ryan Fitzpatrick went on to pass for 3,000 yards, 23 touchdowns and 15 interceptions.
Chan Gailey made the Bills exciting to watch, despite their 4-12 record, yet fans are split regarding the quarterback situation.
As a group, the Bills quarterbacks ranked 24th in passing yards per game, averaging 197.3 yards through the air each Sunday.
The Bills front office reportedly interviewed four quarterbacks at the 2011 NFL Combine, including Colin Kaepernick, Jake Locker, Cam Newton and Andy Dalton. Surprisingly, Ryan Mallett wasn't in their sights.
Throughout the slideshow, several options for the Buffalo Bills will be displayed, from free agency, to the draft, to trades.
Free Agency?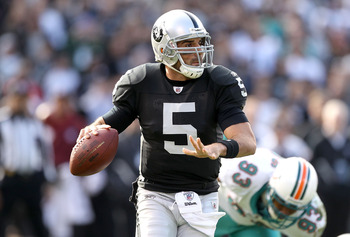 Ezra Shaw/Getty Images
Assuming the Bills opt against choosing a quarterback with their first-round pick, they will need to add a solid backup, that will additionally give competition to Ryan Fitzpatrick.
Bruce Gradkowski, Troy Smith, Alex Smith, Tarvaris Jackson and Matt Moore are the headlining free agent quarterbacks, since Peyton Manning and Michael Vick received franchise tenders.
I don't see the brass at One Bills Drive taking any of these stiffs, as Brian Brohm or Levi Brown will most likely be cut, post-training camp, when Coach Gailey decides if Fitzpatrick or another draftee will take their spot.
NFL Draft Round One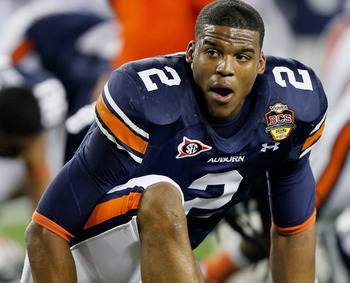 Kevin C. Cox/Getty Images
This year's class of quarterbacks is deep, and ever since Stanford standout Andrew Luck decided to stay in school, it seems like everyone and their sister are destined to be a first round pick.
As of now, the tight race is between the Heisman and BCS National Championship winner Cam Newton, out of Auburn, and Blaine Gabbert, a quarterback with unimpressive stats out of Missouri.
The only problem with selecting a quarterback with the No. 3 overall pick, is that Bills fans will be screaming for him to start from day one, and I don't see Newton or Gabbert as 100 percent NFL ready.
Buffalo's young and ineffective offensive line would lead to the demise of any rookie quarterback behind them, due to the increased speed and intensity of the game at the pro level.
NFL Draft: Colin Kaepernick Could Be the Answer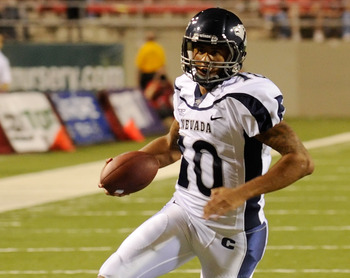 Ethan Miller/Getty Images
For the Bills, drafting a quarterback later in the draft would be the best option. There wouldn't be cries from the media and fans for him to start right away, and they would have adequate time to learn the offense, learn the ways of the NFL, and eventually take over the reigns in 2-3 seasons.
This is why the Buffalo Bills should select Nevada quarterback, Colin Kaepernick. At 6'6" and 225 pounds, Kaepernick has the ideal size for an NFL quarterback. Similar to Newton, he has a strong arm and uses his legs to gain extra yards.
Kaepernick might be the sexy pick for Coach Gailey, who ran a version of the Pistol offense that Colin ran in college. He is the only quarterback in NCAA history to pass for over 2,000 yards and rush for over 1,000 yards in three seasons.
In his four years at Nevada, Kaepernick completed 59.9 percent of his passes, throwing for 10,098 yards, 82 touchdowns to just 24 interceptions, while adding another 4,112 yards on the ground, scoring 75 touchdowns.
Other Notable Late Round Picks:
Andy Dalton (TCU), Ryan Mallet (ARK), Christian Ponder (FSU)
Trades Anyone?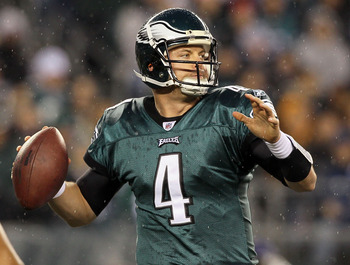 Jim McIsaac/Getty Images
The Philadelphia Eagles parted ways with Donovan McNabb last year, with hopes that Kevin Kolb would lead the franchise to a Super Bowl.
Instead, when Kolb was injured in the first game of the year, Michael Vick was thrown in, and performed like a star.
The Eagles will be seeking in the range of a second-round draft pick plus a quality player for Kolb, who has thrown 11 touchdowns and 14 interceptions in his limited playing time.
His statistics aren't flattering, but he completed over 60 percent of his passes, and has studied under Donovan McNabb and Michael Vick, while his game experience puts him ahead of the curve.
Adding Kevin Kolb would not only bring a level of competition to Ryan Fitzpatrick, but he could eventually earn the starting job and become an elite quarterback in the National Football League
What Do You Think?
Rick Stewart/Getty Images
Chan Gailey and Buddy Nix have worked with premiere quarterbacks at almost every stop they have been. I don't expect them to change this any time soon. The question is, when will we have another franchise quarterback?
Jim Kelly is 50, and we haven't had one since he left. Pretty sad.
What do you guys hope the Bills do this offseason?
Keep Reading

Buffalo Bills: Like this team?