MLB Power Rankings: All 30 Teams from Worst to Best Going into 2011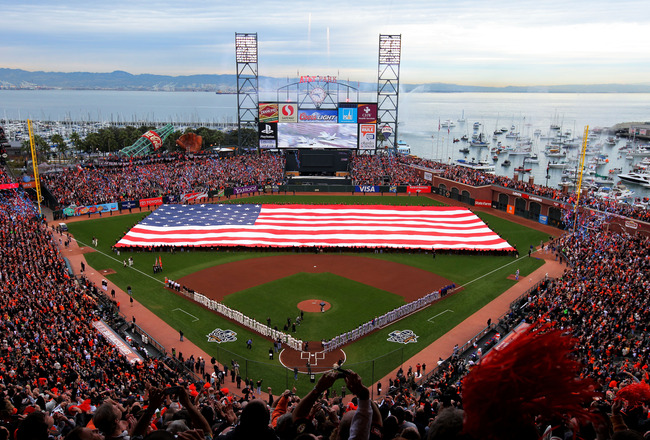 Doug Pensinger/Getty Images
I wish the season would start already.
To give you an idea of how desperate I have been for baseball; pre-season baseball has been the highlight of my month. I have watched countless recaps of pre-season games, and now I am aching for the regular season.
Many people believe that the season ends after the final pitch of the World Series, however I, and many other baseball fanatics alike, know that the season continues even after the World Champions are crowned.
It has been a busy off-season for many teams, and now that spring training is finally in motion, the Opening Day line-ups for each team are getting clearer and clearer, and you know what that means?
Time to power rank this years 30 franchises, enjoy!
30. Pittsburgh Pirates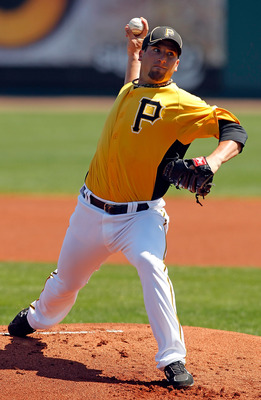 J. Meric/Getty Images
Quick! Name 10 players on the Pirates; that's right you can't, and I do not blame you for not knowing.
Sure the Pirates have some young rising stars like Andrew McCutchen, Neil Walker, Pedro Alvarez, and Jose Tabata, but their rotation is beyond mediocre, and their bullpen is also quite pathetic.
Last year, the Pirates went 57-105 in the regular season. Over the past few months, they have made no notable acquisitions, so their team has not improved for squat.
Look for these guys at the bottom of the standings where they have developed a nice and frequent home for themselves the past four years.
29. Kansas City Royals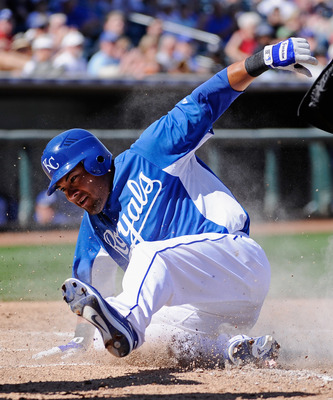 Kevork Djansezian/Getty Images
The Kansas City Royals are also very difficult when it comes to naming their starters. Royals fans are probably more familiar with top Royals' prospects Mike Moustakas, Eric Hosmer, Mike Montgomery, Wil Myers, John Lamb, and Jake Odorizzi than they are with the starters.
Now although all these top prospect names look attractive, only two or three of them will see the light of a Major League stadium as a starter this season.
Last season, the Royals went a measly 67-95. This off-season, the Royals traded away 2009 Cy Young award winner Zack Greinke to the Milwaukee Brewers for young players like Alcides Escobar, Lorenzo Cain, and pitching prospect Jeremy Jeffress. Both Lorenzo Cain and Alcides Escobar are scheduled to start Opening Day for the Royals, and sad as it may be, they are two of the top offensive threats on the team.
The only other offensive life on the team is from the bats of Jeff Francoer who looks lost at the plate, and offensive stud Billy Butler. Butler has truly emerged as an offensive threat the past two seasons and he is looking to continue his offensive success in 2011.
Moving onto pitching, the Royals' rotation lacks an ace, however the bullpen possesses a gem in closer Joakim Soria. In his four seasons in the Majors, he has pitched flawlessly, but unfortunately for the Royals, Soria will not be able to pitch every inning in every game.
Overview: The Royals are ranked above the Pirates because they have a better bullpen, and rotation (not that it means anything). Pittsburgh's offense can be better than the Royals' offense on any given day, but it can go either way.
28. Washington Nationals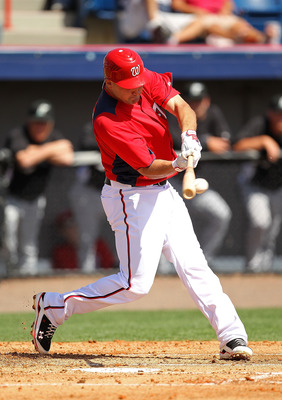 Mike Ehrmann/Getty Images
Many writers have been buzzing about the chances of the Nationals being a fourth place team in the NL East. The chances are very slim, for the Nationals are not quite ready to spread their wings and fly away from their fifth place sorrows.
In the past two MLB Amateur Drafts, the Nationals have selected and signed the number one overall picks. The former pick is starting pitcher phenomenon Stephen Strasburg who is currently suffering from Tommy John surgery.
The latter pick is top prospect, outfielder Bryce Harper who is reportedly starting the season in the Minor Leagues, and chances are he will probably be there for awhile. Not so bad for an 18-year old though.
In the 2010 regular season, the Nationals went 69-93. In the off-season, they lost one of their MVP's in Adam Dunn as he signed with the White Sox, however, they remedied the pain by signing star outfielder Jayson Werth to a seven-year $126 million contract. They even replaced Dunn with first baseman Adam LaRoche who hit 25 home runs and 100 RBI's last season.
Additionally, their offense consists of young players such as Nyjer Morgan, Ian Desmond, Nationals star third-baseman Ryan Zimmerman, Danny Espinosa, Roger Bernadina, and even veteran Ivan Rodriguez starting in the catcher position.
Their pitching is their main source of agony. Their projected Opening Day starter is veteran Livan Hernandez who went 10-12 with a 3.66 ERA. The rest of their rotation consists of below average pitchers such as Jason Marquis, Jordan Zimmerman, and Jon Lannan.
The Nationals' bullpen might perform at a surprisingly good level this season with young closer Drew Storen on the rise. Also middle relievers Sean Burnett, and Tyler Clippard could carry their 2010 lights-out performances into 2011.
Overview: The Nationals are ranked above the Royals because they have a more solid, reliable offense, a better rotation, and a more balanced bullpen.
27. Arizona Diamondbacks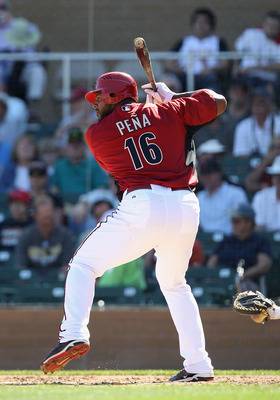 Christian Petersen/Getty Images
Lets start by giving the Diamondbacks a congratulations on breaking the all-time team strike-out record, 1,529 strikeouts is deserving of recognition.
Many D-Backs fans dealt with excessive stress this off-season powered by GM Kevin Towers due to his active advertisements of trading away imperative players like Justin Upton and Stephen Drew.
To everyone's relief, the two young stars are still on the team, and they are both expected to break-out this season.
Last season, the D-Backs went a disappointing 65-97. Justin Upton had followed up his stellar 2009 season with a slumping performance that still has fans wondering whether he will look like the 2009 Upton or 2010 Upton this coming season.
As for Stephen Drew, his bat continues to work at a sufficient level, however he is capable of hitting for better numbers.
The rest of the offense is very powerful; even with the loss of power hitting Mark Reynolds, the D-Backs still posses powerful and productive batters like Xavier Nady, Chris Young, Miguel Montero, Kelly Johnson, and Melvin Mora.
As for the pitching, Ian Kennedy and Daniel Hudson lead a below average rotation, and an inconsistent J.J. Putz heads a pathetic bullpen. Relief pitching is one necessity that the D-Backs do not have.
Overview: The D-Backs are ranked over the Nationals because their offense is a lot more powerful and productive. The rotation is also more solid than the rotation of the Nationals, however, the Nats have a bit of an edge in the bullpen.
26. Cleveland Indians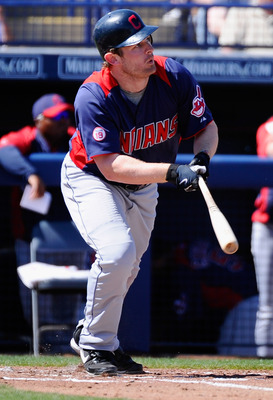 Kevork Djansezian/Getty Images
Its tough in the world of Cleveland sports. The Cleveland Cavaliers are still suffering from the loss of Lebron James, the Cleveland Browns have not touched the playoffs since 2002, and Cleveland does not even have a hockey team. The Cleveland sorrows have cursed the Indians as well.
The Indians have not made a playoff appearance since the year 2007 when they fell to the Boston Red Sox who went on to win the World Series. The Indians still do not look like playoff contenders.
Last season, the Indians went 69-93. The Indians did not make many significant changes to the team this past off-season, but if all goes well, the team will prove that it did not need to make any large acquisitions.
The Indians currently posses one of the most under-rated outfields when all are healthy. Shin-Soo Choo leads the outfield of under-rated players like Grady Sizemore and perhaps Michael Brantley. In the infield, young, rising catcher Carlos Santana is expected to be a top offensive threat on the Indians this coming season. Other notable offensive players are young Jason Donald, Matt LaPorta, and veteran Travis Hafner.
In the rotation, Fausto Carmona is the ace ahead of many young pitchers. In the bullpen, Chris Perez has taken the role of closer, and is expected to dominate in the position as he pitched his way to a 1.71 ERA in 63 relief appearances.
Overview: Although the rotation is not too promising, the Indians' starters are overall better than the D-Backs'. The Indians also posses a more promising bullpen and offense.
25. Seattle Mariners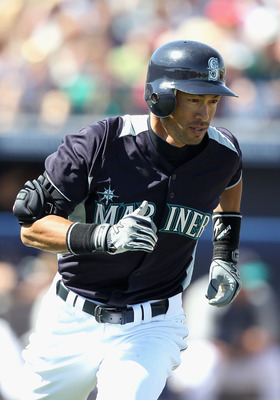 Christian Petersen/Getty Images
Last pre-season, the Seattle Mariners were predicted by many to go to the playoffs. What happened?
The team disappointed its fans last season going an awful 61-101, and now they are looking to rebound from a terrible 2010. They cannot compete without offense, and as it stands, they have none.
The Mariners still have all-star outfielder Ichiro Suzuki who will probably hit 200 times again if he stays healthy, but he is a leadoff hitter, and the leadoff hitter will not be the one driving in runs.
The offense on this team is still horrendous, even with up and coming young star Justin Smoak on the rise.
Now Safeco Park does not make it any easier for these hitters to perform well, but it definitely helps out pitchers; too bad the Mariners only have one solid pitcher. Reigning Cy Young award winner Felix Hernandez is the only stud in an otherwise average rotation.
He is assisted in the bullpen by closer David Aardsma who has developed into a top-of-the-line closer in the past two years, however he is still recovering from hip surgery. The rest of the bullpen is average, but even if the pitching on this team was better, they still would not earn any wins to show for it due to the offense, or lack thereof.
Overview: Both the Mariners and Indians play in pitcher's ballparks, so in terms of pitching, Seattle has the edge with Felix Hernandez and other average pitchers. They also have a proven closer, unlike the Indians who have Chris Perez; he has never been a closer in the Majors and lacks closing experience. In terms of offense, both teams are pretty even.
24. Houston Astros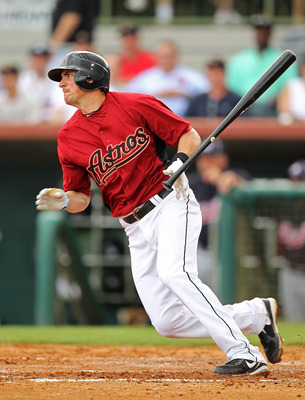 Mike Ehrmann/Getty Images
I am still trying to get used to this team without starting pitcher and Astros icon, Roy Oswalt. He was traded to the Phillies to help make the team younger, and so that is how they stumbled upon J.A Happ.
Happ is a talented pitcher who shifts with other talented pitchers like ace Wandy Rodriguez, former Phillie Brett Myers, and even former Phillie Nelson Figueroa. These pitchers form an above average rotation; a rotation plagued with poor run support.
Last season, the Astros went 76-86. The most consistent hitter on the team was former rookie third baseman Chris Johnson ( .308/.337/.481) who appeared in just 94 games total. Other notable offensive players are Michael Bourn ( .265/.341/.346), Hunter Pence ( .282/.325/.461), former rookie and talented hopeful Brett Wallace ( .222/.296/.319), and the franchise icon Carlos Lee ( .246/.291/.417).
The Astros' bullpen features closer Brandon Lyon who saved 20 games in 22 opportunities, and middle relievers Alberto Arias who had a 3.35 ERA, and Wilton Lopez who pitched his way to a 2.96 ERA.
Overview: The Astros a ranked higher than the Mariners because they have a more balanced rotation, and a more productive offense. Both team's bullpens are about even, but the Mariners have a bit of an edge with closer David Aardsma who just recovered from hip surgery.
23. New York Mets
Marc Serota/Getty Images
The Mets have always found ways to lose games. The past four seasons, the Mets have missed the playoffs due to the dominant rise of a Philadelphia empire, and the powerful forces of the Florida Marlins and Atlanta Braves.
Last season, the Mets came in fourth place for the second straight year, posting a 79-83 record. Unfortunately for the Mets, it appears that the Mets are once again destined for a spot in fourth place.
When healthy, the Mets have one of the best teams in the Majors, but due to past experiences, no one should expect the Mets to go a season without injuries. Carlos Beltran has already been reported to have left knee tendinitis.
In 2009, the Mets played their first game in their new stadium Citi Field. The stadium is largely recognized as a very good pitchers ballpark, so an offense like the Mets' does not have it easy.
The starting pitchers truly emerged last season as knuckle ball hurler R.A. Dickey, Mike Pelfrey, and Johan Santana, who is recovering from shoulder surgery, used Citi Field to their advantage to help establish a good name for themselves in the pitching world.
In the bullpen, Francisco Rodriguez (K-Rod) remains the established closer for the Mets. The Mets took a hit in the bullpen with the loss of Pedro Feliciano, the Mets franchise record breaker for relief appearances in a season. Even with the loss, however, the Mets still have reliable relievers such as Manny Acosta and Bobby Parnell o name a few.
Overview: The Mets are ranked higher than the Astros because they have better hitting, more dominant pitching, and a more balanced bullpen. For the Mets, it is just a matter of staying healthy.
22. Tampa Bay Rays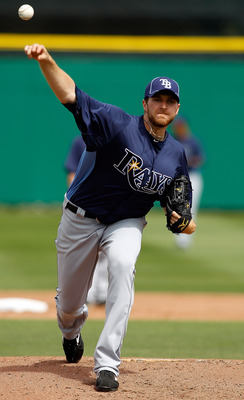 J. Meric/Getty Images
The Tampa Bay Rays had a bad offseason. They lost Carl Crawford, Rafael Soriano, Jason Bartlett, and Matt Garza. Luckily, they were able to net deals with outfielder Johnny Damon, and DH Manny Ramirez. Even with these acquisitions, the Rays are not the same team.
Last season the Rays went an impressive 96-66 and captured the AL East title. However, they were led by all-star outfielder Carl Crawford and by closer Rafael Soriano who led MLB in saves with 45. Now they lost their top closer and have replaced him with J.P Howell who maintained a 2.84 ERA; very good, but not Soriano good.
The offense lost productivity and good baserunning with the loss of Crawford and Bartlett, however Johnny Damon will make up for some of the lost productivity, and Ramirez can add some pop to the middle of the lineup.
The starting pitching on this team is very young and talented. The rotation is led by Cy Young hopeful David Price (age 25), and features youngsters Wade Davis (age 25), and rookie of the year hopeful Jeremy Hellickson (age 23). Other notable starters are James Shields and Jeff Niemann.
The Rays' bullpen features some average relievers like J.P Howell, Joel Peralta, and Kyle Fransworth.
Overview: The Rays top the Mets because they do not have nearly as many injury threats, and their rotation is overall better. The Mets have a better offense when healthy, and both team's bullpens are on a similar level.
21. Toronto Blue Jays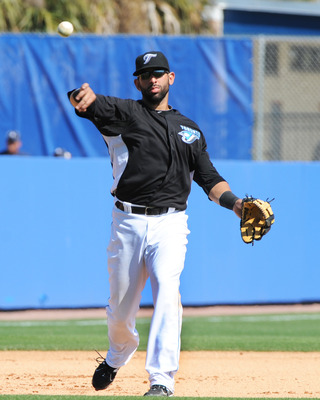 Al Messerschmidt/Getty Images
Last season the Blue Jays finished with an 85-77 record. They were by far the most powerful team as they led all of baseball with 257 team home runs.
Much like the Rays, the Jays took a hit in the outfield as they gave up team icon Vernon Wells.
Coming into 2011, the Jays have a tough road ahead in the AL East, as the division is more powerful than ever. This means that infielders Adam Lind and Aaron Hill need to come-back from off years; it means that Jose Bautista needs to hit 54 home runs again; it means that the rotation needs to once again be a dominating quality about this club; and it would also help if rookie J.P Arencibia came out of his shell this year and played like a big leaguer.
The rotation is definitely the most attractive characteristic on this team. Youngsters like Brandon Morrow (age 26), Ricky Romero (age 26), Brett Cecil (age 24), and rookie Kyle Drabek (age 23) structures potentially one of the most dominant rotations in baseball.
The bullpen is also very nicely structured, although there is no set closer as of now, but that will change as spring training nears an end. The bullpen consists of pitchers who all have closing experience like former Pirates closer Octavio Dotel, former Twins closer Jon Rauch, former Rangers closer Frank Francisco, and former Blue Jays closer Jason Frasor.
Overview: The Toronto Blue Jays rotation is more balanced than the Rays rotation, their bullpen is more experienced, and the offense is more powerful. One of the most important thing for the Blue Jays this upcoming season is for Aaron Hill and Adam Lind to return to their former selves.
20. Los Angeles Dodgers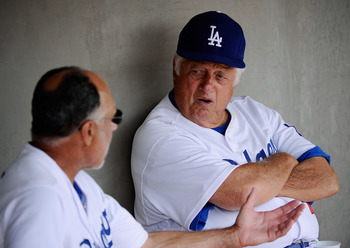 Kevork Djansezian/Getty Images
They went from two appearances in the NLCS to a fourth place team in the NL West with a 80-82 record. This team has swiftly declined from a playoff contender, to a below .500 team.
Last season, Andre Ethier led the Dodgers the first half of the season and was the MVP favorite, but he suffered an injury and was not the same after. in 2011, Ethier needs to lead an offense that consists of Matt Kemp, Marcus Thames, James Loney, and Rafael Furcal. Matt Kemp also has all eyes on him to rebound from a rough 2010 season.
The starting rotation and bullpen, however, do not need much improving. The rotation contains pitching star Clayton Kershaw, Chad Billingsley, Ted Lilly, Hiroki Kuroda, and Jon Garland. The bullpen consists of powerful closer Jonathan Broxton, lights out set-up man Hong-Chih Kuo, and solid middle relievers Matt Guerrier and Kenley Jansen.
Overview: Although the Dodgers' offense is very similar to the Jays, the Dodgers have a better, experienced rotation, and a more solid bullpen.
19. Oakland Athletics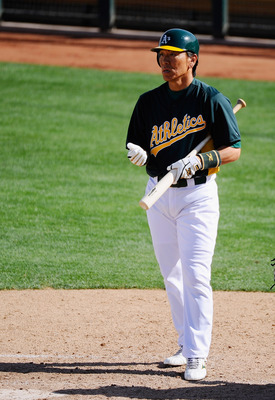 Kevork Djansezian/Getty Images
Last season the Oakland A's went 81-81. Their offense had troubled them 2010, and despite having the best young rotation in the Majors, the A's could not pass the Rangers on their journey to October.
This offseason, the A's attempted to increase their offense by adding David DeJesus and Josh Willingham. This will provide the team with more consistent offense and some pop in 2011.
Now, although there are batters on the team that strike fear into pitchers when they stand at the plate, there are not many weak spots in the lineup, and almost every starter can hit.
In terms of pitching, the A's rotation has the potential to be the best in the American League. With young starters like Dallas Braden who pitched a perfect game last season, Gio Gonzalez, Brett Anderson, and all-star Trevor Cahill, the sky is the limit for this talented rotation.
The bullpen also contains a talented youngster, 2009 AL ROY Andrew Bailey. Bailey the closer saved 25 games last year while maintaining a 1.47 ERA. Other players in the bullpen are former save leader Brian Fuentes, Grant Balfour, and Craig Breslow.
Overview: The Oakland A's have a more balanced lineup than the Dodgers, and a better closer. The Dodgers may have more depth in their bullpen, and their rotation could be better or worse than the A's all depending on how well the youngsters on the A's put their game together.
18. St. Louis Cardinals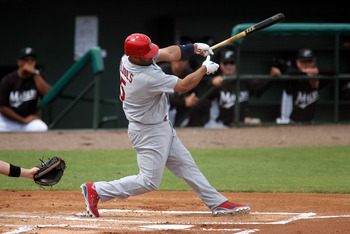 Marc Serota/Getty Images
I am sure the reaction in St. Louis, Missouri is quite bittersweet regarding three-time MVP winner Albert Pujols. The Machine is still a Cardinal, but probably for just one more year.
The Cards finished with a 86-76 record last season, and going into the 2011 season, the offense looks great with Pujols leading it.
Besides Albert Pujols, the team is also led by slugger Matt Holliday who hit .312 with 28 home runs and 103 RBI's. Other notable players are former rookies David Freese and Jon Jay, developing star Colby Rasmus, Lance Berkman, and Yadier Molina. The offense looks very promising this coming season, now onto the pitching.
Adam Wainwright is out for the season because he is having Tommy John surgery. It is never good news when you lose your ace for a season, especially when he plays like Wainwright does. Now that leaves 2005 Cy Young award winner Chris Carpenter to lead a rotation that consists of rising star Jaime Garcia, and Jake Westbrook.
The bullpen is no better as closer Ryan Franklin finished last season with 27 saves while maintaining a 3.46 ERA. The only reliever with an ERA under three is Jason Motte (2.23).
Overview: The Cards' offense completely overpowers the Athletics' offense, however, I would take the A's rotation and bullpen over the Cards pitching anyday (unless Carpenter is pitching of course).
17. Chicago Cubs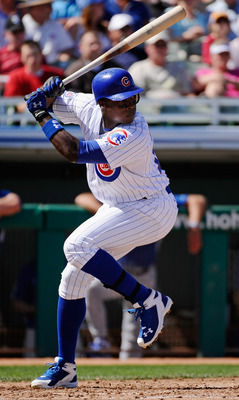 Kevork Djansezian/Getty Images
I know what you are thinking. Every year the Cubs are in talks about contending, and for the past few years, they fell through.
Last season the Cubs finished the regular season going 75-87. What differs this years Cubs from lasts is a few things. One, Aramis Ramirez is back and healthy, hopefully it will stay that way. Two, Starlin Castro is past the rookie stage and is entering the big stage where he needs to step up. Three, Carlos Pena is at first base, not Derrek Lee.
The offense on this team has the potential to score many runs, and the potential for the pitching is no different. Ryan Dempster, Matt Garza, Carlos Zambrano, Randy Wells, and Carlos Silva all can be above average pitchers.
Also expecting to have a great season, is closer Carlos Marmol. He is looking great after saving 38 games while maintaining a 2.55 ERA. Other notable relievers are Kerry Wood and Sean Marshall who both had decent 2010 seasons and are looking to step it up in 2011.
Overview: The Cubs offense may not have as many superstars as the Cards, but they have a very balanced lineup that can be just as effective offensively. The Cubs rotation and bullpen also gets the edge over the Cards pitching.
16. Florida Marlins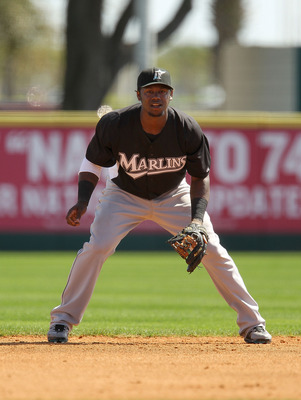 Mike Ehrmann/Getty Images
The Marlins have become one of the younger elite teams in the Majors, however, they are yet to peak into a contending team.
Last season the Marlins finished third in the NL East going 80-82. The three Marlins rookies, Gaby Sanchez, Logan Morrison and Mike Stanton shined in their first seasons with the club and presented skills that show much promise for the years to come.
Although the Marlins traded away slugging second baseman Dan Uggla, Omar Infante definitely serves as a worthy replacement. He will add consistency in the lineup with his high batting average.
Other notable batters are 2009 ROY award winner Chris Coghlan and powerful catcher John Buck. Mix it all together with star shortstop Hanley Ramirez and you have quite an offense.
Their rotation is something to watch however, as ace Josh Johnson just recovered from injury, Ricky Nolasco is in a two-year slump, and Javier Vasquez is coming off a rough season with the New York Yankees.
As for the bullpen, players like Leo Nunez (closer), Clay Hensley (reliever), and Mike Dunn (reliever) dominate hitters in the late innings.
Overview: The Marlins are ranked higher than the Cubs because their offense is more balanced and all-aroundmore productive. The Cubs rotation has an edge due to their depth. The two bullpens are about even.
15. Baltimore Orioles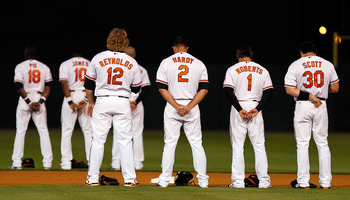 J. Meric/Getty Images
Now that we are at the upper half of the rankings, all of the following teams are potential contenders.
Back to the rankings; why are the Orioles so high this coming season?
Is it due to the skill of players like Nick Markakis, Adam Jones, Luke Scott, and Brian Roberts? Is it the potential we see in young catcher Matt Wieters? Is it the acquisitions Mark Reynolds, Derrek Lee, J.J Hardy, Vladimir Guerrero, Kevin Gregg, and Justin Duchscherer? Yes, it is all of this!
Last season the Orioles finished the season going 66-96. Needless to say, the offense will be one of the top offenses in the Majors in 2011. The rotation is the largest flaw in this club going into 2011.
Their projected Opening Day starter is Jeremy Guthrie (4.15 career ERA). Justin Duchscherer is a solid starter when healthy, but his status can be unpredictable. Their bullpen has improved with the pickup of Kevin Gregg, but the rest of the bullpen is average.
Overview: The Orioles offense head to head can dominate almost every lineup in baseball which is why they are ranked above the Marlins, however their extreme lack of starting pitching places them lower on the list. The Marlins also have a more balanced bullpen, and more depth.
14. Colorado Rockies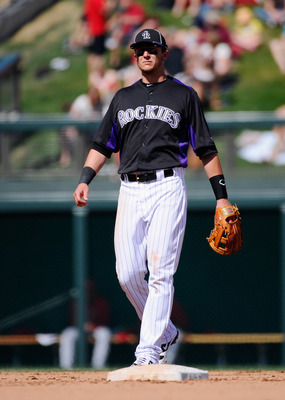 Kevork Djansezian/Getty Images
The Rockies are never left out of playoff talks. They always seem to get hot at the right time.
Last season the Rockies missed out on the playoffs finishing with a 83-79 record. For the entire regular season, first place in the NL West was open to anyone. The Rockies capped off their season with a hot September, but sadly finished behind the equally as hot San Francisco Giants and the San Diego Padres.
The Rockies offense will strive this year; not only because they play in the very hitter friendly Coors Field, but their lineup contains two of the best hitters in the Majors; Troy Tulowitzki and Carlos Gonzalez. The rest of the offense consists of speedster Dexter Fowler, veteran Todd Helton, and lefty Ian Stewart.
One has to pity the pitchers like Ubaldo Jimenez, Jorge De La Rosa, Jason Hammel, and Jhoulys Chacin because they pitch most of their games in a pitchers nightmare. When one factors that in to the equation, Ubaldo Jimenez's accomplishments last season look all the more impressive. All four pitchers are either average or above average, but most of their numbers are plagued by the curse of Coors Field.
The bullpen consists of 2005 ROY award winner and closer Huston Street, Matt Belisle, and Rafael Betancourt. The bullpen just lacks depth, but that might be the team's only flaw.
Overview: Although Baltimore possesses a better offense, Colorado's is not too far behind. The Rockies also have a much more solid rotation. Their bullpen's are just about even.
13. Detroit Tigers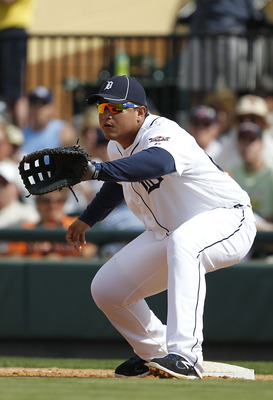 Leon Halip/Getty Images
The Detroit Tigers are in a tough division. In the AL Central, first place belongs to no one. This season, there are three main contenders for the first place slot in the AL Central; the Tigers, the Chicago White Sox, and the Minnesota Twins. The Tigers are the worst of the three.
Last season the Tigers finished in third place going 81-81. Their offense contains one of, if not, the best hitter in the American League; Miguel Cabrera. He now leads an offense consisting of catcher/first baseman/DH Victor Martinez, Carlos Guillen, Brandon Inge, Magglio Ordonez, Austin Jackson, Ryan Raburn, and Brenan Boesch. Raburn is expected to have an especially good year because he will start every game in 2011.
The rotation definitely compliments the offense. Strikeout artist and power pitcher Justin Verlander leads a rotation of pitchers like Max Scherzer, Rick Porcello, Phil Coke, and Brad Penny. The rotation has very good depth; the bullpen is quite similar.
Jose Valverde closes the games very well for the Tigers, and relievers Joaquin Benoit and Joel Zumaya can blow away batters.
Overview: Both the Tigers rotation and offense, and the Rockies rotation and offense are quite similar. The Tigers offense may have an edge due to their DH, and their rotation is overall more balanced than that of the Rockies. Comparing their bullpen's, Detroit wins by a medium sized margin.
12. Los Angeles Angels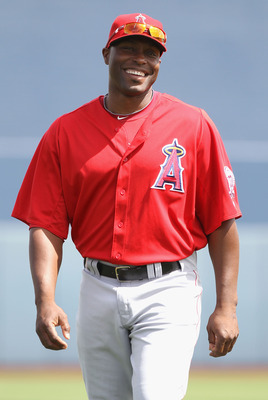 Christian Petersen/Getty Images
The Angels had a tough time following their 2009 performance after going 97-65. In 2010, they finished the regular season in third place with a record of 80-82.
This past offseason, the Angels were dedicated to becoming contenders once again and making the correct moves to put them in that position. Weeks had passed and no moves were made, but eventually, the Angels traded for star Toronto Blue Jays outfielder Vernon Wells.
Wells was added to an offense that already consisted of Torii Hunter, Kendry Morales, Howie kendrick, Erick Aybar, and Bobby Abreu. The Angels also have young hopeful Peter Bourjos starting in center field, and down in the Minors the Angels have number one prospect Mike Trout according to Baseball America, but he might not be promoted to the Bigs this season.
In the Angels' rotation, starters Jered Weaver, Dan Haren, Ervin Santana, Joel Pineiro, and Scott Kazmir can all pitch at a high Major League level. This rotation is one of the best 1-5's in all of baseball.
This past offseason, the Angels were seeking bullpen depth, so they signed lefty reliever Scott Downs to help balance their bullpen. Now if closer Fernando Rodney can step up his game this coming season, then Downs and he can be a lights out closer-set-up man duo.
Overview: The Angels are placed above the Tigers because they have better pitching deeper in the rotation, and a better offense, however, the Tigers have a much better, more balanced bullpen.
11. San Diego Padres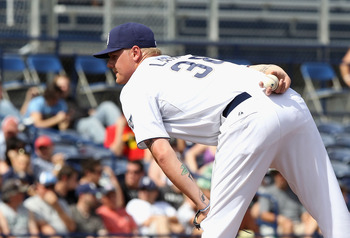 Christian Petersen/Getty Images
When I looked at the Padres' depth chart, I was pleasantly surprised. I had believed up until then that the Padres were screwed in 2011 for trading away Adrian Gonzalez, but it turns out that they recovered quite nicely and they have a very balanced offense, great pitching depth, and a solid bullpen.
Last season, the Pads went 90-72 in the regular season. They were not supposed to come anywhere above fourth place last season, but players broke out at the right time, and the Padres had a good, low budget team; they still do.
The Padres made very safe, but brilliant acquisitions this past offseason that might just keep them on top. After the Padres traded away Adrian Gonzalez, they signed Brad Hawpe to a one year deal, so he could cover first base in 2011. Brad did struggle in 2010, but he is still a proven solid offensive player and he could revive his career in San Diego.
Other notable offensive players are second baseman Orlando Hudson, shortstop Jason Bartlett (another solid acquisition), Chase Headley, Ryan Ludwick, and the speedy outfielders Cameron Maybin and Will Venable. To add to all of that, they even have Jorge Cantu on the bench just in case. That's tight defense in a pitchers ballpark with great pitchers.
These pitchers are Mat Latos who had an outstanding breakout season in 2010, Clayton Richard (3.75 ERA), Tim Stauffer (1.85 ERA, 32 games, seven starts), and veteran Aaron Harang.
The Padres' bullpen consists of star closer Heath Bell, and lights out relievers Luke Gregerson (3.22 ERA), Mike Adams (1.76 ERA), Joe Thatcher (1.29 ERA), and Ernesto Frieri (1.71 ERA). That bulpen can do some serious damage.
Overview: The Padres are ranked above the Angels because of the quality and balance of their rotation, and their monstrous bullpen. The Angels have a better, more productive offense, but the Padres still have a balanced lineup that will "work" very well with Petco Park.
10. Cincinnati Reds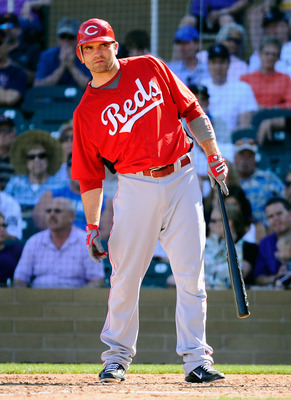 Kevork Djansezian/Getty Images
Ever since the brawl between the St. Louis Cardinals and the Cincinnati Reds, I cannot help but dislike Brandon Phillips for spazzing out and Johnny Cueto for kicking players, I mean really, you guys are professionals!
Last season, the Reds went 91-71 and led the National League in the triple crown categories for offense. This league leading offense was led by NL MVP winner and first baseman Joey Votto.
In 2011, Votto will bat in a lineup with Brandon Phillips, veteran Scott Rolen, Jay Bruce who is expected to truly breakout of his shell this coming season, the young Drew Stubbs, and Johnny Gomes. With an offense like that, it's no wonder this team led the NL in so many offensive categories.
Moving onto the pitching, this club has starters like Johnny Cueto, Edinson Volquez, Bronson Arroyo, and youngsters Homer Bailey, Travis Wood, and Mike Leake, thus giving the Reds a young, strong arsenal with tons of depth and options.
In the bullpen lies ROY hopeful Aroldis Chapman at set-up man, however he might be closing games by the end of the season, current closer Francisco Cordero, and a few other average relief pitchers which helps add balance to the Reds bullpen.
Overview: The Reds are ranked over the Padres because their offense is better by a long shot. The Padres have a better rotation, but not by much, and the Padres' bullpen has more depth.
9. Atlanta Braves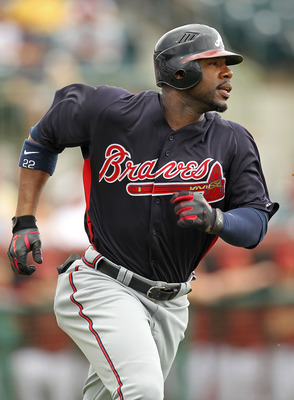 Mike Ehrmann/Getty Images
The Atlanta Braves have it all, good hitting, good pitching, and a solid young bullpen, but most players are not a sure thing.
In 2010, the Braves finished the season with a 91-71 record. Their offense consists of rookie Freddie Freeman who looks like he could make a run for ROY, power hitting second baseman Dan Uggla, the power shortstop Alex Gonzalez, veteran Chipper Jones who just recovered from an injury, catcher Brian McCann, and outfielders Martin Prado who emerged as a reliable top-of-the lineup hitter, Nate McLouth who struggled all of last season, and former rookie Jason Heyward who is looking to follow up a spectacular first season.
The rotation boasts veteran and 2010 NL comeback player of the year Tim Hudson, veteran Derek Lowe, Jair Jurrjens, emerging star Tommy Hanson, and youngsters Mike Minor and Brandon Beachy. This rotation is the perfect combination of veterans and young rising stars.
For the bullpen, rookie Craig Kimbrel will close games, and Johnny Venters, Peter Moylan, Eric O'Flaherty, and George Sherill will relieve games for the Atlanta starters.
Overview: The Braves are ranked above the Reds because they have an all-around more balanced team. Not quite as powerful of an offense, but a better rotation and bullpen.
8. Chicago White Sox
Harry How/Getty Images
The White Sox were so close to making the playoffs in 2010! In the regular season, the Sox fell short of a playoff appearance going 88-74, and they are looking to grab a spot in the October show for 2011.
The White Sox will be carried by their offense in 2011. This past offseason, the Sox signed power hitter Adam Dunn to help give them more pop in the middle of their lineup. Now to compliment Dunn is the equally powerful Paul Konerko, young rising star Gordon Beckham, utility infielder Alexei Ramirez, youngster Brent Morel, speedster Juan Pierre, five-tool weapon Alex Rios, and powerful veteran Carlos Quentin.
Konerko is coming off an MVP-caliber season and is looking to carry his 2010 successes into 2011. Adam Dunn will be a brilliant appetizer for a main course of Alex Rios. The Sox's offense is looking spectacular, and the pitching can be just as spectacular if they play their cards right.
The rotation consists of ace Mark Buehrle (career 3.85 ERA), Edwin Jackson (2 straight year of 200+ innings), John Danks who is young and progressing in the Majors, Gavin Floyd, and 2007 Cy Young award winner Jake Peavy who reportedly is experiencing some shoulder pain.
The rotation is not the best in baseball, but it will get the job done, especially with the offense hitting behind them. Then of course, it takes a good bullpen to preserve the pitching masterpieces that the starters have created; Chicago has that bullpen.
There currently is no set closer, however, what difference does it make when you are choosing between Matt Thornton and top-prospect Chris Sale. Whichever way it goes, they will be a light-out one-two punch in the eighth and ninth inning.
Overview: The White Sox are ranked above the Braves because they have a more powerful and productive offense. Both teams have a fantastic closer and set-up man, and both teams have great and similar rotations. The Braves offense drops them lower because Chipper Jones, Jason Heyward, Martin Prado, and Freddie Freeman are not sure things like Paul Konerko, Adam Dunn, and Alex Rios are.
7. Minnesota Twins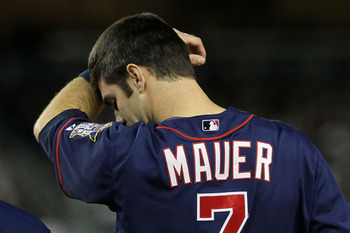 Jim McIsaac/Getty Images
For the past two seasons Minnesota has topped the AL Central, and in those two years, the Twins were eliminated from the playoffs in the NLDS. Unfortunately for the other AL Central teams, the Twins are not ready to give up their playoff spot.
Last season the Twins went 94-68. Offensively, they were led by Justin Morneau, Joe Mauer, and Delmon Young. This season the offense will be mostly familiar faces, but a few new ones too.
This past offseason, the Twins signed a huge question mark in Tsuyoshi Nishioka. He is the last player in Japan to hit 200 times since Ichiro Suzuki. God knows whether he can hit Major League pitching or not, but he should be able to keep most of his contact.
Joe Mauer is coming back from a bit of a downgrade since his MVP 2009 season, but our expectations for him are still as high as ever. Denard Span and Michael Cuddyer both compliment the lineup quite nicely, and Delmon Young is looking to repeat his success from 2010.
Former rookie Danny Valencia could breakout this coming season. He looked great at the plate last year as he bat .311 with seven home runs and 40 RBI's in only 85 games. Valencia will be a huge deciding factor regarding whether this team is better than or worse than last year's team.
The rotation had a few breakouts as well. Francisco Liriano captured the AL 2010 Comeback Player of the Year award, Carl Pavano found his arm again as he pitched his way to a 3.75 ERA, and Brian Duensing had an impressive breakout year going 10-3 with a 2.62 ERA.
The bullpen consists of Matt Capps who impressed many last year with 42 saves, and Joe Nathan who has not pitched a regular season game since 2009 which he dominated with a 2.10 ERA.
Overview: The Twins are ranked higher than the White Sox because they have a better rotation, and a better bullpen even though neither team has much bullpen depth. Although the White Sox's offense is more powerful than the Twins', the Twins' offense will still provide ample runs for their pitching.
6. Milwaukee Brewers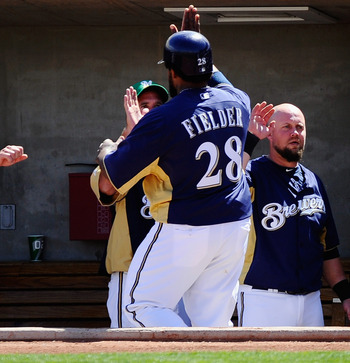 Kevork Djansezian/Getty Images
The Milwaukee Brewers have made a miraculous turnout this past offseason after going a disappointing 77-85.
The Brewers traded for both Shaun Marcum and 2009 Cy Young Award winner Zack Greinke, giving them one of the best rotations in baseball. This rotation is also complimented by Yovani Gallardo (200 strikeouts), and Randy Wolf, a solid number four starter.
This rotation will have no problems with getting run support in 2011. The lineup is filled with sluggers that can drive in runners on any given day. Prince Fielder and Ryan Braun lead an offense consisting of offensive second baseman Rickie Weeks who is fresh off a breakout season, Casey McGehee (104 RBI's), Cory Hart (32 home runs, 102 RBI's), and Carlos Gomez (18 stolen bases).
Not only does this club have one of the best rotations in baseball, but also one of the top offenses as well. Their bullpen is their only low point.
Well low compared to the rest of the team. This bullpen boasts closer John Axford who had a magnificent breakout year in 2010, Takashi Saito who is consistently dominant, Zach Braddock (2.94), and Kameron Loe (2.78).
Overview: This team has the offense, the starting pitching, and relief pitching to safely place them over the Minnesota Twins.
5. New York Yankees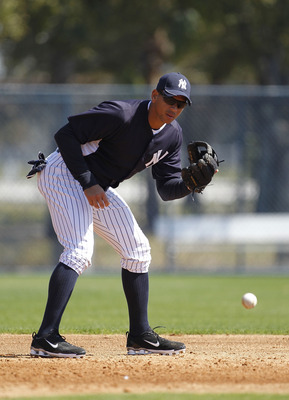 Leon Halip/Getty Images
Even with all the questions and concerns regarding the Yankees' rotation, they still deserve a spot in the top five.
Last season, the Yankees finished with a 95-67 record even with their struggling rotation. A rotation with C.C Sabathia, Phil Hughes, A.J Burnett, and Ivan Nova cannot possibly get worse than it was last season.
Javier Vasquez is gone, Sabathia is looking spectacular, Hughes is a rising star, Burnett gets another chance to redeem himself, and Ivan Nova is a young starting pitching looking to adapt to the Major League hitting. It would be very surprising to see this rotation struggle like it did last year; also there is always the very high chance that the Yankees will make an acquisition for a pitcher right before the trade deadline.
Moving on to the offense, the hitters appear to be in good shape for 2011. Derek Jeter knows where he will be playing for the next few years, so the stress of signing an extension has subsided, and Alex Rodriguez has focused on his baseball this past offseason, so he should look his best in this upcoming season.
Robinson Cano is fresh off an MVP-caliber season and is looking to follow up with another high quality season. Mark Teixeira is looking to rebound from a rough 2010 contact-wise. The outfielders Curtis Granderson, Brett Gardner, and Nick Swisher are all ready and healthy, and the Yankees just signed former all-star catcher Russell Martin, moving Jorge Posada to DH.
So the Yankees' offense is looking quite promising for 2010, and the rotation may need it, but the starting pitchers can also sigh a breath of relief, for they are in good hands for the later innings.
This past offseason, they Yankees made it a top priority to improve their bullpen; they improved it alright. To do this, they signed MLB 2010 save leader Rafael Soriano, and Mets franchise record breaker for most relief appearances in a season, Pedro Feliciano, giving them one of, if not, the best bullpen in the Majors.
Overview: The Yankees are ranked higher than the Brewers because they have a much better bullpen, better bench players, and a better offense. The Brewers starting pitching is better than the Yankees' however (no surprise there).
4. Texas Rangers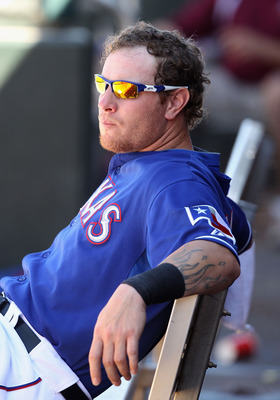 Christian Petersen/Getty Images
Many wonder whether the Rangers actually improved this offseason even with the loss of Cliff Lee. The answer is yes, yes they did.
Last season, the Rangers went 90-72. In the past offseason, the Rangers were hoping to keep starting pitcher Cliff Lee, however, he surprised the baseball world, and instead of returning to the Rangers, he flew back to Philadelphia.
Although they lost their prized possession, Texas did win a very nice consolation prize in starting pitcher Brandon Webb who missed the entire 2010 season from injury. Webb joins a rotation that includes C.J Wilson, Colby Lewis, and Tommy Hunter.
One thing many people overlook, is how well Cliff Lee actually did when he pitched in Texas. Well, he was 4-6 with a 3.98 ERA, not too solid. Brandon Webb is used to pitching in the heat (pitched in Arizona for seven years), so that will not slow him down. Webb just must be cautious with his mechanics and avoid injury; if he does that, he might even be better than Cliff Lee for Texas.
Moving onto the offense, Adrian Beltre was he deal-breaker between better or worse than last year's Rangers. Adrian Beltre proved in Boston that he can strive offensively in a hitters ballpark. Well fortunately for him, he is in one of the best hitters ballparks in the Majors.
Other offensive studs are in the lineup such as Michael Young, Ian Kinsler, Elvis Andrus, Josh Hamilton, Julio Borbon, and slugger Nelson Cruz. These players easily give Texas one of the top two offenses in baseball.
In the bullpen, 2010 AL ROY Neftali Feliz dominates in the closer position, however, he might be promoted to a starter role. Other solid relievers like Arthur Rhodes, and Darren Oliver could take the role as closer this coming season.
Overview: Of course the Rangers are ranked above the Yankees, they beat them in the ALCS this past season, don't you remember? The Rangers' offense was too much for the Yankees' pitching, and it is even safe to say that the Rangers have more depth in their rotation. As for the bullpen, it is no contest; the Yankees have the Rangers and any other team beat.
3. San Francisco Giants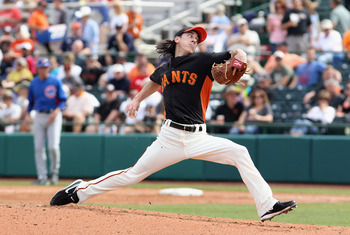 Christian Petersen/Getty Images
The San Francisco Giants had a 92-70 record, but they won the 2010 World Series, earning them the title of the best team of 2010. Guess what, it is 2011 now.
The Giants definitely had more chemistry than any other team in 2010, and they got hot when it mattered. Unfortunately, the Giants cannot play that well for an entire season, and as good as their starting pitching was, they just got hot at the right time.
Do not think I am trying to take away anything from this rotation of 2008-09 NL Cy Young award winner Tim Lincecum, Matt Cain, Jonathan Sanchez, former rookie Madison Bumgarner, and veteran Barry Zito. These starters are a top two rotation in the Majors; this World Series Champion rotation will do some serious damage in 2011.
Fortunately for San Francisco, they play in the pitcher-friendly AT&T Park, so offense does not need to be a top priority of theirs. They still made it their business, however, to structure a balanced offense that can provide proper run support for their starting pitching.
Although they lost Pat Burrell who played a huge role in the Giants' run to the World series, they still have 2010 NL ROY winner Buster Posey, slugging first baseman Aubrey Huff, Freddy Sanchez, veteran Miguel Tejada, the "Kung Fu Panda" Pablo Sandoval, and rising star Andres Torres (43 doubles).
The superior pitching does not end at the rotation, this bullpen has some of the best depth in the Majors. Brian Wilson saved 48 as the closer in 2010, and middles relievers Sergio Romo, Santiago Casilla, Javier Lopez, and Ramon Ramirez all had ERA's under three.
Overview: The Rangers and Giants both have almost identical teams since last season, and last time I checked the Giants won the World Series against the Rangers, so that alone is enough to place the Giants above the Rangers in the rankings. If that is not enough for you, then the Giants' rotation and bullpen is loads better than the Rangers'.
2. Philadelphia Phillies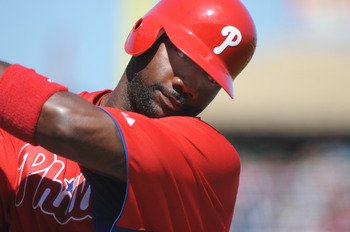 Al Messerschmidt/Getty Images
All I can say is, what a bad ending to a successful, fulfilling season! The Phillies finished last year with the best record in baseball, 97-65.
The Phillies struggled in 2010 with injuries to almost all of the everyday starters. Going into 2011, the offense is a big concern for the Phillies, even though their offense is one of the best in the game.
Slugging first baseman Ryan Howard got injured in August and was placed on the 15-day DL, but when he returned to the lineup, he was not the same. Howard dedicated his offseason to improving his swing and finding a comfortable approach at the plate, with some luck, he will find it.
In terms of injuries, all-star second baseman Chase Utley has been diagnosed with patella tendinitis, and is out indefinitely which is not a good sign for the offense. Luckily, his replacement option is very reliable in Wilson Valdez, however the Phillies could look outside of the club for a replacement (other than Luis Castillo whom they already signed).
Probably the largest hole in the lineup is in right field; the big gaping hole that Jayson Werth left in his wake. Now the options are among John Mayberry Jr., Delwyn Young, Ross Gload, and the projected starter Ben Francisco who should be able to fill the hole quite nicely, especially if he hits well with RISP (a trait that Werth neglected to do in 2010).
Other players looking to pick up where they left off in 2010 are Raul Ibanez who batted .309 with nine home runs and 44 RBI's post all-star break, and Carlos Ruiz who hit an impressive .302 in 121 games last season.
Hoping to get back on track in 2011 are outfielder Shane Victorino and shortstop Jimmy Rollins. Both are leadoff hitters who have the mindset of a power hitter and swing for the fences at-bat after at-bat. For them, more small ball equals more success.
Overall the offense is looking quite powerful, but it is the pitching that will carry this team to infinity and beyond.
The rotation that the Phillies have compiled is the best in recent memory. It consists of 2-time reigning Cy Young Award winner Roy Halladay, 2008 AL Cy Young award winner Cliff Lee whom the Phillies miraculously signed from the free agency this past offseason, career 3.18 ERA pitcher Roy Oswalt, 2008 WS MVP Cole Hamels, and the less fantastic Joe Blanton. This foursome of aces will surely dominate baseball if all remain healthy, but if they lose one to injury, no big, they still have three more.
The Phillies' bullpen also seems to be getting better. Closer Brad Lidge, after struggling greatly in 2009, came back in 2010 and finished off the last two months with a 0.73 ERA and a 0.79 ERA, respectively. The set-up man Ryan Madson was just as good toward the end of the season, and both have contract years coming up, so there is a lot at stake for the two relievers.
Overview: Although the Giants defeated the Phillies in the NLCS, the Phillies have put themselves back on top with the acquisition of Cliff Lee. When healthy, the Phillies' offense is also much more powerful and productive than the Giants'.
1. Boston Red Sox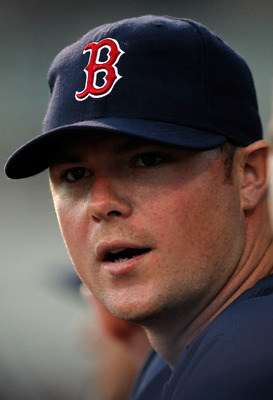 J. Meric/Getty Images
Surprised? Didn't think so. The Boston Red Sox, who went 89-73 last season, had the best, most productive offseason by far!
The Sox are in it to win it this year as they picked up all-star outfielder Carl Crawford, and slugging first baseman Adrian Gonzalez. Both teams' offensive numbers should improve this coming season, because before, both were playing in pitcher-friendly ballparks, now both play in Fenway Park; a very good hitter-ballpark.
Crawford and Gonzalez are joining an offense that already consists of great hitting stars. One for example, is Kevin Youkillis. This upcoming season, Youkillis will be playing third base because the team lost slugging third baseman Adrian Beltre, however, Youkillis who used to play at first, should be a sufficient replacement offensively.
Former AL MVP Dustin Pedroia appeared in only 75 games in 2010 due to injury, but he looked great in all of them. Now that he is healthy, he is expected to shine for the Sox, and once again be a prime offensive leader for the club. Also coming back from injury, is Jacoby Ellsbury. His speed will be a huge factor for this offense's success in 2011.
Looking to repeat his success from 2010 is DH David Ortiz. He began the season struggling, but he found his rhythm as the season progressed, and he finished batting .270 with 32 home runs and 102 RBI's.
The Sox rotation is also one of the best in the game. There seem to be no holes from numbers one to five. Ace Jon Lester had a career year striking out 225 batter in 208 innings while going 19-9 while maintaining a 3.25 ERA.
Next in the rotation is John Lackey, Josh Beckett, and Daisuke Matsuzaka, all of whom had disappointing 2010's, but all have a history of pitching very well. All three aces are expected to turn it around in 2011, and it will definitely be a deciding factor of this clubs' success as the season progresses.
The last starter on the list is Clay Buckholtz who absolutely shined in his breakout year going 17-7 while maintaining a 2.33 ERA. Buckholtz can be a very legitimate Cy Young competitor if he can repeat his success this coming season.
The bullpen seems to be the only weak link on this team. Closer Jonathan Papelbon had an off year saving only 37 out of 45 games. Set-up man Bobby Jenks whom the Sox picked up this past offseason is no more reliable as he maintained a sloppy ERA of 4.44 as a closer. The only quality reliever in this bullpen on paper is youngster Daniel Bard, and players that young can be unpredictable.
Overview: The Red Sox are ranked higher than the Phillies only by a slim margin. The Phillies have better pitching by a mile, but Boston's pitching is still one of the best. Their offense is also more reliable and there are less concerns about aging and injuries going into 2011. The Phillies, however, do have a better bullpen than the Sox.
I cannot wait for the season to start-hope you enjoyed, please comment!
Keep Reading