San Francisco Giants: A Look Back to 2010 Before Moving Forward to 2011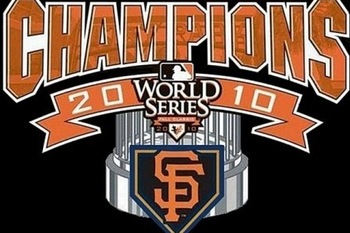 When thinking back about the year that was for the San Francisco Giants in 2010, it's all still a little surreal.
In many ways it was a dream season that will never be forgotten for most Giants fans.
Instead of writing an article focusing on the upcoming year and the Giants' chances of repeating, let's look back one more time at their incredible 2010 playoff run.
Game 1: NLDS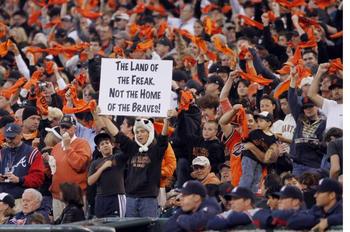 Tim Lincecum proved to the world what he could do on this night as he shutout the Braves, allowed only two hits and striking out 14.
Derek Lowe did the best he could to keep his team in the game, but it was not enough as No. 55 walked off the mound after the ninth inning, and his team now had the 1-0 series lead.
Game 3: NLDS

After the amazing Game 1, the Atlanta Braves had reclaimed control of the series when they took Game 2 in San Francisco and headed off to Atlanta with their top pitcher Tim Hudson on the mound.
Not too many gave the Giants or Jonathan Sanchez a chance (nothing new). Sanchez kept his team in the game, however, and a late lead was lost when Sergio Romo nearly cost his team the win and the series by allowing a late home run.
The Giants rallied however and with some help, came back to win the game in the ninth inning. Sergio Romo was still credited with the win.
Game 4: NLDS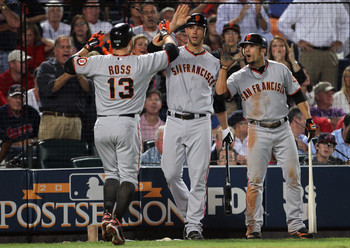 Many Giants fans would have been content with losing this game and going back to San Francisco for Game 5 with their ace taking the mound. Madison Bumgarner and Cody Ross had other plans.
Young Madison stepped up for his team and gave them a solid start. Cody Ross hit his first postseason home run and in the process broke up Derek Lowe's no-hitter.
The Braves responded with a homer of their own immediately, but eventually the Giants reclaimed the lead for good and were off to Philadelphia for the NLCS.
Game 1: NLCS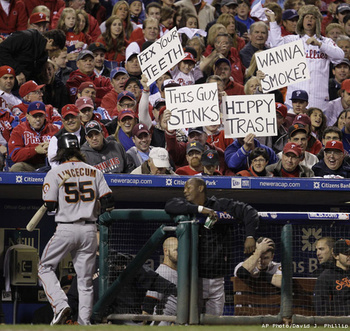 Many wondered why the Giants even bothered bringing their bats to Philly as many believed they had no chance against Halladay, Oswalt and Hamels.
The much-anticipated Game 1 matchup featured two of the best pitchers in baseball as Tim Lincecum took on Roy Halladay. Halladay was coming off his no-hitter and Lincecum was coming off his two-hitter.
Cody Ross broke up another no-hit bid by hitting a homer off of Halladay. He then hit another homer against Halladay in his next at-bat. While Lincecum wasn't nearly as good as he had been in his previous start, it was enough on this night to give his team a 1-0 advantage in the series.
Game 3: NLCS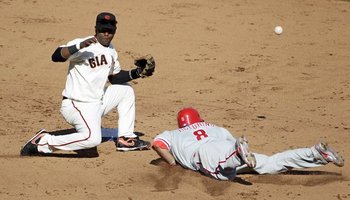 As the series moved back to San Francisco tied 1-1, Matt Cain was set to take on Cole Hamels.
Matt Cain provided more scoreless innings as the Giants defeated the second of Philadelphia's dominating trio.
Game 4: NLCS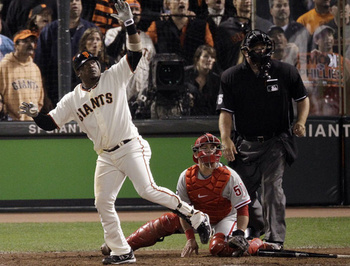 Not too many expected either Joe Blanton or Madison Bumgarner to go too long into this Game 4 matchup.
As this one started going back and forth, most of those people were right as both pitchers were pulled early. With the game all knotted up at 5 in the ninth inning, Charlie Manuel brought in Roy Oswalt and as Juan Uribe lifted a sacrifice fly to left field, the game was over.
The third dominating Philly starter was defeated, and the Giants now had a commanding 3-1 lead. Not too bad for a team that never had a chance.
Game 6: NLCS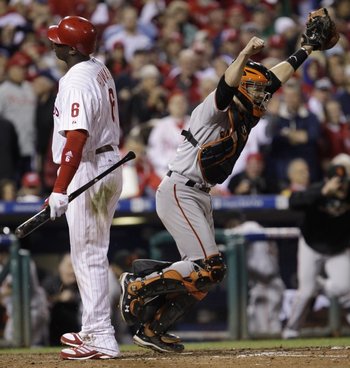 This was a defining game that will not be forgotten anytime soon. The crowd in Philadelphia that night was very tense and hostile, and it rubbed off on the players as Jonathan Sanchez and Chase Utley made their benches clear as madness was sure to follow.
Things did not get out of hand and the near-brawl ended up being exactly the shot of energy the Giants needed.
The Phillies jumped to an early 2-0 lead on Sanchez, and as the fiery pitcher was ejected, things were not looking too good for the Giants. Jeremy Affeldt entered the game and quickly settled things down as he provided two important innings of relief for the Giants.
Bumgarner followed out of the bullpen with two scoreless innings, and in the seventh inning, the Giants fourth-straight lefty Javier Lopez was asked for another scoreless inning. He delivered and soon after so did Juan Uribe with a go-ahead solo homer.
Things began getting weird as Lincecum came out for the eighth inning. Brian Wilson quickly replaced him and with two outs in the ninth inning, Wilson struck out Ryan Howard and the Giants were headed to the World Series.
Game 1: World Series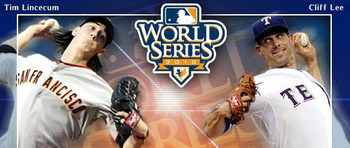 Cliff Lee was unbeatable no more as the Giants did what both the Rays and Yankees could not do: they handed Cliff Lee his first playoff loss.
The Giants knocked Lee out in the fifth inning, and the baseball world was stunned. Tim Lincecum overcame a shaky start and led his team to another Game 1 win.
Game 2: World Series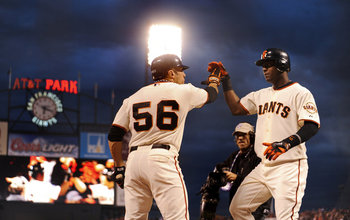 C.J. Wilson kept his team in the game for six innings, but as he was forced out of the game, the Giants broke the game wide open. Matt Cain cemented his status as one of the greatest postseason pitchers of all-time as he delivered another seven-plus scoreless innings.
The Giants defeated the Rangers 9-0 and had combined to score 20 runs in the first two World Series games.
Game 4: World Series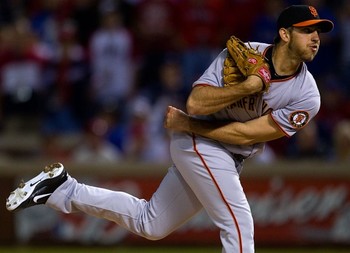 Thanks to a Rangers Game 3 win, the series was now 2-1 to the Giants, so needless to say, Game 4 was a pretty big swing game.
The Rangers had momentum, but Madison Bumgarner was having none of it and dominated the Rangers lineup for eight shut-out innings. Brian Wilson came out for a scoreless and quiet ninth inning, and just like that, the Giants were one win away from being crowned champions.
Game 5: World Series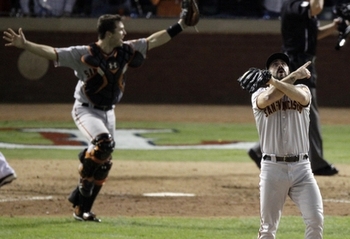 And just like that it was over. Cliff Lee officially became mortal as he fell to Tim Lincecum and the Giants once again.
Lincecum rebounded from his shaky Game 1 start and pitched eight strong innings for his team. Edgar Renteria proved to be clutch again as he hit a three-run homer off Lee late in the game.
It proved to be too much for the Rangers to overcome. Brian Wilson once again entered in the ninth and made quick work of Josh Hamilton. Wilson then struck out Nelson Cruz to end the game and clinch the World Series Title.
Epilogue: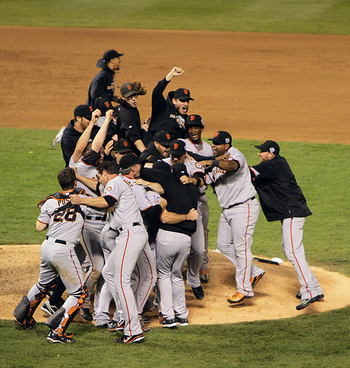 What an amazing year 2010 was for San Francisco. Whether 2011 brings a repeat or a last place finish, 2010 will remain frozen in time for many San Francisco Giants fans.
There were so many great moments and games throughout the year, remember this was only their playoff run.
As spring training draws to a close and Opening Day is upon us, the anticipation grows but before I fully invest in 2011 and look forward, I look back once more. Rejoice one more time Giants fans, no one can ever take those memories away.
Keep Reading

San Francisco Giants: Like this team?