Another Chance for a Losing Quarterback: Only in San Francisco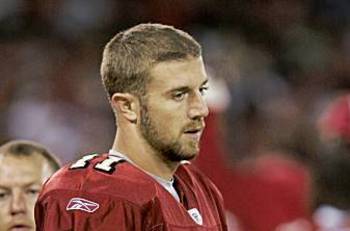 When the 49ers started the season 0-5 last year, I thought it was bittersweet. I knew the season was over, but in the back of my mind I thought at least we've finally seen the last of Alex Smith.
Or so I thought.
In the 2011 offseason, and amidst the rumors of Jim Harbaugh not burning bridges with Smith, a surprising number of fans are once again clamoring for Smith's return, one more chance. The excu-, uh, reason this time? There's actually quite a few.
1. Jim Harbaugh Is the Perfect Coach Smith Never Had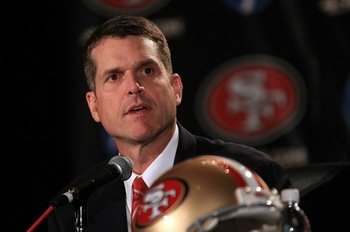 Nolan was a defensive guy; Singletary was a defensive guy, but Harbaugh is an offensive coach. Additionally, he's a QB coach with a knack for developing talent and molding passers. Josh Johnson and Andrew Luck were not the best high school recruits, yet Harbaugh saw something in them and had success in making them good QBs.
Imagine what he could do with a young and obviously talented Alex Smith.
Yet while the Niners fans clamoring for Smith try and argue how much Harbaugh can bring Smith along, they conveniently forget the excuse they have been protecting Smith with for all of these years: Smith will have to learn a completely new offense yet again.
Harbaugh may be the man with the plan, but Smith is going to have learn another new system, and potentially with a shortened offseason to do so. So why would this season be different from the others?
Are 49ers fans and management really willing to have another 6-10 or 7-9 season just so Harbaugh can develop Alex Smith?
2. With a Weak QB Class, Smith Gives the 49ers the Best Chance To Win This Year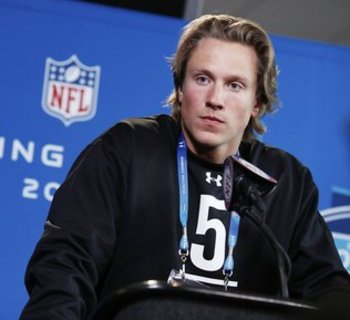 Maybe. But if Harbaugh is the mad scientist who can turn Smith around, why can't he take a Gabbert, Kaepernick, Ponder, Dalton or—dare say—a Newton, and make him into a dynamic passer?
Plus, I think the perceived "weakness" of this year's QB class is over-exaggerated because the absence of a dominant No. 1 overall pick. I think if Andrew Luck came out this year, Gabbert, Newton and Kaepernick would look a lot stronger than they do without him in the draft.
People default to Smith being the best option because of the draft class, but I think the good thing with Harbaugh is that he has the potential to get someone in the second or third round and have success developing them.
You can't say Harbaugh DOESN'T have the ability to coach a young newcomer and have success while saying he DOES have the power to turn Smith around.
3. More QB Drama in the Locker Room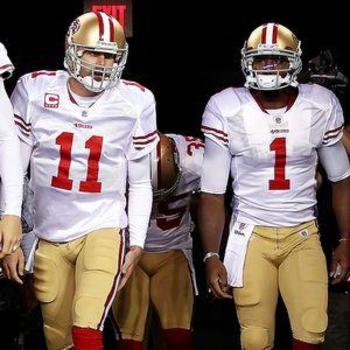 Usually, new head coaches like drafting "their guy." With the league the way it is right now, I can understand why Harbaugh doesn't want to alienate Smith, but ultimately keeping him can create a "who's going to start" drama to which we've all become accustomed.
Chances are Harbaugh is going to draft a QB this year, whether it comes in the first round or the last. And the moment Smith begins to struggle, here comes the "start the new guy" chants, especially if the 49ers still maintain their "playoff hopes" long into the season.
Can you see it: the 49ers start off 1-5 or 2-4 with Smith starting, and during the press conferences come the, "When are you going to start Ponder, Dalton, etc...?" questions.
Harbaugh may recognize talent in Smith, but he's probably also smart enough to realize the short leash he would automatically be on and the lack of confidence he has and the rest of the 49ers have in him.
What's more is that the 49ers would likely have another "QB battle" in the offseason. And who wants more of that?
4. All the 49ers Need Is a Game-Manager: You Can Win the NFC West with 8-8.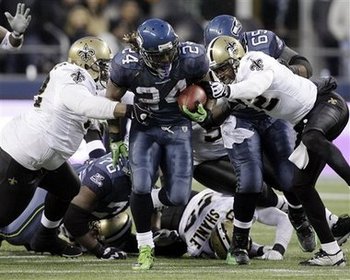 Not so fast. Although having a 7-9 division champion doesn't exactly scream "competitive division," there's a good chance that the Rams are going to do better than 7-9, 8-8 or maybe even 9-7. As 49ers fans, it was always easy to see the division as winnable. The Seahawks have been a mess, the 49ers seemed to have Arizona's number—even with Warner—and the Rams have been a joke.
But with the advent of Bradford, this division may not be as "wide open" as people think. All it takes is one legitimate QB and the abysmal Rams seem like a playoff contender. This should quell some of the talk of Smith's ability as a starting QB. Bradford took a surrounding cast that was definitely worse than the Niners'...and he turned that franchise around, giving Rams fans one less position to worry about for the future.
All the 49ers need may be a game manager...but Alex Smith has proven time and time again that he is not even efficient at doing that.
The 49ers need Smith off of the roster if they want to get better. The Alex Smith era of the 49ers needs to end.
Keep Reading

San Francisco 49ers: Like this team?