Jason Heyward or Buster Posey: Which Star Is More at Risk of 'Sophomore Slump'?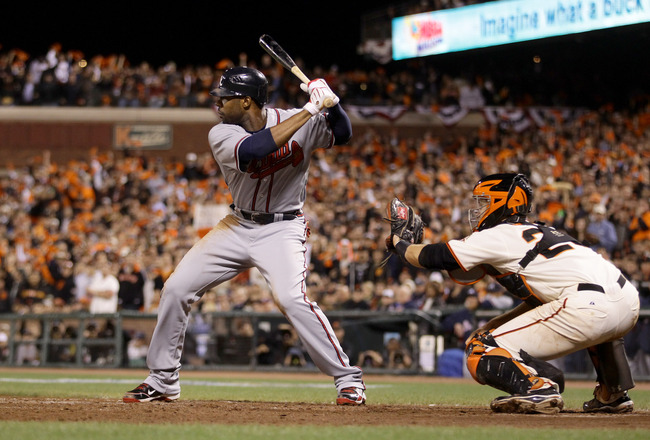 Ezra Shaw/Getty Images
Jason Heyward and Buster Posey emerged as two of baseball's brightest stars. The 21-year-old Heyward and soon-to-be 24-year-old Posey are coming into their second seasons in the majors, and both are already facing enhanced expectations.
They battled all year long for the National League Rookie of the Year Award. Heyward was awarded Baseball America's award, while Posey received it from the majority of others. Both players were deserving of the award, so it's hard to complain on who won.
They both face the possibility of a "sophomore slump" due to high expectations and their success as rookies. So in this list we will take a look at the person that is more likely to see a regression in their numbers.
So let's get on with the list.
Heyward's 2010 Season in Review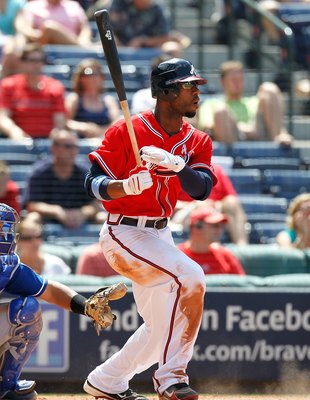 Kevin C. Cox/Getty Images
Heyward's first swing as a major league ballplayer was a 475-foot home run off of Carlos Zambrano, and the hot start didn't stop there.
Heyward was named Rookie of the Month in April after hitting with a slash line of .240/.360/.520 with six homers and 19 RBIs. He won the award mainly for his clutch hitting, as shown by his fairly high number of RBIs.
Heyward followed up his April with another Rookie of the Month award in May while improving his slash to .337/.453/.628 with four homers and another 19 RBIs.
His thumb from May 14 was felt harshly in June though, as he hit just .181 before heading to the disabled list.
Despite the setback, Heyward was selected to the All-Star game with a first-half line of .251/.366/.455, 11 homers and 45 RBI.
After coming off the disabled list, Heyward got his second half off to a rocket start, hitting .356 in his limited time in July.
Heyward seemed over the thumb from a pain standpoint in the second half, as he hit .307/.419/.457 after the break, though his power dropped as he hit just seven homers in 265 at-bats.
On the whole, Heyward's season was considered a giant success. A .277/.393/.456 line is fantastic for any player, especially a rookie. His 18 homers and 72 RBI were also impressive, even more so with the 11 stolen bases he racked up. His .393 on-base percentage ended up ranked fourth in the National League.
Posey's 2010 Season in Review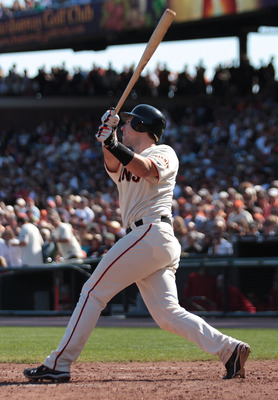 Jed Jacobsohn/Getty Images
Winning Rookie of the Year and the World Series as a 23-year-old is a dream to most people, but Posey got to live it last season. The former Golden Spikes-winning catcher had a great short 2010 season and is on his way to being on the very best players in baseball.
Posey's first full month for the Giants was June, when he hit .259/.289/.341. Needless to say he got better. His numbers in July were .417/.466/.699 with seven homers and 24 RBI.
Posey followed up his July with a solid August (.282/.327/.427), before a slow September (.256/.343/.533).
Posey really shined in the postseason though, where he hit .288/.354/.390, but raised his average up to .300 in the World Series.
All in all, Posey had a great 2010, hitting .305 with 18 homers and 67 RBI in just 108 games. He is already a great leader for the Giants and has shown great offense with being able to call pitches for perhaps the best rotation in the league.
The only negative I could find was that his average dropped after the break from .350 to .283, but this is nitpicking because of a small sample size in the first half.
Heyward's Strengths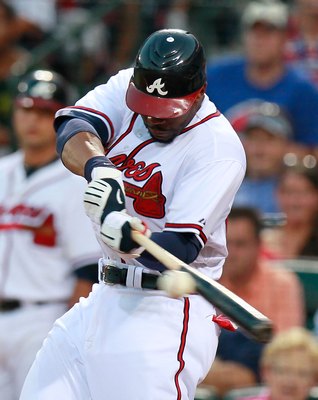 Kevin C. Cox/Getty Images
Batting Eye
Heyward's impressive on-base percentage shows the kind of approach and eye that he has at the plate. I could almost go as far as saying that at the age of 20 he may have had the greatest batting eye ever for a player that young. Heyward's eye is going to allow consistently high averages and on-base percentages.
Power
At 6'5", 240 pounds, Heyward has one of the biggest frames in all of baseball, and still has room to grow. It's not out of the question that he could get up to 250 pounds, and with that type of size he should give enormous power. Heyward is expected to be a consistent 30-35 homer guy for his career.
Speed
It's not as obvious as some of the other things he does, but he possesses above average speed that should make him a consistent 15-20 steal guy for the majority of his career with maybe the potential for about 25 for a season or two.
Defense
Heyward had the fourth highest UZR (4.8) among all right fielders last year. He also possessed the third highest range runs above average (10.5). He has the potential to be a Gold Glover at some time and should never be a hindrance on defense.
Posey's Strengths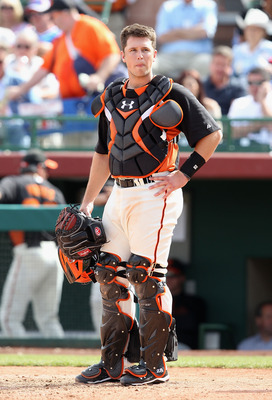 Christian Petersen/Getty Images
Average
Posey's .305 average was the second highest among all catchers with at least 300 plate appearances, with Joe Mauer being the only guy ahead of him with a .327 average. Posey should be a very consistent .300 for the majority of his career, and that includes another performance this year.
Power
Posey's 18 homers in 2010 ranked fifth among all catchers, and is a number that he should see some improvement on. Bill James has predicted him to hit 21 in 2011, and he should progress to be a 25-30 homer guy on a year-in, year-out basis.
Walk-to-Strikeout Ratio
In 2010, Posey struck out 55 times while gaining 30 walks. His 0.55 walks per strikeout is a very good number for a young player and should improve over time.
Arm Strength
As a closer at Florida State, Posey was clocked at 96 at times and he shows it off very well. He caught 23 of 62 base stealers last year.
Heyward's Most Glaring Weakness
Kevin C. Cox/Getty Images
Heyward's only true weakness is his inability to stay healthy for a full season. Every player is going to have his bumps and bruises, but Heyward seems to get the ones that can hold his performance back for a great length of time.
He had a leg injury that bothered him in 2009 along with the thumb injury that sapped a great deal of his power last season.
Injuries seem to be the only thing that can derail this guy, you have to worry that one of these smaller injuries ends up being a devastating one.
Of course, this may be a case of just freak accidents. He injured his thumb last year while sliding on a steal attempt of third base. So we can all hope that it was a one time thing during his time in the majors.
There's not really anything that I think you can you do to stop some of these nagging ones, but I'm just hoping that that is as bad as they ever get.
Posey's Most Glaring Weakness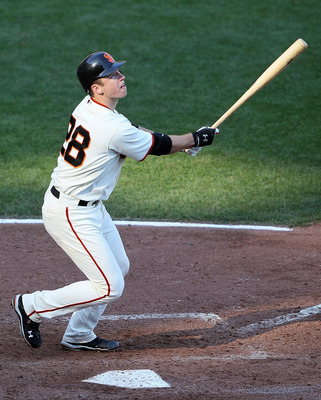 Justin Sullivan/Getty Images
The only thing that really worries me about Posey is also the one of the things that gives him outstanding value.
He is a catcher.
While this didn't affect him last year, I worry that playing 140-150 games behind the plate will wear on him during the course of a season.
This will lead to a drop in his offensive production, but you can bet that Posey will in as good a physical condition as he can be in the hopes that this won't be a problem.
This leads me to believe that he is going to play a good bit at first base this year and going forward. The Giants top focus right now should be keeping Posey as fresh as they can throughout the whole year, because he is for sure their best offensive player.
Sizing Up Heyward's Division Competition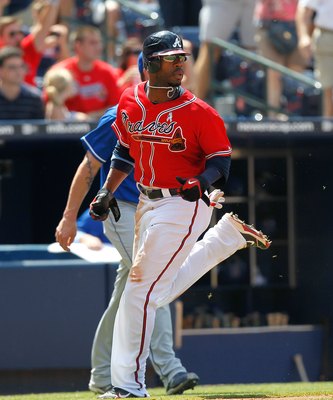 Kevin C. Cox/Getty Images
Florida Marlins
The Marlins starting rotation should include Josh Johnson, Anibal Sanchez, Ricky Nolasco, Chris Volstad and Javier Vasquez. This is an above average rotation, but it is one that Heyward hit well last year. I expect him to have continued success against this group, since it features all right-handers.
2010 Stats
.328 AVG, one homer, three RBI, .480 OBP, .414 SLG
New York Mets
Heyward put up pretty decent stats against the Mets. He should improve going forward though, as the Mets rotation is not a very good one at this point.
2010 Stats
.276 AVG, two homers, 10 RBI, .344 OBP, .448 SLG
Philadelphia Phillies
Heyward struggled mightily against this team last year. While he should improve this year, there is a chance it will still be seen as a struggle for him with their great rotation. The rotation also includes two of the best lefties in the league in Cliff Lee and Cole Hamels.
2010 Stats
.163 AVG, one homer, two RBI, .308 OBP, .279 SLG
Washington Nationals
I was surprised by Heyward's struggles against the Nats last year, but without Stephen Strasburg all year I expect his numbers to take a big jump up against them. They are one of the weaker teams in the National League, and I expect him to have success against them in 2011.
2010 Stats
.209 AVG, one homer, four RBI, .414 OBP, .302 SLG
Sizing Up Posey's Division Competition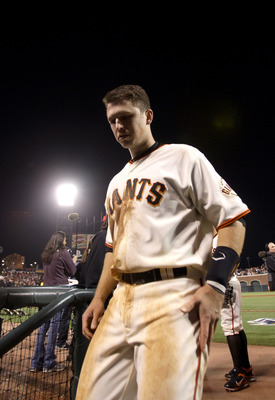 Ezra Shaw/Getty Images
Arizona Diamondbacks
The Diamondbacks were one of the worst teams in the National League in 2010, and Posey made them pay during their matchups last year. Posey raked against the division foes, and I expect it to continue in 2011.
2010 Stats
.396 AVG, one homer, nine RBI, .431 OBP, .563 SLG
Colorado Rockies
Despite having Ubaldo Jimenez as the leader of their rotation, the Rockies didn't do very well in shutting down the catcher. Posey wasn't as successful against them as he was against the Diamondbacks, but he certainly had his moments.
2010 Stats
.320 AVG, one homer, seven RBI, .414 OBP, .420 SLG
Los Angeles Dodgers
The Dodgers definitely caused Posey the most trouble in his own division, but he was by no means a slob against them. Posey should at least be able to match what he did last year against them this year, if not even improve on them.
2010 Stats
.280 AVG, two homers, seven RBI, .345 OBP, .440 SLG
San Diego Padres
Posey showed his best power against the Padres, despite having to play half of the games between the foes in spacey Petco Park. If he puts up similar numbers in 2011, they will almost surely be his favorite team to play.
2010 Stats
.282 AVG, four homers, seven RBI, .300 OBP, .615 SLG
The Verdict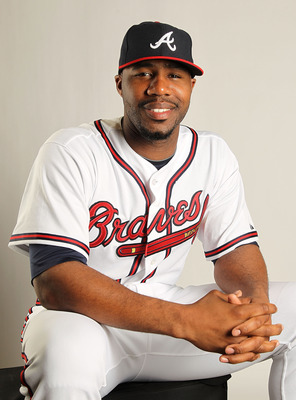 Mike Ehrmann/Getty Images
I'll start off the final slide by saying that I expect both Heyward and Posey to have very good seasons, and great careers going forward.
There must be a choice here though, and I'm going to go with Posey as the more likely one to have a "slump".
This is not a knock on Posey's talent, but rather a thought that playing catcher just about every day will wear him out at some point this season, and he could experience a fairly significant drop off in the second half due to this.
Then there is the teams that they play for. While the Giants have a great pitching staff, there offense is bad enough all-around to hurt the numbers that Posey can put up. The Braves offense should be much better and Heyward's numbers should be better because of this.
It's a stretch to call this season as a possible slump for Posey though, as I fully expect him to hit about .300 with 20 or so homers and 80 RBI, but with a rather low on base percentage from him and the reasons I gave above, his numbers could take enough of a dip to make him the loser of this race.
I would be absolutely shocked if both of these youngsters aren't on the All-Star team this year, though, and Giants fans will still be very pleased with Posey in 2011.
Keep Reading

Atlanta Braves: Like this team?