2011 Colorado Rockies: Projecting the Lineup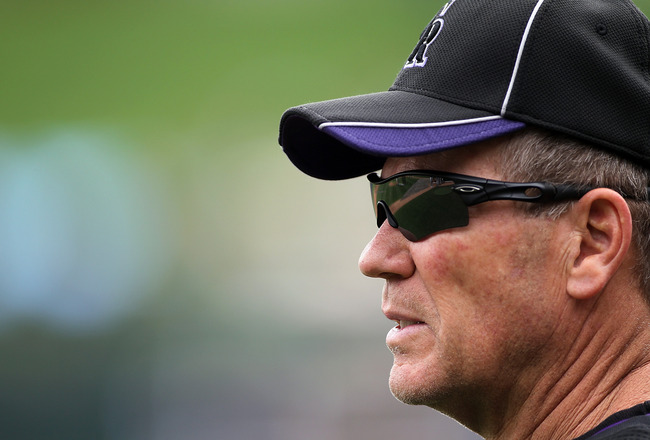 Jim Tracy
Jonathan Ferrey/Getty Images
The 2011 Colorado Rockies have a lot of potential firepower in their mostly very young lineup. Jim Tracy has yet to make a final decision on an opening day roster, but in looking at his spring training games so far, piecing a projected lineup together is getting a little easier.
The Rockies have a couple of the game's hottest bats right now and this could be a breakout year for them, which in turn could lead to a very good year for the Rockies. A few questions remain, but let's take a look at what the Rockies lineup might look like on opening day.
Dexter Fower CF: Leadoff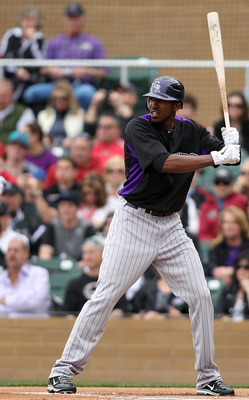 Dexter Fowler
Jonathan Ferrey/Getty Images
Fowler, who will turn 25 later in March, looks to be the Rockies leadoff batter. Manager Jim Tracy has had him in this position for most all the spring training games so far this year. In 2010, Fowler played in 132 games and ended the season with a .260 average. Fowler had 73 runs, 114 hits, 26 RBI, and six homers on the 2010 season. He may get a few days off here and there when Tracy rotates in Ryan Spilborgs during the season.
Seth Smith RF: Batting Second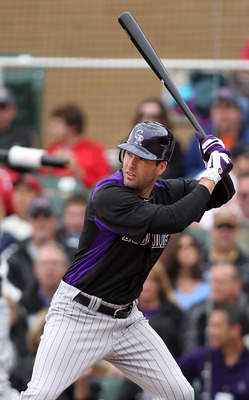 Seth Smith
Jonathan Ferrey/Getty Images
Seth Smith will be the Rockies right fielder and will most likely bat second. He too will split time on occasion with Ryan Spilborgs, but will for the most part be the Rockies number two batter. In 2010, Smith, who is 28, played in 133 games and carried a .246 average. He had 55 runs, 88 hits, 17 homers, and 52 RBI. The Rockies are hopeful that his home run production will continue to increase.
Carlos Gonzalez LF: Battng Third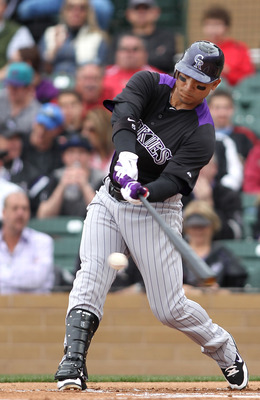 Carlos Gonzalez
Jonathan Ferrey/Getty Images
One of the breakout players of 2010, Carlos Gonzalez is the first piece of the Rockies power puzzle. CarGo, who is 25, played in 145 games in 2010 with a .336 average. He had 111 runs, 197 hits, 34 homers, and 117 RBI. He was the engine behind the Rockies runs scored. The Rockies signed him to a multi-year, multi-million dollar deal over the off season and are banking on him bringing in the runs that add up to wins.
Troy Tulowitzki SS: Batting Fourth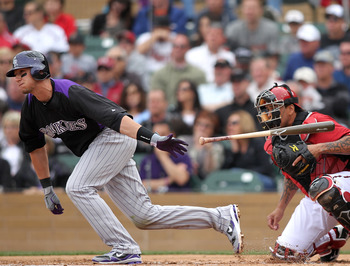 Troy Tulowitzki
Jonathan Ferrey/Getty Images
Troy Tulowitzki at age 27 is the Rockies middle power hitter. Tulo played in 142 games last year with a .315 average. He had 89 runs, 148 hits, 27 homers, and 95 RBI. The Rockies also signed him to a multi-year, multi-million dollar deal in the off season. CarGo and Tulo are the Rockies back-to-back punch that gets things moving for the lineup. The Rockies hope the two of them continue to build on past success to help get the team to the postseason.
Todd Helton 1B: Batting Fifth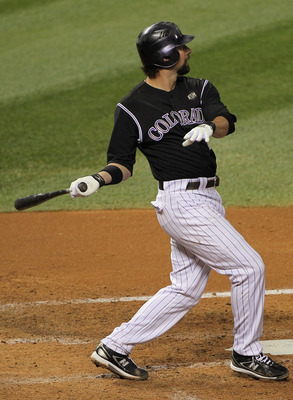 Todd Helton
Doug Pensinger/Getty Images
Todd Helton, at age 38, is one of the veteran's of the Rockies. He held the 3rd spot in the lineup for years, but with the addition of younger power hitters, he has been moved down the lineup. Helton also no longer plays every day and rotates off with an even older Jason Giambi, who is 40. In 2010, Helton played in 118 games with a .256 average. Still not bad for a guy pushing 40. He had 48 runs, 102 hits, eight homers, and 37 RBI. Giambi played in 87 games in 2010 with a .244 average. He had 17 runs, 43 hits, six homers, and 35 RBI. These guys still offer pop at the plate and great leadership for the younger generation of Rockies.
Ian Stewart 3B: Batting Sixth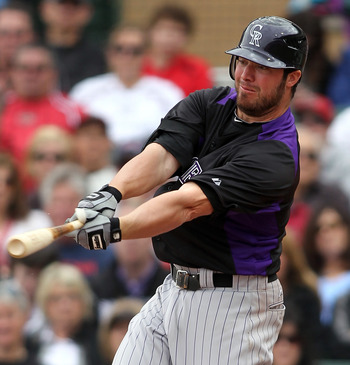 Ian Stewart
Jonathan Ferrey/Getty Images
Ian Stewart, at age 26, will be manning third base for the Rockies in 2011 and looks to be batting sixth. Stewart has been slowed a bit in spring training after a knee to knee collision with Carlos Gonzalez that resulted in a bad bruise, but that should clear up quite quickly. He played in 121 games in 2010 with a .256 average. Stewart had 54 runs, 99 hits, eight homers, and 61 RBI in 2010. The Rockies are hopeful that with more at bats, his average will be climbing throughout 2011.
Jose Lopez 2B: Batting Seventh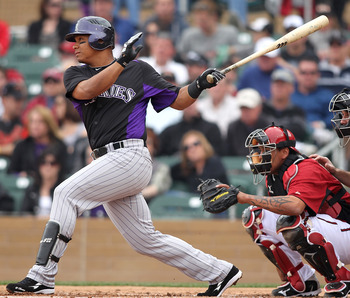 Jose Lopez
Jonathan Ferrey/Getty Images
The Rockies picked up Jose Lopez from the Mariners this off season and he will be the everyday second baseman. He looks to fill the eighth spot in the lineup for 2011. Lopez, who is 27 years old, played in 150 games in 2010 for the Mariners with a .239 average. He had 49 runs, 142 hits, 10 homers, and 58 RBI. Lopez looks to be able to add some pop at the bottom of the lineup to get any runners on base moving around. This is something the Rockies have lacked in recent years and it could make a huge difference in wins and losses.
Chris Iannetta C: Batting Eighth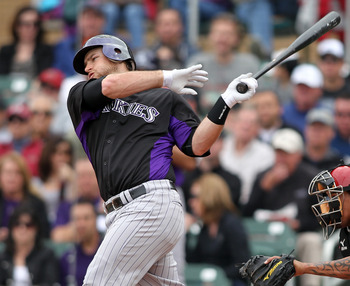 Chris Iannetta
Jonathan Ferrey/Getty Images
Chris Iannetta will be the Rockies everyday catcher in 2011. Iannetta, who is 27, played in only 61 games last year as Miguel Olivo was the everyday catcher for the team. In 2010, he had 20 runs, 37 hits, nine homers, and 27 RBI. The Rockies are expecting a lot more out of Iannnetta for the 2011 campaign. He has played in only two spring training games so far this year, but already has one home run. Definitely a good sign for the Rockies.
Colorado Rockies 2011 Lineup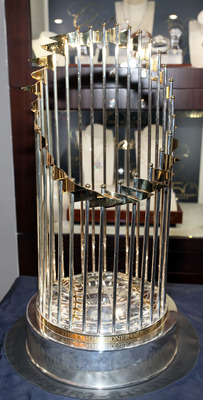 World Series Trophy
Donald Bowers/Getty Images
The Colorado Rockies are looking to take their mostly very young team and head straight to the postseason and then, hope to bring home a World Series trophy for the city of Denver. The power in the lineup will only help them accomplish those goals. Look for the 2011 Rockies to put up a lot of hits and runs this season and hopefully some wins as well.
Keep Reading

Colorado Rockies: Like this team?