Cleveland Browns Mock Draft: Post-Combine Edition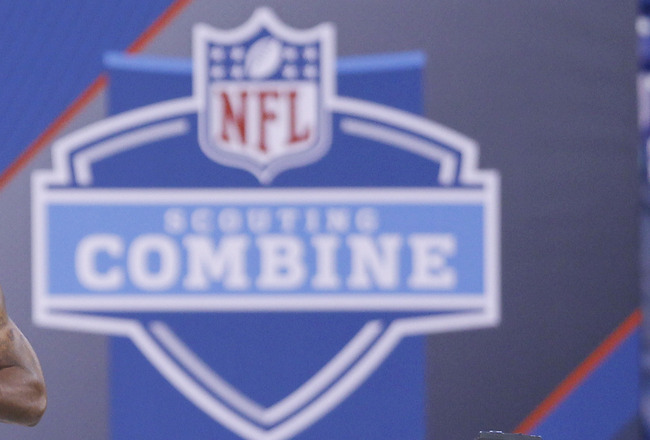 Joe Robbins/Getty Images
So now that the 2011 NFL Scouting Combine is over, we all have a crystal-clear picture of what will transpire come draft day, right? Well, maybe that's a stretch, but now we're starting to get a better picture of who might go where.
In general, combine results are overrated, but the results do change the draft positions of several players. I've already done several of these, and the combine has changed some of my predictions.
I've tried to make this mock draft more of a prediction of who I think the Browns will take instead of who I'd like them to take.
Round One, Pick Six: Wisconsin DE J.J. Watt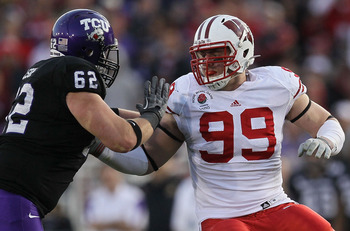 Stephen Dunn/Getty Images
I think there's a decent possibility that the Browns could trade down here, but there's no way to predict something like that. Even if they would trade back, Watt could still end up being the pick depending on how far down they would trade.
Some would call this pick a bit of a reach with the No. 6 pick, but Watt had an excellent combine and improved his stock enough to warrant top 10 consideration.
He did 35 reps of the 225-pound bench press and finished in the top five in four out of five speed and agility exercises for defensive linemen.
The Browns have a tremendous need at defensive end, and there are a lot of questions about North Carolina's Robert Quinn, who had a disappointing combine.
A couple other possibilities here could be LSU cornerback Patrick Peterson or Alabama defensive tackle Marcel Dareus, both of whom had excellent combine performances.
Round Two, Pick 38: North Carolina DT Marvin Austin
Streeter Lecka/Getty Images
Marvin Austin's draft stock has been on a year-long roller coaster ride to say the least.
Before last season, he was considered a potential top five pick, but character issues and work-ethic concerns had dropped his stock as far as the third round, but his combine performance has revived his draft stock significantly.
Austin's 36 reps on the 225-pound bench press were the second most for all positions at this years combine. He also had a good showing in the speed and agility drills.
Some are even saying that he may creep back into first-round consideration.
After releasing Shaun Rogers, the Browns have a need at defensive tackle. There's no question that Austin has the measurables and the physical talent to be an immediate contributor if he's willing to put in the work.
Another option here could be Oregon State defensive tackle Stephen Paea, who set the combine record for reps on the bench press, but recurring knee problems have hurt his stock drastically.
The Browns could also look at wide receivers Torrey Smith, Tandon Doss and Leonard Hankerson here.
Round Three, Pick 70: Washington LB Mason Foster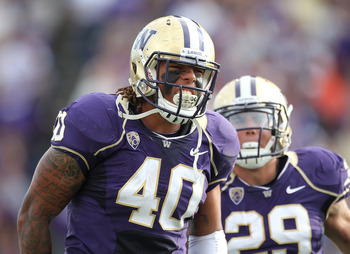 Otto Greule Jr/Getty Images
The Browns need immediate help at linebacker, and Foster is good enough to contribute on the weak side immediately.
Foster was monstrously productive in his career at Washington, registering 164 tackles last year alone.
He has good range, great instincts, and can make plays. He's one of the most well-rounded linebackers in the draft.
Another possibility here could be Illinois linebacker Martez Wilson, who had a great combine, so good in fact that he may not still be available here.
The Browns could also look at Mississippi State defensive end Pernell McPhee, depending on what happens in the earlier rounds.
Round Four, Pick 102: Abilene Christian WR Edmund Gates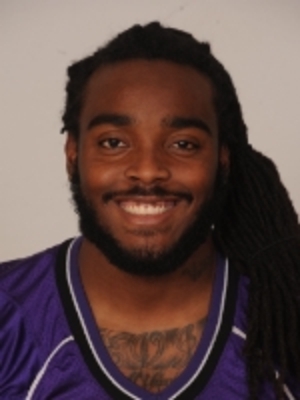 I'm as surprised as anyone that I have the Browns waiting until round four to draft a wide receiver.
Mike Holmgren has stated that finding a "home-run threat" is a top priority. Gates would qualify as that home-run threat.
He ran the fastest 40 of all the wide receivers at the combine with a 4.37. He also had a very good showing in the vertical and long jumps.
The Browns could even consider him in the third round, depending on how much his draft stock continues to rise.
The Browns could also look at Pittsburgh defensive end Greg Romeus and Texas defensive end Sam Acho here as well.
Round 5, Pick 134: Auburn RB Mario Fannin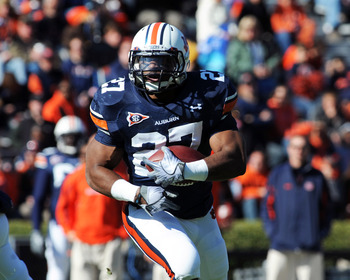 Al Messerschmidt/Getty Images
Fannin was probably not going to be drafted before the combine, where he ran a 4.37 40, the fastest time among running backs this year.
Fannin didn't get a lot of carries during his career at Auburn, but he had averaged over six yards per carry for his career. He was also effective catching the ball out of the backfield.
Fannin has decent size at 5'10" and 225 pounds and has the ability to block on third down. That combined with his speed make him an intriguing prospect as a third-down back, which the Browns have a need for.
Pittsburgh running back Dion Lewis and South Florida offensive tackle Jah Reid are a couple other possibilities here as well.
Round Six, Pick 162: The Citadel CB Cortez Allen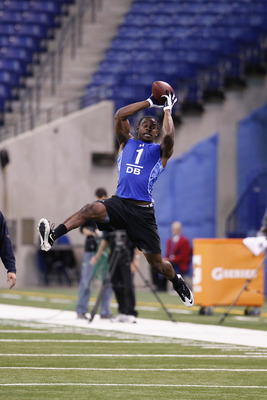 Joe Robbins/Getty Images
Cortez Allen would be a bit of a project, but he has all the measurables and athletic ability to develop into a good corner in the NFL.
Allen is a fast player who needs to work on his footwork and recognition skills. He has excellent size at 6'1" and 197 pounds.
His game needs work, but he has size, speed, and fluid hips. Coming from The Citadel, it's probably safe to assume that he has good discipline and work ethic to develop in the NFL.
Another possibility here could be Buffalo cornerback Josh Thomas.
Round Six, Pick 166: Wisconsin QB Scott Tolzien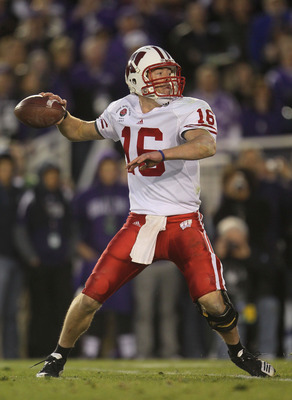 Jeff Gross/Getty Images
First off, let me say that I think it's a mistake for the Browns to draft a quarterback. Now with that in mind, Mike Holmgren has said that he plans to draft a quarterback, so I'm just trying to be realistic.
Since quarterback isn't an immediate need, it's pretty safe to assume that the Browns will wait until late in the draft to pick one up.
This came down to Tolzien and North Carolina's T.J. Yates for me. I picked Tolzien because he may have a bigger upside and would probably fit the WCO better.
Tolzien only started one full season at Wisconsin and he was pretty darn successful. He made good decisions and was pretty accurate, especially in the short to intermediate game.
The only real question with him is arm strength.
Keep Reading

Cleveland Browns: Like this team?