Tampa Bay Rays Bullpen Preview: Tale of the Journeymen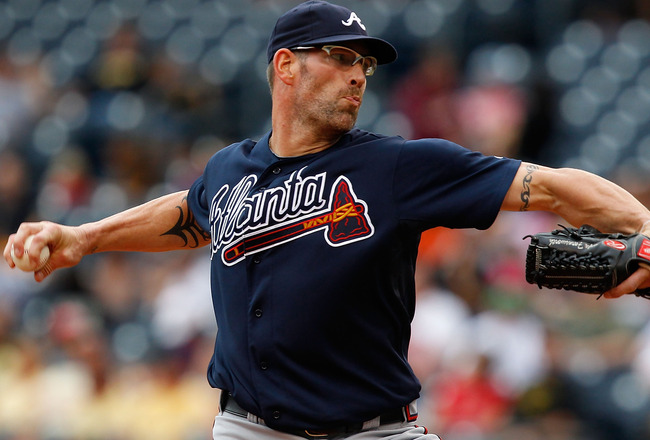 Jared Wickerham/Getty Images
The 2010 bullpen of the Tampa Bay Rays was one of the best in the Majors, if not the best in franchise history. Now all the names that made that possible are gone, vanishing faster than you can say "Tropicana."
Now we step into 2011, with new and much less recognizable faces in the pen. There's a lot to be asked about this new bullpen, but not a lot to be expected of it.
Among the crowd of arms trying to squeeze into a spot this spring, there are several that are fresh to the Major League scene, just getting used to the Bigs. Then there are the journeymen, the guys who have been around a time or two.
Out of those, seven have been chosen for this story. For a casual fan, or even a hardcore one of a different team, there may be guys on this list you've never even heard of. But you might as well get used to the names, because you might be looking at some of them for the next seven or eight months.
Kyle Farnsworth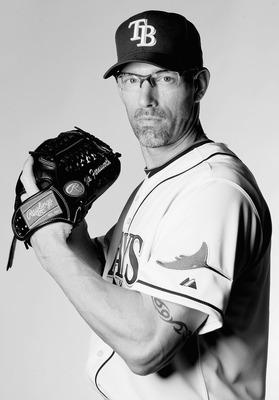 Elsa/Getty Images
His most famous throw may be one where he didn't even have a ball in his hand. Just a balled-up fist.
Kyle Farnsworth is known to have been all over the place. In his command, and in a literal sense. He started off his Big League career for the Cubs with six full seasons, three saves and a large take down of Paul Wilson.
Since his six years in Chicago, Farnsworth has bounced around more than a tennis ball on a hard court. Here's where he's played the rest of his years: half a season for Detroit, half in Atlanta, two and a half for the Yankees, another half in Detroit, a half in Kansas City and a half back in Atlanta.
Now he finds his way to Tampa Bay, another stop on his tour of Major League teams. Knowing if this will be a longer stay for the hard throwing right-hander is, as always, up in the air, but Farnsworth will play in a bigger role than he has the past few seasons.
Farnsworth has a chance to close for the Rays. Why I don't think it's a good idea, it may actually be one of the better options. A 4.39 ERA for a reliever isn't the grandest thing to look at, but Farnsworth brings experience to a pen that will really need it in 2011.
Joel Peralta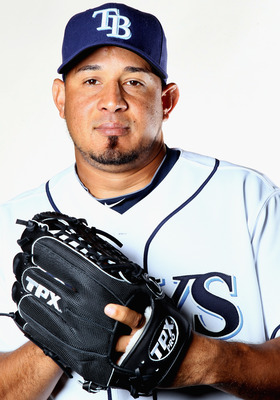 Elsa/Getty Images
Joel Peralta has had his share of moving around since coming into the Majors in 2005. Originally an amateur free agent signed by Oakland in 1996, Peralta became a long-time minor leaguer until finally reaching the top level in '05.
Peralta has now toed the rubber for five teams in the MLB with his signing to Tampa Bay. In 2008 and '09, Peralta's ERA sky-rocketed near or above 6.00, but turned his game around for Washington in 2010 with a 2.02 ERA in 39 appearances.
Peralta has fought hard to be in the situation he is now in. His 5'11" height isn't adequate for a pitcher, and he was originally supposed to be a middle infielder.
He hadn't pitched since little league, but instead of quitting baseball all together (he contemplated retirement), he instead learned the art of pitching and lived-out his dream of becoming a Big Leaguer.
Now Peralta has a chance to be a bigger piece of a rather large puzzle that is the Rays bullpen. We'll see how he reacts with the added weight on his 34-year-old right arm.
Dane De La Rosa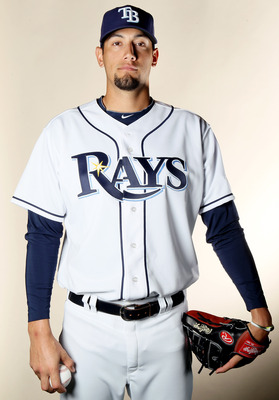 Elsa/Getty Images
Dane De La Rosa's size has always made him stand out a bit from a crowd (until he meets Jeff Niemann that is). He's now hoping that his performance will, giving him a spot in the 25-man roster.
De La Rosa took a much different route to the Rays, going from Yankees' minor leaguer, to real estate salesman, to pitching for six different independent teams, to Charlotte and Montgomery in the Rays farm system.
But after all of that, De La Rosa is on the mound for the Rays, vying for a spot on the opening day roster. And he may just get one after his 9-3 record for the Montgomery Biscuits (and I laugh and shake my head at the name every time) last season.
How the Rays even found De La Rosa seems like a mystery. After his year of selling real estate was over, he was 8-16 in his three years in the independent leagues. But De La Rosa turned a miserable 5.25 ERA in his final season in those leagues, with an out-of-nowhere season in Double-A.
So now it's Dane De La Rosa's time to finally make it to his destination, one that made him regain the itch to play, and the one that got him through the long summer days in the independent leagues.
Now is his chance. "I still can't believe I'm here," he was quoted as saying. Well after all, he was selling real estate five years ago.
Juan Cruz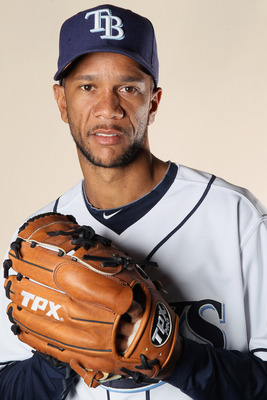 Elsa/Getty Images
Juan Cruz has found himself in a unique position. He has been in the Majors for eight full seasons, and parts of two more, compiling 348 games pitched along the way.
But even with his experience, Cruz isn't guaranteed a roster spot. Though he is one of the favorites to make the team and take one of the three open bullpen spots, there are eleven others that are contending for the same openings.
Cruz is another man that's been on the move, starting with the Cubs, going south to Atlanta, then west to Oakland and then also pitching for Arizona and Kansas City. Coming off of surgery on his shoulder last May, no teams were willing to add them straight to their roster, so the Rays offered a minor league contract to Cruz.
He has a bit of the same story Joaquin Benoit had, a guy who wasn't even a sure-fire roster member coming into camp, one on a minor league contract, and coming off of surgery. Cruz, like Benoit, has a powerful arm, one that doctors say has completely healed and is ready to go.
So we'll see over the next month how it unfolds for Cruz in Rays camp, but he's somebody I would put my money on to make the team out of spring training.
Richard De Los Santos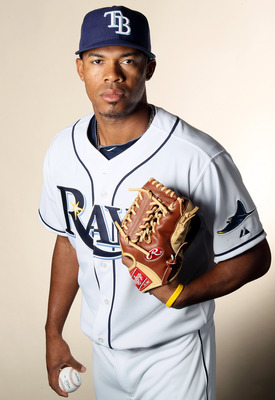 Elsa/Getty Images
Still considered as a contender for one of the final three bullpen spots, De Los Santos has been thrown in different directions during his career, even if it only came with two organizations (Cleveland and Tampa Bay).
De Los Santos was signed by the Indians at the tender age of 18 out of the Dominican Republic, and was acquired by the Rays in 2005. He has went from a short stint in 2007 with Triple-A Durham, to all the way back down to Single-A (low and high Single-A) for a full season in 2009.
De Los Santos had an International League-leading 14 wins on the hill last season, opposing just five losses. But even with that said, it's still unlikely this 26-year-old will be a Ray when the season starts late this month.
De Los Santos still has a fighting chance though, and with J.P. Howell almost certain to be out for close to a month when the season starts, his chances raise even more. If nothing else, another strong showing in Durham could get him a call-up in September.
R.J. Swindle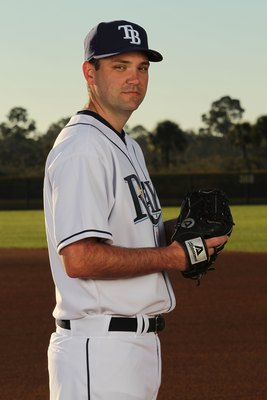 Nick Laham/Getty Images
Oh, where do I even start? This guy went from Single-A, to an appearance in Triple-A, to an Independent league, all in 2006. In other words, this guy moves around more than a U-Haul.
His name is R.J. Swindle, and though it's a long-shot, he could help the Rays on the Big League level this year. He pitched for a short period with the Phillies and Brewers in 2008 and '09, respectively.
He's also pitched for two independent teams, and all together has taken the mound for seven organizations in the MILB since he was drafted in the 14th round by the Red Sox in the 2004 draft.
Swindle has been known to have five pitches, one of which being a curveball that rivals former-Ray Casey Fossum's "Fossum Flip". The pitch travels at close to 55 miles per-hour, even slower than Fossum's, or any other pitcher over the age of 14 for that matter.
But Swindle could likely find himself in a Rays uniform before the season has concluded. He has a bit of MLB experience, though it was to the tune of a 12.71 ERA. That's not something you want to see, but with the bullpen woes that the Rays have, they may take Swindle's short time at the top level.
Keep Reading

Tampa Bay Rays: Like this team?