San Francisco Giants: Grading the First Week of Spring Training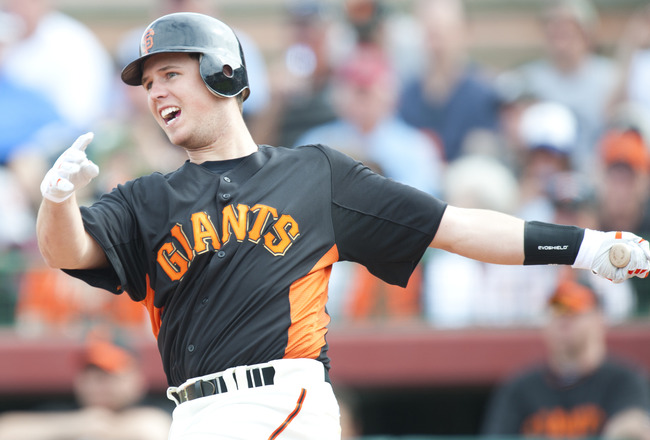 Rob Tringali/Getty Images
The San Francisco Giants opened up their spring training schedule with a 7-6 victory over the Arizona Diamondbacks last Friday.
Since then, the Giants have played in four more games, winning and losing two games apiece.
Management has been spreading out playing time between everyone on the roster, as is the norm in the beginning of spring training. Still, some players have already stood out as being in top form in the few games that have been played.
Starting Rotation: C-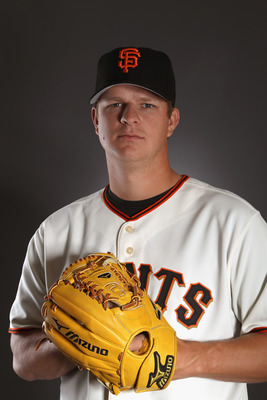 Ezra Shaw/Getty Images
The front office has stated that the 2011 starting rotation will go as follows:
1. Tim Lincecum
2. Jonathan Sanchez
3. Matt Cain
4. Barry Zito
5. Madison Bumgarner
So far, these pitchers have accumulated a total of 14 innings and have allowed a combined nine earned runs.
Matt Cain and Jonathan Sanchez have been the best of the bunch, throwing only 3.2 innings, but allowing zero earned runs.
Tim Lincecum always starts off slow in spring training, so expect the pitching to get better as time moves on.
Bullpen: B+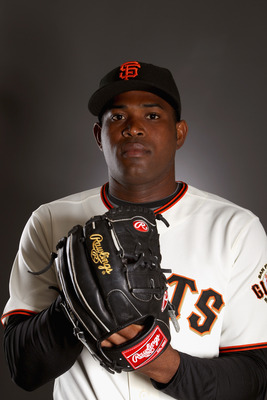 Ezra Shaw/Getty Images
Out of the entire projected bullpen, Javier Lopez is really the only reliever who hasn't pitched well, although he was a major part to the Giants' success last season.
Ramon Ramirez, Sergio Romo, Santiago Casilla and Dan Runzler have pitched a combined six innings without allowing a run.
In the era of Armando Benitez and Tyler Walker, the Giants were well-known for blowing games whenever they had a legitimate chance. Last season, the bullpen played better then it had in years, and if this start is any indication to how 2011 will go, the Giants are in great shape.
Power Hitting: C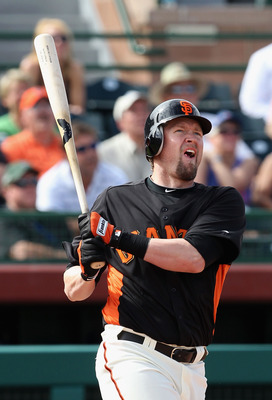 Christian Petersen/Getty Images
Aubrey Huff lead San Francisco last season with 26 home runs, but the Giants as a whole were still one of the worst power-hitting teams in baseball.
Since the loss of Barry Bonds, the Giants haven't been anywhere close to a good power-hitting team, and I've come to expect it every year.
In the five spring training games thus far, the Giants have only managed three home runs, two coming off the bat of Pablo Sandoval and one from Mark DeRosa.
I could give the Giants an F in this category, but they aren't built around power, and three homers in five games is probably pretty typical of what we will see this season.
Contact Hitting: B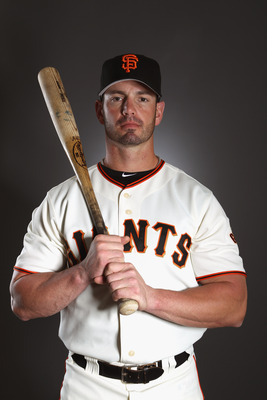 Ezra Shaw/Getty Images
Aaron Rowand looks like his usual self, getting one hit in his first 10 at bats. Aubrey Huff has one hit in nine at bats and Pat Burrell has one hit in seven at bats.
Besides those horrific numbers, there are a couple bright sides.
Pablo Sandoval has six hits in 13 at-bats, Mark Derosa has six hits in eight at-bats, Buster Posey has five hits in eight at-bats and Andres Torres has two hits in four at-bats.
The Giants have combined for a total of 14 doubles in their five games, which is impressive. As long as some of the players can hit for average, the Giants will be fine.
The only problem will come if Aaron Rowand is put in as the leadoff hitter and then proceeds to hit under .200, but hopefully that won't happen.
Moving Runners Along: C+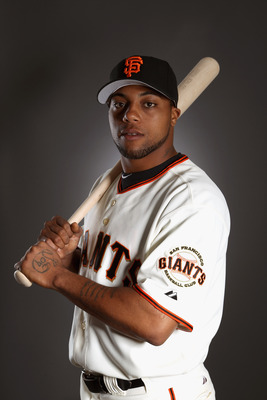 Ezra Shaw/Getty Images
I lumped stolen bases and RBIs in this category because both have to do with how well the Giants are able to move runners from base to base.
In five games, San Francisco has managed only four stolen bases, none by any player who will end up starting this season.
The Giants have scored 30 runs in those five games, averaging out to six runs a game, which would be great if they could keep that up. So far, RISP hasn't been an issue, but that may be because the Giants have not faced any dominant starters for more than a couple innings.
Pitching MVP: Jeff Suppan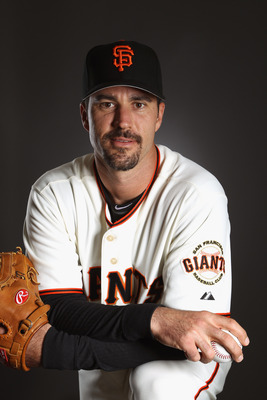 Ezra Shaw/Getty Images
Although the Giants probably aren't sure exactly how they are going to use Jeff Suppan, his performance thus far has definitely gained him playing time somewhere.
Suppan has thrown three innings, hasn't even surrendered a hit, and has struck out two batters. If he keeps up a pace anywhere near what he has done in his first week as a Giant, things will turn out well for him.
Batting MVP: Pablo Sandoval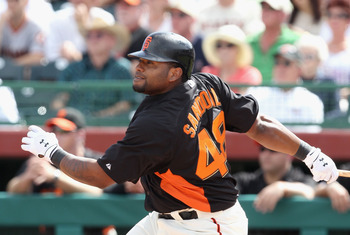 Christian Petersen/Getty Images
After having two completely different seasons in MLB, Pablo Sandoval has started off the 2011 spring training like he started his rookie season.
Sandoval is hitting .462 in 13 at bats, with two homers, two doubles and six RBIs. He has 14 total bases, which is far and ahead the most on the squad.
Every Giants fan should hope and pray that Sandoval will play this season like he's played in his first few games.
Biggest Surprise: Brandon Belt
Rob Tringali/Getty Images
Coming into spring training, Brandon Belt was one the Giants top prospects and he has proved his value in the time he has played.
Belt is hitting .375 in eight at-bats and has two doubles as well as four RBIs. While he probably won't start too much, if at all, during the regular season, Belt is definitely being groomed to be the future first baseman in San Francisco.
Biggest Dissapointment: Madison Bumgarner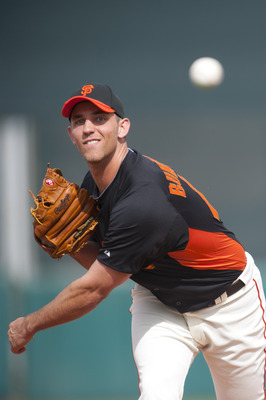 Rob Tringali/Getty Images
In four innings, Bumgarner has allowed four earned runs, given up eight hits and surrendered one home run.
Just because I'm listing him as the week one disappointment, it doesn't mean I don't think he can turn his spring training around in a heartbeat and be the pitcher that he was at the end of last year, which helped give San Francisco its first Word Series championship.
Overall Grade: B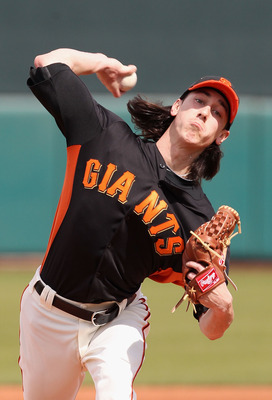 Christian Petersen/Getty Images
The San Francisco Giants are 3-2 so far and have played well enough overall to deserve a B.
The starting rotation needs to improve a bit, but that will come with time. Offensively, the Giants are producing about as many runs as they can hope for.
Week 1 should be labeled as a success, and Week 2 should be a good one as well.
Keep Reading

San Francisco Giants: Like this team?