NFL Combine 2011 Results: Cam Newton and the 10 Most Disappointing Displays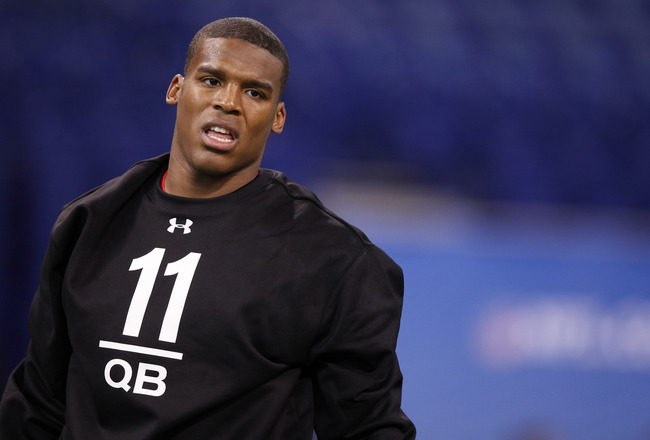 Joe Robbins/Getty Images
This is why football has transformed into the most loved sport in America. Because even when both the NFL and college season are done, we still find a way to get excited about the NFL combine. Not a single tackle is made, not a single touchdown is scored, but yet this late-winter event still catches the attention of football fans across the country.
The NFL combine is a chance for some of college football's best to improve their draft stock by testing well in events such as the 40-yard dash, bench press and shuttle run. But what about those players that don't perform up to expectation, and in return hurt their stock for this April's NFL draft.
Word out of the combine is that guys like Cam Newton, John Clay and Jonathan Baldwin did not perform up to par, so what does that mean as far as their draft status is concerned?
Let's break this down and take a look at the 10 most disappointing performances at this week's NFL combine.
10. Colin Kaepernick, QB, Nevada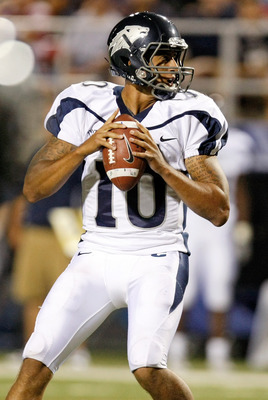 Ethan Miller/Getty Images
Kaepernick was a bit of a wild card hearing into the NFL combine, where teams did not really know what to expect from this former Nevada standout quarterback.
Kaepernick tested well in all the running drills. He posted a 4.53 40-yard dash time, which was probably a little better than most expected. But where Kaepernick seemed to really struggle was with his deep throws.
His footwork was apparently a little off, and his long passes tended to sail on his intended receivers.
Chances are that this won't affect his draft status too much. Expect Kaepernick to remain a middle round pick in this April's NFL draft.
9. Luke Stocker, TE, Tennessee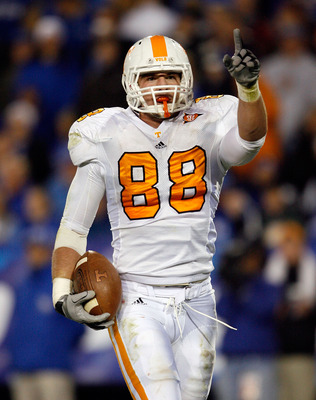 Andy Lyons/Getty Images
Most NFL executives tagged Stocker as being the second-best tight end prospect in the draft behind Notre Dame's Kyle Rudolph. After his performance at this week's NFL combine, those people in the front office might have to make some adjustments to those rankings.
Stocker ran a 4.79 40-yard dash, which is certainly slower then you would like to see out of a pass-catching tight end. He was stiff in his running, did not show good height in his vertical jump and was not great coming out of the break.
In addition to that, Stocker also apparently dropped way more passes in drills than what was expected of him.
Stocker had a chance at going as high as the second round, but now it looks like he will get a look somewhere around the late third or early fourth round.
8. Ryan Mallett, QB, Arkansas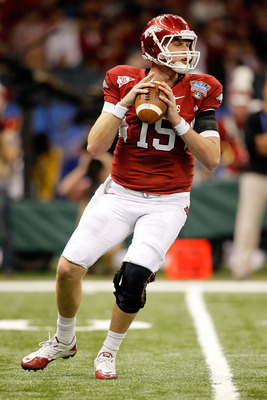 Matthew Stockman/Getty Images
Ryan Mallett was a great college quarterback, and it was no secret that he possesses a cannon of an arm, so everyone expected him to do well in the throwing portion of the combine.
But where Mallett really struggled during this process was with his interviews.
There had been recent drug allegations attached to Mallett's name, and apparently when he was asked about it, he sounded flustered and uncertain at how to appropriately handle certain interview questions. Mallett had some questions about his character entering the combine, and this certainly did not help in that department.
With Cam Newton and Blaine Gabbert all but assuring themselves as the top two quarterbacks in the draft, Mallett is in a battle with Jake Locker and Christian Ponder to see who is No. 3. This past week certainly did not help Mallett's chances.
7. Ahmad Black, S, Florida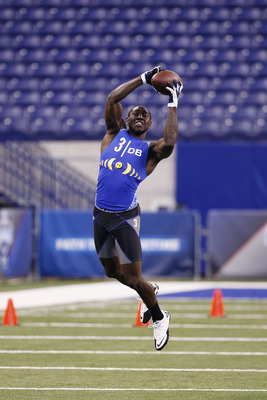 Joe Robbins/Getty Images
With such a weak safety class heading into April's NFL Draft, players like Ahmad Black had the opportunity to really impress during the combine and move his name up near the top of the list of safeties.
Instead, Black hurt his chances in a big way and most likely erased any shot he had at being a second-round selection.
Black was slow in the 40, running in the mid 4.7 range, which is not ideal for an NFL defensive back. Add that to the fact that he is already undersized for his position (5'9", 184 pounds), and Black has now fallen out of the top-three safety conversation.
6. Pat Devlin, QB, Delaware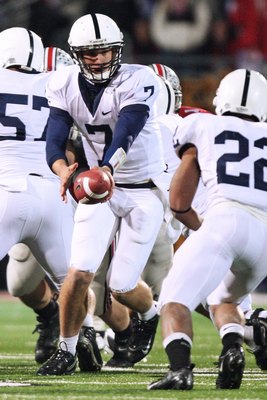 Jamie Sabau/Getty Images
Pat Devlin has been compared to Joe Flacco because is a big quarterback who has a strong arm and transferred from Penn State to FCS Delaware, which is where Flacco played his college ball.
But Devlin did not show any signs at this week's NFL combine that should make people believe that he is anywhere close to Joe Flacco's level.
Devlin did show good accuracy, but he was extremely inconsistent in his delivery, which makes coaches question his mechanics at the next level. Devlin is a work in progress, and should not buy into the Flacco comparisons, at least not this early in his career.
5. Mark Ingram, RB, Alabama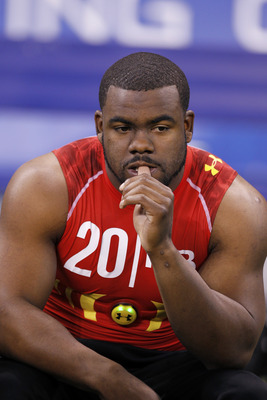 Joe Robbins/Getty Images
This is a prime example of a highly-touted player not performing up to expectations at the NFL combine, and in return, people began talking about how his draft stock is going to plummet.
Many mock drafts had Alabama RB Mark Ingram as a mid-first round pick, possibly to the Miami Dolphins at pick No. 15, but Ingram's 4.62 40-yard dash time has some analysts questioning whether he is worthy of such a high selection.
The bottom line here is that yes, Mark Ingram had a disappointing showing in the 40-yard dash at the combine. But Ingram was the best player whenever he took the football field two years ago, and despite fighting a nagging injury in 2010, he put up pretty impressive numbers last year as well.
This running back class is pretty weak compared to past years, and if you are a team that is in need of a starting running back, Mark Ingram has shown that he can perform on the biggest stage in the biggest of ways. Don't pass on this guy because he ran a below-average 40 time. It's what he does on the field that matters, and we have all seen what this guy can do when the cameras are flashing.
4. Jonathan Baldwin, WR, Pitt
Baldwin was rising on everyone's draft board coming into this week's NFL combine. Looks like Baldwin might have taken a step back to reality after his unimpressive performance this past weekend.
Baldwin ran slower than most expected, posting a 4.50 in the 40-yard dash. He also showed little burst in the shuttle drills and struggled running routes and simply catching passes.
Baldwin possess the type of size that could make him a go-to deep threat in the NFL, but what good is that if you can't run the proper routes and catch the ball?
Look for Baldwin to fall out of first round consideration and go somewhere in the early to middle second round.
3. Cam Newton, QB, Auburn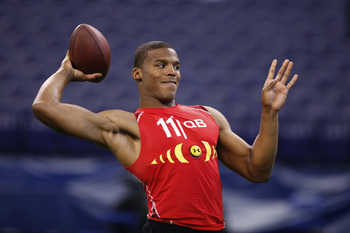 Joe Robbins/Getty Images
Has there ever been such a media spectacle surrounding one player's workout at the NFL combine as there was with Cam Newton?
When Newton made the decision to throw at this weekend's combine, it caught the attention of every national media outlet in America. When it was all said and done, Newton may have made the wrong decision while trying to do right.
Newton managed to complete just 11 of 21 passes at the combine, while showing a lack of touch and accuracy, especially on his deep balls.
The 2010 Heisman Trophy winner has an abundance of physical talent, but he does remain raw as a passer and will need time to develop into an NFL quarterback. It's not likely that his poor workout will drop him out of the top 10, but it is obvious that he still has some kinks to work out before he is ready to become an elite NFL starting quarterback.
2. Ricky Stanzi, QB, Iowa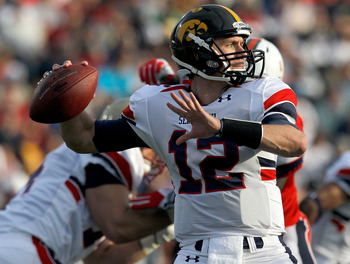 Sean Gardner/Getty Images
For a guy who is fighting to get drafted after having a poor Senior Bowl performance, one would think that Ricky Stanzi would have showed up for the NFL combine. Nope, not so much.
Stanzi posted some below average times in his speed tests, running a 4.93 40-yard dash and a 4.43 in the 20-yard shuttle run, which was the third-lowest score amongst all quarterbacks.
Unfortunately, it only got worse for Stanzi from there on out. He failed to show any type of arm strength, as the majority of his passes were both low and short. Apparently, receivers had to either wait, or even come back to the ball on some of Stanzi's deep throws.
Stanzi wasn't going to be a first-round pick, but his chances of being drafted were pretty high heading into the Combine. After this performance, that isn't so certain anymore.
1. John Clay, RB, Wisconsin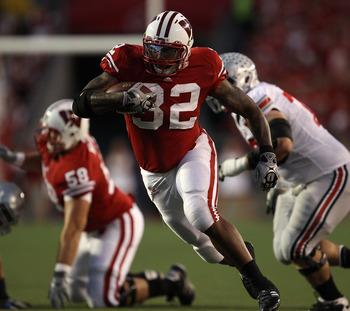 Jonathan Daniel/Getty Images
The reason that John Clay has won the No. 1 position on this list is because he was such a darn good college running back and had the perfect stature to be a bruising back in the NFL. Well, that and the fact that his testing at this weekend's combine just flat out stunk.
Clay's 4.87 40-yard dash time was beyond unimpressive, and his 29" vertical jump was the worst of any running back that tested.
Scouts did not like Clay's balance in the cone drills, where he failed to show the necessary ability to cut with precision that you want from your running back.
Most draft experts had Clay tagged as a top-five running back heading into the draft. Now, after this poor performance, it looks like he has moved out of that top-five conversation and will be lucky to be a middle-round selection this April.
Keep Reading