The 10 Most Deserving Winners on the Last Six Super Bowl Teams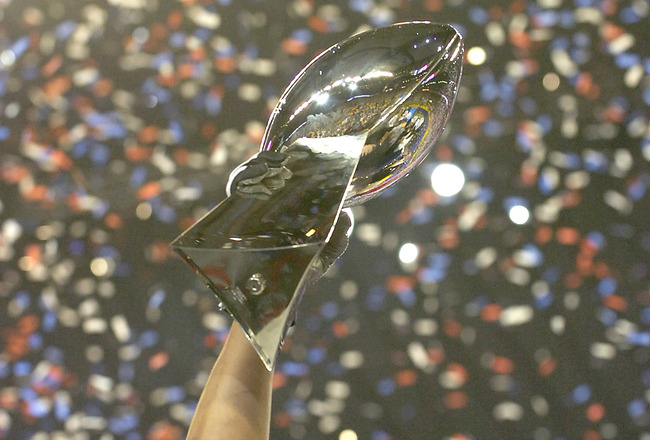 A. Messerschmidt/Getty Images
Oh, the glory of being Super Bowl Champions!
Perhaps the greatest achievement in professional sports, and the dream of every football playing youngster.
Some superstars spend their entire careers without even making it to the big stage, let alone stepping off with a standing ovation and the Lombardi Trophy.
For the players that overcame enormous odds and trials to make it so far, a Super Bowl ring is the ultimate reward.
Here are 10 players in the last six Super Bowls that especially deserved the honor of winning the big one after either waiting many years or struggling through adversity.
2010 Packers: Aaron Rodgers, QB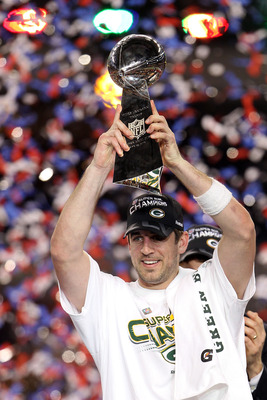 Jamie Squire/Getty Images
Hoisting the Super Bowl MVP trophy, an honor never earned by his predecessor, beautifully capped off Aaron Rodgers' tough journey from obscurity to the big stage.
Rodgers was always thought of as undersized and unathletic. He had been doubted and kicked aside ever since coming out of high school. Rodgers received no offers from Division I programs until he was noticed by Cal after dominating in his freshman season Butte Community College.
Following two impressive seasons with Cal, the 2005 NFL Draft was supposed to be his time to shine as a potential first pick, but he embarassingly fell to Green Bay at No. 24 as back up to No. 4.
The Packers knew they had stolen a quarterback that could restore greatness to Titletown, and after Rodgers suffered through three years of the Favre saga, he was given the opportunity.
Even when it was obvious that Rodgers was becoming an elite QB, critics screamed that he had yet to win a playoff game. Rodgers silenced the doubters as he led the Pack to four straight road playoff victories, including Super Bowl XLV.
Rodgers is one of the most athletic and accurate QBs in the NFL today and the doubters have suddenly disappeared. He waited patiently for his time and now has earned his Super Bowl ring, a MVP Award, a red camaro, a Disney World trip, and yes, even a championship belt.
2010 Packers: Charles Woodson, CB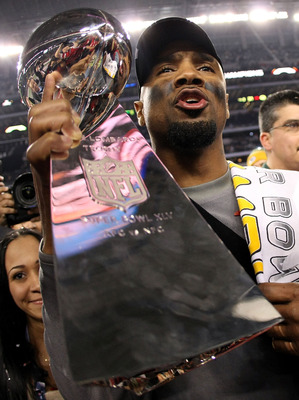 Doug Pensinger/Getty Images
Charles Woodson, on the other hand, has never been doubted as he was selected fourth overall in the 1998 NFL Draft and won the NFL Defensive Rookie of the Year award.
Woodson's earned seven Pro Bowl selections along with a collection of other awards, but the ultimate achievement had eluded him in his first twelve seasons.
The All-Pro cornerback had a shot at a Super Bowl ring with the Raiders in 2003, but his team was handled by the Buccaneers even though he managed to record an INT. Woodson wouldn't step onto the big stage again until the Packers swam through the powerful currents of adversity to reach Dallas in 2010.
Unfortunate injuries struck the Pack again as the veteran suffered a devastating broken collar bone in the first half, and after giving an emotional halftime speech to his team, was forced to watch the game he had worked so hard to reach from the sideline.
After so many spectacular years in the league without a title, Woodson finally could hold the Lombardi high as Green Bay pulled out the victory. It didn't even matter anymore that one arm was in a sling, he and his teammates had accomplished the greatest feat in sports.
2010 Packers: Donald Driver, WR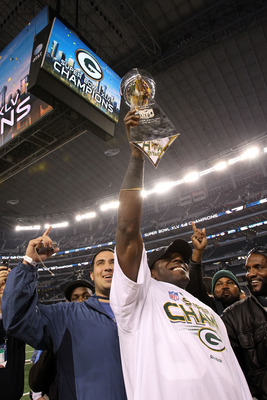 Ronald Martinez/Getty Images
Donald Driver may have had his least productive season in nearly ten years, but after sticking with the Packers for the entirety of his 12 year career, he has now reaped the rewards, earning a long-awaited Super Bowl ring.
He's the Packers all-time leading receiver with 9,615 yards, but returning to Green Bay with the Lombardi Trophy surely means much more to him.
Driver spent most of his career with Favre slinging him the pigskin, but unfortunately for him he was drafted two years after the Packers' last Super Bowl appearance.
However, in just three years Aaron Rodgers has taken him to where Favre could not in three times as many seasons. After 11 seasons wandering in the desert, Donald Driver finally entered the promised land and tasted the fruits of victory.
His bright, wide smile reveals just how sweet it tastes.
2009 Saints: Drew Brees, QB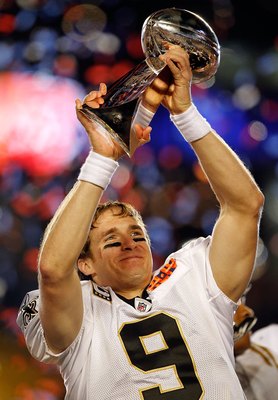 Jonathan Daniel/Getty Images
After a few up and down seasons with the Chargers, Drew Brees' future as an NFL quarterback was in question.
He had to undergo arthroscopic surgery to repair a torn labrum in 2006, and parted ways with San Diego shortly after. Brees believed he could still be a starter in the league, and felt the Chargers wouldn't give him that chance after they had drafted Philip Rivers the previous year.
Most teams were afraid to sign him because of his injured shoulder that would take the whole offseason to fully recover. Destiny led him to the Saints and first year head coach, Sean Payton, welcomed him to New Orleans, a city that had just been upended by Hurricane Katrina.
In 2006, his first season with the Saints, Brees won the Walter Payton Man of the Year Award for his charitable contributions to the city, but he gave the people a gift even greater three years later, the Saints' first world championship in 2009.
It was an emotional victory for Brees as he embraced the success earned from determination and hard work. In addition to all the hardships and uncertainties in his NFL career, his mother Mina committed suicide in August of 2009, months after his first son Baylen was born.
If you don't believe that Drew Brees and the city of New Orleans deserved to win the Super Bowl, read his book Coming Back Stronger. If it doesn't cause you to tear up, at least it will show you the story of Brees' incredible journey, and how he managed to overcome adversity to become a world champion.
2009 Saints: Darren Sharper, S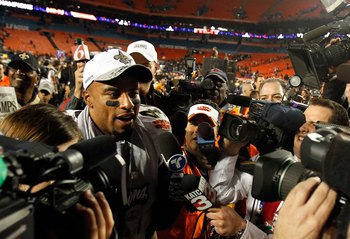 Jonathan Daniel/Getty Images
Darren Sharper was drafted by a Green Bay Packers team fresh off a Super Bowl victory in 1997, and they were the favorites heading into Super Bowl XXXII. The Pack failed to accomplish a repeat when Sharper was a rookie, and the next twelve seasons his team failed to even make it to the big game.
Signing with the Saints in 2009 may have been the best decision of his career. Sharper broke the record for most INT return yards in a season, earned his fifth Pro Bowl selection, and last but not least was fitted for a Super Bowl ring.
Like Woodson and Driver, Sharper was a veteran that waited over a decade to reach immortality as a champion.
2007 Giants: Amani Toomer, WR
Michael Heiman/Getty Images
Drafted in 1996, Amani Toomer spent 13 seasons in New York, and became the franchise's all-time leading receiver. He advanced to his first Super Bowl in the 2000 season, but only had two receptions and the Ravens dominated the Giants 34-7.
In 2007, Toomer broke the Giants' record for the most receptions in the playoffs, and led the team in receiving in their Super Bowl upset of the undefeated Patriots.
Toomer was due a Super Bowl ring, and it came after one of the most exciting Super Bowl finishes in NFL history.
2007 Giants: Micheal Strahan, DE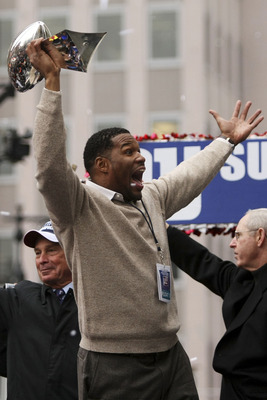 Chris McGrath/Getty Images
It had taken his entire career, fifteen seasons with the Giants, for Micheal Strahan to reach the pinnacle of NFL success.
I'm sure any veteran would trade seven Pro Bowl selections to hold the Lombardi Trophy, but after winning Super Bowl XLII, Strahan retired as a world champion.
Like Amani Toomer, he was on the Giants team that got smacked by the Ravens in the Super Bowl back in the 2000 season. Strahan's Super Bowl ring was also well deserved.
2006 Colts: Peyton Manning, QB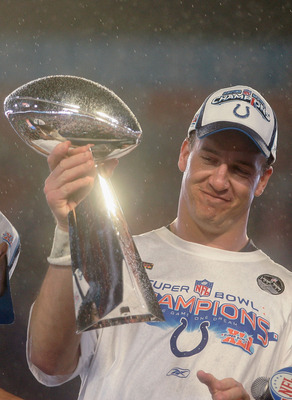 Donald Miralle/Getty Images
Future Hall of Famer, Peyton Manning, took home the trophy after Super Bowl XLI. After leading the Colts to the playoffs but coming up empty for four straight years, he finally took them all the way, winning the MVP in the process.
Even though Manning had two league MVPs prior to the Super Bowl victory, he still sat in the category of great quarterbacks who couldn't win the big one.
With the Colts defeat of the Bears in Super Bowl XLI, Manning firmly established himself in the history of elite QBs.
2006 Colts: Marvin Harrison, WR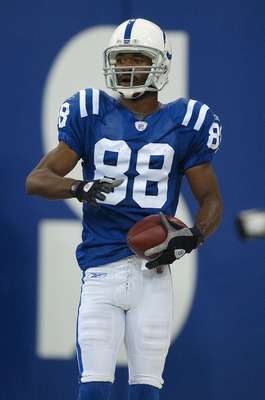 Jonathan Daniel/Getty Images
In Harrison's thirteen seasons with Indianapolis, he made the Pro Bowl eight times and became the Colts all-time leading receiver with over 14,500 yards.
Winning Super Bowl XLI was necessary to the fulfillment of his incredible career as he walked away from the game a few years after.
2005 Steelers: Jerome Bettis, RB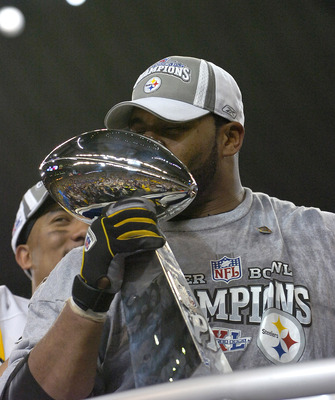 A. Messerschmidt/Getty Images
Super Bowl XL featured an extra large back, Jerome Bettis aka "The Bus", who is currently the fifth all-time leading rusher in NFL history.
It was his only Super Bowl victory in 13 seasons in the league, and he announced his retirement after hoisting the Lombardi for the first time in his home town of Detroit.
He almost retired after the Steelers lost in the AFC Championship to the Patriots, but wisely decided to come back for another go at the Super Bowl.
Bettis soon found out that there is no better way to walk away, knowing that you accomplished everything possible.
Keep Reading

Green Bay Packers: Like this team?