2011 Fantasy Baseball Rankings: MLB's Top 20 NL Outfielders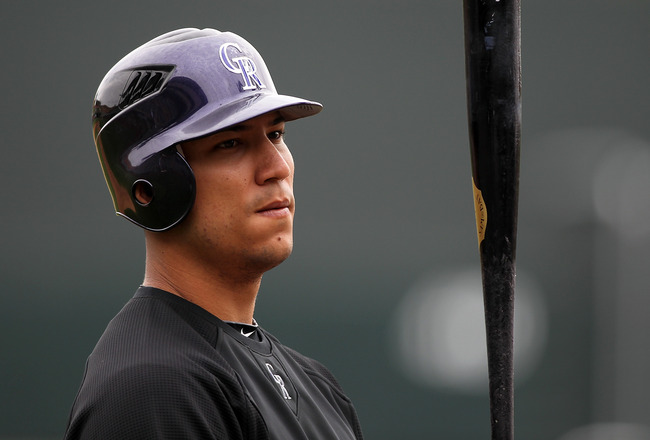 Jonathan Ferrey/Getty Images
These are who I believe to be the top 20 fantasy baseball outfielders in the National League going into the 2011 season. Keep in mind that these are only NL players.
Here are my other 2011 fantasy baseball rankings:
No.1- Carlos Gonzalez, Colorado Rockies
Christian Petersen/Getty Images
Who knew he would do what he did in 2010? He has all the tools to be an MVP candidate for years to come. Of course he hasn't proved that he can put up the numbers he did year after year, but he definitely has the talent to do so.
No. 2- Ryan Braun, Milwaukee Brewers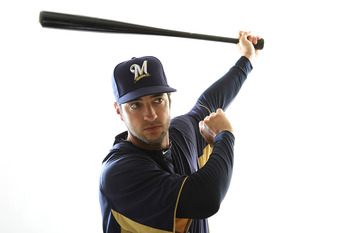 Jonathan Ferrey/Getty Images
Braun is the only NL outfielder I would consider taking over Gonzalez. He has proven over the past few years that he can put up All-Star type numbers consistently. Average, power and speed, why wouldn't you want Braun?
No. 3- Matt Holliday, St. Louis Cardinals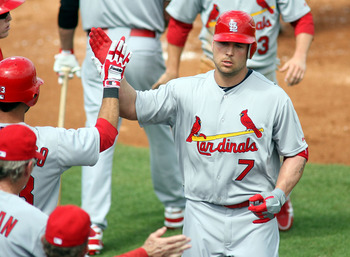 Marc Serota/Getty Images
Holliday is another one of the most consistent outfielders in baseball. His numbers dropped a little bit when he left Colorado, but he's still one of the best in the business. Hitting behind Pujols doesn't hurt.
No. 4- Matt Kemp, Los Angeles Dodgers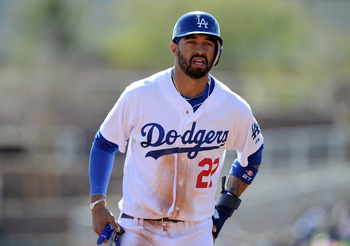 Harry How/Getty Images
Kemp played in 162 games last season, yes, 162 games. He got off to a shaky start, but picked it up later on. His average and stolen base totals were lacking compared to previous seasons, but he's still a top five NL outfielder.
No. 5- Andrew McCutchen, Pittsburgh Pirates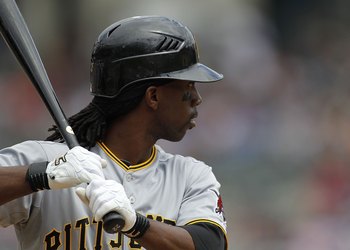 Leon Halip/Getty Images
McCutchen did it all for the Pirates last season. He can hit for average, he has some power and great speed. You won't be disappointed with McCutchen.
No. 6- Justin Upton, Arizona Diamondbacks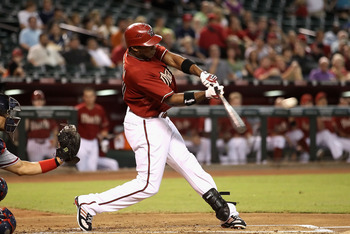 Christian Petersen/Getty Images
Upton is very similar to McCutchen except he doesn't have as much speed, although he probably has more power. His average could be higher, but he's still the best player on the Diamondbacks. His numbers should go up a little bit with Mark Reynolds out of town.
No. 7- Corey Hart, Milwaukee Brewers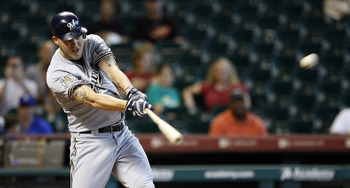 Bob Levey/Getty Images
He had more than 30 HR, 100 RBI and 90 R in the potent Brewers lineup. He's capable of a pretty good average as well, but strikes out more than we'd like him to.
No. 8- Jayson Werth, Washington Nationals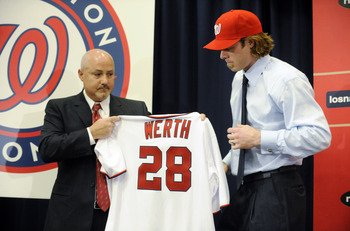 Mitchell Layton/Getty Images
Werth's numbers were just a little bit lower than Hart's last season, but he did have a .296 average. He shouldn't be hindered too much by the change of scenery.
No. 9- Jason Heyward, Atlanta Braves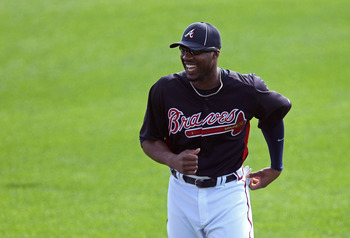 Mike Ehrmann/Getty Images
Heyward had a great rookie campaign for Atlanta in 2010. He can hit for average, has good power and decent speed. His numbers may go down a smidgen with Dan Uggla in the lineup, but don't expect a sophomore slump.
No. 10- Hunter Pence, Houston Astros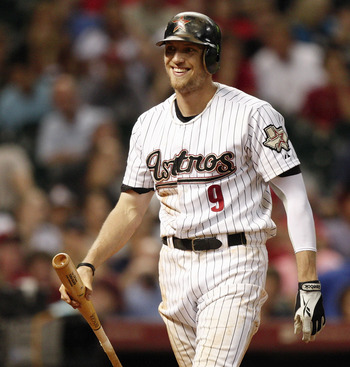 Bob Levey/Getty Images
Pence was somewhat of an under the radar player last season. Keep in mind that this guy is a former All-Star. He should have another good season in the offensive-friendly Minute Maid Park.
No. 11- Mike Stanton, Florida Marlins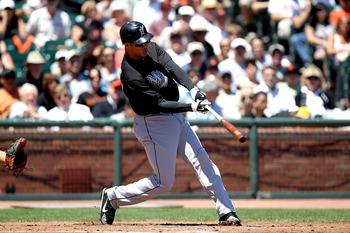 Jed Jacobsohn/Getty Images
Stanton was another impressive rookie in the National League last season. He hit over 30 HR, but had a pretty poor average. His numbers should increase a little bit with the departure of Uggla, but he needs to get the average up.
No. 12- Jay Bruce, Cincinnati Reds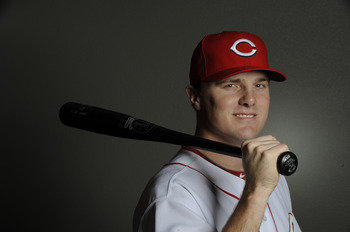 Rob Tringali/Getty Images
Bruce is the unsung hero in a lineup consisting of Joey Votto and Brandon Phillips. He had the best season of his career in 2010 with a .281 AVG, 25 HR, and 75 RBI. His average was way up from previous seasons so hopefully he can maintain that production.
No. 13- Chris Young, Arizona Diamondbacks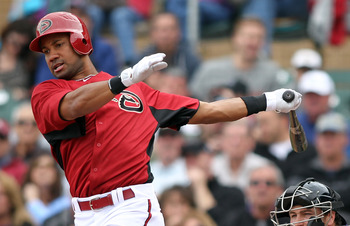 Jonathan Ferrey/Getty Images
Young is probably one of the most underrated outfielders in baseball. He doesn't get enough credit because of the low average he posts every season, but he's always up there in home runs. He actually had a career high average last season and he too will benefit from the departure of Mark Reynolds.
No. 14- Colby Rasmus, St. Louis Cardinals
Dilip Vishwanat/Getty Images
You wouldn't expect to get production if you're batting behind the likes of Albert Pujols and Matt Holliday, but Rasmus was very impressive for the Cardinals last season. He can hit for a decent average and has good power, but does strike out.
No. 15- Andre Ethier, Los Angeles Dodgers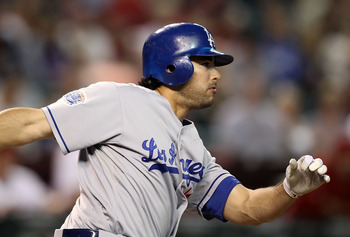 Christian Petersen/Getty Images
Ethier was arguably the most prolific offensive player in the National League before suffering an injury. He wasn't the same when he came back, but when he's healthy, he's one of the best.
No. 16- Shane Victorino, Philadelphia Phillies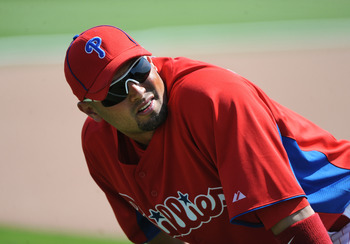 Al Messerschmidt/Getty Images
Another unsung hero in one of the most potent lineups in baseball. Victorino consistently bats for a decent average and steals a good amount of bases. He has some decent power as well.
No. 17- Carlos Beltran, New York Mets
Hunter Martin/Getty Images
We all know the risk of taking Beltran because of injury issues, but we've seen what he can do when he's healthy. He has the potential to be a steal if he can stay off the IR.
No. 18- Jason Bay, New York Mets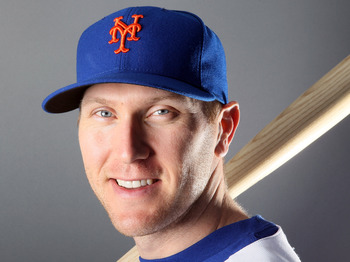 Elsa/Getty Images
Bay missed a lot of time last year so we might have to give him a mulligan for his first season in New York. He probably wouldn't hit as many homers as he did in Pittsburgh or Boston anyway, but he's still a threat to hit over .300 and blast 20-25 HR as a Met.
No. 19- Drew Stubbs, Cincinnati Reds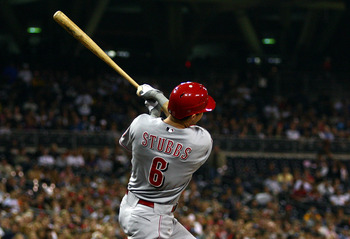 Donald Miralle/Getty Images
Stubbs holds his own in a lineup with Votto, Phillips and Bruce. He hit 22 HR and 75 RBI last season, but only had a .255 AVG and struck out 168 times.
No. 20- Angel Pagan, New York Mets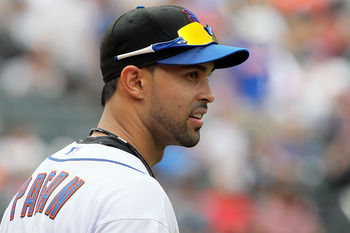 Jim McIsaac/Getty Images
Pagan picked up the slack for the Mets after the injuries to Beltran and Bay. With those two back in the lineup this season, Pagan's numbers are certain to decrease, but he' still a nice outfield option in later rounds.
Keep Reading