2011 NFL Mock Draft: Post-Combine Edition: Round 1
This Round 1 mock draft is my best prediction. I have included one trade.
The offensive tackle class this year is not the greatest, but the opposite is true about the defensive line which is deep. The quarterback class is not the best either, but because the need at the position is so high, a few will jump higher in the draft than they probably should.
Comments are appreciated.
Begin Slideshow

»
Blaine Gabbert impressed at the combine even though he didn't throw. If he can also impress at his pro day like Sam Bradford did, he could potentially move up overall. If he can be that impressive, the Panthers will be likely to keep this pick and take him here.
Carolina are built to be a running team and could therefore even look to start Gabbert at the beginning of the season, like both the Rams and the Jets did with Sam Bradford and Mark Sanchez.
The Broncos have nothing on their interior defense. Nick Fairley is a beast and would give them an immediate pass rushing presence through the middle of their defensive line.
Denver are set to have 2009 sack leader Elvis Dumervil back this year and will look to move Robert Ayers back out to defensive end.
The Broncos also recently re-signed Champ Bailey to a four year deal, so they might skip on Patrick Peterson.
The Bills are a small market team that need all the publicity they can get—see: T.O. Plus, if a rookie pay scale is in the new CBA, it might make more financial sense to pick up a quarterback early.
Buffalo would be a decent spot for Cam Newton. He could sit out a year behind Ryan Fitzpatrick and come in on short yardage situations. The one aspect to like about him is his leadership on the field.
The Bengals might release Antwan Odom. If that's the case, Da'Quan Bowers could come in and play on the opposite side of Carlos Dunlap.
If somehow Carson Palmer does return, this pick will be A.J. Green.
The Cardinals need a young pass rusher at outside linebacker. Von Miller is a little small for a traditional outside linebacker in the 3-4 defense, but his production and overall capability are hard to ignore.
Robert Quinn might be another possibility at this spot, but I think the Cardinals look at Miller's production over the last two years and decide to pick him instead.
A.J. Green falling this far means the Browns can add the most talented wide receiver in the draft as a weapon for Colt McCoy.
Improvement to the defensive line can wait.
It's hard to see Patrick Peterson lasting this far in the draft—but if he somehow makes it here, this would be the 49ers pick.
Other possibilities are Prince Amukamara, Marcell Dareus, Von Miller and Robert Quinn.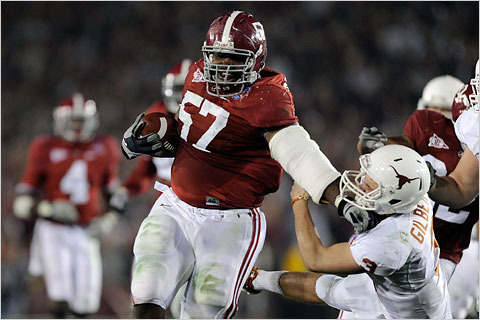 The Titan's go with the best player on their board and pick Marcell Dareus. Dareus could fill Albert Haynesworth's shoes in Tennessee.
The Cowboys might look for a young cornerback to replace Terence Newman. Prince Amukamara is a top 10 talent and would be hard to pass up at this point.
With Cam Newton and Blaine Gabbert off the board, the Redskins will have a hard choice—but they do still lack a No. 1 receiver.
Julio Jones has shown he has elite speed, that he's tough and that he's a play maker. He's a No. 1 receiver and would be hard to pass up at this point, as it's still a little high for Jake Locker.
The Texans are moving to a 3-4 scheme and might look to add a pass rusher off the edge. Robert Quinn could go in the top five, but if two quarterbacks go that high then he might be bumped down.
This is purely a best player available pick—the Vikings already have Jared Allen and Ray Edwards. Having said that, Ray Edwards could be set to leave Minnesota as he is a free agent. Cameron Jordan could replace him.
Nate Solder had a great combine and I'd be shocked if the Lions don't pick up the best offensive tackle on the board.
The Lions have invested a ton of money in Matt Stafford who can't seem to stay healthy. That is why the Lions need to improve their offensive line.
Without a wide receiver worth picking up at this spot, the Rams might look for a trade partner with this pick.
The Bears would love to add someone across from Peppers. Aldon Smith is the best player available and is an athletic freak.
Ronnie Brown and Ricky Williams are free agents. Brown is often injured. The Dolphins are a running team and Mark Ingram would give them a reliable back.
Aaron Kampman is coming off his second ACL tear in two years. The Jaguars might look for a defensive lineman who could eventually replace him. Ryan Kerrigan could be that man.
J.J. Watt is similar to Justin Smith of the 49ers. He's big and does not take a play off. He would be a welcome addition to an aging defensive line.
Muhammad Wilkerson would replace Jacques Cesaire on the defensive line. This is a value pick.
Anthony Castonzo had an excellent combine. The Giants have a solid offensive line but need to get younger. Castonzo could start from day one at right tackle and eventually move to left tackle.
Adrian Clayborn had a bad season but has unquestionable talent. The Bucs would like to put an outside pass rusher next to Gerald McCoy.
The Chiefs had better tackle play from Brandon Albert and Ryan O'Callaghan, but still need to add additional talent along the offensive line.
Mike Pouncey can play center or guard. He could eventually replace Casey Wiegmann, who's 37, but could for now start right away at guard.
The twin brother of the Steelers' Maurkice Pouncey, Mike is the best interior lineman in the draft. He could potentially have a similar affect as his brother did in Pittsburgh.
The Colts run defense is horrible. They could also look at the offensive line, but I'd expect the Colts to go for a defensive lineman in Round 1 and offensive upgrades in the next two. If so, Corey Liuget could be their man.
The Eagles offensive line surrendered 52 sacks last year. Philadelphia could use an upgrade along the offensive line. Andy Reid likes big offensive lineman—and Derek Sherrod fits the bill.
The Saints do not have many holes in their roster. They could add a linebacker or a pass rushing defensive lineman depending on who they have ranked higher on their board—but I have them taking Akeem Ayers here.
The Seahawks desperately need to upgrade their offensive line. Game Carimi could start at right tackle or left guard.
I think Baltimore could trade this pick. If not, they might go after an outside linebacker such as Justin Houston.
Jimmy Smith is big and fast. He's also a good pick up at this point in the draft.
Smith would also match up against bigger receivers and be a nice addition across from Dunta Robinson.
Mikel LeShoure is 6'0" and 230 pounds, possessing excellent speed.
With the Patriots having three picks in the top 33 draft spots, they can go after a running back here.
The Rams need to add some playmaking wide receivers for Sam Bradford. Jonathan Baldwin makes more sense at the end of round 1.
Kris Jenkins has only played in seven games in the last two seasons. It's time to find his replacement. Phil Taylor is a strong possibility.
Aaron Smith has had season-ending injuries in both of the last two years. Ziggy Hood has stepped up, but Cameron Heyward at this point in the draft is too good to pass up.
A value pick for the Packers. Tyron Smith could sit on the bench for a year or two and grow into his body before starting at left tackle.