Left Out: The Candidates and Their Chances for the Giants Left Field Spot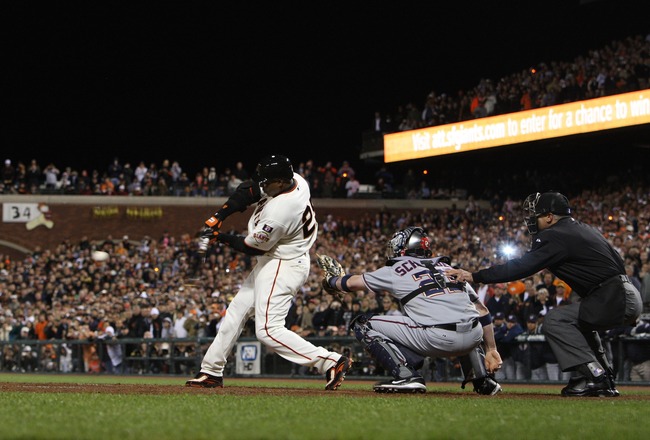 Where were you on August 7, 2007?
Justin Sullivan/Getty Images
For 15 years, Giants managers were blessed with one of the easiest lineup decisions in history—putting Barry Bonds in left field. And for 15 years, it was a position that didn't need to concern fans or coaches—if you had a five-year-old making the lineups for the San Francisco Giants, they would, without fail, know who to put in left field.
Then they had Fred Lewis, Randy Winn, Eugenio Velez, John Bowker, and Brian Horwitz. That's right, those guys.
Last year the Giants found Pat Burrell but also discovered that Aubrey Huff could lumber around out there.
Which brings us to 2011. The year of versatility. If you want to get technical, the Giants currently have seven people on the roster who can play the left field position. If you want to theorize, you could add Aaron Rowand and Nate Schierholtz to that bunch as well, but manager Bruce Bochy has all but ruled those last two out of a position change.
The lucky seven?
2010 starting first baseman/left fielder Aubrey Huff.
2010 starting left fielder/right fielder Pat Burrell.
2010 starting disabled list wiffle ball champion Mark DeRosa.
2010 NLCS MVP and right fielder Cody Ross.
2010 fastest man alive winner and starting center fielder Andres Torres.
2010 defensive replacement of the year Travis Ishikawa.
2013 World Series MVP Brandon Belt.
Let's get right into it.
Brandon Belt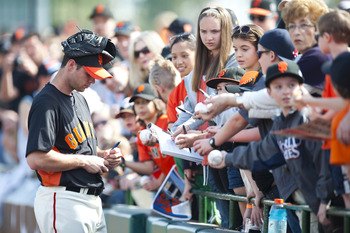 It's like the bubble-gum on the helmet, except more conspicuous.
Rob Tringali/Getty Images
I decided to go in alphabetical order, so the rook goes first.
Haven't we heard this story before? Tore it up in the minors, patient hitter, great defender, MLB ready, best in the organization (at everything), most likely will start the season at AAA Fresno.
His name? Buster Posey.
I mean Brandon Belt. Belt is being heralded as the best prospect in the Giants system since...well, Buster Posey. San Francisco has had the opportunity over the past five years to have the best homegrown pitching staff in baseball bestowed upon them, and now they have a chance to show off a tremendously talented young core of position players in the very near future.
The question is, where to put Belt? He's great at first base, but the Giants just signed Aubrey Huff to a new contract, and Huff isn't too shabby at his position either.
Wait, didn't this already happen? Buster Posey was finally promoted to the majors last year and played first base while Bengie Molina was still behind the plate.
And Aubrey, in all his water buffalo glory, gracefully (in a strictly figurative sense) moved to left field. It could happen again right? Except Belt is a whole lot better at fielding around first base than Huff is.
So the possibility of putting Belt in left field came up. But with the position as crowded as it is, and as adamant as the Giants are about letting their prospects play their own position when they come up to the majors, and given the fact that there are a few players in front of Belt on the depth chart that have experience there, I'd say his chances of starting in left are pretty slim.
Pat Burrell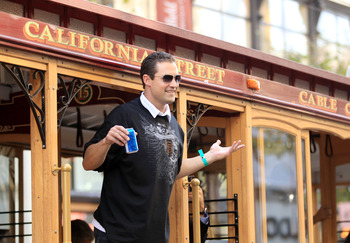 What can I say? I love Bud Light. And partying.
Ezra Shaw/Getty Images
Remember when the Giants signed Pat Burrell, then he hit a ton of important homeruns, and there was a lot of ass slapping, crotch grabbing and chest punching going on? And then remember the World Series?
I think that the Pat Burrell we'll see will be somewhere in between that.
I definitely don't think he'll blast 35 homers this year, and I definitely think he knows he's not the most athletic guy out there. But if Burrell can be somewhere between 0-for-16 and 18 HR in 96 games, he's still not a bad option to have. With Gold Glove caliber defense from Andres Torres and Aaron Rowand in center, Burrell in left can be managed.
He's also making...nothing. $1 million to be close to his hometown, his best friend Aubrey Huff, and to sign the team that picked him up off the couch.
If Burrell can prove he can actually still see the ball (after last October I'm not really sure), he has a very good chance of reclaiming that starting left field position.
Mark DeRosa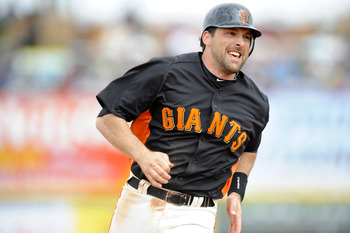 Does this look like the face of someone with a bum wrist?
Rob Tringali/Getty Images
Mark DeRosa has something to prove.
Last year, Freddy Sanchez had something to prove to the Giants fans, and after he hit three doubles in three at-bats against Cliff Lee, I'm pretty sure he did. This year it's DeRosa's turn.
DeRosa signed a two-year, $12 million deal that runs through the end of this season. Last year, the Giants paid $6 million for him to play 29 games and then have season-ending surgery on a wrist that was supposed to have already been repaired. This year, they're looking for a little more bang for their buck.
DeRosa has already shown his versatility throughout his career, putting up solid numbers in left, as well as every infield position. Such flexibility will earn him a roster spot, he just has to wait to find out where he'll be playing.
With Juan Uribe gone, DeRosa will assume a little bit of his role, play 2B and 3B when Freddy Sanchez and Pablo Sandoval need days off, as well as possibly starting in left if Burrell doesn't work out. But he'll be in the lineup pretty much every day, in one spot or another.
Think Eugenio Velez, except better. A lot better.
Also, especially in his later years, DeRosa has put up numbers that are comparable to Uribe when it comes to power—even better numbers in terms of average and on-base percentage. A healthy DeRosa will most likely be able to produce the same output as Uribe did last year.
Because of his ability to play multiple positions, DeRosa is a little hard to pin down as the starting left fielder. I predict that he will be in the lineup on Opening Day, I'm just not sure where.
Aubrey Huff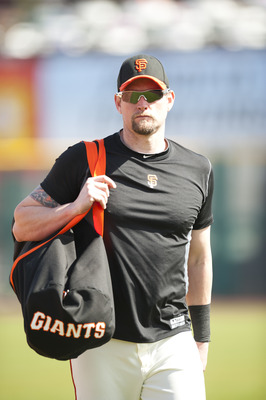 These are my boomsticks.
Rob Tringali/Getty Images
Aubrey Huff, Renaissance Man.
He loved playing DH, but it turns out he can actually play first base really well. And guess what? Left field too! I've also heard he's a pretty good dancer and can write poetry with both hands.
Plain and simple, I think Sabes and co. will treat this a lot like last year. Aubrey Huff is athletic and willing to do what it takes for the team to win.
If that means moving from first base to left field to let some rookie get in the lineup for a couple weeks, he's good with that and so are the Giants.
But I'm pretty sure Huff will start the year at first base and not in left.
Travis Ishikawa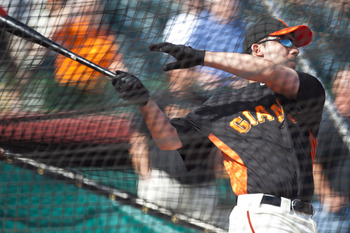 When he's not caught in a net, Ishikawa is a plus defender.
Rob Tringali/Getty Images
Ishikawa is on the bubble.
He has played first base all his life, and now, like with the outfield, the Giants have a glut at first base. Huff, Sandoval, Posey, and DeRosa all have experience at first. Brandon Belt is chomping at the bit. Brett Pill is wondering where Brandon Belt came from and how he leapfrogged him so fast but is also there.
With Huff locked up, Ishikawa is not going to be a starter on this team unless something drastic happens. He's looking forward to a life similar to the previous year as a defensive replacement and a pretty solid left-handed bat off the bench.
But the Giants already have a couple of those, and they're more versatile than Ishikawa is. That's why he's trying to make a change. The only problem is, he's going from the frying pan into the fire. Or, more aptly, from one crowded position to an even more crowded position.
Again, he won't be a starter, but if Ishikawa can show some flexibility, he can provide some depth.
Cody Ross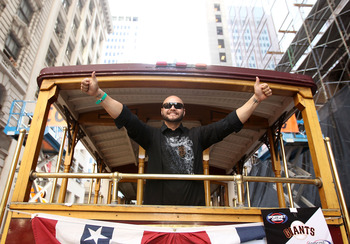 Who's got two thumbs and a World Series trophy? This guy.
Ezra Shaw/Getty Images
Smiles McGee will probably be the starting right fielder for the 2011 Giants. With any luck, he'll be there for a couple years after that too. Ross has expressed a lot of interest in signing long-term with the team that brought him to the World Series and got him a ring.
But Ross can also play left, which makes him instantly more valuable than Aaron Rowand and Nate Schierholtz, who have long since restricted themselves to their respective center field and right field positions.
Ross signed a one-year deal with the champs, but it was under the impression that he would be the starting right fielder like he was throughout the playoffs. Things always change, though. Things always change.
Andres Torres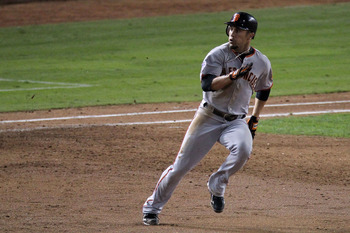 Torres without appendix > you with appendix.
Doug Pensinger/Getty Images
Andres Torres would play catcher if you asked him to—he's probably really good at it. But the Giants already have a catcher, and for most of last year, they had a lot more pressing need in center field.
Torres is one of those feel-good stories about a career minor-leaguer that finally latched on with a team and sparked them to greatness. No really, he is. They made a movie about it.
Again, his ability to play all three outfield spots is a plus for him. Aaron Rowand is not a corner outfielder, but Torres ends up backing up all the corner outfielders anyways, so we know he can cover the ground out there. If Rowand ends up being fantastic and earns his starting role back, then Torres will most likely move to another spot in the outfield.
But that's doubtful. I'd keep Torres in center, and I think he'd rather be there too.
Anyone Else?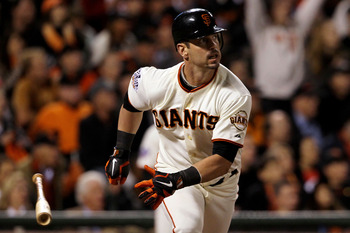 Games in CF: 1095. Games anywhere else: 140.
Justin Sullivan/Getty Images
Rowand, Schierholtz, Darren Ford, Gary Brown.
There's no Eugenio Velez on this list, which makes me happy.
Ford is a center fielder for sure, but he's still not polished enough at the plate. Gary Brown is in the same boat.
We've already talked about how Rowand and Schierholtz are locked into their positions.
So with those seven down, there's not really any debating left to do. In my perfect world, here's who I'd have:
DeRosa and Burrell platooning in left. Honestly, if both of them perform at the levels they're capable of, neither of them deserves to be coming off the bench. They're both in their late 30s, so why not keep them fresh and split the time?
Belt is going to start the year in AAA, which I actually agree with this year, since there's no Bengie Molina blocking him.
Huff is a first baseman and so is Ishikawa, which I think puts him at a risk of being cut this year. Ross and Torres already have their positions set.
So go with the 35+ platoon in left, and at the end of the year we'll combine their stats and see if they're any better than Fred Lewis.
ONLY 27 DAYS LEFT UNTIL OPENING DAY!
And then we'll know for sure.
Keep Reading

San Francisco Giants: Like this team?