MLB Preview 2011: Analyzing the Rays' Key Matchups in the AL East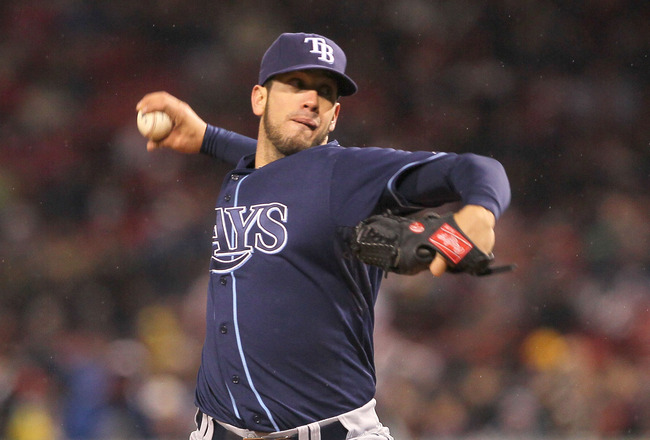 Jim Rogash/Getty Images
This year's American League East is going to be a very hotly contested division. With all five teams easily capable of putting together .500 or above seasons, the order of finish could be dictated by just a few games.
For the Tampa Bay Rays, the new look of the franchise gives them a new set of advantages and disadvantages over their division rivals. While the other teams within the division spent big bucks this offseason, the Rays were able to cut their payroll from over $70 million to approximately $42 million without sacrificing a tremendous amount of production.
While this is a great feat in terms of business, the results on the field will determine how smart the Rays really are. Here are some of the big matchup advantages and disadvantages the Rays have going into the 2011 season.
James Shields vs. Red Sox Lineup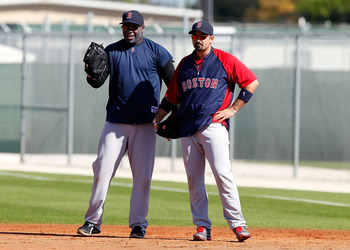 J. Meric/Getty Images
There are few words scarier in baseball right now:
Crawford, Pedroia, Youkilis, Gonzalez, Ortiz.
Put them in any order and you will always have the best middle-of-the-order in baseball this year or any of the past several years. The Red Sox have a "Muderer's Row", so to speak, playing at one of the best hitting parks in baseball.
To the left-handed Adrian Gonzalez, who averaged 32 home runs per season in Petco Park, a notoriously tough place to hit, the 302 feet to the Pesky Pole at Fenway must look awfully nice.
So what does this have to do with the Rays? Enter James Shields.
Once the Rays' ace, he enters 2011 as the oldest starter and perhaps the biggest question mark. His 34 home runs allowed last season and 5.18 ERA were weak spots for a very strong Rays team.
He was battered and beaten last year, and that was with an injury-depleted Red Sox team. With 18 games per year against the BoSox, Shields' propensity for allowing home runs seems to be a major disadvantage.
Rays Lineup vs. Yankees Starting Pitching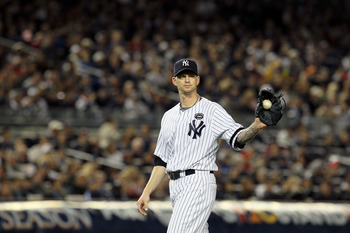 Jim McIsaac/Getty Images
For all the millions and millions of dollars the Yankees spend, they failed to upgrade the part of their team that could be their Achilles' heel in 2011—their pitching rotation.
With C.C. Sabathia and Phil Hughes at the top, the Yankees have two proven studs. But beyond that, guys like A.J. Burnett, Ivan Nova and Freddy Garcia hardly scare anyone.
But taking a closer look, Sabathia and Hughes haven't been at their best against the Rays.
Sabathia faced the Rays five times in 2010, going 1-1 with a 1.81 ERA. Not bad. But in a crucial late-September game, Sabathia allowed 7 runs to the Rays.
Hughes started only three games against Tampa Bay, going 1-2 with a 4.74 ERA, shaky numbers for a guy who is the consensus second-best pitcher in the rotation.
The point? The Yankees' rotation is vulnerable, and with the Rays lineup projecting to produce at the same or higher levels than 2010, this looks like a very beatable team. Being able to beat the Yankees' rotation to avoid their stellar bullpen is a huge advantage for the Rays.
Rays' Strikeout Lineup vs. Blue Jays' Strikeout Pitchers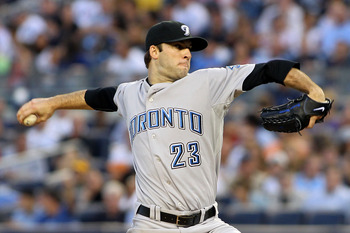 Michael Heiman/Getty Images
One glaring weakness that came into clear view during the 2010 season for the Rays was their almost uncanny ability to strike out. Their 23.8 percent team strikeout rate was the third-highest in baseball behind the Marlins and Diamondbacks.
Some of the most important hitters for the Rays struck out a heck of a lot. Kelly Shoppach (44.9), B.J. Upton (30.6) and even Evan Longoria (21.6) struck out more than one would like.
This poses a big problem when facing the Toronto Blue Jays, a team with a strikeout-savvy rotation. All four of the Jays' regular starters had K/9 rates of over six, led by Brandon Morrow at 10.95 strikeouts per nine innings.
Against the Rays, Toronto pitchers averaged 7.6 strikeouts per game, though this might be slightly inflated due to Brandon Morrow's 17-strikeout performance. Even still, that is over seven at-bats where the ball was not put in play. Over the course of a game, that's a big, potentially outcome-changing effect.
This high strikeout rate on both sides serves as a disadvantage for the Rays.
New-Look Rays vs. New-Look Orioles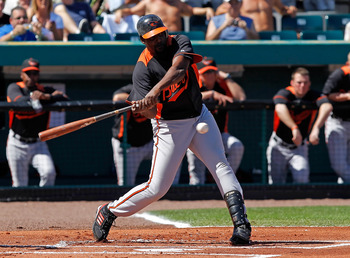 J. Meric/Getty Images
The Baltimore Orioles, also known as the Fightin' Showalters, made several huge acquisitions this past offseason. Building on a strong finish to its 2010 campaign, Baltimore added the likes of Derrek Lee, J.J. Hardy, Mark Reynolds and Vladimir Guerrero to their lineup, Justin Duchscherer to the pitching rotation and Kevin Gregg to the bullpen.
This is a strong team. But are they good enough to compete with the AL East?
Against the Rays last year, the Orioles pitched and hit fairly well. Jeremy Guthrie and Kevin Millwood combined to go 3-3 against Tampa Bay, but had a good combined ERA of 2.86. Brian Matusz also pitched well against the Rays, with a 2-1 record.
Hitting-wise, the Rays were haunted by Luke Scott, who hit .370 with five home runs against them. Felix Pie, Matt Wieters and Adam Jones also hit well. Add the potent bats of Lee, Hardy, Reynolds and Guerrero, and the Orioles have a very challenging lineup.
But the Rays won last year's series 11-7, and despite improvements to Baltimore's team, there is too much uncertainty in the pitching staff and the potential for down years on offense. They will be a competitive team, but the Rays still hold the advantage.
Rays Pitchers vs. Carl Crawford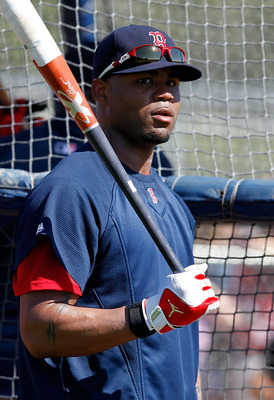 J. Meric/Getty Images
Perhaps the biggest question mark of the 2011 season for Tampa Bay is what will happen the first time Carl Crawford comes to the plate at Tropicana Field. It will almost undoubtedly be in the top of the first inning on June 14th, the first time Boston visits the Trop.
But the real question is how Crawford will hit against his former teammates. He has never faced David Price, James Shields, Wade Davis, Jeff Niemann, or Jeremy Hellickson as a true opponent. To get a gauge of how he might do, Baseball-reference.com's similarity score would help.
At age 28, Crawford is actually most comparable to Roberto Clemente. But go a few players down, and you find a statistical similarity to current Ray, Johnny Damon. So how has Damon done against Rays pitching?
Over the last two seasons, Damon faced the Rays in 22 games. He hit .279 (24-86) with three home runs and 15 RBI. Obviously, this cannot predict how Crawford will fare against the Rays. But because Damon is a similar hitter to Crawford, numbers in this neighborhood would not be a surprise.
There will be additions and subtractions for familiarity with the Rays' pitchers and ballpark along with the mental toll of facing your longtime team. But simply because of the player Crawford is and his knowledge of the tendencies of Rays pitching, the Rays are at a disadvantage.
Rays Hitters vs. Rafael Soriano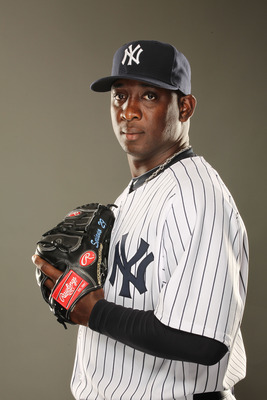 Al Bello/Getty Images
Rays fans became very familiar last season with Pitbull's song, "Fuego". Ten cuidado con el fuego. Beware of the fire. Rafael Soriano's warm-up song typified his personality—all fire, all the time. He shut down nearly every opponent he faced en route to 45 saves and a 1.73 ERA. And now he's a Yankee.
As the Yankees' setup man to Mariano Rivera, Soriano will have a much different role with New York than he did in Tampa Bay. Will this affect his performance? Probably not. As setup man with Seattle and Atlanta from 2006-2008, Soriano's ERA was below three and his numbers were right on par with his 2010 numbers.
Last season, Soriano threw the fewest fastballs of his career, mainly because of the increased effectiveness of his slider. He relies on a tremendous amount of movement, something the Rays lineup can struggle with (i.e. Brandon Morrow, Mark Buehrle, Dallas Braden).
So when the eighth inning rolls around and Soriano enters the game, the Rays will be put at a disadvantage. Beware of the fire.
Damon and Ramirez vs. Red Sox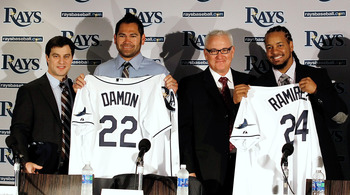 J. Meric/Getty Images
They were once Idiots. And now they are Rays. As interesting as the Rays-Red Sox rivalry was once Carl Crawford signed in Boston, it became infinitely more interesting when Johnny Damon and Manny Ramirez signed one-year deals with the Rays. These two former Sox outfielders make for an interesting matchup.
Take Manny, for example. Last season, he played nine games against the Red Sox, the first time he had done so. In those nine games, he hit .423 with a home run.
Damon, as a member of the Tigers, played three games against Boston, going 2-9. In 2009, he hit .242. So Damon's numbers against his former team are fairly poor.
The results could be mixed, but the Rays seem to hold an edge. Ramirez is familiar with guys like Beckett, Lester and Matsuzaka, having played with them in his final Red Sox season. Damon is not as familiar, but he still knows the bounces of Fenway Park and has the added advantage of speed.
In both cases, I believe that Damon and Ramirez, and therefore the Rays, have an advantage.
Rays Bullpen vs. AL East Lineups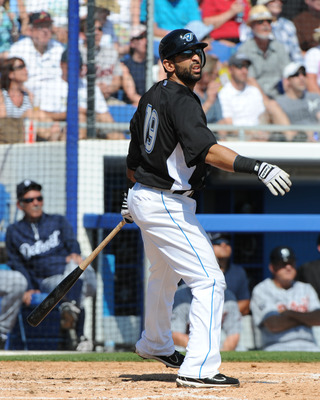 Al Messerschmidt/Getty Images
It's the bottom of the ninth inning. The bases are loaded with two outs and the Rays are winning by one run. The batter is Adrian Gonzalez/Alex Rodriguez/Jose Bautista/Mark Reynolds. As he digs in, he fixes his eyes from the plate to the pitcher's mound, where he sees the imposing figure of...Kyle Farnsworth?
Of all the question marks the Rays have for this coming season, the bullpen is without a doubt the biggest. There are journeymen and young men, mainly unproven yet promising relievers. There is the flamethrower Farnsworth, who has been beat up his entire career. There is Joel Peralta, coming off a great season in Washington. There is Jake McGee, the young closer of the future who still needs to grow up.
So who is going to close games for the Rays? No one really knows. Joe Maddon may use a closer-by-committee approach or decide on one steady closer. No matter what, it seems that the Rays have a relatively weak bullpen.
When you consider the incredible lineups in the AL East, late game situations seem to be a trouble spot. The Rays' bullpen is a disadvantage.
Keep Reading

Tampa Bay Rays: Like this team?