Boston Red Sox: Why First Baseman Adrian Gonzalez Will Be the 2011 AL MVP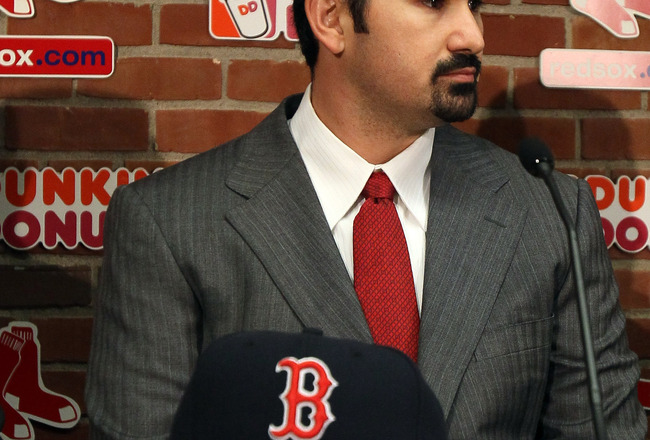 Go Ahead. Put it on.
Elsa/Getty Images
I get a few butterflies in the ol' boilmaker when the Boston Red Sox throw a big time prospect into a trade. The butterflies turn into rabid raccoons when the Sox dump their entire farm team into a deal.
I love prospects. They are like your children in a way. They grow up in front of you, and before you even know it, they are making All-Star teams, start growing Lemmy Kilmister inspired facial hair and getting into fights with Manny Ramirez.
There's a sense of pride in seeing someone who rose through your own farm system, especially as Red Sox fans. When a Red Sox prospect goes through the minor league ranks and reaches the Big Show, they tend to exhibit the qualities Red Sox fans look for in their players. Hard working grinders that aren't afraid to get their uniforms dirty and show off the five o'clock shadow. This is also definitely true of the farmhands of the Empire, which would be a sweet band name.
Players who are brought up under the "Yankee Way," epitomize what the Boss looked for in his players, a mastery of the fundamentals, while maintaining a clean shaven face.
One argument that us Sox fans typically make when debating a fan of the New York Yankees is that the Sawx don't "buy championships," meaning we utilize our minor league system better than the Bombers. I've made that argument out of frustration, yet I know it to mostly be untrue.
The Yankees obviously had some blue chip prospects in the '90s and are producing some again today. Derek Jeter, Bernie Williams, Mariano Rivera and Jorge Posada were the first group, and the second group has Robinson Cano (still getting better), Brett Gardner (for his glove at least), Phil Hughes (has real upside but some question marks) and we can soon add Jesus Montero to the list.
However, they have also acquired big name players during their dynasty and outlier 2009 championship such as Wade Boggs, John Wetteland, Tino Martinez, Roger Clemens, Alex Rodriguez, Mark Teixeira and CC Sabathia to name a few.
The Red Sox counter with Kevin Youkilis, Dustin Pedroia, Jonathan Papelbon and Jacoby Ellsbury as their farm system stand outs, and we can add Jon Lester, Clay Buchholz and Daniel Bard to that list too.
However, the 2004 and 2007 Boston Red Sox had their share of big name free agents and players acquired in trades such as Manny, Johnny Damon, Josh Beckett and Curt Schilling. I don't think there's anything wrong with that though, regardless of what team is doing it. If you have the resources to go along with a competent enough front office, and the athletes have the desire to play for a new city, then why on Earth shouldn't they be allowed to?
I made a similar argument in the column I wrote about LeBron James: if an athlete is unhappy with their situation, and if they can find ways to make it a better situation for themselves, then we shouldn't crucify them for that. If you want to make the whole thing a television spectacle, however...
I was a bit worried trading Casey Kelly, Anthony Rizzo and Reymond Fuentes for one player. All three of those guys (ranked as the first, third and sixth best prospects, respectively, by Baseball America) could be near-elite to elite major leaguers one day. The San Diego Padres most definitely got fair compensation.
But, the Boston Red Sox acquired Adrian Gonzalez, the front runner for the 2011 MVP. As a result, the rabid raccoons got a day off.
A Team of Extraordinary Gentlemen
Like peanut butter and jelly, both A-Gone and Crawford are likable on their own, but are better together.
J. Meric/Getty Images
Before I state the reasons why the Gonzalez family should look for the largest mantle they can get for their family home, I'd like to talk about the man himself.
There seem to be very few athletes as nice and well-respected as Adrian Gonzalez. He's drawn comparisons to the nicest baseball player in recent memory who, for a short time, played first base for the Red Sox, Sean Casey. Although, "The Mayor" was most certainly louder.
Gonzo is warm, humble, soft spoken and respectful. Along with the other new signing, Carl Crawford, Adrian Gonzalez is held in high regard from players and coaches alike for their work ethics and attitudes.
Having players like that around helps your brand. A lightning rod of controversy on the roster will make a team generate revenue and interest, but there's always the chance that your team will be made a mockery of (for a recent example: The Minnesota Vikings). Having a player who is popular league wide creates long term interest, and eventually creates loads of fans, or at least enough, to justify the creation of plastic cards that indicate whether or not you're a "real" member of Red Sox Nation.
The 2003 Red Sox were the most lovable losers in recent baseball memory, and at that time, David Ortiz was reaching a level of universal adoration.
Even with possible transgressions (concerning Ortiz and Manny mostly) coming to light, and three seasons without winning a title, the popularity of the team as a whole hasn't waned much, but the Red Sox needed those pseudo-angelic like figures to counteract the players who bring more swagger. Mike Lowell provided the role of the respectful, lunch pail carrier that even fans of other teams could take a liking to. The Red Sox have filled that void with two more genuinely likable players with star quality.
Padres fans still have good things to say about Gonzalez, and Gonzalez doesn't plan on severing ties with his hometown. He left a very kind message in the San Diego Union-Tribune, not only thanking them for all the support he and the team received in his five seasons there, but he also did not say goodbye, instead he assured the city that he still plans on lending a helping hand in area charities and he still considers the city to be a wonderful, amazing place (which it is).
Other athletes have put out ads like this before, and to say the results have been mixed, would be complimentary.
Recently, LeBron James did it and came off as ungrateful since he didn't even mention the city of Cleveland, only his hometown of Akron, Ohio. Johnny Damon infamously put an ad in the Boston Globe after signing with the Yankees, which felt like he was pouring salt in the wound. If Damon's ad did anything, it mostly just highlighted his own ignorance of the ramifications of leaving town to join a hated rival for more money. Damon had every right to leave town, but the advertisement, despite its positive intentions, was received like an insult.
Since Adrian Gonzalez was traded to Boston, and didn't leave due to free agency like Damon and Bron Bron, he seems more genuine.
By the way, could you imagine Manny Ramirez doing the newspaper ad thing? The amount of clippings glued in from Sports Illustrated for Kids would have been staggeringly hilarious.
Defense Still Wins Championships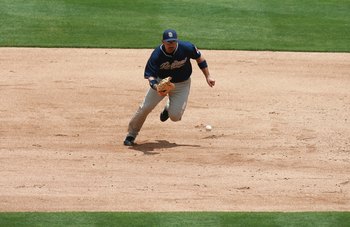 Adrian Gonzalez has led the league in total zone runs (Rtot) at first base for the past two seasons.
Doug Benc/Getty Images
Adrian Gonzalez's prowess with the lumber is well documented, but apparently, his fielding abilities aren't as well known, and I cite this story as an example.
I was talking to the older brother of a good friend of mine about the Adrian Gonzalez deal, and as any right thinking Sox fan should be, he was excited. However, he got very confrontational when I mentioned that Adrian Gonzalez is a defensive stalwart. He said that the Red Sox didn't get him for his glove, just his bat.
I said that was ridiculous because the Red Sox have prided themselves on defense for the entirety of the Theo Epstein era and that Adrian Gonzalez is one of the top five defensive first basemen in the game only clearly trailing Albert Pujols, and being about on par with Mark Teixeira with the glove.
I also mentioned that when Gonzalez was drafted by the Florida Marlins, their scouts were more worried about Adrian's bat than his glove.
Not only did he scoff at me about Adrian Gonzalez's glove and added that Kevin Youkilis is a better fielder than him, he also said that I was crazy to think Albert Pujols was the best defensive first baseman in the game. Something tells me that either of us writers aren't doing the defensive side of baseball enough justice, or the average person doesn't like reading sabermetrics, or reading in general, or listening in general.
Adrian Gonzalez has led the National League for the past two seasons in the runs prevented (Rtot) at first base, with six last year and twelve the year before that. His career range factor (labeled RF/9 and is a calculation of the total amount of put outs and assists per nine innings) is 9.34, which is just a point and change below Albert Pujols' career RF/9 of 10.49. An RF/9 of above nine is considered stellar, while an RF/9 of above 10 is just plain wacky.
While Mark Teixeira's career RF/9 is better than A-Gone's with a mark of 9.61, Gonzalez's RF/9 has been better than Big Tex has been generating outs for the past two seasons. In 2009, Gonzalez contributed an even nine outs a game, while Teixeira had just under that with 8.77 a game. In 2010, Gonzalez's RF/9 was 9.35, Teixeira's was 9.11. These drop offs for Teixeira maybe the result of having a sub-par defensive shortstop throwing to him. Yes, I'm talking about Derek Jeter.
Comparing Adrian Gonzalez's fielding stats to Kevin Youkilis' generate fairly surprising results. While he commits few errors, Adrian Gonzalez gets to a few more balls a game than Kevin Youkilis does (Youk's career RF/9 is 9.15). What's even more interesting is that Youk's career RF/9 at third base is actually better than Adrian Beltre's (2.90 to 2.83). Beltre has had a lot more chances at third base than Youkilis, but at the very least provides a fair amount of support for the idea that the Red Sox didn't lose much defense in the reshuffling of the infield, if they lost anything at all.
The Red Sox have the luxury of a Gold Glove caliber first baseman who also can be a Gold Glove caliber third baseman at the flip of a switch in Kevin Youkilis. While Youkilis is not quite Adrian Beltre when it comes to manning the hot corner, he's not a big drop off either. Just like last season, the Red Sox will have a great deal of production from both corners of the infield.
Having a lethal bat with a glove to go along with it takes a player a long way in the balloting for awards. How many MVP Awards did the Red Sox franchise lose out on with the constant and rightly deserved criticism of Manny Ramirez's fielding abilities?
Two isn't a bad guess. Ortiz lost out on at least one since he doesn't field. It's safe to say Gonzalez will not be a victim of these criticisms.
The House That Gonzo Renovated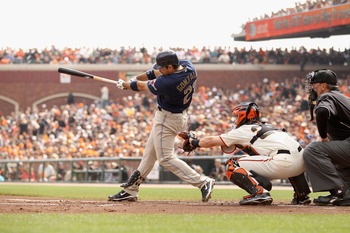 Not only is Fenway Park more tailored to Adrian's inside-out swing, the parks in the AL East aren't as big as they are in the NL West.
Ezra Shaw/Getty Images
Adrian Gonzalez has put up MVP type numbers for the past four seasons while playing his home games at the park most unfriendly to left-handed hitters in the majors. Last season, Gonzalez's OPS was 159 points lower at home than it was on the road. Only 11 of his 31 home runs came in games played at Petco Park. This has been talked about quite often by analysts around the country, but the magnitude of the move to Fenway Park hasn't been appreciated enough.
When Adrian Gonzalez gets going, he's not unlike Manny, and will hit to the opposite field with power over and over again. Manny Ramirez is a right-handed hitter, and that swing put him at a slight disadvantage at times since he had some difficulty putting the ball into the the right field bullpens.
Adrian Gonzalez is, however, left-handed. He has more than enough power to pull the ball into right for big flies in Fenway, but he will shine brightest when he's abusing the Green Monster. A-Gone hit an amazing .516 when going to opposite field in 2010 and he had more hits going to left field (49) then he did pulling the ball to right (39).
He pulled as many home runs as he pushed with 10 to both left and right field. I can't believe I am typing this, but don't be surprised if Adrian Gonzalez hits better than .516 when going to opposite field in 2011.
What I thought would really drive this column home is if I could find a spray chart of what Adrian Gonzalez did at Petco last season and super impose that spray chart onto Fenway Park. Thanks to the Yankees blog River Ave Blues, I was able to locate one, and the results are fascinating.
That is the greatest image I have ever seen, and I have been to a Banksy art gallery. Others counts may be slightly different, but I counted 15 fly outs that would have been home runs in Fenway. On top of that, there were five hits that were singles, doubles or triples in Petco, but would have been gone in Boston. Then, add all the hits that would have cleared the fences at both Petco and Fenway.
That spray chart indicates that Adrian Gonzalez would have hit 31 home runs at home last season. If he had gotten 31 homers instead of 11 at home, and maintained his 20 on the road, that would have put Adrian Gonzalez's home run total for 2010 at 51 dingers. He achieved this spray chart with a bad shoulder that required surgery at season's end. Oh. My. Goodness.
Now for more fun. If one were to add those 20 extra hits to Gonzalez's total number of hits in 2010, he'd have 196. Add those 80 extra bases and that would put him at 382, 31 more than the Major League leaders last year—the Rockies' Carlos Gonzalez (no relation) and the Blue Jays' Jose Bautista.
Also, A-Gone's average rises from .298 to .332. His on-base percentage would end up at .422, and the slugging percentage would reach an awe inspiring .646. Adrian Gonzalez's OPS, if he had played at Fenway Park last season instead of Petco, would have been an MLB leading 1.068! WITH A BAD SHOULDER!!!!
To make matters worse for the rest of the American League, consider this: the NL West contains mostly pitchers parks. Petco is by far the worst park for hitters, but Dodger Stadium is no picnic either. AT&T Park in San Fransisco is cavernous as well, and Chase Field in Arizona is not kind to lefties at all. The only hitters park is Coors Field in Colorado, but that's not even true anymore since the humidor was installed.
Replace those parks with Yankee Stadium, Camden Yards, Tropicana Field and Rogers Centre, and his road stats are looking even better too.
There may be an adjustment period since Gonzalez is in a new league and he hasn't faced a lot of these pitchers before. Also, he is slowly entering the fold at Spring Training having still not taken live batting practice at the time of this columns publishing, but with those potential setbacks aside, Gonzo should be expected to destroy.
What This Means for the Red Sox 2011 Season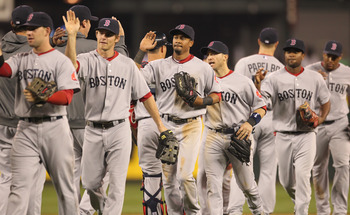 There's gonna be a whole lot of high fiving going on this year.
Otto Greule Jr/Getty Images
Having a presence like Adrian Gonzalez in the clean-up spot, surrounded by the likes of Dustin Pedroia, Kevin Youkilis and Carl Crawford gives Boston the best lineup in the big leagues. The New York Yankees are still quite formidable with the bats, but their batting order isn't as strong one through nine, and Cano-Rodriguez-Teixeira isn't as formidable of a 3-4-5 as Crawford-Gonzalez-Youkilis is.
Their defense is still strong, their pitching will be better, and their bullpen is a strength, instead of a weakness. If the harshest criticism of a team is that "they have too many lefties in their order," than you have an amazing team.
I fully expect Boston to win the AL East, win the AL Pennant, and meet Philadelphia in the World Series. Philly might have the best shot of stopping Boston's path to its third World Series title in eight years, but even if they do, this Red Sox team is a whole heckuva lot better.
Now, the issue with a slide show like this is that I just put myself up for failure with this prediction. There's no reason to expect Adrian Gonzalez to have an intense drop off, although there's always the chance of injury. If it makes Red Sox Nation feel any better, I had my fingers crossed while typing this thing out. It hurt a great deal, but not as much as it would hurt to not win the World Series this season.
Keep Reading

Boston Red Sox: Like this team?