2011 Combine Results: Who Should the Cardinals Take in Round 1?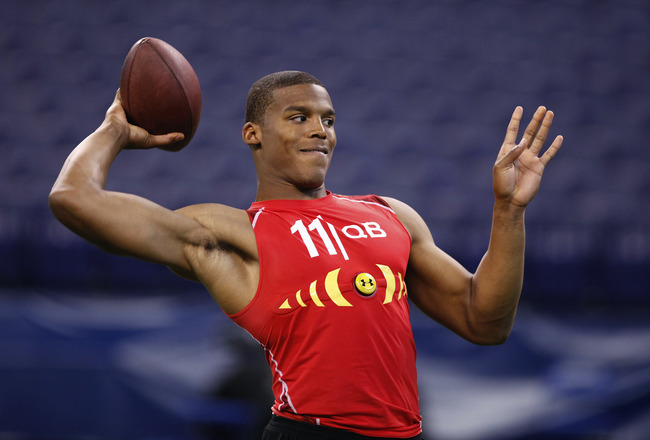 Joe Robbins/Getty Images
Ah yes.
The combine.
No other sports preseason combine is as highly monitored as this one.
And let's face it—you can make your fame (Mike Mamula anyone?) or lose it at the combine.
And while I don't think the results make the athletes, if you don't run fast, you're probably not going to get drafted high.
Shoot, if you don't do well period, nobody's drafting you.
So with that, I'd like to go through some of the combine talk about some top prospects and examine five the Cardinals have been projected to take.
Then I'd like to suggest whether the Cardinals should actually take them.
Cam Newton, QB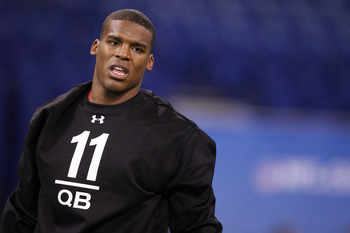 Joe Robbins/Getty Images
I think what still concerns me more about Newton is his off the field actions, but that would take too long, so we'll just discuss what he actually did at the combine.
Well, first off, there is a reason most agents advise against throwing at the combine, and Newton kind of proved why with a so-so day throwing.
Still, he has a great arm and throws timing routes well apparently.
But isn't anyone just a bit worried about him running the spread in college?
Apparently not...everyone seems to be eating him up as the next Ben Roethlisberger.
And he could be. But I don't think the Cardinals need a Big Ben personally.
Nick Fairley, DT
Joe Robbins/Getty Images
Fairley actually surprised some people.
And it wasn't his run coverage or his pass rushing skills.
It was his coverage skills.
As tempting as it would be to take Fairley, even though he plays a little dirty (which a Pittsburgh based defensive coordinator wouldn't mind, a la James Harrison), I don't think the Cardinals will take him.
Why?
Because they drafted one last year.
And yet, Michael Lombardi of nfl.com thinks we'll take him.
And he's an expert because....?
Blaine Gabbert, QB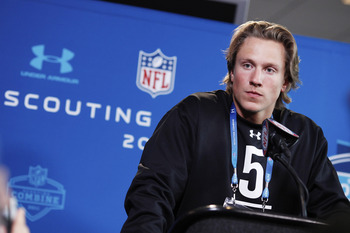 Joe Robbins/Getty Images
Gabbert, unlike Newton, didn't do much at the Combine, and for good reason.
And despite the fact that Mel Kiper Jr. has now said that Newton is the top guy in the draft, I still think it's Gabbert, who reminds me more of a Sam Bradford/Matt Ryan type than anyone else.
It's still a weak quarterback class in my opinion, however.
Should the Cardinals draft Gabbert?
In my opinion...no.
Unless they think he is the guy for the next 10 seasons.
Should they risk that with a guy who threw 16 TDs last season?
I doubt they will.
Patrick Peterson, CB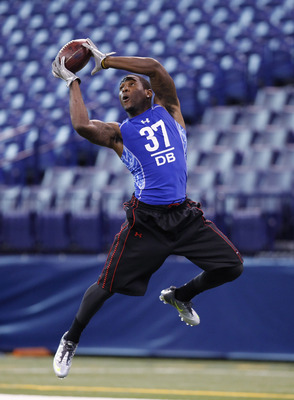 Joe Robbins/Getty Images
Although it's not a big need for Arizona, you have to think a defensive mindset going into the draft for the Cards with their new D-Coordinator Ray Horton.
And Horton has to love the athleticism of Peterson, who is viewed by some as the best overall draft prospect.
He did not disappoint in the combine either, posting a nice 40 time (4.34), and excelled in all his drills.
In fact, Peterson did exactly what we thought he would.
So should the Cardinals draft him?
Well, if the player on the next slide is gone, then I would highly recommend it.
Von Miller, OLB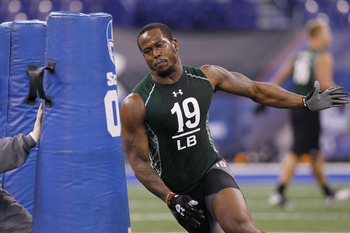 Joe Robbins/Getty Images
I know.
I've already said the Cardinals should target Miller in the draft.
Well, the Combine just backed up my claim.
He was second among linebackers in the 40, posted the best broad jump, and had the third best vertical jump.
After he added 10 pounds.
As if that wasn't enough, scouts have been impressed with Miller's attitude as a potential top 10 pick.
Need I say more?
Listen, I know I've already made the case for Miller, but unlike last season, when the Cardinals could go anywhere, I really think they need to go with Miller.
They need someone who can get to the quarterback now.
And Miller can do that.
Keep Reading

Arizona Cardinals: Like this team?