MLB Trade Rumors: Francisco Liriano Deal Doesn't Make Sense for Minnesota Twins
February 28, 2011
Hannah Foslien/Getty Images
It's been a big offseason for starting pitchers on the move.
After months of speculation, Cliff Lee signed a five-year, $120 million deal with the Philadelphia Phillies in the free-agent frenzy of the winter.
The Milwaukee Brewers emptied their farm system for trade-market equivalent Zack Greinke and the Chicago Cubs then gave up an arguably better package of prospects for the good-not-great Matt Garza.
Even lesser pitchers, Carl Pavano and Jake Westbrook, each got $16.5 million as free agents.
Fausto Carmona's name came up in multiple conversations and names like Brandon Webb, Brad Penny and Javier Vazquez were the subjects of persistent rumors as well.
Now, with MLB's winter recess over and spring training underway, a new name has ignited flames on the hot stove: Francisco Liriano.
The seed was planted earlier this month when, after talking to Twins team officials, the Minnesota Star-Tribune's Joe Christensen wrote that he was "surprised how open they are" to trading Liriano. Since then, USA Today's Bob Nightengale has reported that the New York Yankees are "keeping a close eye" on the Twins ace, while Minnesota was "keeping tabs on" Bombers prospects.
I know I'm not the first person to have this reaction, but there's one little problem with the idea of the Twins unloading Liriano now: It doesn't many any sense whatsoever.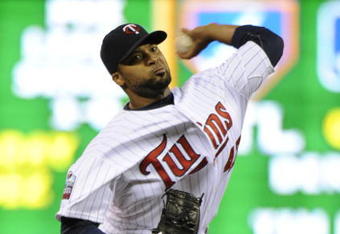 Hannah Foslien/Getty Images
First of all, the Twins are the reigning AL Central champions and they figure to at least be serious contenders again in 2011. That's not the kind of situation that would motivate most teams to deal their best pitcher.
Minnesota didn't face any serious challengers in 2010, but their six-game advantage over the second-place White Sox is too small for the Twins to feel fully secure about another title this year. Plus, their main competition, the White Sox and Detroit Tigers, have upgraded this winter by bringing in Adam Dunn and Victor Martinez, respectively; unless they got equivalent big-league talent in return, trading their ace would be enough for the Twins to lost their status as preseason favorites.
But beyond that, trading Liriano would be stupid because—strange as it may sound for a pitcher who went 14-10 with a 3.62 ERA last year—his trade value is too low.
Impressive as his stats may be, Liriano in fact suffered from miserable luck in 2011. His .331 BABIP was the second-highest in baseball among qualified pitchers, behind only James Shields (.341).
How big of a difference did that make?
Consider this: Liriano posted a 2.66 FIP (a better predictor of future ERA than past ERA), good for second in the AL. His 3.06 xFIP was the best in the league. A couple of bad bounces and some poor backing defense were all that separated him from a prominent spot in the Cy Young conversations.
Not convinced? Consider this: FanGraphs' wins above replacement statistic (which uses FIP instead of ERA) has him at 6.0 WAR for 2010. Remember how big the Twins' lead over the White Sox was? Without Liriano anchoring Minnesota's staff, the AL Central ends in a tie.
In addition, inquiring GMs will be weary of Liriano's inconsistent track record. After going 12-3 with a 2.16 ERA as a rookie in 2006, he underwent Tommy John surgery, which cost him the entire 2007 season.
In 43 games in 2008-09, he went 11-17 with a 5.12 ERA.
Given Liriano's exceptional peripherals, previously demonstrated talent and age (he's only 27), there's no reason to think he can't continue to play at this level or even improve.
Unless the Twins know something we don't (maybe his elbow's acting up again?)—in which case, any suitor would demand the relevant information—why would they sell one of the best young pitchers in the game for the price of an inconsistent starter who'd just had a very good-but-not-great year?
Especially right before the start of a season when they're planning to play well into October?
Of course, this is all assuming the Twinkies don't get a fair offer and if the pitching-starved Yankees are indeed after him, they might be desperate enough to overpay.
But it's hard to see Minnesota getting a decent return on an investment that could cost them the season.
For more of Lewie's work, visit WahooBlues.com. Follow him on Twitter @LewsOnFirst or @WahooBlues.