MLB Power Rankings: Ranking Every Team's Top 3 Hitting Prospects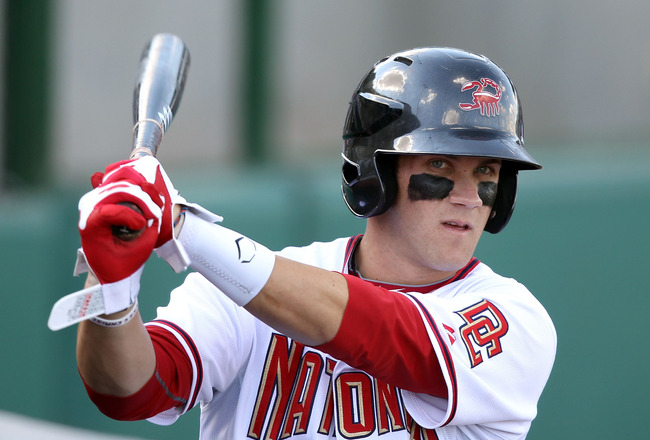 Christian Petersen/Getty Images
Who's the best hitter in all of the minor leagues?
Quite the loaded question. If you're talking about pure hitting for average skill, then you couldn't go wrong by saying Los Angeles' Mike Trout, Minnesota's Ben Revere or Atlanta's Freddie Freeman.
If you're looking for power, then pick a name out of the hat that includes Kansas City's Mike Moustakas, Washington's Bryce Harper, and Oakland's Chris Carter.
And if you're thinking about including plate discipline and selectivity, then you'll have to include Kansas City's Eric Hosmer, Seattle's Dustin Ackley and Washington's Derek Norris in the discussion.
It's too tough of a decision to come to, so instead, let's take a look at each team and rank their top three hitters, and I'll let you decide for yourself who the best hitter, or hitters, in the minors are.
Arizona Diamondbacks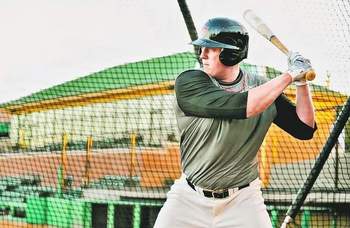 1) Marc Krauss, OF
One of the top college hitters coming out of the 2009 draft, Krauss has continued his hot-hitting ways as a pro. He hit .304 in a 32-game trial in Low-A after signing and tore up the Cal-League last year, hitting .302 with 25 homers and 87 RBI. He has the best balance of hitting for average and hitting for power of any position player in Arizona's system.
2) A.J. Pollock, OF
Taken one round before Krauss, Pollock was also a solid college player, who was a record setter with the bat at Notre Dame. Pollock performed well in 63 games alongside Krauss in Low-A in 2009 but missed the entire 2010 season due to a fractured growth plate in his elbow. While Krauss offers .290, 20+ homer potential, Pollock should be good for .300 and 15 homers.
3) Matt Davidson, 3B
While Krauss and Pollock are both pretty good power-average combos, Davidson is strictly the former. He's a career .261 hitter in 206 games. Last season, he hit 18 homers and drove in 90 runs, maintaining a solid .272 average. Like the other two, Davidson was also a product of the 2009 D-Backs draft and isn't far behind them in terms of development, despite being three years younger.
Atlanta Braves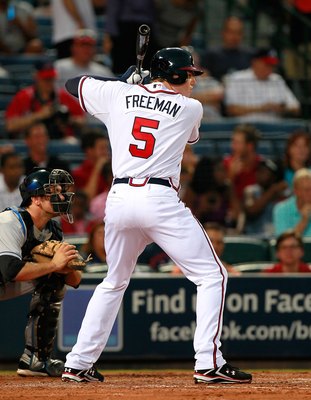 Kevin C. Cox/Getty Images
1) Freddie Freeman, 1B
Freeman is as complete a hitter as you'll find in the minors. He has a great balance of average and power and has a great idea of what he's doing at the plate. He'll take over first-base duties for the Braves in 2011, leaving their system very bare when it comes to pure hitting talent.
2) Todd Cunningham, OF
You have to dig deep in Atlanta's system to find really good hitters. Cunningham was the Braves second-round pick in last year's draft and is a switch-hitter who has such a good approach at the plate that the Braves envision him as a potential leadoff hitter. He shouldn't hit for much power as a pro but enough to warrant a long-term look in one of the two outfield positions that isn't occupied by Jason Heyward.
3) Cory Harrilchak, OF
The Braves 29th best prospect according to Baseball America, Harrilchak has performed well at the plate, even better considering he was a 14th-round pick. He hit .324 for Appy League Danville in 2009 and kept up his hot pace to start 2009 in Low-A ball. He struggled a bit to keep his average above .300 in a 58-game trial in High-A but played well enough to earn his way to Double-A to start 2011.
Baltimore Orioles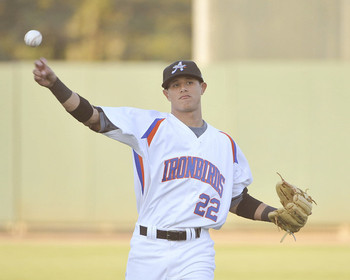 1) Manny Machado, SS
Machado was one of the top high school hitters available in the 2010 draft. He should hit for a solid average in the majors and could develop some decent pop as he fills out. He's already added 10 pounds of muscle since signing, which should help him sustain his potential "five-tools" during the 2011 campaign. He's Baltimore's best hitting shortstop prospect since some dude named Ripken.
2) L.J. Hoes, 2B
Hoes isn't going to shock you with his power (seven HR in 980 at-bats), but the local-born prospect sure can hit for average. He was on his way to a breakout season in 2010, when he was struck with mono. The illness sapped a lot of his strength for the rest of the year. If he's healthy, he should be in for a big 2011 season.
3) Tyler Townsend, 1B
Townsend is one of the best hitters the Orioles have, but he hasn't been healthy long enough for anyone to be able to tell. He's endured multiple injuries since signing, but when he's been on the field, he's been as good as advertised. He should develop into a hitter who can go for both average and power.
Boston Red Sox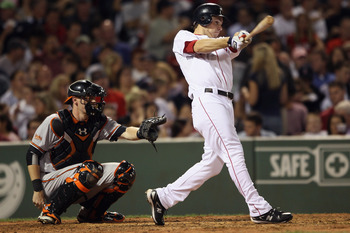 Elsa/Getty Images
1) Garin Cecchini, 3B
It seems silly for a guy who hasn't taken a hack as a professional to rank at the top of a team's hitting depth chart, but now that the Sox are without Anthony Rizzo and Reymond Fuentes, Cecchini really does have the best bat of any Sox prospect. He would have been a first-round pick had he not tore his ACL last year.
2) Josh Reddick, OF
Reddick may not have a long-term future with the Red Sox (see Carl Crawford signing), but that doesn't stop him from making this list. Reddick has an excellent combination of power and average, enough to warrant a chance in the big leagues in any other city but Boston. He could be a valuable trade piece for the Sox in 2011.
3) Kolbrin Vitek, 3B
Vitek might be the best bet to hit for a high average in the majors, which is why the Sox tabbed the two-way player as their first-round pick in 2010. He hit .270 during 68 games for short-season Lowell and Low-A Greenville and should be primed for a stellar 2011 campaign, which is the first in many seasons that will see him focus solely on hitting.
Chicago Cubs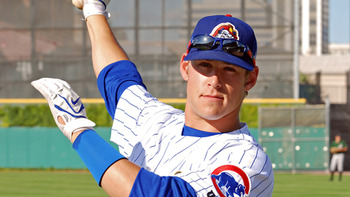 1) Brett Jackson, OF
Jackson was another of the top collegiate hitters in the 2009 draft crop, and the Cubs snatched him up with the 31st pick. Since signing, he has roared through the system, ending last season with Double-A Tennessee. And he wasn't just there on the basis of his draft status. He hit .276 with 13 doubles, six triples and six homers in 228 at-bats. For the season, he hit .297 with 32 doubles, 14 triples, 12 homers and 66 RBI.
2) Josh Vitters, 3B
Vitters has been surpassed by fellow 2007 first-rounder Mike Moustakas, but he still has some promise as a prospect, thanks to his solid bat. Despite his .223 average in 206 at-bats for Double-A Tennessee, Vitters still ranks as one of the more balanced hitters in Chicago's system. He hit 10 homers in 2010, and 18 the year before, and many feel that he's due for a breakout season in 2011.
3) Matt Szczur, OF
It's hard to overlook a guy who began his career with a 21-game hitting streak, especially when the same player signed for only $100,000. It seems, however, that Szczur is talented at everything he does. When he's not racking up a .300 average on the diamond, he's scoring TDs at a record pace for Villanova. There's a chance that the speedy outfielder could forgo a baseball career for a shot at the NFL, where he's projected as a mid-round pick, but if he doesn't, he would be a great addition to a hitting-challenged system.
Chicago White Sox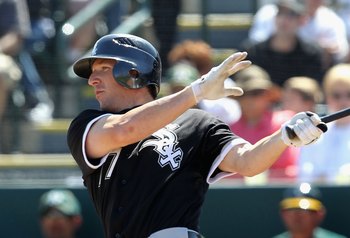 Christian Petersen/Getty Images
1) Brent Morel, 3B
Morel needed only two full-seasons to rush through Chicago's system straight to the big leagues, and despite his less-than-impressive showing (.231, 17 Ks in 65 at-bats), he remains the White Sox best hitting prospect. He's a career .305 hitter in the minors and tore the cover off the ball last season, hitting .322 with 10 homers and 64 RBI. The year before, he won the Arizona Fall League's batting title.
2) Dayan Viciedo, 1B
If Morel is the best bet to hit for average in the system, than Viciedo is the best bet to hit for power. He showed flashes of what he is capable of in a late season 38-game trial with the big league club, swatting five homers in 38 games, maintaining an average over .300. He shouldn't be a high-average guy in the majors, but he has 25+ homer potential there. The Sox gave Viciedo, a Cuban defector, a $10 million big league deal, so 2011 is the year to see what he can do in the Majors.
3) Brandon Short, OF
Short had a great season in 2010, hitting .316 with 15 homers and 79 RBI, despite missing the final two weeks of the season due to injury. He made bigger waves by winning big league manager Ozzie Guillen over with his bat during spring training, meaning he could be a fast mover if he gets off to a hot start this year in Double-A.
Cincinnati Reds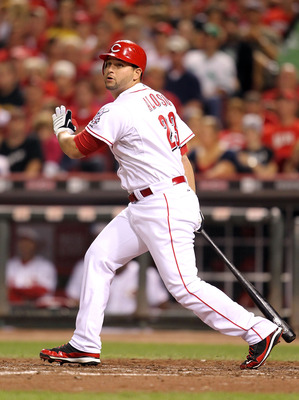 Andy Lyons/Getty Images
1) Yonder Alonso, 1B
Alonso was one of the top college hitters available in the 2008 draft, and the Reds were thrilled to be able to pick him up with the seventh overall pick. They knew Alonso would move quickly through the system, and they've been dead-on in that assesment. In less than three full-seasons, he has already worked his way to Triple-A, where he played most of the 2010 season, hitting .296 with 12 homers and 56 RBI. If the Reds didn't have reigning NL MVP Joey Votto holding down first base, Alonso would be the Opening Day first baseman.
2) Devin Mesoraco, C
Mesoraco always had the talent; it was just a matter of him putting everything together, which he finally did in 2010, hitting a combined .302 with 26 homers and 75 RBI over three levels, ending with a late season Triple-A call-up. He should start back there in 2011 and could take over full-time catching duties in Cincinnati before the end of the season.
3) Yasmani Grandal, C
Grandal, the Reds 2010 first-round pick, gives the Reds two top-notch hitting prospects at catcher. He has slightly less power than Mesoraco but offers better potential at hitting for average. The big question facing Grandal is where he'll play. He signed a big league deal, so his timetable will move him at a faster pace through the minors.
Cleveland Indians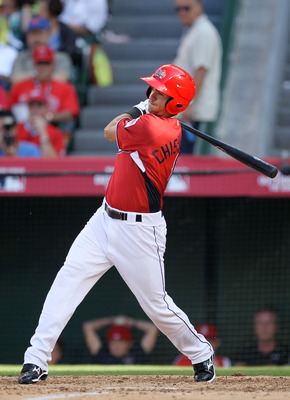 Stephen Dunn/Getty Images
1) Lonnie Chisenhall, 3B
Chisenhall is one of the best pure hitters in all of the minor leagues and a prime example of why you shouldn't give up on talent. Many teams were scared away from drafting the third baseman due to a burglary arrest. The Indians were not and made Chisenhall their first-round pick in 2008. All he's done since is light up every league he's played in. He hit .278 last season with 17 homers and 84 RBI. He also has an amazing eye at the plate. Chisenhall is ticketed for Triple-A in 2011 and could end the season in Cleveland.
2) Jason Kipnis, 2B
If you're looking for the breakout star of the 2010 season, at least among second-baseman, Kipnis is your man. A smooth hitter, he worked his way up to Triple-A in 2010, ending the season with Columbus during their playoff run. He tallied a .307 average, 16 homers and 74 RBI over three levels. He too will start the season in Triple-A, only a phone call away from a team starving for young talent.
3) Levon Washington, OF
It's always tough to project what a player who has little (nine at-bats) minor league experience will do at the big league level, but almost everyone seems to agree that if Washington will do one thing well in the majors, it will be hitting. The Rays believed in him enough to take him in the first round of the 2009 draft, and the Indians have at least 1.2 million reasons to.
Colorado Rockies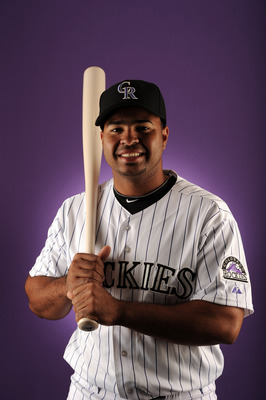 Harry How/Getty Images
1) Nolan Arenado, 3B
Despite his relative unknown prospect status, Arenado is one of the top hitting prospects in the hitter-heavy NL West. Few first time full-season hitters perform as well as he did in 2010, hitting .308 with 41 doubles, 12 homers and 65 RBI. He showed an aggressive approach at the plate, leading to very few walks.
2) Wilin Rosario, C
Rosario was well on his way to a breakout season, as well as a probable callup to Colorado, when he tore his ACL, ending his season. Rosario will likely never hit for a high-average, but it's his power that should keep him in the Majors. He has 25+ homer potential, and when he's healthy enough, should start his season in Triple-A. He should be the Rockies Opening Day catcher come 2012.
3) Kyle Parker, OF
Without a doubt, Parker offers the best power bat in Colorado's system. And now that he's given up football for good, it's time to see how good Parker can really be at baseball. He endured some very streaky stretches during his time at Clemson, but his power was undeniable. Parker looks like a shoo-in to start the season in Low-A ball.
Detroit Tigers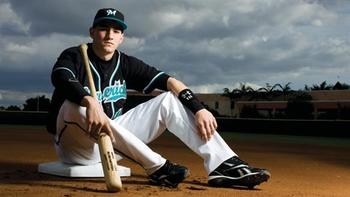 1) Nick Castellanos, 3B
Castellanos was a first-round talent, but his asking price scared off most teams. Detroit finally bit in the first-round supplemental, and then, shocked everyone by giving him a $3.45 million bonus. When Castellanos reported to rookie ball, he looked as good as his label as the top high school hitter, hitting .333 in 24 at-bats, posting a solid walk-to-strikeout rate (4-to-5). Not only is he the best at hitting for average that Detroit has, but he's also their best power threat.
2) Andy Dirks, OF
A classic overachiever, Dirks earned the honor as the Tigers 2010 Minor League Player of the Year after a season in which he hit .296 with 30 doubles, 15 homers and 63 RBI. He was especially impressive after his promotion to Triple-A. With Toledo, Dirks hit .375 with 11 doubles, four homers and 17 RBI in only 22 contests. He put himself in position to make his big-league debut in 2011.
3) Casper Wells, OF
Wells has taken a long road to the majors, where he finally arrived in 2010, hitting .323 with four homers and 17 RBI in 36 games. Wells has always been good for power and has two 20+ homer seasons to his credit in the minors but is a career .250 hitter in the minors. He likely won't hit above .300 in the big leagues and isn't a good enough all-around player to lock down a full-time job in Detroit, so his best bet is as a fourth outfielder.
Florida Marlins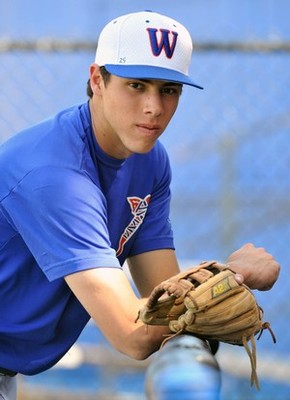 1) Christian Yelich, OF
No matter his position, Yelich was drafted 23rd overall because of his bat. And his bat is good. Very good. Good enough that he'll likely start the 2011 season in High-A ball, higher than any other high school hitter drafted in 2010. Yelich projects to hit for a high average with at least average power. He'll be the quickest high schooler from the 2010 draft to reach the big leagues.
2) Marcell Ozuna, OF
Ozuna set the New York-Penn League on fire in 2010, hitting 21 homers and driving in 60 runs. Both numbers led the league, and despite him being slightly too old for the NYPL, he still offers plenty of prospect potential. Thanks mostly to his amazing raw power. He'll start the 2011 season in Low-A ball, just like he did in 2010, before breaking his wrist.
3) Matt Dominguez, 3B
Dominguez's best tool is his defense, but his bat is what led the Marlins to draft him 12th overall in 2007, 10 picks after his high school teammate Mike Moustakas. Four years later, Dominguez has made huge strides as a hitter and has worked hard to become one of the best all-around third basemen in the minors. He doesn't seem likely to hit for a high average but should have enough power to slug at least 20 homers per season. He'll be taking his talent to South Beach sometime in 2011.
Houston Astros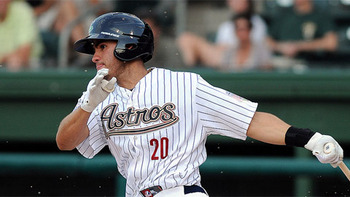 1) J.D. Martinez, OF
Martinez wasn't an early round pick in 2009 (20th) but has made the Astros look good for bringing him into the fold for only $30,000. His .302 average last season in 189 Double-A at-bats was the lowest of his four stops in his career. Martinez hit a combined .341 last year with 18 home runs and 89 RBI. He also rapped 40 doubles. More impressively, Martinez reached Double-A, which should give him a shot at reaching talent-strapped Houston sometime during the 2011 season.
2) Delino DeShields Jr., OF
The Astros shelled out $2.125 million to DeShields, their first-round pick, primarily because of his speed, but his bat offers enough to keep the team happy as well. DeShields projects as a top of the order bat, mostly a gap hitter with decent power, but nothing more than 10-per-year potential. He could be a .300 hitter if he can cut down on his strikeouts and made consistent contact.
3) Jimmy Paredes, 3B
Signed out of the Dominican Republic in 2006, Paredes has developed into one of Houston's best international prospects, since coming over from New York. He hit .299 in 34 games after coming over in the Lance Berkman trade. Luckily, his team switch didn't make him leave the South Atlantic League, where he ranked second in hits. What will haunt Paredes as he continues to climb the ladder is his lack of a true position. He's tried second and is going to give a third a try in 2011 but might end up in the outfield.
Kansas City Royals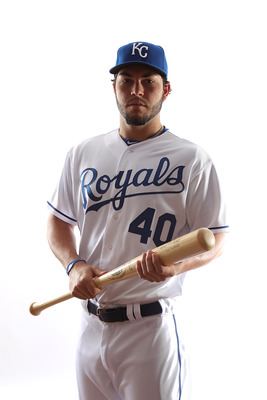 Jonathan Ferrey/Getty Images
1) Eric Hosmer, 1B
While Hosmer doesn't offer the best power in the Royals' system, he is the most complete package of any prospect in the organization. He hit a combined .338 over two levels, ending in Double-A, with 20 homers and 86 RBI. More impressive, he had 59 walks and 66 strikeouts. He also rapped 43 doubles. He has moved incredibly well for a high schooler and is primed for Triple-A as a 20-year-old.
2) Wil Myers, OF
Myers' bat is as good as any in the minors and has tremendous potential. The only thing keeping him back was his troubles behind the plate. The Royals solved that dilemma by moving him to the outfield, full time, so his already advanced timetable to arrive in Kansas City should be even earlier now. Myers began the year in Low-A and more than earned a promotion to High-A, where he was even better, posting a .346 average and 18 doubles in 58 games.
3) Mike Moustakas, 3B
When you talk about power, nobody in the minors has more than Moustakas, the Royals first-round pick back in 2007. "Moose" hit 36 bombs in 2010, drove in 124 runs and finished with a .322 average, which is incredibly impressive for a guy who projects to hit for a pretty low average. He ended the year in Triple-A, which is where he should start back in 2011, before spending a good chunk of the year with the big league club.
Los Angeles Angels of Anaheim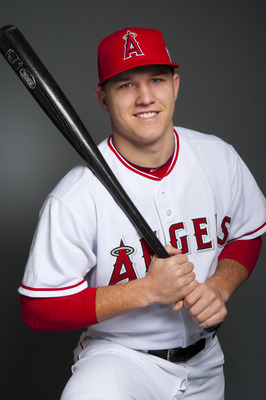 Rob Tringali/Getty Images
1) Mike Trout, OF
You'd be hard pressed to find a better all-around prospect with Trout's combination of hitting, fielding and running skills. And while he's one of the fastest and most skilled runners in the minors, it's his bat that makes him a truly elite player. His 2010 season was absurd. He hit a combined .341 with 28 doubles, nine triples, 10 homers and 58 RBI. He also walked 73 times and struck out only 85—as an 18-year-old. Now 19, Trout will tackle Double-A ball at some point during 2011 and could be in L.A. by 2012.
2) Hank Conger, C
Having Trout in the fold almost makes you forget about the Angels other talented hitters, like Conger. The 23-year-old has hit, for average and power, at every stop, and finally appears ready to take his spot on the Angels roster. The real key for him will be to stay at catcher for as long as he can. The Angels are incredibly weak at the position and have way too many players who can play first base who are near big league ready...
3) Mark Trumbo, 1B/OF
...like Mark Trumbo. The 25-year-old slugger is coming off a very impressive season that saw him hit .301 with 36 homers and 122 RBI. He didn't impress in his limited playing time with the big league club, but the Angels will hang onto him in case Kendry Morales doesn't fare too well in his rehab from a broken leg. Trumbo still strikes out an awful lot, but his power will make him interesting to other teams if he doesn't stick with L.A.
Los Angeles Dodgers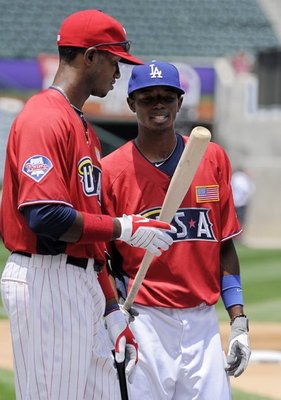 1) Jerry Sands, 1B/OF
The Dodgers 2010 Minor League Player of the Year, Sands had a huge season. He hit 35 homers, drove in 93 runs and finished with a .301 average. He was a tad bit old for the competition in Low-A ball, but the fact that he responded well after his promotion to Double-A is a good sign for Sands as a prospect. He should begin the 2011 season back in Double-A but will most likely get a shot with the Dodgers come September.
2) Dee Gordon, SS
Gordon is not only the most exciting player in the Dodger's system (and possibly the minors), but he's also an incredible hitter. Like his amazing speed would indicate, he's likely destined for a leadoff spot in a batting order, but he has the potential to hit at least .300 with 7-12 homers per season. He's a career .297 hitter and also has pretty good plate discipline.
3) Trayvon Robinson, OF
Robinson is a true local product, attending high school in Los Angeles, the same school that produced Darryl Strawberry. Like Straw, Robinson is a very toolsy player, who can hit for average and power. He hit 17 homers in 2009 and nine last season. He also hit .300 and showed good plate discipline, walking 73 times in 120 games.
Milwaukee Brewers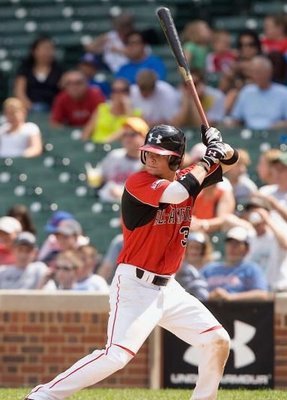 1) Erik Komatsu, OF
Komatsu doesn't necessarily have as high a ceiling as some of the other athletic outfielders in the Brewers' system, but he is without a doubt, the most polished, selective hitter they offer. Komatsu hit .323 in 130 games in Low-A ball last year, showing above-average plate discipline (68 walks, 61 strikeouts). He isn't a big power guy but does have an 11-homer season to his name. He's a career .316 hitter.
2) Hunter Morris, 1B/3B
A personal favorite of mine, Morris was a masher at Auburn, forming a lethal one-two punch with Orioles' farmhand Trent Mummey. Morris continued his roll in 71 Low-A contests last season, hitting nine homers and driving in 44 runs. He's still quite unrefined when it comes to plate discipline, but he's as hard a worker as the Brewers have so expect him to improve his pitch selection in 2011.
3) Scooter Gennett, 2B/SS
Lost in the Nick Franklin-Midwest League love affair of 2010 was the tremendous season had by another former high school shortstop. Gennett finished seventh in the league with a .309 average, and while he finished with 91 strikeouts, that number was 32 less than Franklin posted. Gennett was a doubles machine (39) who showed some good pop (nine homers). So far, the Brewers have gotten a lot more than they expected with their 2009 16th-round pick.
Minnesota Twins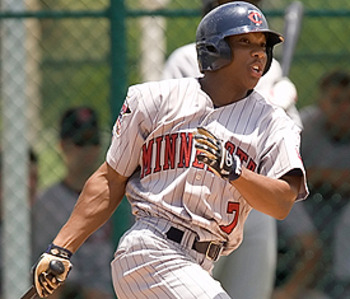 1) Ben Revere, OF
While Revere will never be a threat to hit more than two or three homers per season, he is still one of the best hitters for average you will find in the minors. He's a career .328 hitter, who hit .379 in the Midwest League back in 2008. He's also incredibly selective and amazing at making consistent contact. He's never struck out more than 41 times in a single season and actually had more walks (40) than strikeouts (34) in 121 games at High-A Fort Myers. Revere will test his string of four seasons with a .300+ average in 2011 in Triple-A.
2) Miguel Sano, 3B
Few international prospects have as much power and Minnesota's $3.15 million project. He has, easily, the highest ceiling of any Twins prospect thanks to his immense raw power. Sano hasn't had much on-the-field experience, but when he has played, he's shown an impressive all-around approach, hitting .307 in 61 games with seven homers and 29 RBI in 212 at-bats. His plate discipline (24 walks, 60 strikeouts) is on par with what you would expect from a 17-year-old prospect in short-season ball.
3) Oswaldo Arcia, OF
The Twins have some of the best international hitters in the minors. Arcia is another name that could jump into top prospect conversation if he continues to hit as well as he did in 2010, when he posted numbers that were out of this world. His .375 average in the Appy League was just one of nine categories that he led the circuit in. He also crushed 14 homers and drove in 51 runs in just 64 games. Arcia is still quite young, but his bat has already drawn comparisons to Bobby Abreu.
New York Mets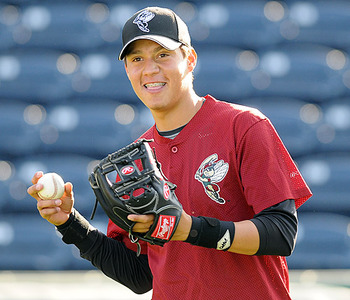 1) Wilmer Flores, SS
Flores is one of the quickest movers in all of the minor leagues. An international sign from Venezuela, Flores made his debut in the Low-A Sally League as a 16-year-old, played well above his age as a 17-year-old in a full season at Low-A, and then, worked his way to High-A ball as an 18-year-old, posting a .300 average, four homers and 40 RBI in 67 games. Now 19, Flores might start the 2011 season back in High-A, but he'll likely finish in Double-A.
2) Cesar Puello, OF
Still a very raw hitter, Puello has the potential to be an over .300 hitter as well as a potential 20-homer guy in the majors. Unfortunately for the Mets, the 19-year-old is still at least three years away from the big leagues. He had a sensational season in 2010 for Low-A Savannah, hitting .292 in 404 at-bats. He hasn't shown the big-time raw power the Mets know he has, but hitting for such a high average as a youngster is promising.
3) Kirk Nieuwenhuis, OF
Nieuwenhuis is a rarity in the Mets' system in that he has a chance to help the team as early as this season. Most of their position talent is years away from making any sort of impact, but he'll start the year at Triple-A and will most likely make his debut sometime during the season. Nieuwenhuis had a great year in 2010, hitting .274 with 43 doubles, 18 homers and 77 RBI, splitting time between Double-A and Triple-A.
New York Yankees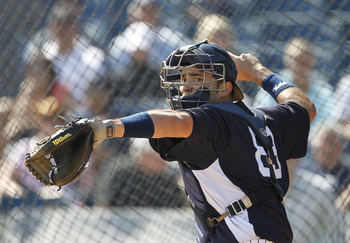 Leon Halip/Getty Images
1) Jesus Montero, C
Montero is arguably one of the top-10 prospects in all of minor league baseball, so it's no wonder he's the top hitter in his own system. Only 21, Montero has worked his way to Triple-A, where he performed like a seasoned vet in 2010, hitting .289 with 21 homers and 75 RBI. Montero has above-average plate discipline, and his complete package (average, power, discipline) has impressed the organization enough that they've decided to have him play a huge role in their plans for the 2011 season.
2) Corban Joseph, 2B
Baseball America claims that once Montero graduates to the majors, it will be Joseph who succeeds him as the best bat in the Yankees system. Already 22, Joseph just made an appearance in Double-A last season, struggling to keep his average over .200. He was much more effective down in High-A ball, hitting .302 with 27 doubles, six homers and 53 RBI. He showed great discipline at the plate but struggled in the same area after his promotion.
3) Gary Sanchez, C
Despite the difficulties projecting 18-year-old international talent, most experts seem to agree that the Yankees hit the jackpot with another foreign signee, Gary Sanchez. Sanchez played most of the 2010 season in the Gulf Coast League, hitting .353 with 11 doubles, six homers and 36 RBI before earning a late season promotion to the NYPL, where he hit two homers and batted .278 in 16 contests. Sanchez's power is as good as anyone in the Yankees' system, and he projects to hit for a pretty high average. Morever, he has the added bonus of being likely to stick behind the plate.
Oakland Athletics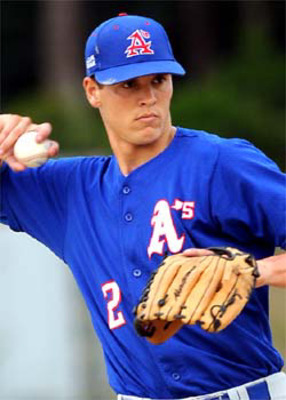 1) Grant Green, SS
Green had one of the more underrated seasons of any prospect in 2010, hitting .318 for High-A Stockton with 39 doubles, six triples, 20 homers and 87 RBI. He did strike out more than his fair share (117 in 548 at-bats), but all those other numbers make the Ks much less significant. Green honed his bat during three years at USC, where he went from a defense-first shortstop to an offensive-minded SS that will eventually have to move off the position. His bat will carry him wherever he plays.
2) Michael Choice, OF
Choice had one of the more impressive 2010 college campaigns, and he leveraged his fantastic season into the 10th overall pick and a $2 million bonus. Choice led all college players with 76 walks during the 2010 season and hit .383 with 16 homers and 59 RBI for Texas-Arlington. He offered as much raw power as any other college pick and showed capable of carrying it over during a 27-game stint in the Northwest League, hitting seven bombs and driving in 26 runs in 102 at-bats. He did, however, strike out an abnormal amount—43 times.
3) Adrian Cardenas, 2B
It seems like Cardenas has been around forever, and for the most part, that's pretty true, but the one thing that hasn't changed during his five-year career, is that he can still hit as well as anyone in Oakland's system. With close to 2,000 minor league at-bats, Cardenas is a .300 career hitter who can do it all. Doubles, triple...and occasionally some home runs. He's struggled more than usual in his two stints in Triple-A, but this season might finally be the year that he figures out advanced pitching and makes his presence felt in the big leagues.
Philadelphia Phillies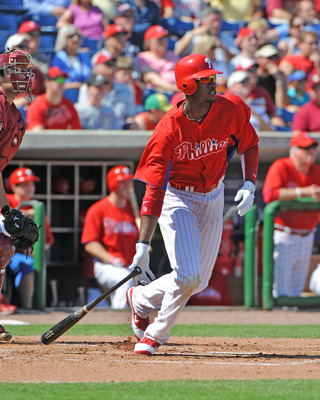 Al Messerschmidt/Getty Images
1) Domonic Brown, OF
In Brown, the Phillies have one of the most seasoned hitters in the minors. Brown can hit for average, power and shows a great eye at the plate. He was on his game in every aspect in 2010, hitting .327 over two levels (including .346 in Triple-A) with 20 homers and 68 RBI. If Brown doesn't win the Opening Day right-fielder job, he'll most certainly be the first Phillie to get the call from Triple-A.
2) Jonathan Singleton, 1B/OF
Singleton just finished up his first full season of pro ball, and if the reviews are any indication, he's going to be a special player. All the while playing nearly error-free first-base, Singleton has emerged as one of the better hitters to come out of the 2009 draft crop, college or high school. He hit an impressive .290 last season with 14 homers, 77 RBI and a 62-to-74 walk-to-strikeout rate. He'll start 2011 in High-A as one of the younger players in the league, and if he has a season like 2010, he could see some time in Double-A as well.
3) Tyson Gillies, OF
Despite a rough 2010 season, that included a hamstring injury that limited Gillies to 28 games and an arrest for cocaine possession, Gillies remains one of the top hitters in the Phillies' system. All you have to do is check out his 2009 season, in which he hit .341 with 17 doubles, 14 triples, nine homers and a 60-to-81 walk-to-strikout ratio. Gillies will never be a high-power guy, but it's his ability to get on base anyway he can that makes him such a great player. Finally healthy (and exonerated of the cocaine charges), Gillies should begin the 2011 season back in Double-A.
Pittsburgh Pirates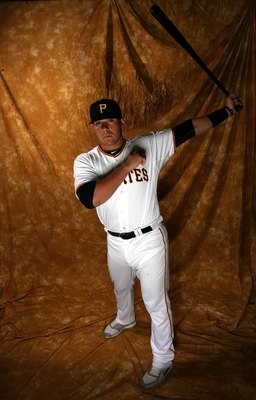 Marc Serota/Getty Images
1) Tony Sanchez, C
When the Pirates tabbed Sanchez with the fourth overall pick in the 2009 draft, they did so based on his defensive ability and their belief in his bat. The team has been rewarded handsomely, as Sanchez has blossomed at the plate in two seasons, posting a career .312 average between Low-A and High-A, all the while maintaining his status as one of the top defensive catchers in the minors. Sanchez hasn't shown too much pop (only 11 career homers), but he projects to have average power in the big-leagues.
2) Andrew Lambo, OF
A one-time top prospect with Los Angeles, Lambo has traded Dodger blue for Pirate gold, and now, will embark on a campaign in 2011 to resucitate his prospect status. Lambo made great strides during his first two seasons in L.A. but struggled during a down year in 2009. That, combined with doubts about his maturity, resulted in a trade to Pittsburgh, where Lambo hit .275 with two homers and 10 RBI in 26 contests for Double-A Altoona. Lambo will likely begin 2011 back in Double-A.
3) Chase D'Arnaud, 2B
The brother of Blue Jays' top catching prospect Travis, Chase has carried on the family trait of being a above-average hitter in the minors. The latter had a down year in 2010, hitting only .247, but he showed great potential during a 2009 season that saw him hit .293 with 33 doubles, seven triples, seven homers, 57 RBI and 60 walks (along with 72 strikeouts). He won't hit for much power in the majors but could hover around .280-.290.
St. Louis Cardinals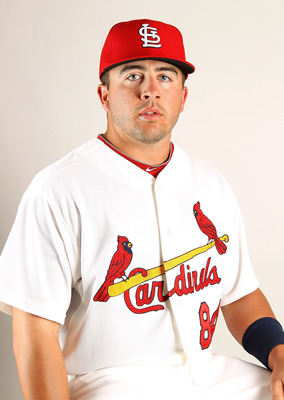 Mike Ehrmann/Getty Images
1) Zack Cox, 3B
Cox was the top college bat available in the 2010 draft, and the Cardinals were super lucky to scoop him up with the 25th pick. Cox sold out for power during his first year at Arkansas, before utilizing a more balanced approach as a sophomore. The result was a 160-point jump in his batting average and a $2 million major league deal with St. Louis. Cox won't spend that long in the minors.
2) Allen Craig, 3B/1B
Craig is another in a long line of talented Cardinals third-basemen who bloom late. Craig is already 26 and has spent the past two seasons in Triple-A, crushing a combined 40 homers and driving in 164 runs in 209 contests at the level. He's a career .308 hitter, including a .321 line in Triple-A, so he's not just power oriented. With the Cardinals experiencing several injuries at the position over the past few seasons, Craig could get a huge opportunity in 2011.
3) Matt Carpenter, 3B
See above. Just kidding, although Carpenter shares many of the same traits with Craig and just about every other Cards third-base prospect to come along the past few seasons. Carpenter is a career .300 hitter in two minor league seasons and has above-average power potential. He hit 13 last season in 133 games and walked an incredible 90 times, compared to 102 strikeouts. Like Craig, Carpenter is getting up there in age (25) and will be starting his first season in Triple-A in 2011.
San Diego Padres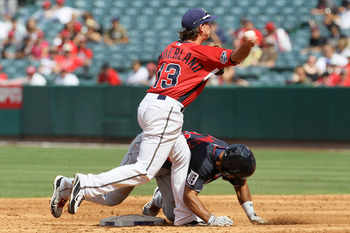 Stephen Dunn/Getty Images
1) Drew Cumberland, 2B/SS
Cumberland is one of the most underrated hitters in the minors, thanks in large part to the fact that he's rarely been healthy enough to show the Padres what he's capable of. He got close to a full season worth of work last year, and he really shined, hitting .350 with 18 doubles, four triples, seven homers and 41 RBI in 75 games, splitting time between High-A and Double-A. One year after racking up four more walks than strikeouts, Cumberland's numbers returned to a more normal rate (16 walks, 45 strikeouts). Cumberland should start the year back in Double-A, where he finished the 2010 season.
2) Anthony Rizzo, 1B
Rizzo has been through enough scathing reviews on his bat and the supposed holes in it aren't going to do too much to dim his confidence. The 21-year-old was diagnosed with lymphoma in mid-2008, endured chemotherapy and was declared cancer free in late 2008. The next season, Rizzo declared he was healthy with his bat. He hit .297 with 12 homers and 66 RBI and 37 doubles. In addition, he showed an impressive eye at the plate, garnering an impressive number of walks. His 2010 season was excellent, and Rizzo emerged as one of the top bats in Boston's system. His average dropped to .260, but he still hit 25 homers and drove in 100 runs, scoring 92 of his own. He rapped 42 doubles and even managed to swipe 10 bases. His strikeout numbers jumped, but he also upped his walk total.
3) Reymond Fuentes, OF
Fuentes was somewhat of a surprise pick when the Red Sox selected him 28th overall in 2009. Since then, Fuentes has fulfilled the promise that the Sox saw in him. In his rookie ball debut, he hit .290 in 40 games with 16 runs scored, 14 RBI and nine steals. The Sox sent Fuentes to Low-A ball in 2010, where he held his own as a 19-year-old, hitting .270 with 15 doubles, five triples, five homers and 41 RBI. Any flaws Fuentes displayed were minor in comparison to his pluses. He profiles as a typical leadoff hitter, with plus-plus speed and a seasoned bat. Fuentes certainly has the bloodlines to succeed. He's a cousin of Carlos Beltran, and he's often been compared to Johnny Damon and Jacoby Ellsbury.
San Francisco Giants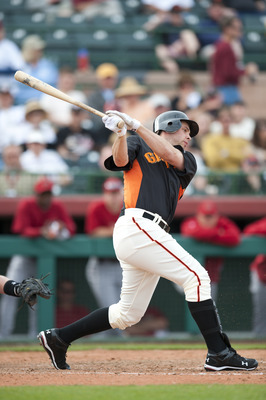 Rob Tringali/Getty Images
1) Brandon Belt, 1B
While many other prospects had huge breakout seasons in 2010, Belt was arguably the biggest breakout star of the year. Making his pro debut, Belt began the season in High-A ball but quickly proved too advance a hitter for the league, hitting .383 with 10 homers and 62 RBI in 77 games. The Giants bumped him up to Double-A, where he continued raking, hitting .337 with nine homers and 40 RBI in 46 games. The final promotion came when the organization threw him into the fire at Triple-A Fresno. For the first time all season, Belt was thrown for a loop, hitting only .229. He did, however, hit four more homers and drive in 10 more runs in 13 games. For the season, Belt finished with the highest average in the minors (.352), 43 doubles, 10 triples, 23 homers, 112 RBI, 22 steals and a 93-to-99 walk-to-strikeout rate.
2) Gary Brown, OF
The Giants raise plenty of eyebrows with their first-round selection of Brown, who offers little-to-no power and very little projection. Brown is what he is, a grinder who has above-average speed and a very quick bat that should allow him to hit above .300. He'll rack up his fair share of doubles and triples and will get more than his fair share of infield hits. Brown also has a pretty good idea of what he's doing at the plate.
3) Francisco Peguero, OF
One of the more underrated international prospects in the game, Peguero has been a fantastic addition for the Giants. Since signing, Peguero has yet to post a batting average below .275 in his five pro seasons. He's never been a big power guy, but he added some pop to his arsenal in 2010, hitting 10 homers in the uber-offensive Cal League. He hits for average better than most in the system, and the past two seasons, he's hit over .330 combined. Peguero's speed aids him greatly on the basepaths and allows him to turn singles into doubles and doubles into triples. He'll start the 2011 season in Double-A as a 22-year-old.
Seattle Mariners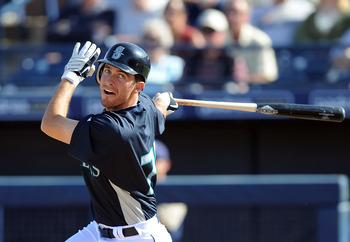 Lisa Blumenfeld/Getty Images
1) Dustin Ackley, 2B
Ackley was the top hitter available in the 2009 draft, and the Mariners were more than happy to scoop him up as the Strasburg consolation prize. His career didn't kick off exactly the way the M's envisioned it, but he rebounded with a strong second half at Triple-A Tacoma. Ackley finished the year with a .267 average, 33 doubles, eight triples, seven homers and a 79-to-79 walk-to-strikeout ratio. If he doesn't win the Mariner's everyday second baseman job, he'll still join the club for a majority of their season.
2) Nick Franklin, SS
Franklin was one of the breakout stars of the 2010 season, playing well above his age and making it to Double-A as a 19-year-old to end the season. The season that he had at Low-A Clinton was amazing. He hit .283, which was doubly impressive because he struck out 123 times. He also slugged 23 homers and drove in 65 runs. Franklin needs, desperately, to work on his plate discipline, but if he keeps showing the same power as he moves up the ladder, he'll earn a big league job.
3)
Tampa Bay Rays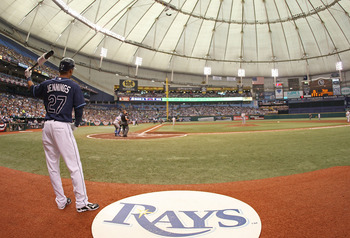 Mike Ehrmann/Getty Images
1) Desmond Jennings, OF
Jennings is the primary reason the Rays were happy to accept the compensation pick when Carl Crawford left town for Boston. Viewed as a Crawford-lite, Jennings does everything well, including hitting. He doesn't offer nearly as much power as his predecessor, but he will most likely be a .300, 50 steal guy in the majors. His plate discipline is incredible, so that shouldn't hamper him as he gets his first long-term shot in the majors this season.
2) Drew Vettleson, OF
One of the best pure hitters of the 2010 high school draft crop, Vettleson is already one of the top hitters in a very loaded Rays system. They managed to snag the Washington product with the 42nd overall pick and inked him for $845,000. Vettleson's biggest strengths are his ability to hit for average and his incredible plate discipline. He's already one of the more disciplined hitters in the system, and he hasn't even taken a professional swing yet. He also has some raw power but should be more of an average hitter.
3) Josh Sale, OF
Hailing from the same state as Vettleson, Sale offered more power than any other high schooler drafted in 2010, and the Rays were more than happy to pounce on him with the 17th overall pick. His bat is incredibly advanced for his age, and he's been compared to Travis Snider, with a similar combination of the ability to hit for average and the chance for above-average power. Sale probably has more power, and slightly less average in him, but should follow a similar career track.
Texas Rangers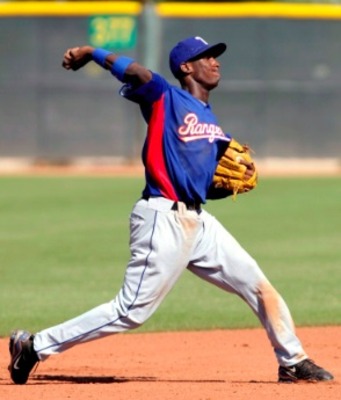 1) Jurickson Profar, SS
Profar was one of the top international signees from the 2009 class, and he made the Rangers feel very good about shelling out $1.55 million for him after he hit .250 with 19 doubles, four homers and 23 RBI in 63 games in the NWL, where he ranked as the top prospect as a 17-year-old. Profar has the potential to be a .300 hitter in the majors, with slightly above-average power, making him by far the best hitter in a weak hitting Rangers system.
2) Mike Olt, 3B
Olt was a very talented slugger at UConn and appears to be well-suited to wooden bats, slugging nine homers and driving in 43 runs in 69 games in the Northwest League, where he was too old for the competition. Olt probably won't hit well enough to maintain something similar to the .293 average he posted in 2010 but will get by on his above-average power. Olt will make an appearance in the Low-A Sally League but could finish the year in High-A.
3) Jake Skole, OF
The Rangers first-round pick in last year's draft, Skole is one of the better athletes in the Rangers system and one of their top-three hitting prospects. Still relatively raw as a baseball player, Skole has a pretty good idea of what he's doing at the plate and projects to hit around .260-.270 as a pro, with above-average power that could manifest in 20-25 homers. Skole will start the 2011 season in Low-A ball.
Toronto Blue Jays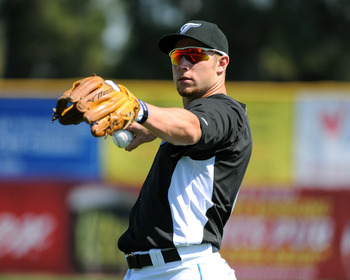 Al Messerschmidt/Getty Images
1) Brett Lawrie, 2B
Lawrie spent two seasons as the best hitting prospect in the Brewers' system and now ranks as the top hitter now that he's in Toronto. The 21-year-old had a stellar year in Double-A in 2010, hitting .285 and leading the Southern League in base-hits (158) and triples (16), despite being the second-youngest everyday player in the league. He showed solid pop, hitting eight homers and decent run-producing capability (63 RBI). Lawrie will move up to Triple-A in 2011, with an eye on the everyday 2B job in 2012.
2) J.P. Arencibia, C
Arencibia made big news hitting two homers in his big league debut in 2010, but it was what he did in his minor league season that made real waves. The former first-round pick challenged for the minors HR crown, crushing 32 in only 104 games, driving in 85 runs. It was Arencibia's third straight season with 21 or more homers and 75 or more RBI. Even more impressive, he kept his average up the entire season, finishing with a career high .301 number, more than 60 points higher than his 2009 average.
3) Carlos Perez, C
While the Blue Jays offer two catchers with everyday big league potential (Arencibia and Travis D'Arnaud), the best of the bunch might actually be Perez, who ranked as the NYPL's No. 1 prospect in 2010. Perez is solid in both power and average, but it's his plate discipline that sets him apart. Arencibia is a strikeout machine, and while D'Arnaud draws some walks, neither holds a candle to Perez, who is younger than both. In 2008, in the DSL, Perez drew 52 walks and struck out only 28 times. Last year, in Low-A, he walked 34 times and struck out only 41.
Washington Nationals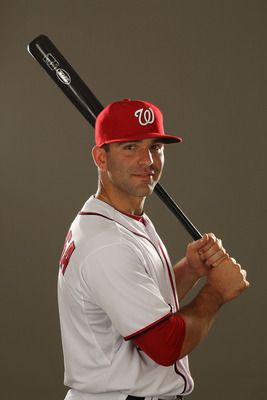 Al Bello/Getty Images
1) Bryce Harper, OF
There's no debating Harper's status as one of the top hitters in all of the minor leagues. In addition to his amazing power, many believe that he'll be able to hit for a decent average. Either way, his power is possibly the best in the minors and easily tops in Washington's system.
2) Derek Norris, C
Norris might not be the most fleet of foot behind the plate, but he can hit as well as any backstop in the minors not named Jesus Montero. Like Montero, he is a bat first player, but his bat is good enough that it will carry him all the way to the big-leagues. A season after hitting 23 homers and driving in 80 runs, Norris suffered a bit of a letdown in 2011, hitting only .235 with 12 homers and 49 RBI. However, he still posted 89 walks and only 94 strikeouts, keeping his OBP well above .400.
3) Danny Espinosa, 2B/SS
It shouldn't have surprised anyone that Espinosa has been as good as he has. After all, he's just following in the long line of talented Long Beach State shortstops, that includes Evan Longoria, Troy Tulowitzki and Bobby Crosby. Like those three, Espinosa is a polished hitter with great power, and while he'll sell out for power more often than not, leading to high strikeout totals, he's a good enough hitter to stay in a big league lineup.
Keep Reading