Friendly Fire: Top 10 Fights Between Teammates in Sports History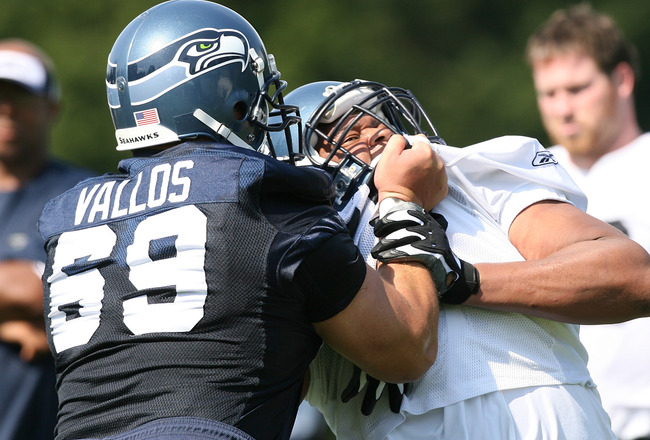 Otto Greule Jr/Getty Images
It is no secret hockey fans salivate every time the puck drops with the possibility of a fight following every hard check.
While fighting is embraced in hockey, it is seen as classless in other sports.
Baseball fashions a tranquil environment with passive players who couldn't fight for their lives or outlandish contracts, and basketball features a plethora of egotistical players yearning for attention.
Meanwhile football is becoming less violent with every snap and soccer is a stamina game in which energy can't be wasted on fighting.
These sports need to follow hockey and bring more excitement to the game. While that may sound ludicrous, it could present a thrilling aspect to these matches.
A discussion for another time, fighting attracts fans and builds loyalty between teammates.
Ironically, however, this is a compilation of the best teammate fights in history. With emotions fueling and anger clearly omnipresent in these situations, these teammates couldn't stifle their rage and the rest is evident.
Enjoy.
10. Brian Cushing Drops The Helmet
Down 21-3, the Texans finally sacked Titans' elderly quarterback Kerry Collins.
Unfortunately, this led to a scuffle between teammates Brian Cushing and Antonio Smith, with Cushing dropping his helmet in preparation for the match.
While it never leads to anything, fighting in football has been ubiquitously discussed by fans.
The sport doesn't need fighting, but rather an infusion of toughness.
Stop with the yellow flags on every play. Let them play.
9. Brotherly Love
While this isn't your typical teammate fight, it involves a stronger bond.
Brothers Keith and Wayne Primeau go one-on-one as the younger Primeau defends his goalie.
You never go after the goalie, that's hockey tradition.
8. Frustration Boils In The UK
In April 2005, Kieron Dyer and Lee Bowyer couldn't hold back their fury in a 3-0 defeat at home against Aston Villa.
These two were later seen next to their manager, Graeme Souness, apologizing for their actions.
However, they apparently didn't say sorry to each other.
Comically, they were separated by members of the opposing team, with Aston Villa goalscorer Gareth Barry first to the scene.
Soccer has been called hockey without the fighting. Why not add the heavyweight aspect to relieve some frustration?
7. MSU Fight In Stands
Having just returned from a one-game suspension, Renardo Sidney decided to throw punches with his teammate, Elgin Bailey.
Interesting note: The two were/are roommates.
This may be the best fight in the stands since Ron Artest sprinted at a Pistons fans who had thrown a fountain drink at him.
Sidney and Bailey faced indefinite suspension following the incident.
6. Training Camp Fun
This heavyweight battle ends in a broken nose.
Nobody seems to be anywhere close to stopping this fight—Coach Ken Hitchcock wants only tough captains who are willing to make a statement.
The 6'5" Primeau is a dominating presence and showed it in Flyers training camp.
Hockey training camps may be more violent than NFL playoff games.
5. Primeau Round 2
Here we go again as Keith Primeau gets Bob Probert at Detroit Red Wings training camp.
This teams let loose at camp as hungry rookies and tough veterans fight their way to a roster spot.
Primeau is just a captain asserting his dominance.
4. 49ers Brewing
Athletic specimen Vernon Davis and Parys Haralson drop the gloves at 49ers camp and it gets feisty.
During these hot and humid training camps, players boil and tempers flare more easily.
This is commonplace during NFL camp, as young players seek to make a statement.
It took Davis a few years, but on the football field, he is finally beginning to make strides.
3. The Young and The Restless
At No. 3, Vince Young tries to assert his leadership in his second year as the starting Titans QB.
He doesn't like to see his wide receiver get hit hard, especially because it was his inaccuracy that allowed the hit.
It's been a long, roller-coaster ride for Young as his future is in doubt. Will Titans keep him now that Jeff Fisher is gone?
2. No Hazing Necessary
After Steve Downie hit Akim Aliu with a blind-sided jab to the mouth that cost him three teeth.
It later became known that the incident stemmed from Aliu's refusal to be involved in traditional hazing.
The hazing had rookies standing naked in a cramped bus bathroom. Aliu, 16 years old, wasn't smiling.


1. You Can Pick Your Nose But...
If this isn't a teammate fight, then nothing is.
At No. 1 on the list, this has to be the most violent display of teammate rage ever produced.
Or is it love?
Mark Sanchez's gift to backup Mark Brunell had to make this list.
Keep Reading

New York Jets: Like this team?