Adam Wainwright Injured: 11 Reasons Chris Carpenter Will Move If Waino's Done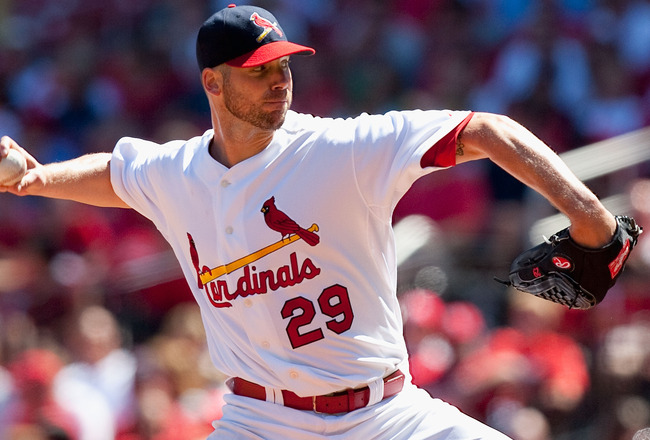 Dilip Vishwanat/Getty Images
When it became known that Adam Wainwright was injured and may need Tommy John surgery, virtually every sports media outlet was all over it.
like any serious sports fan, questions from every angle must have come to your mind:
"How exactly did he get injured?"
"How will the Cardinals adapt to his injury?"
"Does this affect Albert Pujols?"
However, one person that may be of particular concern is Chris Carpenter.
With that being said, don't be surprised if he moves on. Take a look.
1. The Albert Pujols Contract Distraction
Joel Auerbach/Getty Images
As much as anyone within the St. Louis Cardinals organization denies that this contract is not a distraction, the media knows better.
He's arguably the best player in Major League Baseball, and has yet to sign a new deal.
Well, his contract doesn't expire until after the season, but if Carpenter moves on, the long-term implications of whether Pujols remains in St. Louis could be part of it.
2. Nick Punto Out Until at Least May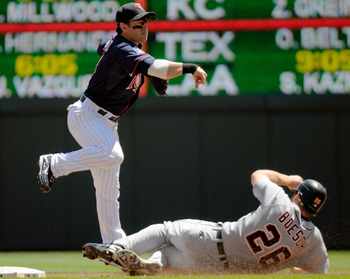 Hannah Foslien/Getty Images
He's not much help at the plate, but in the field he may be the best for the Cardinals.
He's a versatile player that can play second base, third base or shortstop with ease.
Also, since he's been in the Majors Punto has bounced around to all three positions in the outfield when he played for the Twins from 2004-2010.
According to sources at ESPN.com, Derrick Goold of the St. Louis Post-Dispatch reported on Wednesday that, "Punto is scheduled to have surgery on his sports hernia and will miss 8-to-12 weeks."
Check out the full story here:
http://www.stltoday.com/sports/baseball/professional/article_1aa5f10f-5ad1-506a-883a-5eece1f6dc46.html
With that being said, losing a fielder of this caliber for that long could be debilitating and could lead to a slow start for St. Louis.
3. Opponents' Preparation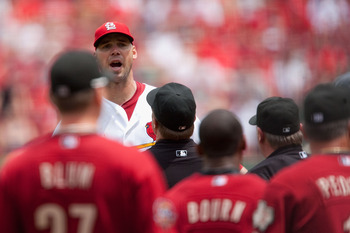 Dilip Vishwanat/Getty Images
With Wainwright out, the one-two punch that St. Louis can pull in those critical three game series throughout the year will be weakened.
Not that solid starting pitchers such as Jaime Garcia and/or Jake Westbrook can't step up, but Wainwright posted a 20-11 record last season.
Thus, Carpenter becomes even more keyed on and will be challenged in more situations.
Having him and Wainwright starting back-to-back games was crucial, and with one of them out it doesn't seem nearly as promising.
4. National League Competition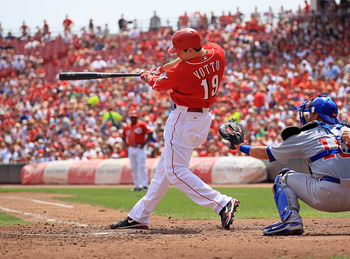 Andy Lyons/Getty Images
Other than St. Louis, there were six NL teams that enjoyed a winning season in 2010 (Philly, Atlanta, Cincy, San Fran, San Diego, and Colorado).
Wainwright's record against those teams on the year was 5-4, while receiving solid run support in those games at over four runs per game.
As for Carpenter against those teams?
He posted a record of 9-2, while receiving almost six runs per game.
The offense clearly picked it up when these two were on the mound against the best the NL had to offer.
With Wainwright out, not all is lost if Carpenter doesn't look elsewhere.
However, expect the NL's best to try and turn these numbers around in 2011.
5. 2012 Option Year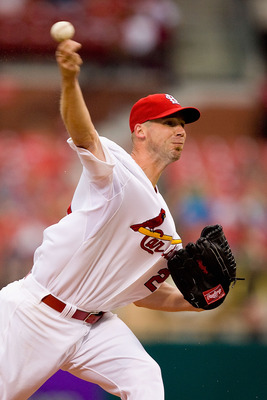 Dilip Vishwanat/Getty Images
With 2012 being Carpenter's option year on his current contract, will he want out sooner if the Cardinals begin to fall off early in the year?
Also, if Carpenter doesn't perform well once the season begins, will St. Louis want to honor the contract or trade him for prospects?
He turns 36 in April and has been known to be injury prone.
He's been healthy recently, but much like with what happened to Wainwright anything can happen at any time.
The option is for $12 million, so as you can see there are multiple tangible variables involved.
6. Cliff Lee Back In Philadelphia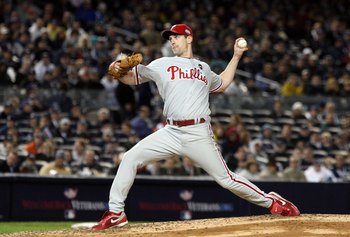 Jim McIsaac/Getty Images
Okay, so they're not division rivals.
But with Cliff Lee back in Philly, the entire NL should be shaking (not just St. Louis).
With that being said, the Cardinals are now about three to four steps behind the Phillies due to Adam Wainwright's injury.
Philadelphia's starters?
Roy Halladay, Cliff Lee, Cole Hamels, Roy Oswalt and Joe Blanton.
Pair them against Chris Carpenter, Adam Wainwright, Jaime Garcia and Jake Westbrook, the Cardinals could have competed with them for the NL pennant.
Now with Cy Young hopeful Adam Wainwright out, the lights have seriously dimmed on the Cardinals' hopes.
7. NL Central: The Weakest Division in The NL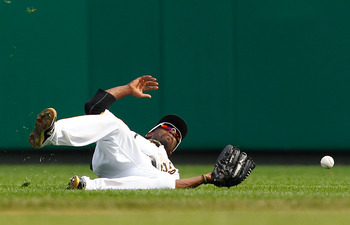 Jared Wickerham/Getty Images
Definitely not what anyone in the NL Central wants to hear.
And as good as Cincinnati was in 2010, the NL Central as a whole can't compare to the rest of the National League.
The biggest division is baseball (six teams) had only the Cincinnati Reds qualify for post-season play.
Not to mention they were eliminated in three straight games by the Philadelphia Phillies.
The best way to get better? Play against the best competition as much as possible.
Third place in the NL Central (Milwaukee at 77-85) comes in 11th out of 16 teams in the entire NL.
Not good when fourth place teams in the other two NL divisions finish with a better record.
So with Wainwright on the DL, Carpenter may want to look at his options if he wants another ring.
As the old saying goes, "If you can't beat 'em, join 'em."
8. Lack of Road Wins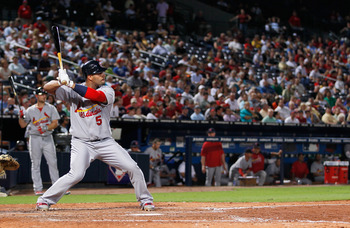 Kevin C. Cox/Getty Images
This goes more so for the Cardinals as a whole than it does Carpenter or Wainwright.
St. Louis finished tied for tenth in the NL with their dismal 34-47 road record.
Four teams who finished with a worse overall record than St. Louis, won more games on the road.
As for Chris Carpenter? He went 4-4 on the road which is not great, but not bad either. Had he received more starts on the road he most likely would have had a better record.
Adam Wainwright also had a .500 winning percentage on the road, but his record was 8-8.
So based on how great both these guys pitched last year overall, both were On a team that had a terrible road record, you can't ask for much more.
Especially since those 12 wins account for more than one-third of the Cards' road wins.
Fast forward to 2011 and we may seem this road record decrease because of Wainwright's injury.
Thus, Carpenter either has to practically carry the load himself or look elsewhere to help out another ball-club.
9. No Significant Losses For Other NL Teams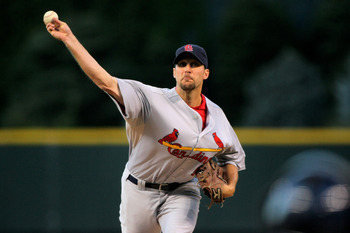 Doug Pensinger/Getty Images
Sure, other teams have had their share of bumps and bruises.
A guy or two here or there has surgery, but most of it is rather common.
However, losing a Cy Young caliber pitcher in Adam Wainwright is laps and bounds above all else that's happened to any other team in baseball, let alone the NL.
Wainwright being out gives the competition just that much more of an an edge over St. Louis.
As much as the opponents love playing against a high level of competition, they have to have breathed a sigh of relief that they haven't lost a player comparable to Wainwright.
10. How Cardinals Adapt To Waino's Injury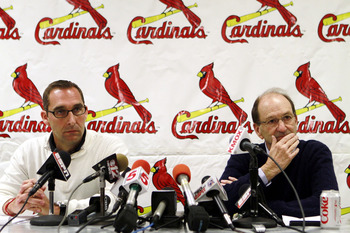 Marc Serota/Getty Images
So how do the Cardinals approach the situation of losing a potential Cy Young winner?
Test the market?
Revert to their farm system for a prospect?
Scout the college ranks for a stud pitcher to draft?
Any of these three could happen and there's probably even more.
However, the next question is how any of these three affect Chris Carpenter.
He's a pitcher in the bigs; So is it a bad idea if the front office asks him for his input?
11. How the Cardinals ACTUALLY Start Off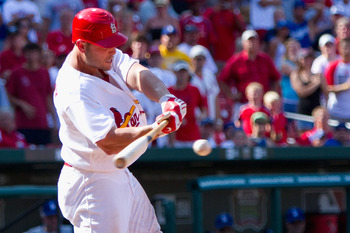 Dilip Vishwanat/Getty Images
In the event of Wainwright's injury, IF Chris Carpenter has (in the back of his mind) trade thoughts, he has to at least test the waters first.
See how St. Louis will begin the 2011 season, because you never know whether they come out of the gates like Zenyatta or slower than molasses.
In sports, anything can happen and that's why they play the games.
No one ever received the championship trophy for being the best on paper.
Keep Reading

St Louis Cardinals: Like this team?